I Got the No White Bread Blues
Willie Mae'Big Mama' Thornton is a Blues Legend.  She didn't write but had her biggest hit with Hound Dog which was written for her.Elvis had a big hit with it later.  She was a 6'tall, large in; voice, frame and width being well over 200 pounds.  She drank hard too and never turned down a drink from a listener.  She taught herself to play harmonica and drums as well as anyone could and often played both while on stage as she sang.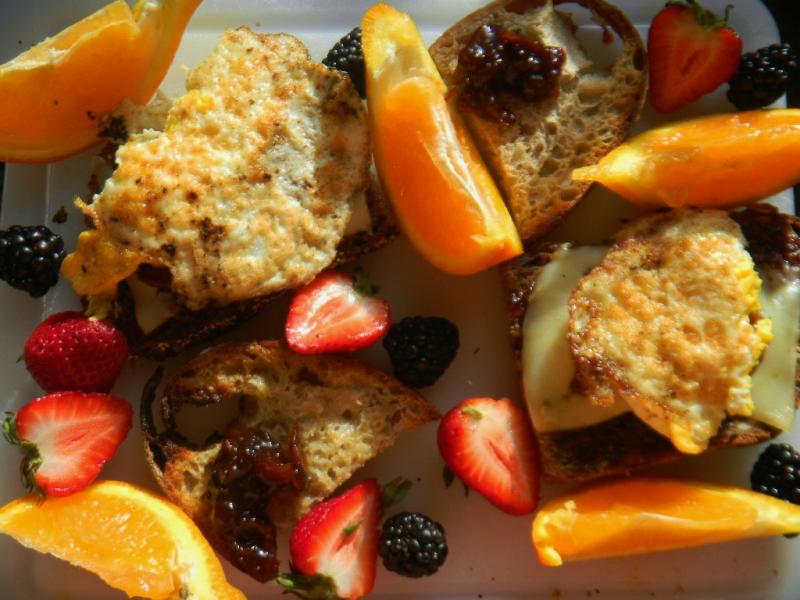 She had the biggest blues voice anyone ever heard.  In the early 70's we would always try to catch her when she played Rick's in Waldo - KCMO the home of some fine Blues at that time - not 12th Street and Vine where you could get killed pretty easy enough.  She died, in 1984, from a heart attack and complications from cirrhosis of the liver. She was penniless at the time of her death.  Even though she sold 1,000,000 copies of Hound Dog she only made $500 off it.  She wrote and recorded Ball N' Chain which was another big hit for her. Janis Joplin supposedly met sang with Willie Mae when they both lived in San Francisco and later recorded Ball N'Chain for a big hit.  Both Elvis and Janis did much better than Big Mama ever did – just by covering her songs.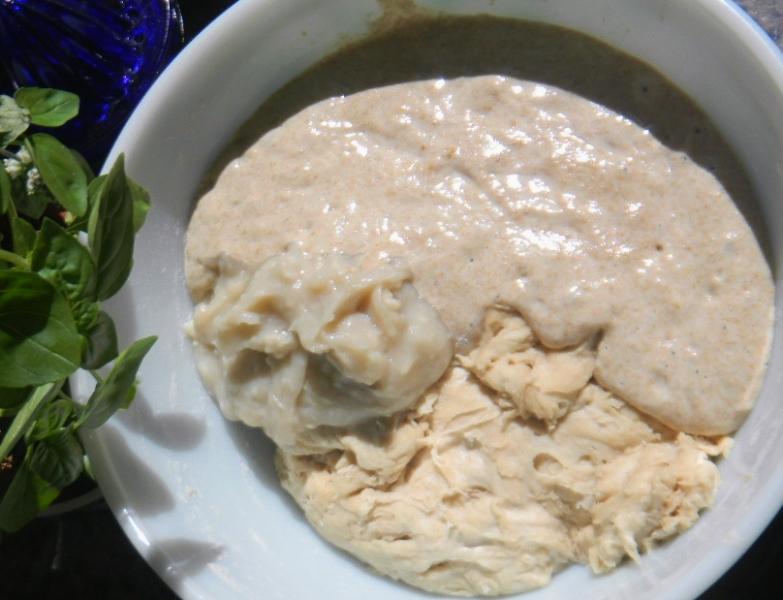 With dark breads, darker DaPumpernickel breads and fruit and nut breads behind us, I decided to do an about face with a simple sort of SD white bread loosely based on one of our David Snyder favorites - Pugliesi  Capriccioso.  Keeping true to our 2 most recent resolutions, we added a little corn flour and Tang Zhonged 25 g of the flour mix with 100g of water. This water was not included in the hydration calculations.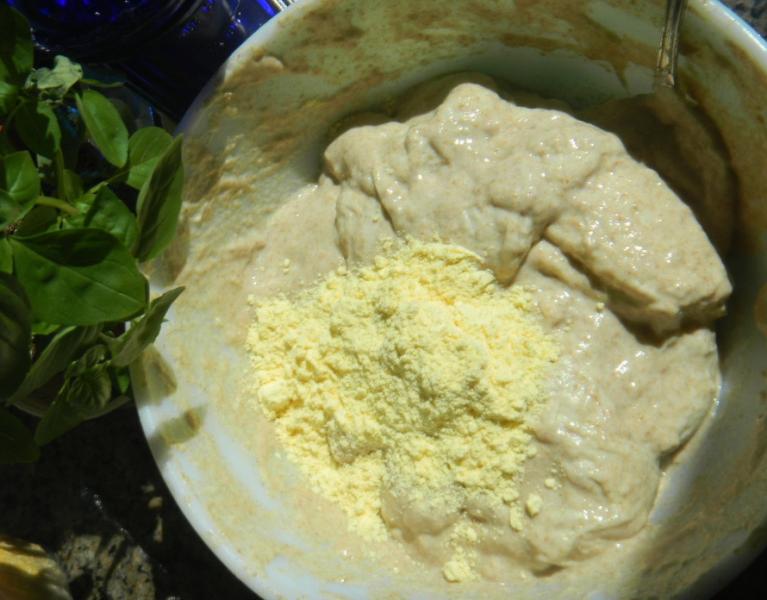 I know some might be dumbstruck with the purer, comparative simplicity of this bake's ingredient list but, there is a reason for it.  My apprentice was looking pretty frazzled after her long series of more complicated creations and was at the beauty parlor getting her hair done to be beautiful for next week's festivities.  So, the bread was naturally way more sane than usual in her absence.  Without an apprentice under foot, I'm way to lazy to work that hard.   Ahhh, peace and blissful, no work retirement at last!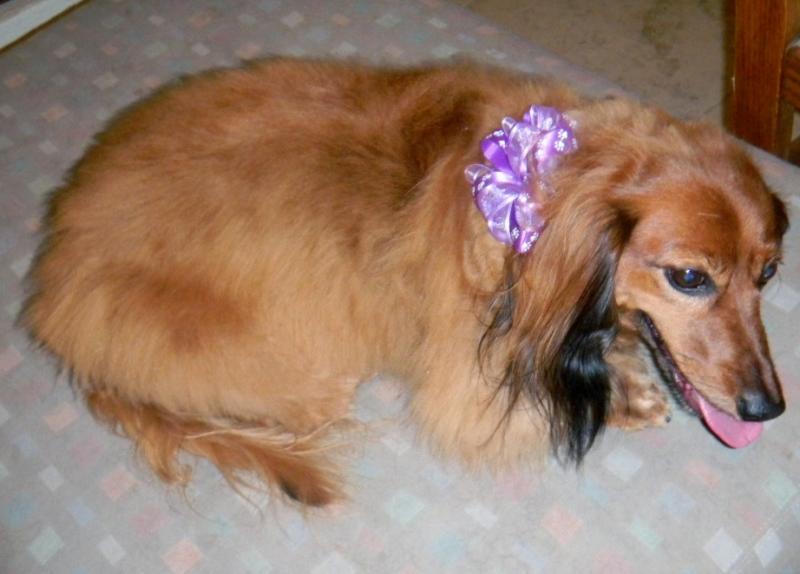 Another Hound Dog -a hot one with a pretty purple bow.
The rye, whole wheat and spelt sourdough levain was the one we had built on April 24 form a multigrain 3 leaven bake we posted thatday and refrigerated the rest of it.  We used half of the left over levain for the Yellow Mellow bake earlier this week and we used the rest of it for this bake.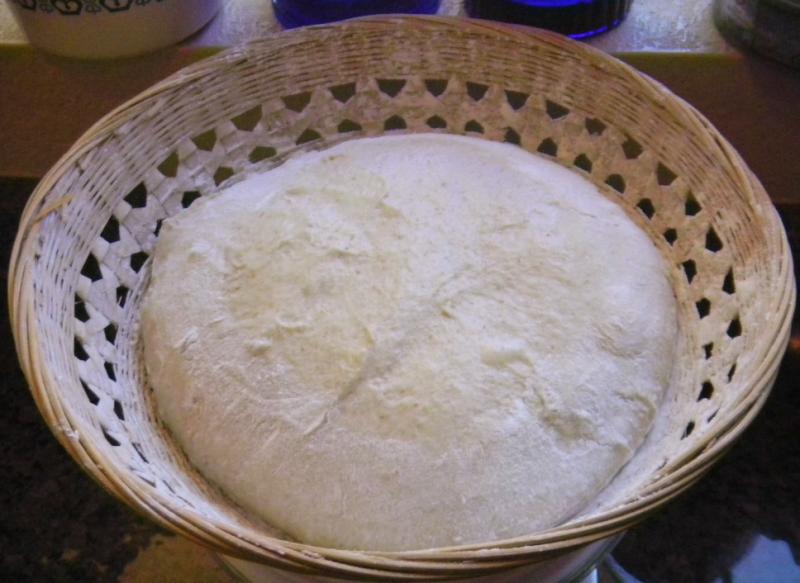 We fed it 60 g of AP flour and 60 g of water and it doubled and was ready to go in 2 hours.  The formula shows that the levain was a 1 stage build but it was really a 4 stage one.  When the levain was originally made we refrigerated it after stage 2 and then did the 3rd stage build the next day before refrigerating it again.  It was in the fridge for over a week before we did the AP 4 stage build today.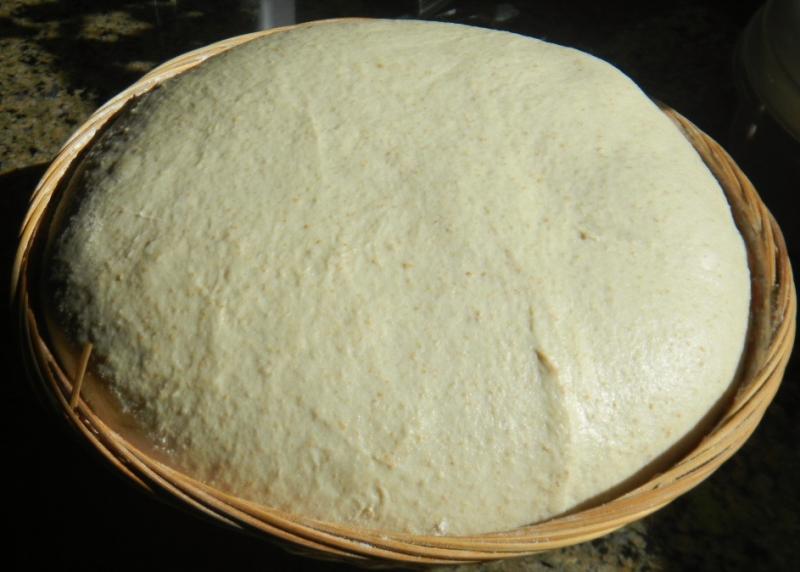 We hope at least the longer cold spell in the fridge will impart many more labs that yeast into this bread so it will have a decided sour taste.  There isn't much else taste enhancing going for it besides the corn flour and other 10% whole grains in the levain.  With guests coming in next week for our daughter's college graduation, they might prefer some white SD bread instead of all the other kinds of bread in the freezer.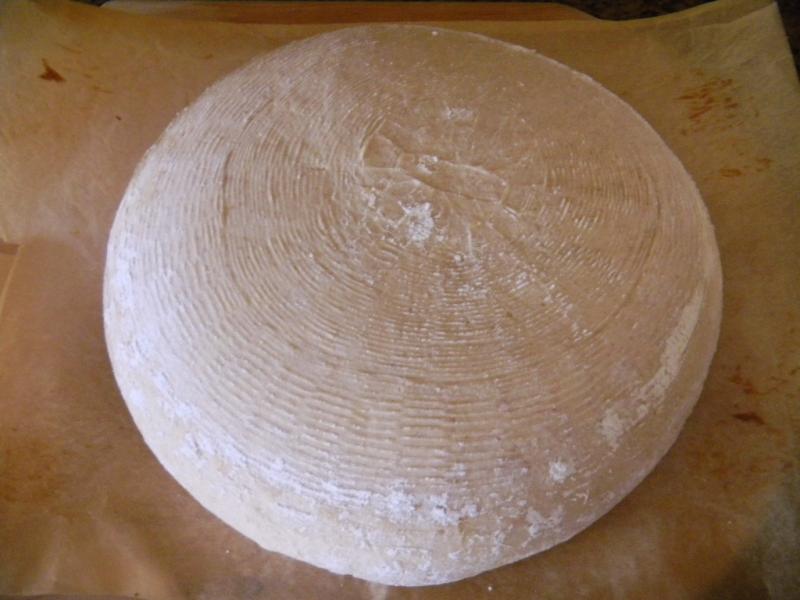 The method was a 2 hour autolyse, with salt, while the levain doubled, making the water roux in a sauce pan and then mixing the levain with the autolyse with a sturdy SS spoon. Almost forgot the corn flour. Then 10 minutes of slap and folds brought this much wetter than 70% feeling dough together nicely – silky smooth just like white bread should be at this stage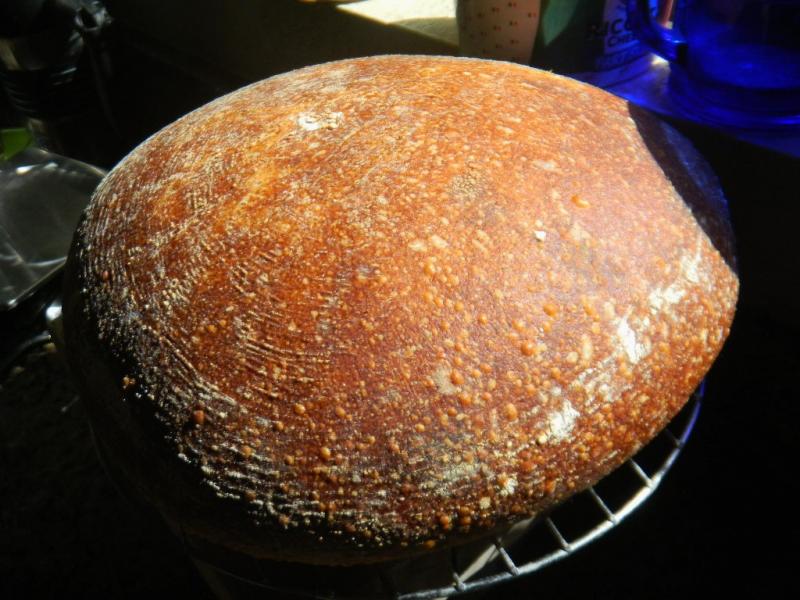 We sang Big Mama's 12 bar blues version of 'She's My Sweet, Sweet Angel' while doing the slap and folds this time.  I'm not sure where the song came from but the lyrics are a little risqué for this forum as 12 bar can get sometimes.  She never recorded it as far as I know but I heard her sing it several times since folks would request it and buy her a drink.  Clay Walker did a very clean Country version he called Sweet Sun Angel not long ago.
We developed the gluten further with 3 sets of S&F's where, each time, we gently stretched out the dough into a rectangle and folded it in thirds from the E, W, N and South.  We let the dough ferment for an hour on the counter in an oiled plastic tub, before its 20 hour retard in the fridge, to help the sour along a steeper, pucker curve.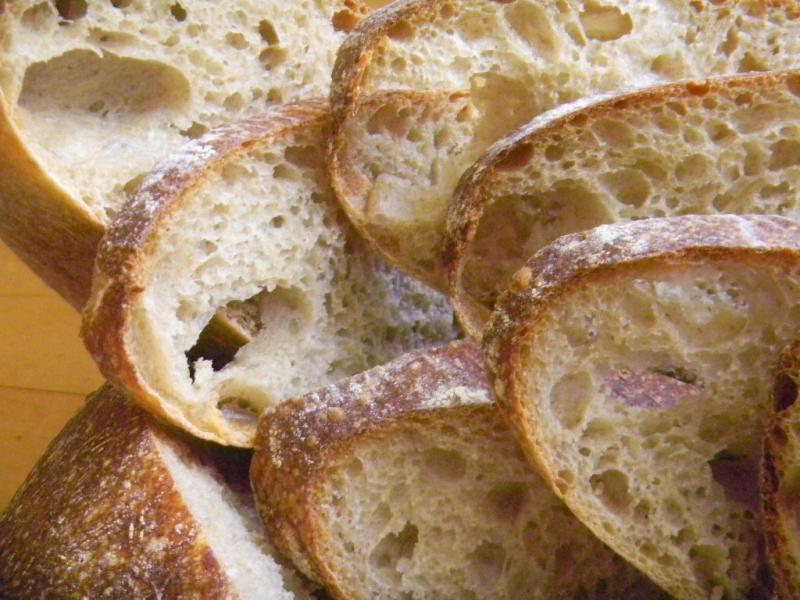 In the morning, we took it out of the fridge and let it warm on the counter for an hour before pre-shaping and then shaping it into an oval that went into a rice floured basket seam side down.  After 30 minutes of final proof it look like it was going to take off and it did.  After an hour it had over proofed again – we are getting good at this over proofing thing.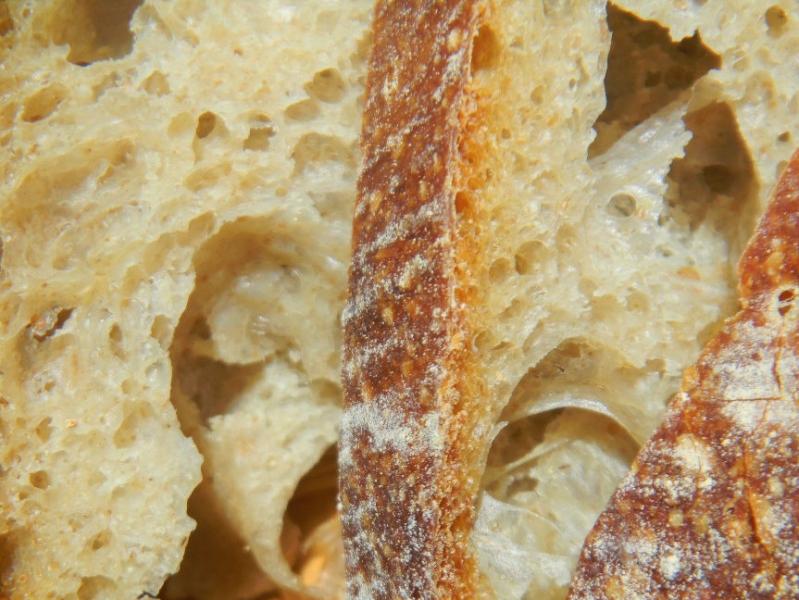 This would eventually not even be close to fitting, un-slashed, seam side up, into the mini oven - which is officially banned to the outside patio for the summer.  We have to learn to make these breads less gargantuan in the summer months so they fit the mini oven!  Where is that apprentice when you need her to help think and plan things out right anyway?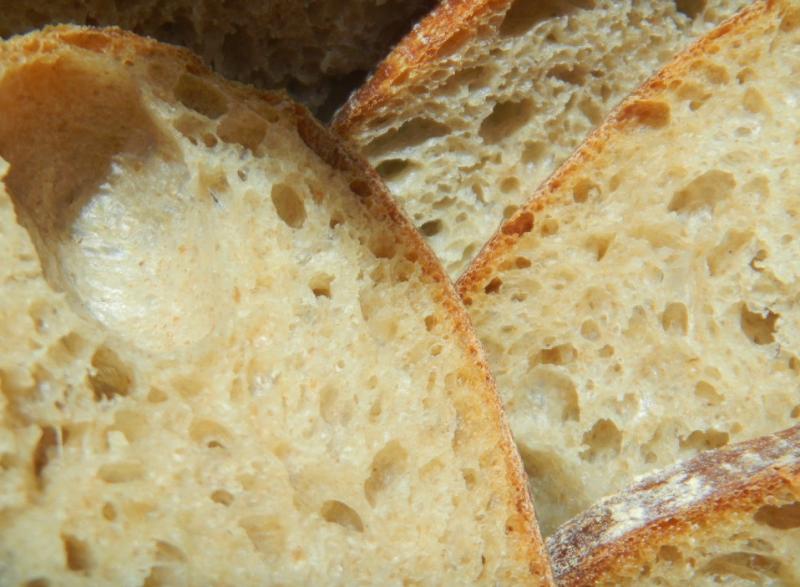 So we fired up Old Betsy to a preheated 500 F with the (2) stones - top and bottom, 1 large Sylvia's Pyrex steaming pan with (2 ) towels half full of water and a 12" CI skillet with the bottom filled with lava rock, per David Snyder  and half full of water for the required mega steam.  This set up trally puts out the steam.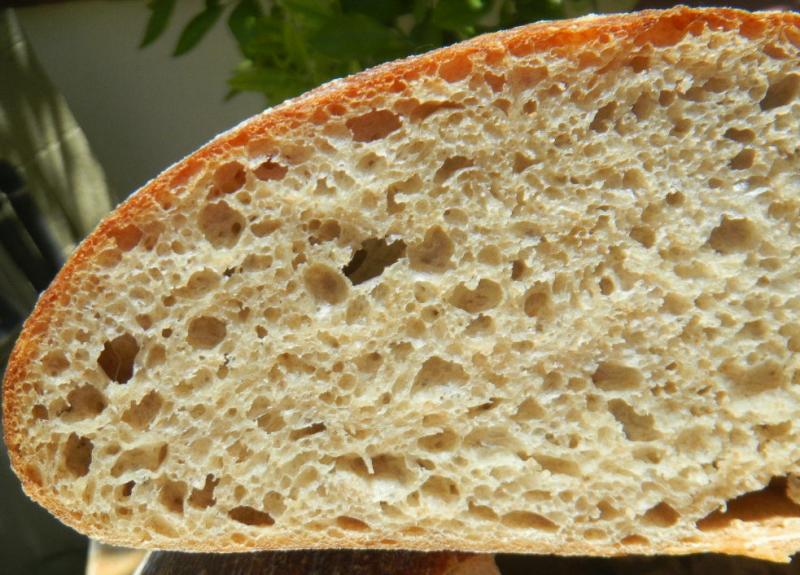 The mini oven is famous around here for putting the best blisters one has ever seen on bread of all kinds when the steam is fierce.  But Old Betsy can blister bread pretty good too on occasion.  We steamed the bread for 2 minutes at 500 F and 13 more minutes at 450 F and then removed the steam while turning down the oven to 425 F, convection this time and continued baking for 15 more minutes when the bread hit 205 F on the inside.  We rotated the bread every 5 minutes 120 degrees on the bottom stone to get even browning.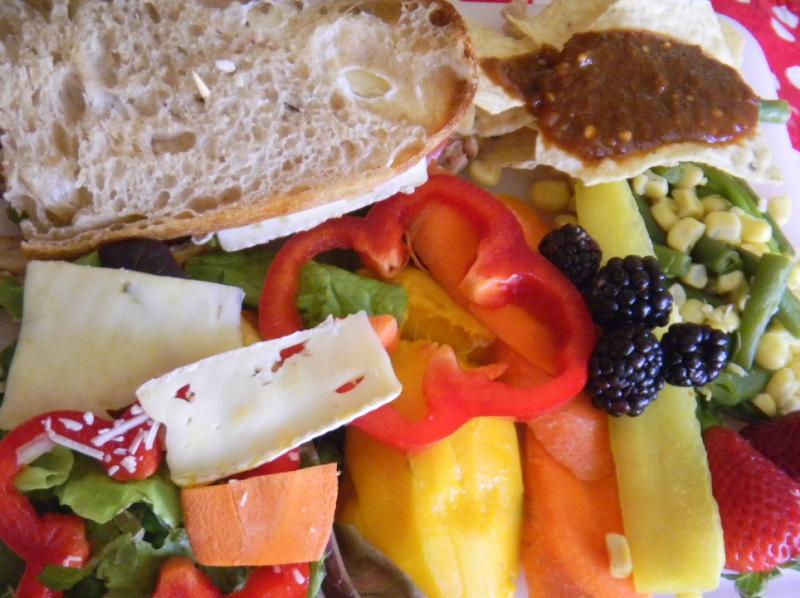 We left the bread on the stone with the oven off and door ajar for 8 minutes to crisp the bread even more.Betsy didn't disappoint and neither did the bread.  The bread baked boldly, blistered and nicely brown.  The crust came out crisp but it went softer as it cooled.  Will have to wait to see what the inside looks like after it cools.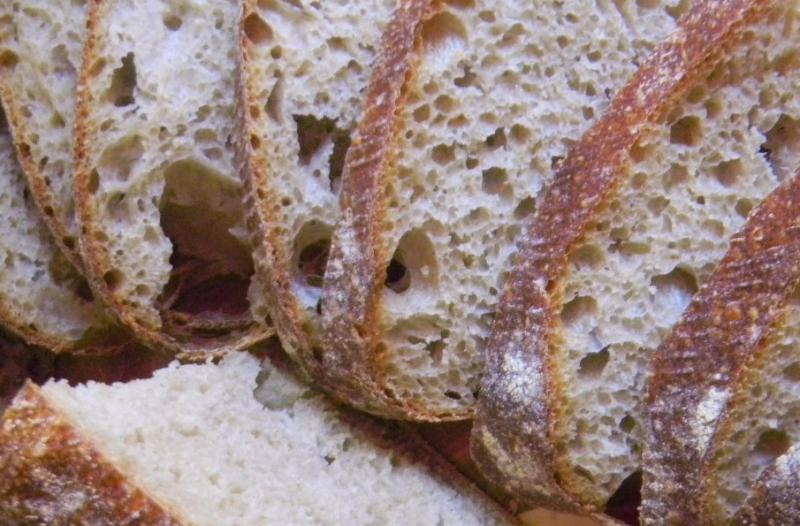 We don't often make the same bread twice but, when we make white bread, a version of David's is always the one we go back to again and again - so we do make this bread often.   The crumb came out less open than usual but it was much softer and moist this time - both probably due to the Tang Zhong.  The crust went chewy soft and was delicious.  We think the corn flour addition really improved the already fine taste of this bread some too.  We like it very much and this bake again shows why David is so famous for his SF style SD breads.  He spent a lot of time developing and perfecting them and we get those benefits every time we make them even if we add a tiny little bit more whole gain to them.   If you haven't made the Pugleise, SFSD or San Joaquin you really need to do so.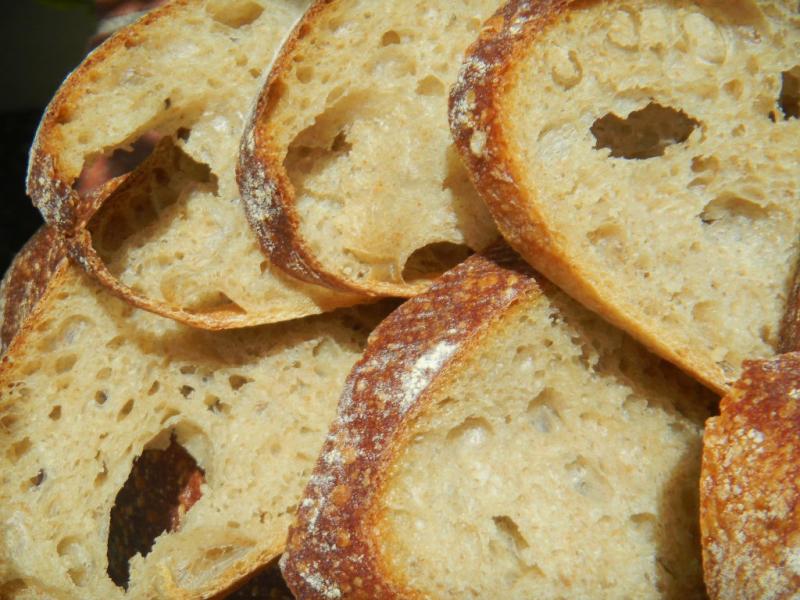 The bread went extra tany the nexr moring for breakfast and toaasted well. If you like SD white bread you shoud give this one a try.
Formula
I Got The White Bread Blues

 
 
 
 
 
 
 

WW SD & Rye Sour

Build 1

Total

%

WW & RyeSD Starter

10

10

1.54%

AP

60

60

9.23%

Spelt

20

20

3.08%

Dark Rye

20

20

3.08%

Whole Wheat

20

20

3.08%

Water

130

130

20.00%

Total

260

260

40.04%

 
 
 
 
 
 
 
 

Levain Totals

 

%

 

Flour

125

19.23%

 

Water

135

20.77%

 

Hydration

108.00%

 
 
 
 
 
 

Levain % of Total

22.99%

 
 
 
 
 
 

Dough Flour

 

%

 

Bread Flour

300

46.15%

 

Corn Flour

25

3.85%

 

AP

200

30.77%

 

Dough Flour

525

80.77%

 
 
 
 
 

Salt

12

1.85%

 

Water

325

50.00%

 

Dough Hydration

61.90%

 
 
 
 
 
 

Total Flour

650

 
 

Water

460

 
 

T. Dough Hydration

70.77%

 
 

Whole Grain %

13.85%

 
 
 
 
 
 

Hydration w/ Adds

69.70%

 
 

Total Weight

1,132

 
 
 
 
 
 

Add - Ins

 

%

 

VW Gluten

10

1.54%

 

Total

10

1.54%

 
 
 
 
 

100 g of water for the Tang Zhong not included in hydration