Michelles (small miches) - the right flour at last (UK)
Hi,
Along with croissants, the miches (Hamelman and Shiao-Pings post Miche Gerard Rubaud, the post that initially lured me into TFL) felt quite out of reach, and I had as many failures as trials.
Recently I ordered a bag of 
Bacheldre Watermill Organic Stoneground Strong Unbleached White Flour
in the belief it was strong white flour.
Well, it is actually high extraction flour, and at last I managed to make Hamelman's Miche Pointe-A-Caillere with it.
It is just the right stuff for this bread. The dough handles like a treat (at 85%  hydration).
And the result -veeeery tasty. My 7-year-old gobeled down 2 slices (topped with marmalade) and even made his way through the crust!
Here is what it looks like: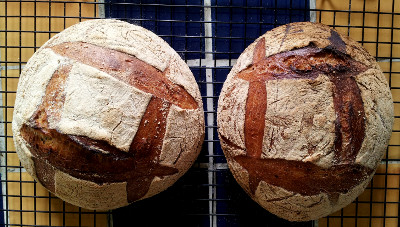 And here the crumb: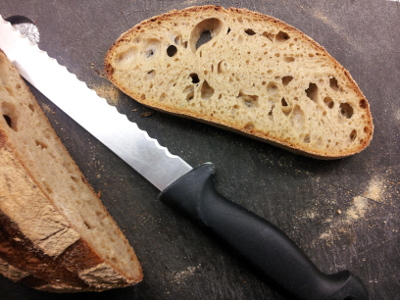 I made two little 500g miches, are they michelles then, or maybe michettes?
And here is the man who REALLY loves daddy's bread:
Cheers,
Juergen