Enchanted Irish Lemon Curd Fairy Cakes
Wouldn't you know it......another year of clean living and the Irish Fairies stopped by to leave a St Patrick's Day surprise again this year!  Wish The Leprechauns would take notice and follow the Frairy's lead !  Used Rachel  Allen's lemon curd recipe and froze it for a year .......Fairies love lemon curd with some age on it.    The cake is a lemon sponge with cake flour.  I saw the Fairies tossing their dust on them before disappearing till next year.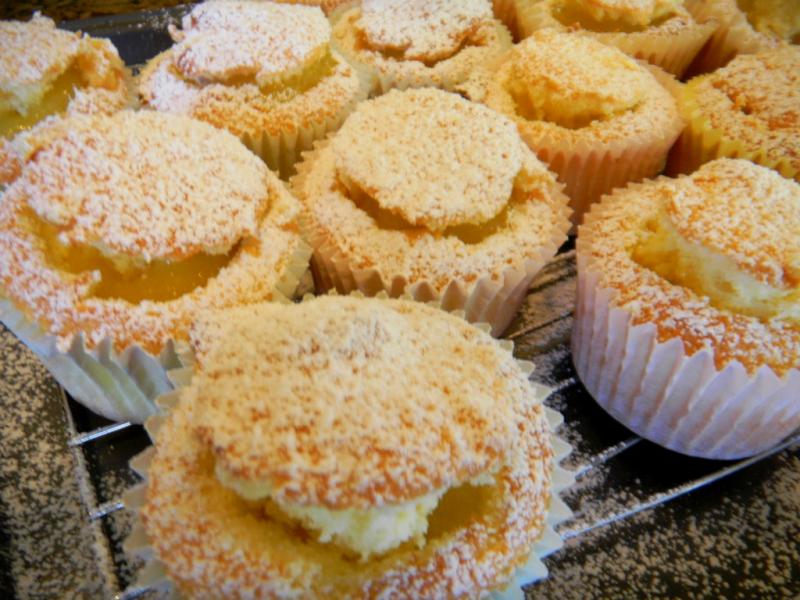 Happy St. Paddy's Day
For our Irish native from Belfast -  Sylvia.  I can't remember where I got the  cup cake recipe.
Lemon Curd
2 eggs and 1 yolk
1 stick of butter
¾ C sugar
zest and juice of 3 lemons.
Mix and slowly heat on top of the stove in 2 qt sauce pan until mix thickens into thick curd.  Put in refrigerator for 4 hours to thicken further.
 Irish Lemon Curd Fairy Cakes
5 egg yolks
2/3 cup sugar
1 teaspoon grated lemon peel - 1 lemon
1 tablespoon lemon juice - half a lemon
5 egg whites
2/3 cup sifted cake flour
1/4 teaspoon salt
16 oz lemon curd
1/4 cup powdered sugar
Method
Preheat oven to 375 degrees F. Grease and flour 20 muffin cups.
Beat egg yolks till thick with a whisk in a bowl. Gradually add 1/3 cup sugar in several stages beating continually.
Whisk in the lemon peel and juice.
Beat the egg whites utill soft peaks form.   Then gradually add remaining 1/3 cup sugar and beat till stiff peaks form.  I use a hand mixer for this
Gently fold the whites into the yolks.
Sift together cake flour and salt and gently  fold into egg mixture.
Fill muffin cups 2/3rds full.  Bake at 375 F for 10 minutes, rotate the cupcake pans and turn down the oven to 325 F convection this time and bake about 5 minutes more until the tops are nicely browned.
Remove cakes from tins and cool completely on a wire rack.
Use a sharp paring knife to cut into the top center of each cupcake, removing the cone shaped piece and reserve.