Ancient But Not Mini Oven's No Muss No Fuss 'Leave me Alone' Starter - 8 Days Later
We took up Mini Oven's see what happens starter by mixing up some unbleached flour with some water - golf ball size, putting it into a brown paper bag with some extra flour, no peaking for 7 days, and see what you get in a week.   Paul McCool and other TFL'ers have done this before but I coudn't help but give it a go since I just love all kinds of starters and am a sucker for smart ladies with a tendency for insane thoughts :-)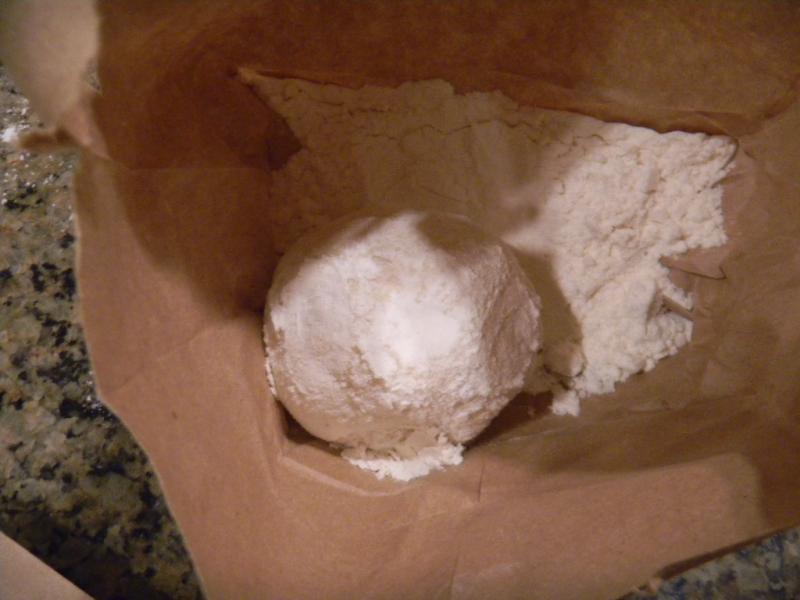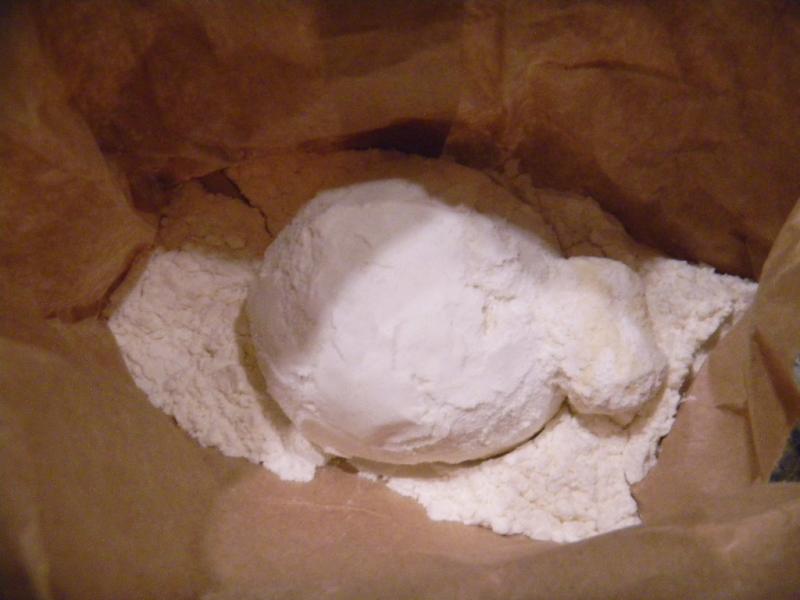 Here is where we started 8 days ago on the left.  I promised Mini I wouldn't look but forgot about it and it was 8 days before I remembered it and here is what it looked like on the right.  Do you see that tumor like growth on the right side of what once was a round dough ball?  The whole thing looks a little bigger too!  Hard a s rock though.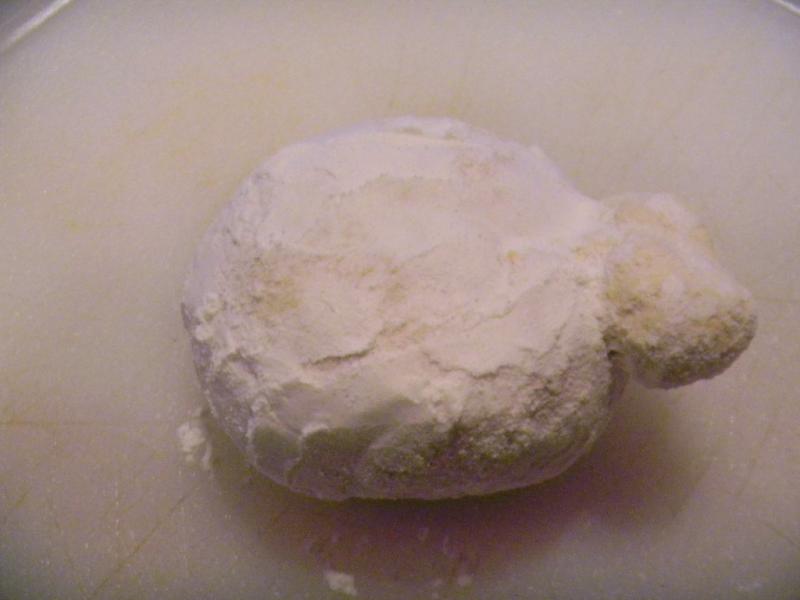 Here is a close up.  It actually was two growths.  When i cut into it it was still moist on the inside but, the inside center  was hollow like baked Pate Choux.......  This would be very weird if it wasn't one of Mini's hair brained ideas she is so famous for being right about.  With the tumors and the hollow honeycombed inside this thing looks like it might be alive!  Thank God I watched both parts of 'When Aliens Arrive'  on the Science channel this  past week and am ready for anything similar.  I say bring it on !!!!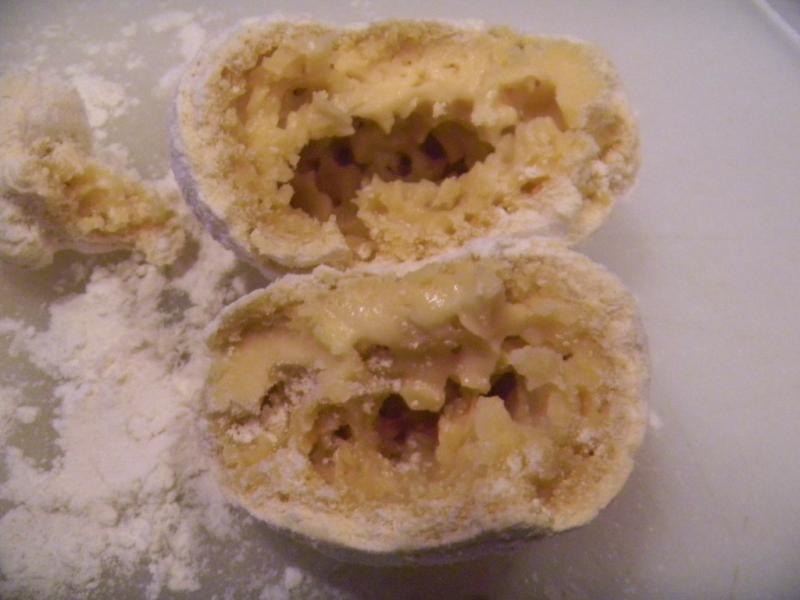 I decided to try to make 2 starters out if this.  There was only 15 grams of moist stuff in the center so we, I say we but my apprentice wasn't having any of this science oddity experimentation and fish with teeth scare her to no end for some reason, scoped that out, mixed it with 15 g of water to get it watery again and then added 15 g of whole wheat flour.   I had whole wheat out to feed the Piranhas nutritious wheat balls for our converting them to be Vegan experiment.... but that is another story.
The remaining 47 grams of hard stuff, including the two tumors,  I chopped up with a knife while fending off upset, flesh eating fish.  We then chopped it to a powder in the coffee mill and liquefied it in 47 g of water before adding 47 g of whole wheat.
 I personally think that the tumor bearing,  hard portion will be a viable starter long before the moist middle part will but others might disagree.  We will look at them in 4 hours bacillus willing.  Nothing happened in 4 hours so I'm going to bed after feeding them again and hopefully in 8 hours we will see little alien tumors tomorrow.
After 4 hours of growth last night, we started to faintly smell that SD  sweetness in both cultures and we fed them again before going to bed.  I am so pleased to announce that we have a mini liftoff this morning .  After 8 hours both showed expansive growth with bubbles on the bottom side and top.  It looks,  through rubber band  measuring techniques, that the growth in volume was about 33% in 8 hours after a fresh feeding.   This is pretty week for my normal starter but, this one is very young and was abandoned and abused as a child.   Plus, it was severely hampered by diseased tumors early in its development and likely also from an alien planet and not used to conditions on earth which may be unique in the universe.  Will keep feeding them until they can double in 8 hours.  Here is a pix.  The center moist goop is in the glass bowl on top of the  plastic container with the rubber band  which has the dried exoskeleton of whpo knows what in it.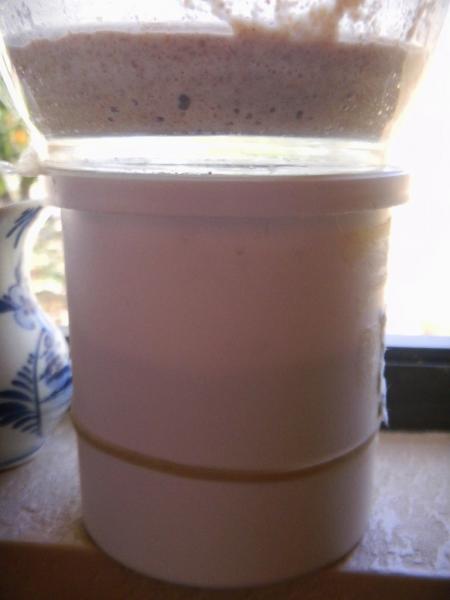 We called this a double in volume at 14 hours from the last feeding - not quite the bare minimum we look for to make bread.  So we weighed them, discarded half of each and then added that amount of flour and water each.  We hope they will both double in 12 hours or less this time - or, we shall see if the piranha like failed SD starter any better than WW flour balls.