January 29, 2013 - 8:32am
We all got together via text and cyberspace to create Maritozzi Fabrianesi, try saying that after a couple glasses of wine! This recipe is again in Carol Field's "In Nonna's Kitchen" beginning on page 128. It is a one day bake starting with soaking raisins and then using the water to create a sponge... the raisins are saved and incorporated after the first proof.  To quote Ms. Field: "Who would guess that these plump sweet rolls are made specially for Lent, a time normally characterized by darkness and deprivation? It's true that no eggs find their way into the dough, but sweet raisins by the handful and orange zest more than make up for their absence."
The dough smells so good, even before adding those plumped up raisins... that orange zest really adds to the aroma of good things to come.  I went out and bought more oranges and am looking for more things to put that delicious zest into... I will find plenty of sweet treats I am sure.  Good thing it is my turn to pick the next recipe!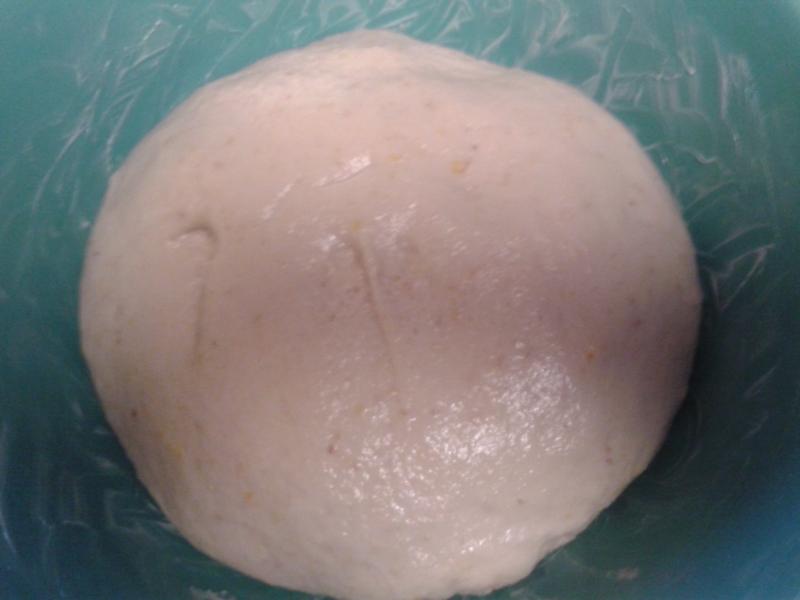 My "bobbin" shapes are eclectic to say the least, but they puff up nicely... as you will see in the last post on this bit of sharing.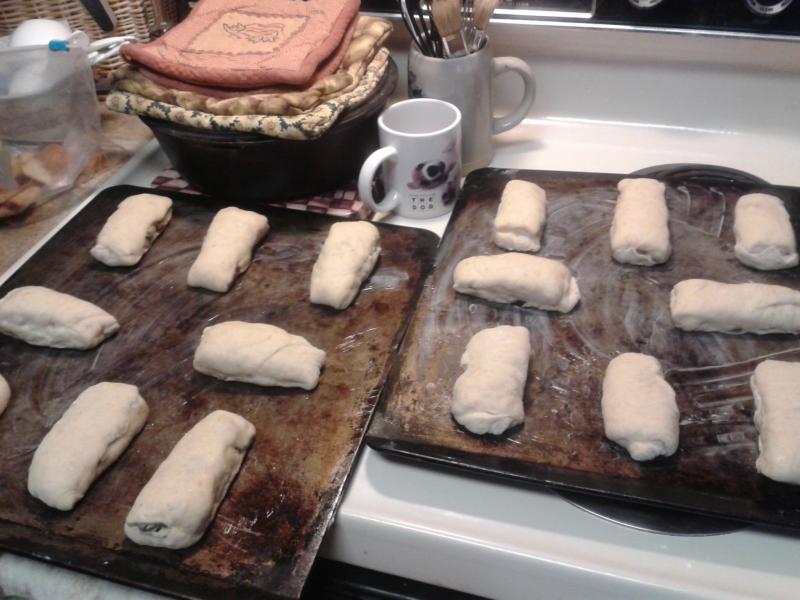 Next up Helen's rolls, lovely!
Helen's rolls look amazingly wonderful... Her comment on the phone when we were doing our tasting... is that "these are crazy good!" I think that means she will be making them again, as I will. These will be a special addition to all those family foodie functions!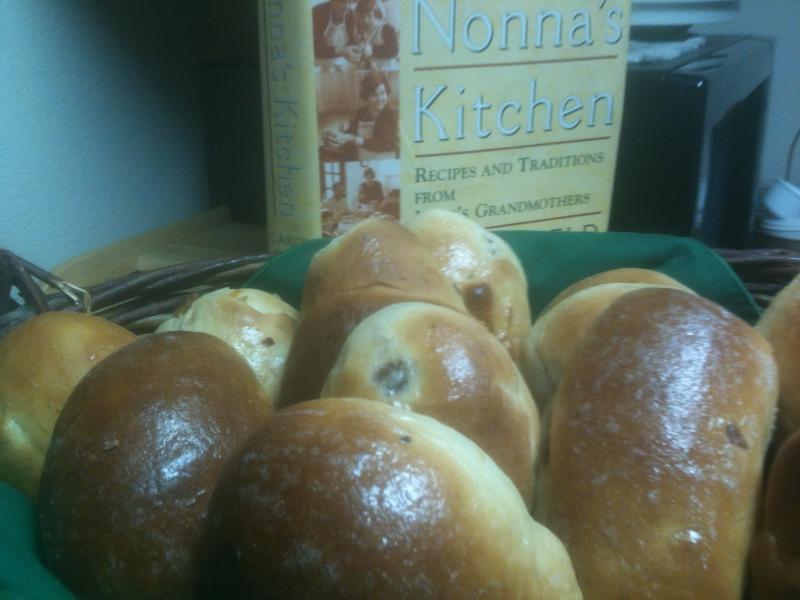 Barbs rolls are here and her quote:"Excellent taste and texture. Am surprised at the "shreddy" quality of this Roman raisin bun. No eggs, no dairy, but the flavor is remarkably similar to Panetonne (but without the challenges)! Using the dried fruit bits turned out well but next time I'll remember to have raisins on hand. As you can see, true to form, even with weighing them, my forms are a variety of sizes and shapes. Happy to say that doesn't affect the taste!" Thesse rolls look so good... and I am positive that those candied fruit bits have really added to the taste... as we sisters chatted a bit throughout the day.. we decided that almost any fruit would work in these... mincemeat, raisins with apples, the candied fruit... really anything you like could be incorporated... (watchout dab... I am sensing some nuts or seeds in here. ;-) )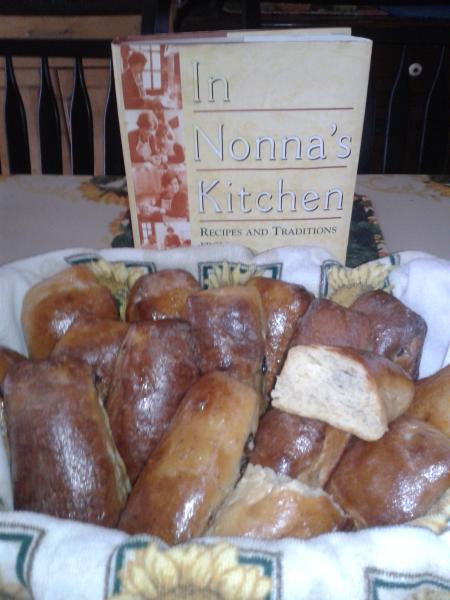 And finishing up with my rolls... I had to stick 10 of these in the freezer really quickly... they are so "crazy" good as Helen said that they would have disappeared onto my thighs in a heartbeat!!!!
The glaze was egg white, sugar and rum... discussing that element we thought simple syrup would maybe be better, with the rum, of course.  Maybe the glazes we use on stollen etc... with orange zest instead of lemon... there are a number of possibilities for the glaze.
I find that each time we make a new recipe there are little changes we make, collectively and individually that more it "ours"... I love that about baking, and I love learning more and more about my sisters through this process of spending time together in our kitchens.
It was fun baking with my sisters and seeing again the different ways we do things. Tasty morsels always end up being the prize at the end of the day....
Uh... I know there are some of these rolls in the kitchen and I am thinking it is time for that second cup of coffee.  
See you all next week, if you are looking in.
Diane