January 17, 2013 - 1:18pm
Multigrain Yeast Water Bread with Sprouts, Scald, Seeds, Nuts and Prunes
The last bake was so nice and this one is very similar except for a few differences that….. made a difference.  The sprouts, seeds, nuts, prunes and dough flours were nearly identical except we ran out of barley berries.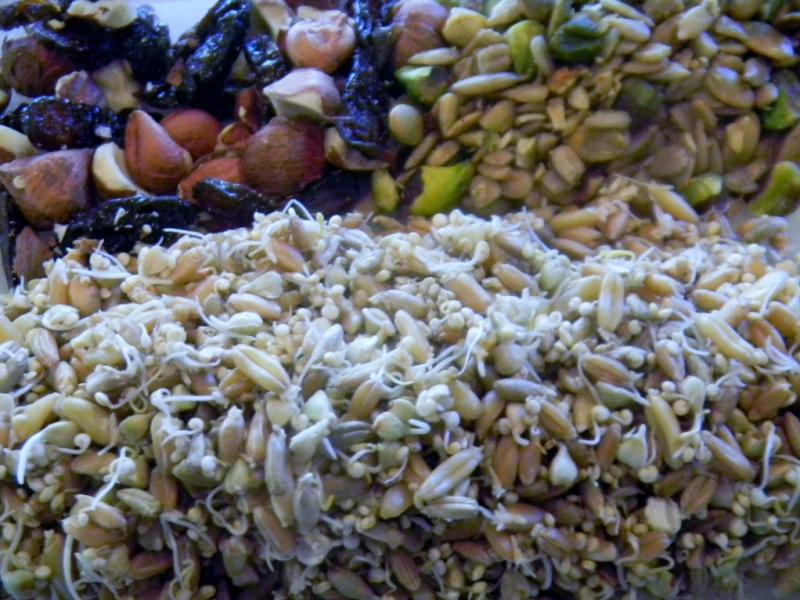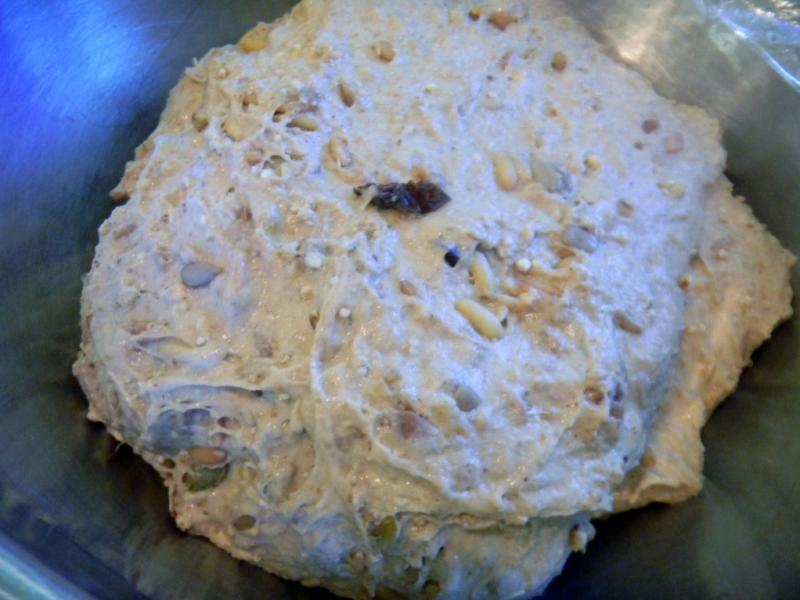 Yeast water replaced the SD starter.  The YW levain used white whole wheat flour as half of the mix instead of the home milled whole grains of the previous bake.  The amount of whole grains and the hydration was increased 5% to 59% and 74% respectively.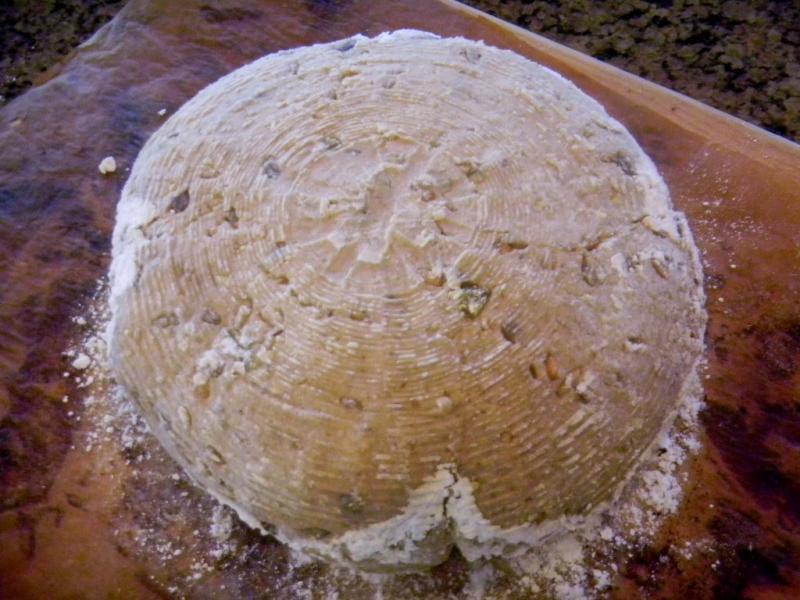 The first 15 minutes of the bake was at 500 F instead of 450 F (because we forgot to turn it down after the pre-heat) and the resulting total bake time was reduced 15 minutes to 35 minutes.  We think the higher initial temperatures reduced the spring and the higher hydration caused the chacon to spread more as well.   The openness of the crumb was affected in that the usually large holes of the yeast water were muted .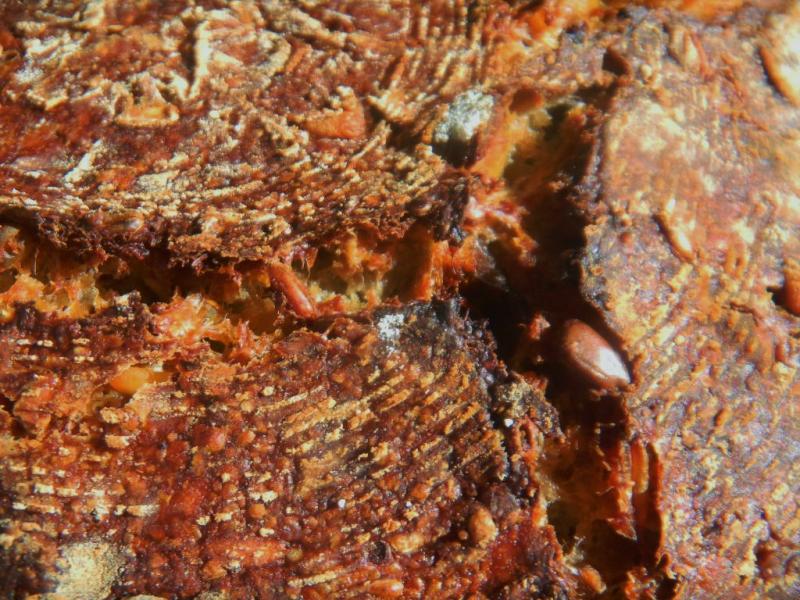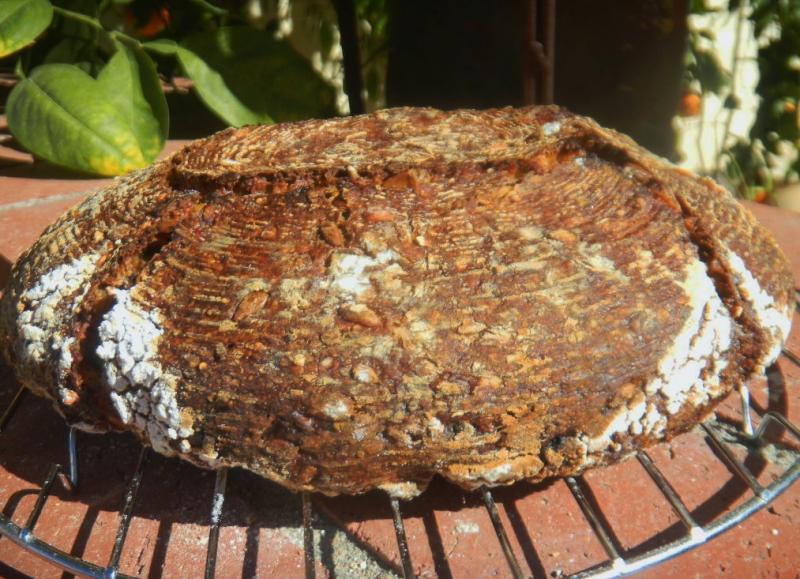 Another change was that instead of putting the dough into the basket right after the  S& F was complete and then allowing the dough to ferment in the basket, on the counter for 1 and ½ hours before being retarded, this dough was allowed to ferment in the bowl for 1 ½ hours before being placed in the basket and then it was then immediately retarded.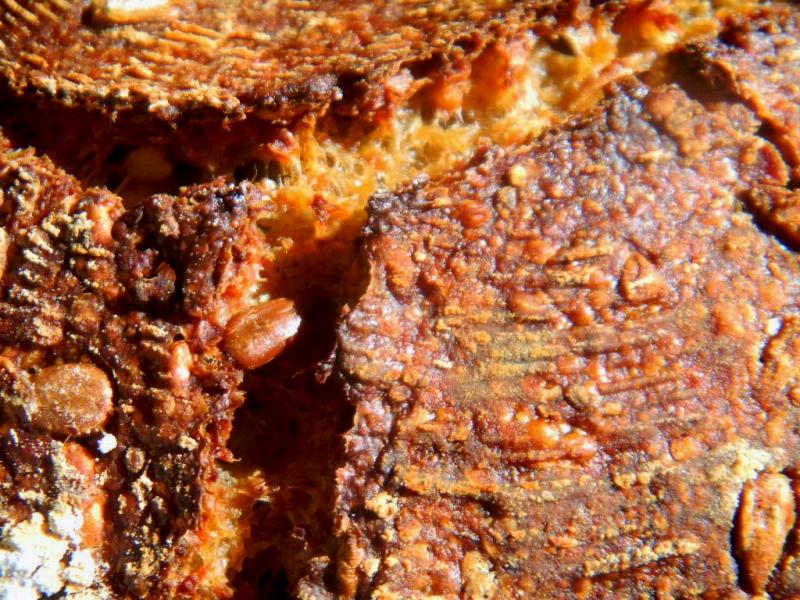 Both bakes had a 40 hour retard and a 4 hour warm up on the heating pad before baking.  Instead of using decorative knots in the chacon we used balls instead since the dough was too slack to make into ropes without adding some flour. 
We were going to add some aromatic seeds like coriander and anise but forgot to put them in.   I thought that if we just put them on the top they would burn after seeing the color of the crust after yesterday's bake.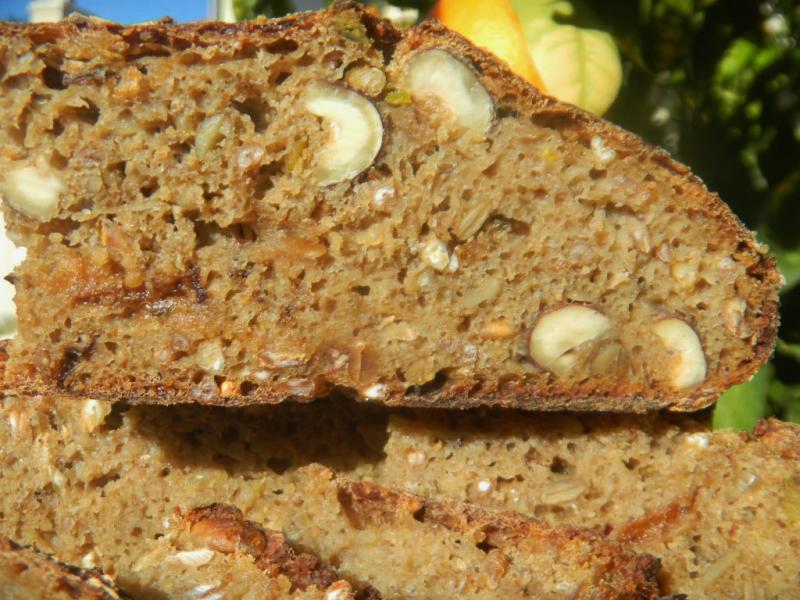 One thing we noticed was since the dough was much wetter it absorbed the rice flour in the basket so the white surface outlines of the last bake were mainly gone and we had a better picture of the deep, dark, mahogany color that must have been under the white on the last bake.
The crumb is more moist than the SD as was expected since YW makes a more moist crumb in bread than SD for some reason.  Glad we baked this to 206 F instead of 203 F like the SD version since it was still moist and soft.
The crumb is as open as the SD but the largest holes are in the YW version.  The most uniform holes holes are in the SD.  I never thought I would say this but, the YW multi-grain bread is more tasty, at least to my pallet which is quite unlike the Brownman I know and my apprentice loves sometimes :-)  Both breads are terrific ans some of the best that have come out of this kitchen.
Formula
| | | | |
| --- | --- | --- | --- |
| YW Starter | Build 1 | Total | % |
| White Whole Wheat | 100 | 100 | 29.41% |
| AP | 25 | 25 | 7.35% |
| Yeast Water | 100 | 100 | 29.41% |
| Total Starter | 225 | 225 | 66.18% |
|   |   |   |   |
| Starter |   |   |   |
| Hydration | 80.00% |   |   |
| Levain % of Total | 21.29% |   |   |
|   |   |   |   |
| Dough Flour |   | % |   |
| Toady Tom's Tasty   Toasted Tidbits | 5 | 1.47% |   |
| Red Malt | 3 | 0.88% |   |
| White Malt | 3 | 0.88% |   |
| Buckwheat | 24 | 7.06% |   |
| Quinoa | 24 | 7.06% |   |
| Whole Wheat | 24 | 7.06% |   |
| Spelt | 24 | 7.06% |   |
| Kamut | 24 | 7.06% |   |
| Dark Rye | 24 | 7.06% |   |
| Potato Flakes | 20 | 5.88% |   |
| Oat Flour | 20 | 5.88% |   |
| AP | 145 | 42.65% |   |
| Dough Flour | 340 | 100.00% |   |
|   |   |   |   |
| Salt | 7 | 1.51% | Of Total Flour |
| Soaker & Sprout   Water | 240 | 70.59% |   |
|   |   |   |   |
| Dough Hydration | 70.59% |   |   |
|   |   |   |   |
| Total Flour | 465 |   |   |
| YW 100. Sprout and   Soaker Water | 340 |   |   |
| Total Dough Hydration | 73.12% |   |   |
|   |   |   |   |
| Hydration w/ Adds | 74.19% |   |   |
| Total Weight | 1,057 |   |   |
|   |   |   |   |
| Whole Grains | 59.14% |   |   |
|   |   |   |   |
| Scald |   | % |   |
| WW | 12.5 | 3.68% |   |
| Rye | 12.5 | 3.68% |   |
| Quinoa | 12.5 | 3.68% |   |
| Kamut | 12.5 | 3.68% |   |
| Buckwheat | 12.5 | 3.68% |   |
| Spelt | 12.5 | 3.68% |   |
| Total Scald | 75 | 22.06% |   |
|   |   |   |   |
| Multigrain Sprouts |   | % |   |
| Kamut | 12.5 | 3.68% |   |
| Quinoa | 12.5 | 3.68% |   |
| Buckwheat | 12.5 | 3.68% |   |
| Rye | 12.5 | 3.68% |   |
| WW | 12.5 | 3.68% |   |
| Spelt | 12.5 | 3.68% |   |
| Total Sprouts | 75 | 22.06% |   |
|   |   |   |   |
| Add - Ins |   | % |   |
| Sunflower 15, Pumpkin   15. Prune 20 | 50 | 14.71% |   |
| Pistachio 15, Filbert   20 | 35 | 10.29% |   |
| Barley Malt | 10 | 2.94% |   |
| Total | 95 | 27.94% |   |