January 13, 2013 - 9:42am
No success with no need breads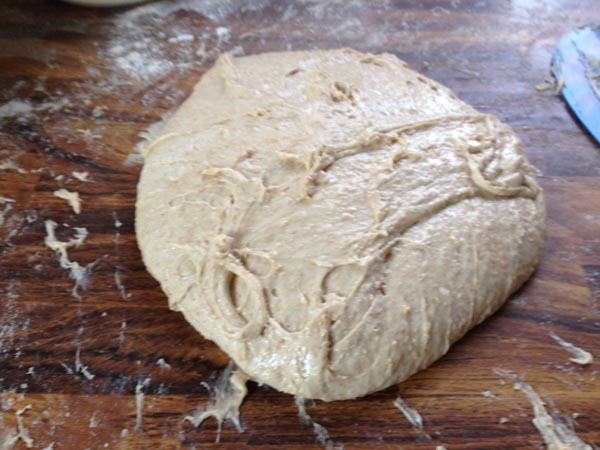 I am new to bread making and very much at the experimental stage. Thanks to a recipe by Micheal Roux Jnr and the method of slap and fold employed by Richard Bertinet  I have successfully managed to make a decent white loaf after a series of nice enough but still quite right  loaves and a few bricks.  
One fairly basic thing I havent managed to do properly is make a successful No Knead loaf, you know the type of bread that is so simple even a 4 year old can do it.  
So far I have tried two variations and failed both times, but never being one to give up easily I though I would give it another go so today was attempt number three.   This time I thought I would try a part wholemeal version that called for 300g bread flour, 100g wholemeal flour, 300ml water, 1/4 teaspoon yeast and 1.25 tsp salt.
The recipe is simple enough and after mixing it all I was really happy with how it went last night. However I got up this morning to a goo that stuck to everything, wouldn't hold it's shape for anything and gave off a smell in my kitchen was more like brewery than a household ready to bake bread.
I know I didn't leave it too long and it wasn't anything to do with heat or altitude since where I live we are only 200 feet above sea level plus it is winter and it snowed last night and we didnt have the heating on so my kitchen was like a fridge when I got up.
The next part of the recipe called for folding the dough which looked easy in the videos but I couldn't handle it at all since my dough was at pouring consistency and the flour I put out for it to sit on had no affect, it was like trying to handle a very liquid tacky glue!
I couldn't do anything with it so I tried my own version of a resurrection.
Since I have had most success with Richard Bertinets method of kneading and that in turn works well with high hydration mixes I though I would try a little slap and fold and see if I could bring the glue together that way.    Initially I seemed to be getting somewhere but the moment I stopped working it would start to fall apart and stick to everything once again. I tried adding a little of flour but that didn't work either so after a frustrating and totally unsuccessful hour or so it was back to the Internet and look for a solution but that was to little avail.  The picture at the top shows was what it looked like at that point.
However when I did a search about the strong smell in the kitchen a few people suggested the yeast may have eaten all of the nutrients and some suggested you should add more yeast but no one said how much so I added 1/8 teaspoon of instant yeast and worked it a bit more with another couple of pinches of flour and more slap and folds. After a lot more effort on my part it finally it started to come together so it's currently sitting in a bowl proving, it's been about 45 minutes and at least it is rising.
Alas I don't have the experience to know what I should do next – should I treat it like one of Richards mixes and fold it, let it rise again shape and cook in a bread pan or should I continue treating it as a no knead bread despite all my work and simply shape and cook it in a Dutch oven – I really don't know!
But the way things have gone with this bread I don't hold out much hope for it producing anything remotely edible so I may just go for broke and cook it in the Dutch oven anyway, if I do I will report back and let you know what happened but so much for no knead!