Panettone - The Last Bake of 2012
The last bake of 2012, panettone, was supposed to cap off a year (actually 11 months) of usually decent individual and different bakes with different formulas that numbered well over 100 – quite an achievement that deserved a year end spectacular panettone.  But alas, it was not to be.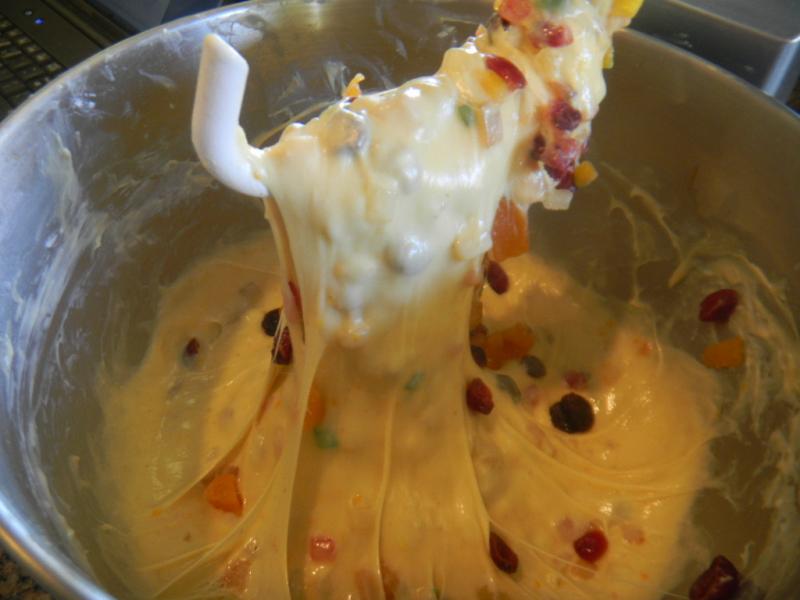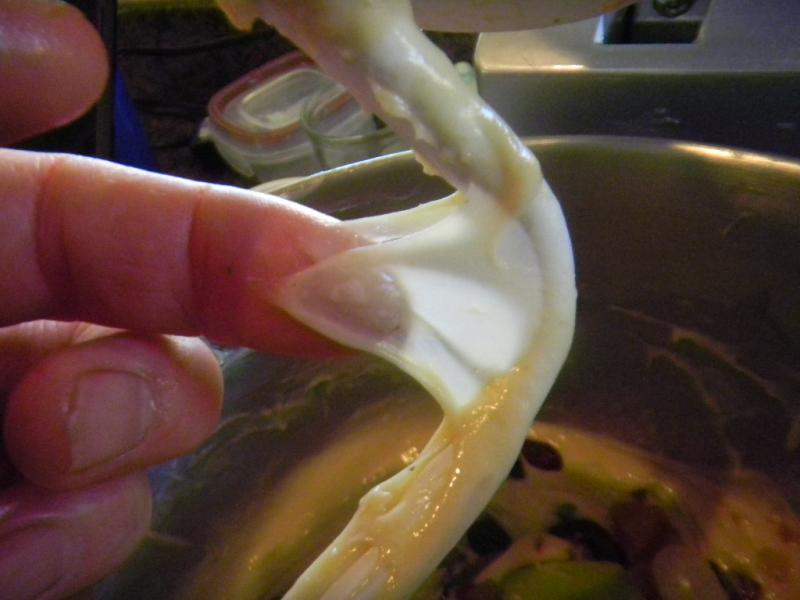 Sadly, baking gremlins worked their evil spells as soon as the fine looking, up to that point, panettone, hit the oven.
The conversion from rye sour to white Italian levain went well over several days.  The first dough more than tripled in volume in 12 hours. The gluten development of the second dough was very good with an extremely fine window pane.  The second dough build rose very well too.  All looked good as we loaded the dough balls into the home made panettone moulds.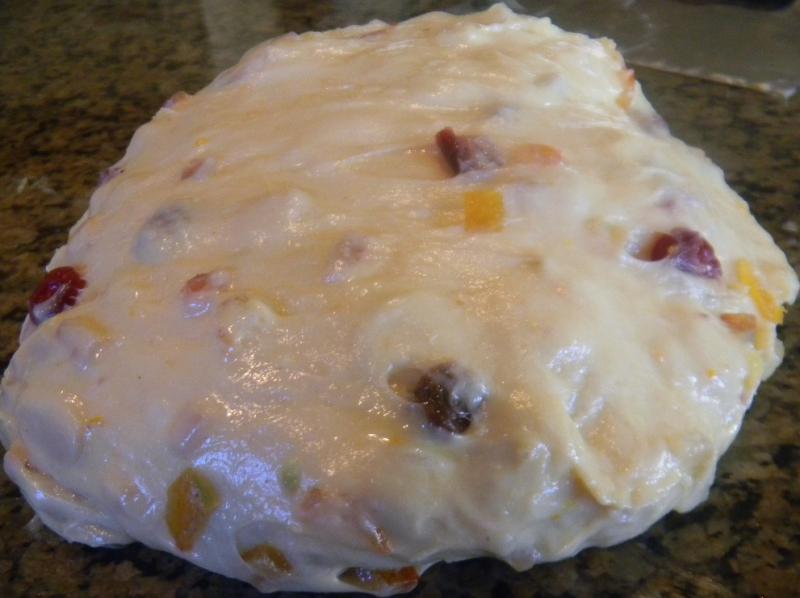 The dough rose well in the (2) moulds that held over 800g of dough each and then the glaze went on when they were fully risen after 6 hours.  They were just right for baking when they went into the 350 F oven.
Then the first of several catastrophic disasters struck.  First off, the bottom of the moulds blew out one side under oven spring and the panettone took on the look of a tower in Pisa- only leaning over to a greater degree than the famous tower.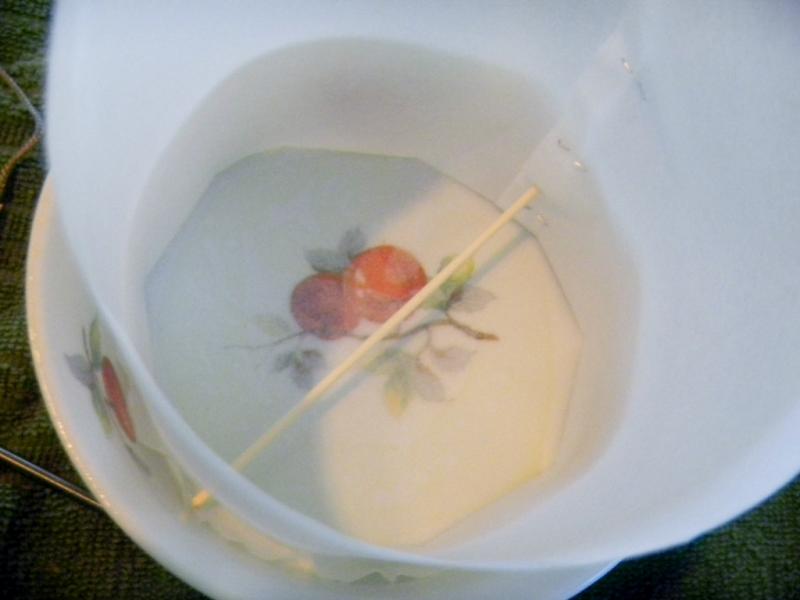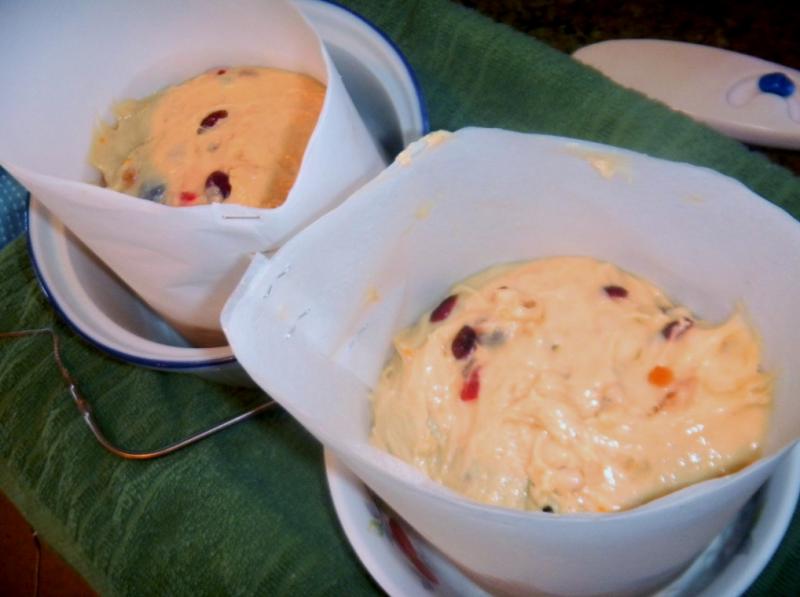 The recipe said to bake for 45 minutes until the inside read 185 F they didn't look quite done so we baked them for an additional 10 minutes – but forgot to check the inside temperature – never ever do this.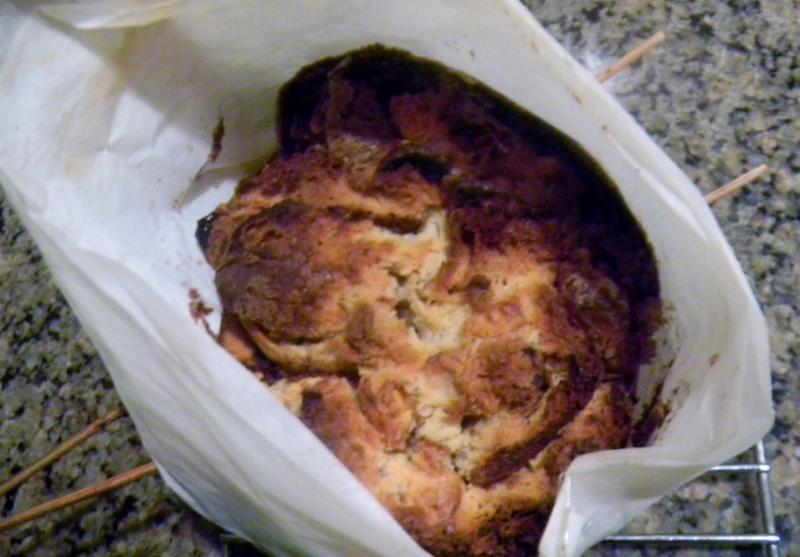 We took them out of the oven and hung them upside down from my wife's clothes drying rack.  My wife didn't like that at all, since it was in the living room with carpet and said to get a towel under the two bat like hanging panettone.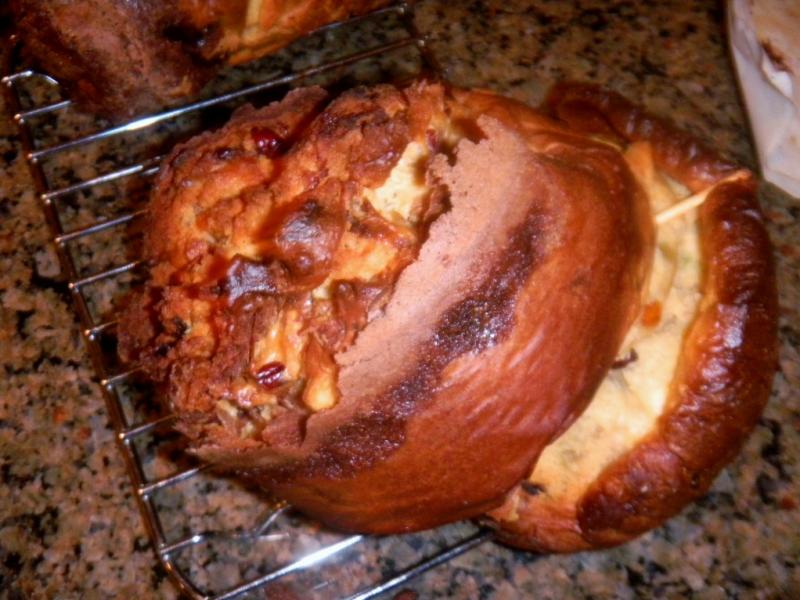 By the time I got back with the towel, the panettone had separated in the now clearly, way underdone, still liquid centers and plopped the bottom half of each onto the carpet.  My apprentice wanted to fix this problem in her normal way so it was all I could do to keep her from wolfing the fallen ones down with her being a short legged wolf descendant.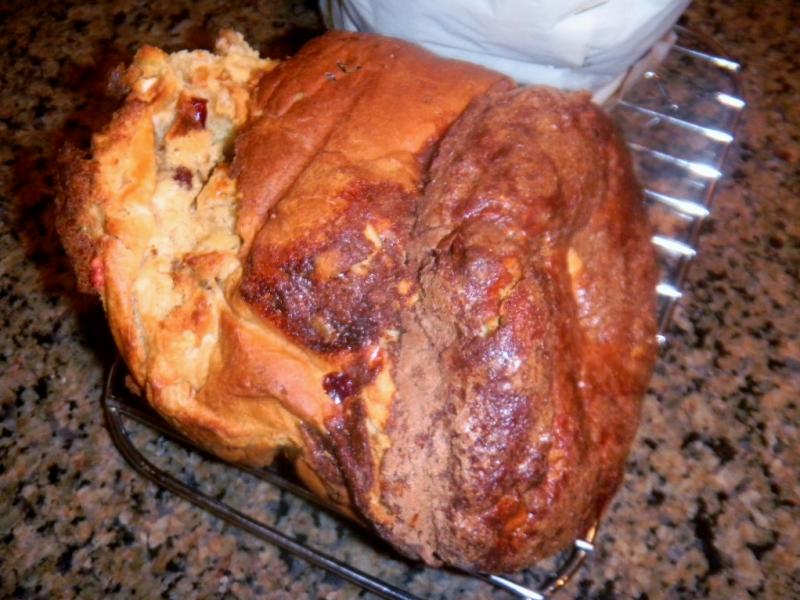 Here is the other one that managed to fall on it's liquid center so the glaze is still intact.
I un-hung the remaining half of the panettone and stuffed what I could of the now carpet fuzzy half back in on top and sent them back into the heat to bake to1 85 F - as they should have been baked originally.  It was another 30 minutes before they read 185 F and were taken out to cool on a rack – no hanging upside down this time.  It seemed pointless since no right side up could be discerned after careful perusal from all angles.
Oddly, even though they were deeply brown on the outside and the right temperature on the inside, they were still not done in the center and looked like they needed to bake to 205 F like other breads.
Remember, this all took place on New Year's Eve and I could say that my apprentice was already snockered and responsible for this ridiculous baking feat.   But No!  Even though she was still totally responsible for the catastrophic outcome, she hadn't had a thing to drink with it being before 5 PM and is just a near worthless baking apprentice.
So 2012 ended on a gooey, messy, carpet fuzzy kind of note but, the panettone sure tasted good after being toasted for 7 minutes to finally get it done.  Use your thermometer and bake until done in 2013.  Also use a tin for panettone if you don't have proper moulds :-)
Happy New Year.