November 27, 2012 - 4:53am
Being a home baker, one of the most amazing things for me to achieve in my baking is consistency. As a home baker one gets rarely the opportunity to bake big batches, and the natural limits are oven capacity and proving space.
During the last four weeks I have been asked twice to bake for larger occasions, and I managed to churn out about 70 braided rolls on each occasion. Great fun, and also quite a learning curve in managing resources and dough handling.
The first occasion was my mother-in-law's 80th birthday; I used the Rich Sourdough Barches recipe from "Inside The Jewish Bakery", a great recipe. I made 70 rolls (60g each) in different shapes and with different toppings, and a 12 strand braid of 1200g, in 6 batches over 2 days (working fulltime on my job during the day). After the first two batches the oven window blew (while my wife made supper, I was still on the train), and a commuter friend offered spontaneously his kitchen, which I gladly occupied until 1.30 am that night and got all my baking done.
Here a photo of the rolls made that night: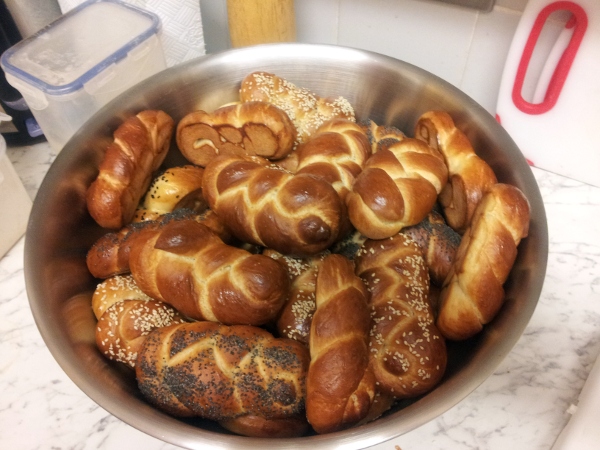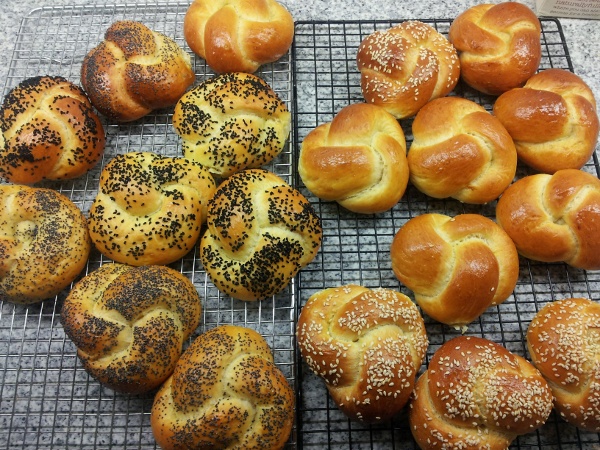 The arrangement on one of the tables looked like this: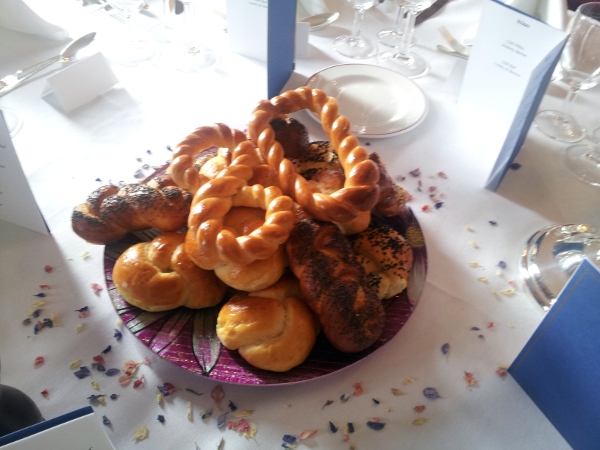 The second occasion was the winter fair at my son's school. The theme was "Fire And Ice", and I have been gently volunteered to create "Fire n'Iced Buns".
A couple of days before Bo Friberg's "The Professional Pastry Chef" had arrived, and I was keen to try out some recipes from this huge book.
I chose to base the buns on the Rich Cardamom Sweet Dough – various tests and tastings showed this to be an easy to handle and very tasty formula.
Curiously, although it is a yeasted dough, it omits a bulk ferment – it is meant to be rested for just 10 minutes after kneading (to relax the gluten).
I tested this, and made two more small batches, one proofed as I would (poking test), and one overnight in the fridge.
The original method and the chilled version were quite similar, but the "properly" fermented version yielded buns that were quite dry.
I will give the percentages of the Cardamom Dough as I adapted them below.
I made the final buns with Cardamom Dough, my Chocolate Chilli Dough (adapted from the Cardamom Dough), and peppermint Icing. Half the Chocolate dough was without chilli.
Because I managed to scale shape 12 buns in about 10 minutes I baked 65 buns (40g each) in 6 batches, starting at 5.30am and finishing with the decoration at 9.00am.
Here some photos of the "Fire n'Iced Buns":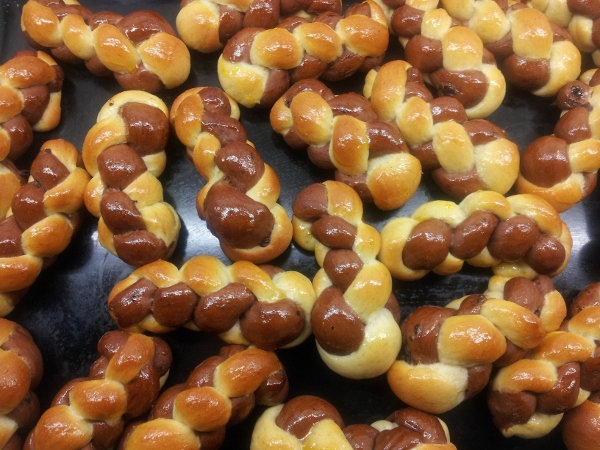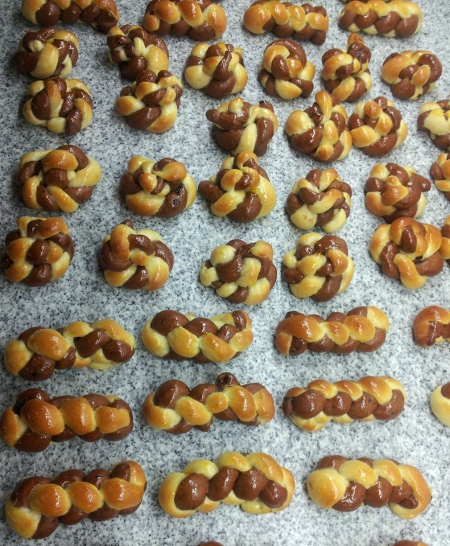 The buns above have been glazed with hot apricot jam, but haven't been iced yet. Unfortunately I haven't got any good pictures of the final product.
And here the formula:
Ingredient
Chocolate Chilli Dough
Cardamom Dough
 
%
Weight
%
Weight
Bread flour
100
733.0
100
772.5
Cocoa Powder
5
36.6
0
0.0
Cardamom
1.05
7.7
1
7.7
Chilli Powder
0.6
4.4
0
0.0
Ground Ginger
0.18
1.3
0
0.0
Ground Cloves
0.093
0.7
0
0.0
Chocolate Chips (small)
10
73.3
0
0.0
Sugar
14.92
109.4
14.23
109.9
Salt
1.31
9.6
1.26
9.7
Yeast (instant)
1.609
11.8
1.53
11.8
Butter
7.56
55.4
16.74
129.3
Milk
42.13
308.8
40.17
310.3
Egg
20.19
148.0
19.25
148.7
Yield
204.642
1,500.0
194.18
1,500.0
Method:
Melt the butter and set it aside to cool a bit.
Mix milk, yeast, egg and sugar.  Let it stand for about 15 minutes.
Add this mix to the solid ingredients and mix to incorporate.
Add the butter and knead until you have a smooth, soft dough that easily comes off the bowl or worktop.
The chocolate dough will be stiffer, but in the end both doughs will perform similarly.
Rest for 10 minutes to relax gluten, and then shape.
You can also put the dough into the fridge right away and use it later. (I kept it in the fridge overnight) 
 Excellent videos about shaping and braiding can be found on Youtube, e.g.
http://www.youtube.com/watch?v=PmxDKuGLWuE
http://www.youtube.com/watch?v=DUZEz4elX8E
Let the shaped buns rest until just not doubled in size. ( Try the "poke test" on the white dough, it should still be elastic)
Bake at 190C for about 10 minutes.
Happy Baking,
Juergen