November 23, 2012 - 4:02pm
Daughter Does French Slap and Folds for Her Poolish Thanksgiving Rolls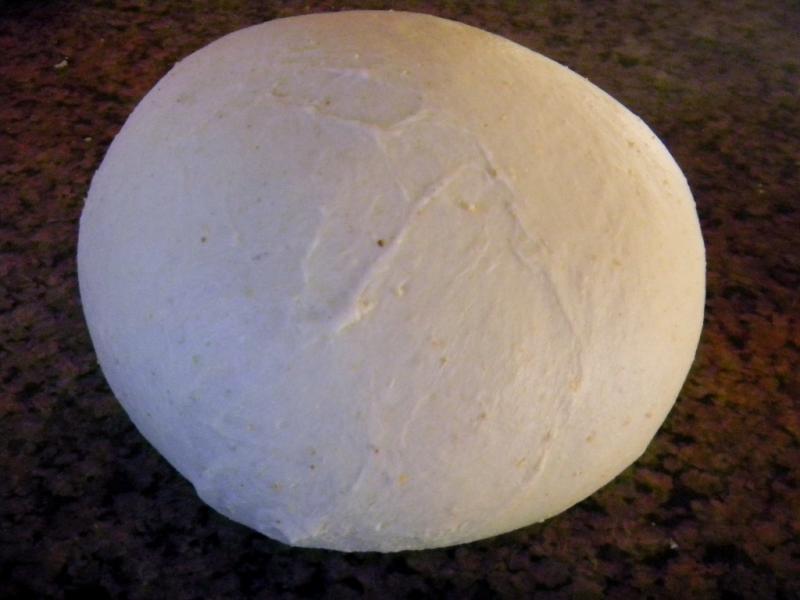 My Daughter's summer kitchen apprenticeship with my other apprentice seems to have stuck.  She recently made Thai Green Curry Chicken for her boyfriend, - from memory and she quickly impressed Ole Dad with her remembering how to do French slap and folds and stretch and folds on her Thanksgiving rolls that she is always in charge of making for dinner.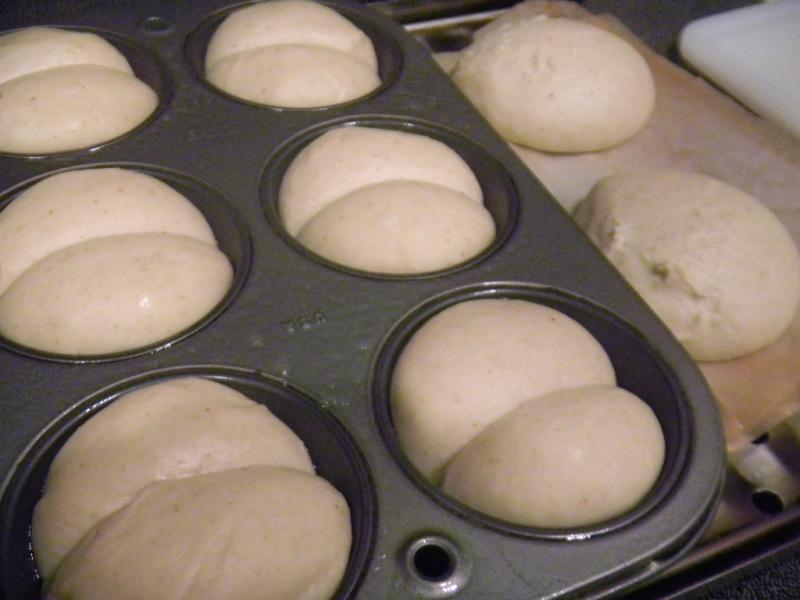 She also is in charge of the gravy since she is the Gravy Queen and this year's was the best yet and she decided to not put a splash of cognac in to start the de-glazing – no wine either!  Who knew gravy could be so good without either?
Look at those yellow specks from Toady Tom's Toasted Tidbits !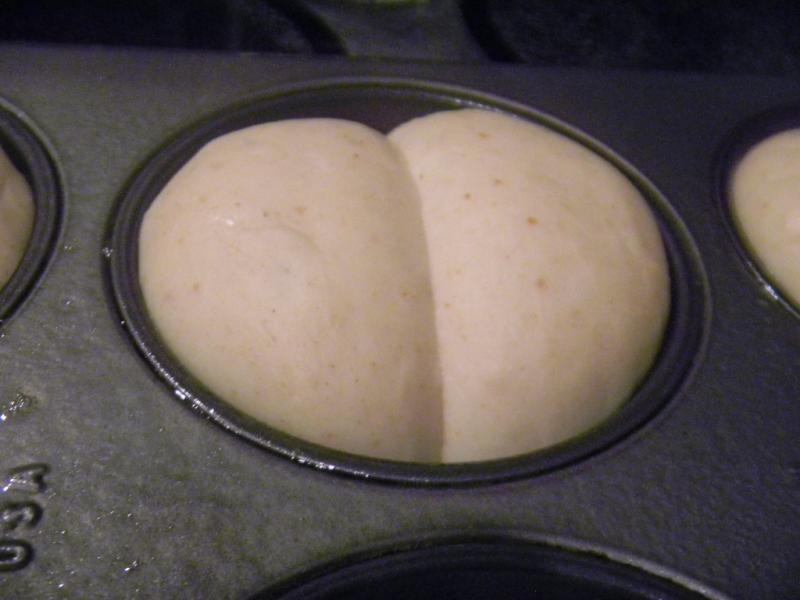 We made up this recipe as we went along.  After we scraped the small polish plastic tub down thoroughly to make the last bread for the stuffing, we put some more flour and water in the tub hoping the leftovers would be enough to start a new batch of polish.   24 hours of counter fermenting later, it was bubbling and ready to go.
We decided to make 8 rolls of 100 g each and wanted the polish to be 15% of the final dough.  We used 5 g of Toady Tom's, Tasty, Toasted Tidbits for some extra flavor and brown speckles, 25 g of WWW flour, 25 g of butter, 2% salt and 72.2% hydration.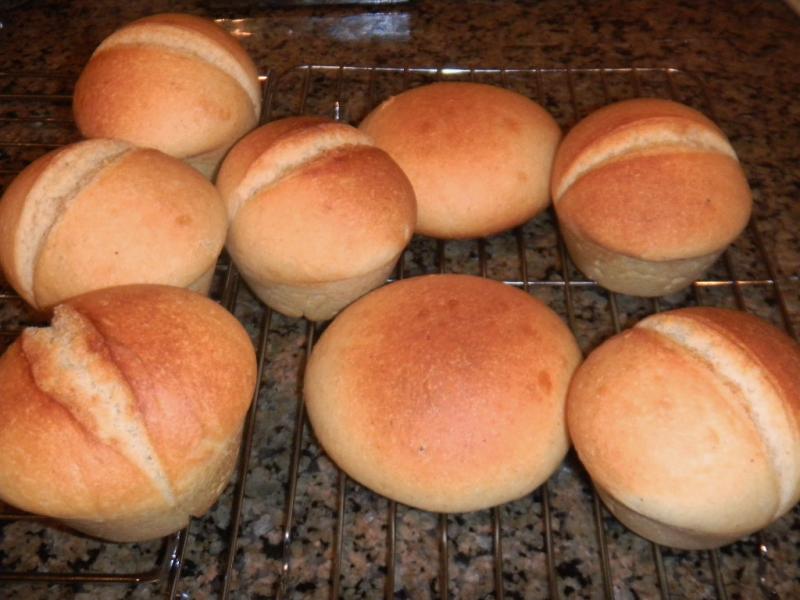 The final exam Bakers percentage test question was:  If the butter was 20% water and using equal parts of cream and water for the liquid, how much AP and Bread flour were required if the AP flour was 3 times as much ad the bread flour and how much cream and water were used?
Yep the mini put some blisters on these rolls.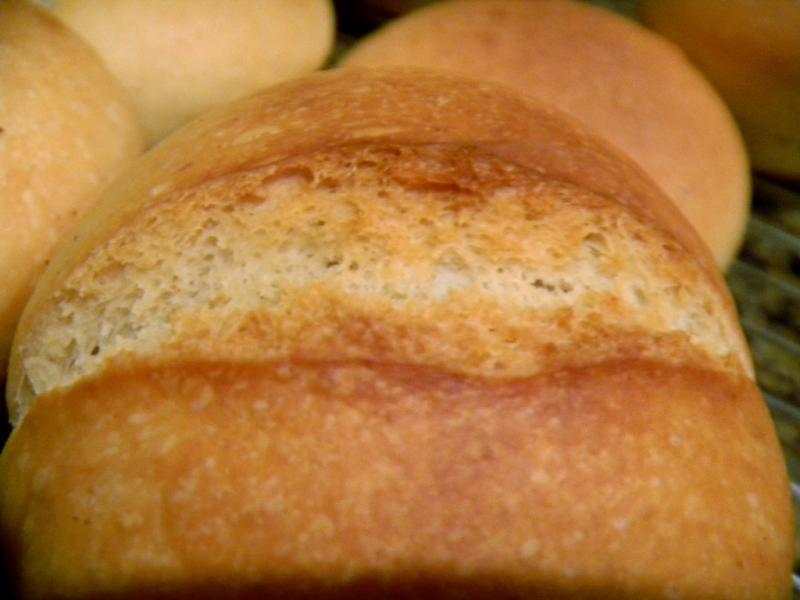 We hear that professional bread baking instructors use questions like this for their students even though they aren't allowed to beat them for answering incorrectly like the old days and private instructor's still can today…..  The trick follow up question was, if we would have remembered to put milk in for the water portion of the liquid, added 10g of potato flakes,  1 egg and 10g of honey in to make them more soft roll like, instead of french bread like,  how many grams of extra milk or flour would you have to add to keep the hydration the same?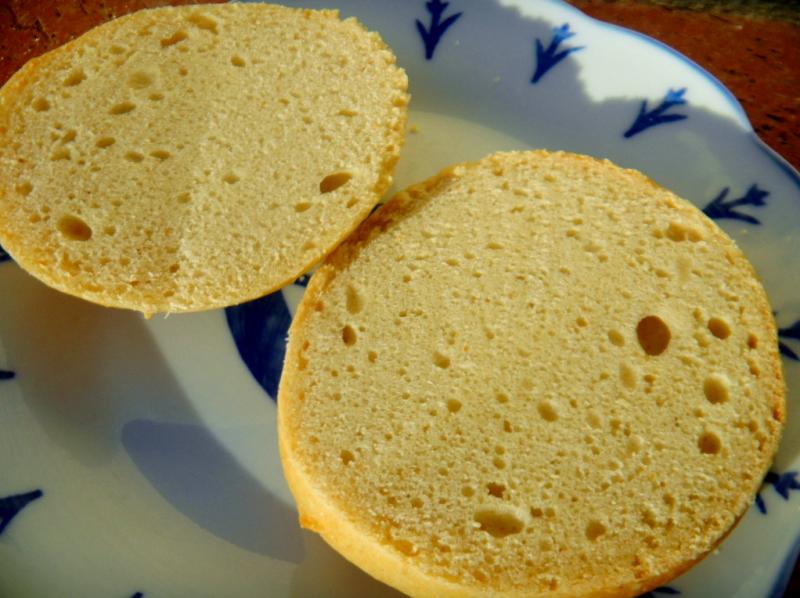 Very nice french bread but not really the soft rolls we usually enjoy.  Great with butter and jam though . My wife said they would make fine croutons or bread crumbs and my daughter said she is making biscuits next holiday in a month or so :-)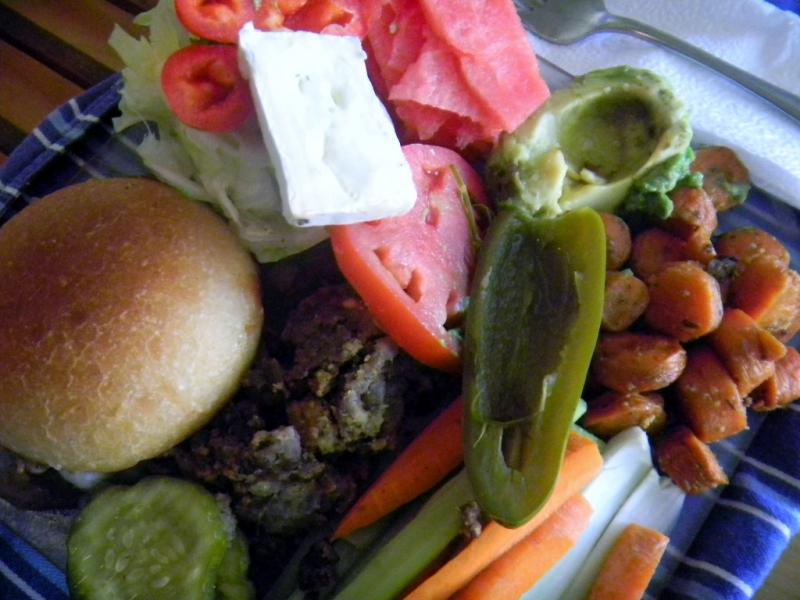 Daughter's French slap and fold tutorial....hard to believe it became that beautiful dough ball.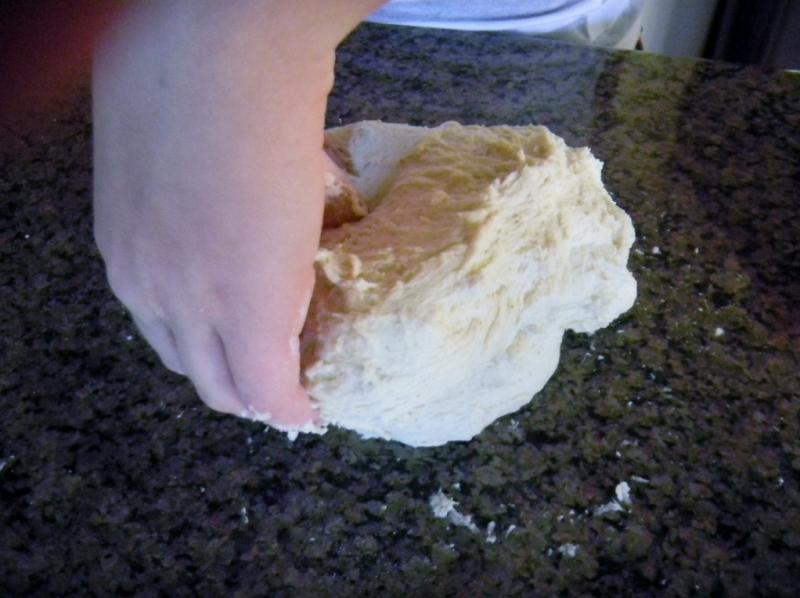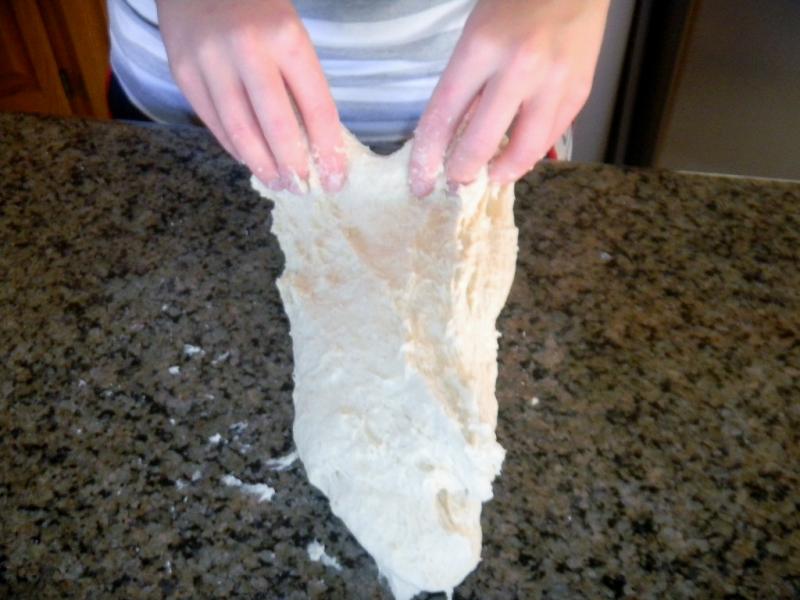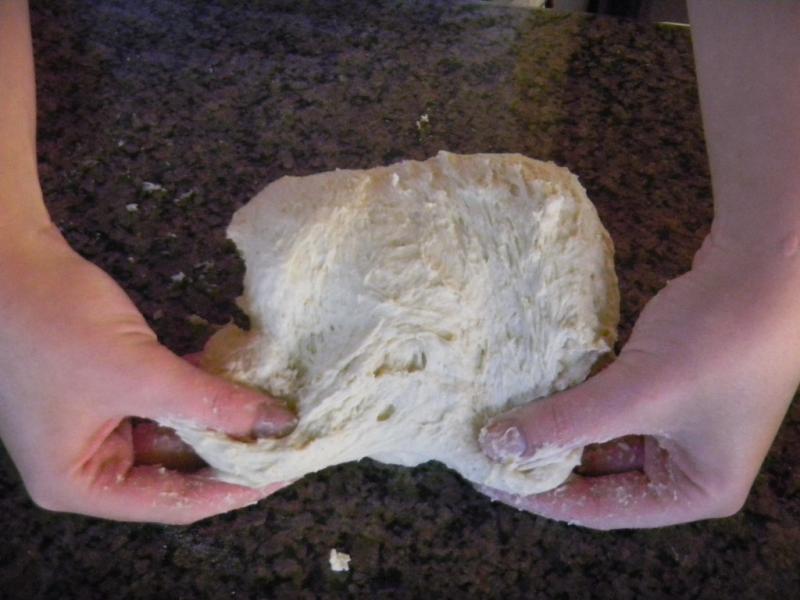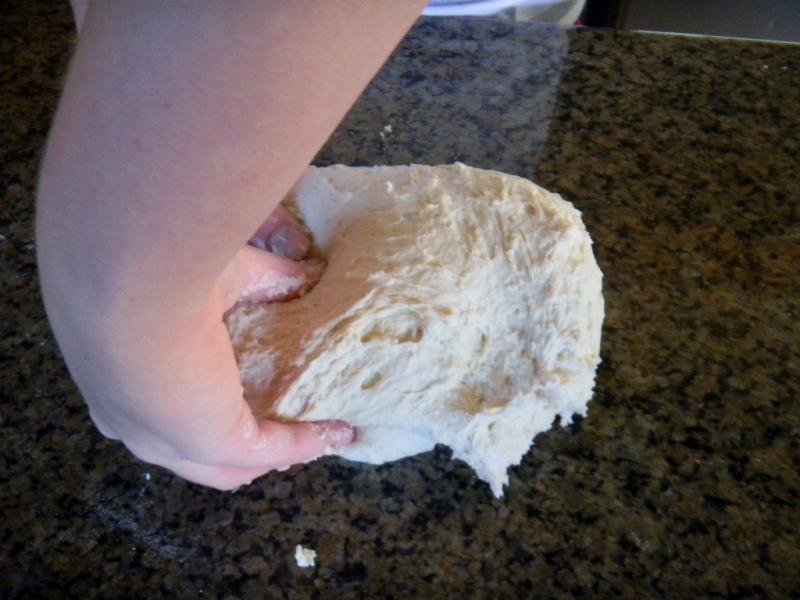 We didn't have time for an autolyse because the turkey, that my furrier apprentice was in charge of, was going to be done in 5 hours - so time was as short as her legs.   After mixing everything together, my daughter got right into a good rhythm of French slap and folds for 10 minutes. 
Next thing you know the dough was resting in a plastic covered bowl for 30 minutes before a set of S&F's were done and it was back in the bowl for 1 1/2 hours of fermenting after once again impressing with her boule shaping and skin tightening techniques. 
The dough was divided into 8 pieces.  6 of the dough balls were divided again into two pieces.  The remaining 2 large 100g pieces were folded and then free formed into rolls on parchment and the other, smaller pieces were used to make 6 rolls in a muffin tin - 2 to a tin opening.  Then they were to proof for a couple of hours and be ready to bake.
Sadly, the increasingly de-focused appearing apprentice somehow managed to get the really big chicken done 1 1/2 hours early.  This was probably through faulty calculations that did not require the actual calculus poorly used - if not totally incorrectly applied.
The other college educated apprentice's fine rolls were no where near proofed and would not be ready for the mini oven's blistering heat until after the Thanksgiving dinner dishes were done.
They were eventually baked at 350 F in the mini oven for 8 minutes with steam and the baked for another 15 minutes at 350 F, convection this time.  We rotated the rolls every 5 minutes to make sure that they baked up evenly brown.  They sure puffed themselves up well once they hit the steam 
Thankfully, we have Thanksgiving Dinner all over again the next day, usually a Friday for some reason, as a bizarre, if totally fulfilling, as well as, filling, tradition started by my Great, Great, Great, Granny C now deceased neigh on 150 years.
The Ozark Mountains have never been the same since Granny C died and was buried at Dooley's but Uncle Jed, Ellie Mea and Jethro were all better for her lording over and caring for them and the rest of us wouldn't even be here without her either.  So the rolls will be half polished off tonight in the Thanksgiving Dinner After.
When I went to freeze half the rolls last night, I noticed that 1 was missing and it is hard to freeze half of 7 without making a mess of one of them.   I suspected the badly calculating, if cute, apprentice managed to sneak a taste of the missing when I saw her licking her chops and sticking her tongue out at me in her 'that was delicious' grin.
So we won't be able to take a look at the inside or have a taste till later tonight but I'm guessing they are pretty good from the look on Lucy's face.
Happy Thanksgiving to all Fresh Lofian's everywhere.