November 9, 2012 - 5:03pm
Prune & Brazil Nut Sourdough with Bulgar Scald, Pumpkin & Sunflower Seeds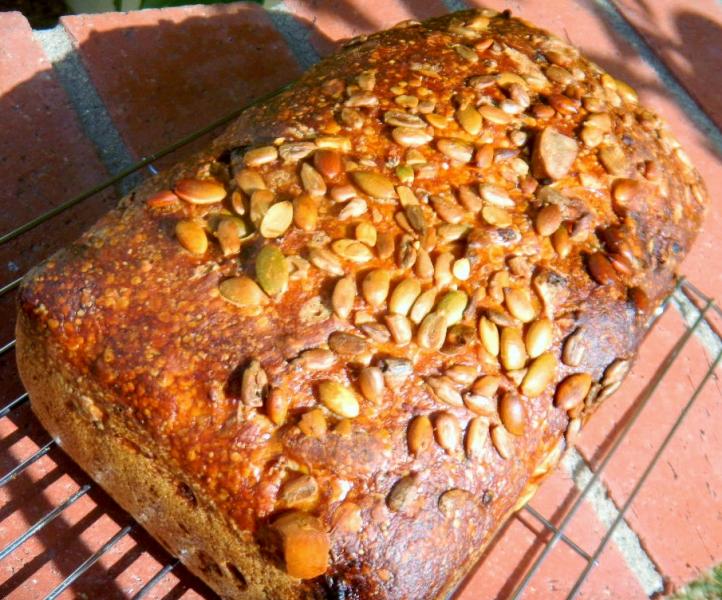 Continuing our experiment with 1% SD seed and long counter top ferment and proofing we tried out several new ideas with this bake.  The average kitchen temperature over the 24 hours was 77 F degrees.
First we upped the whole grains to 17.5% to try to improve the flavor and sour further and we changed to prunes and brazil nuts, one of Andy's favorite combination that we like very much, while keeping the pumpkin and sunflower seeds.  We added a bulgar scald to improve the flavor and texture of the bread and also upped the hydration slightly to compensate for the slightly more whole grains.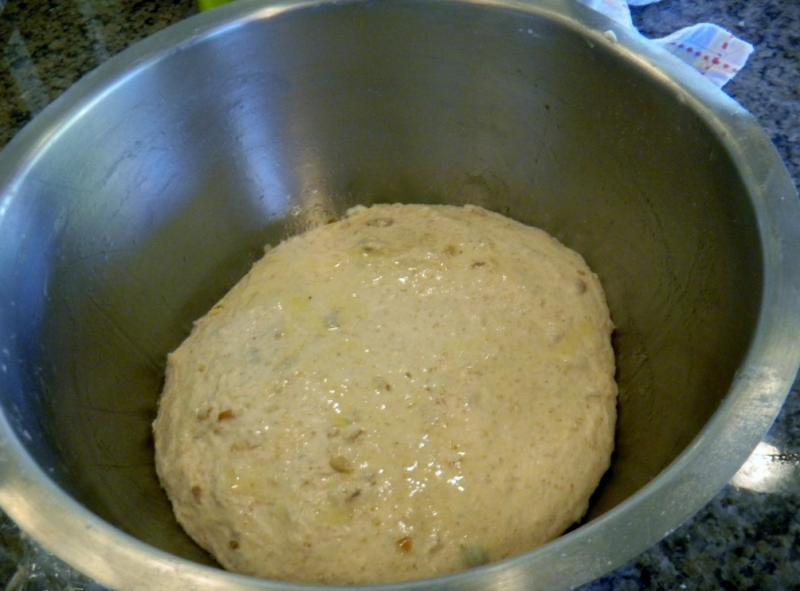 We combined and mixed everything except the nuts, fruits, seeds and bulgar scald and let it autolyse for 30 minutes.  Then we did 13 minutes of French Slap and folds before adding in the rest of the ingredients and doing another 2minutes if slap and folds to incorporate the add ins.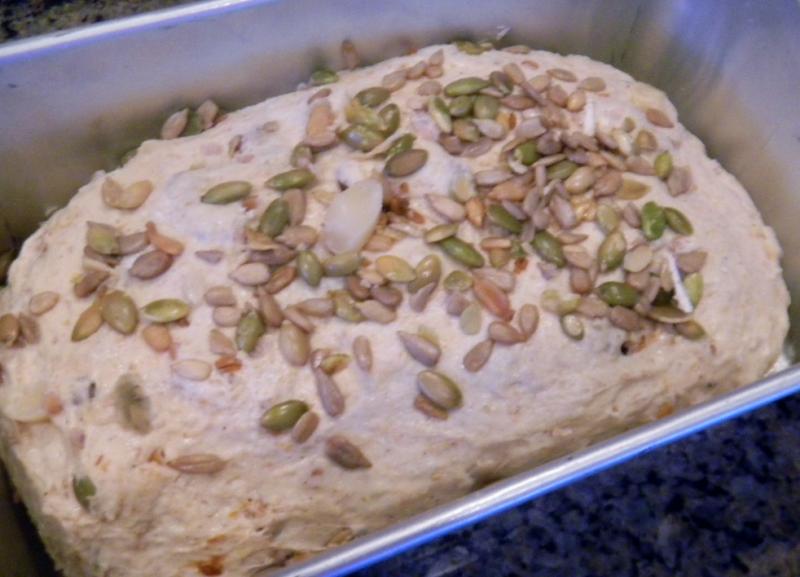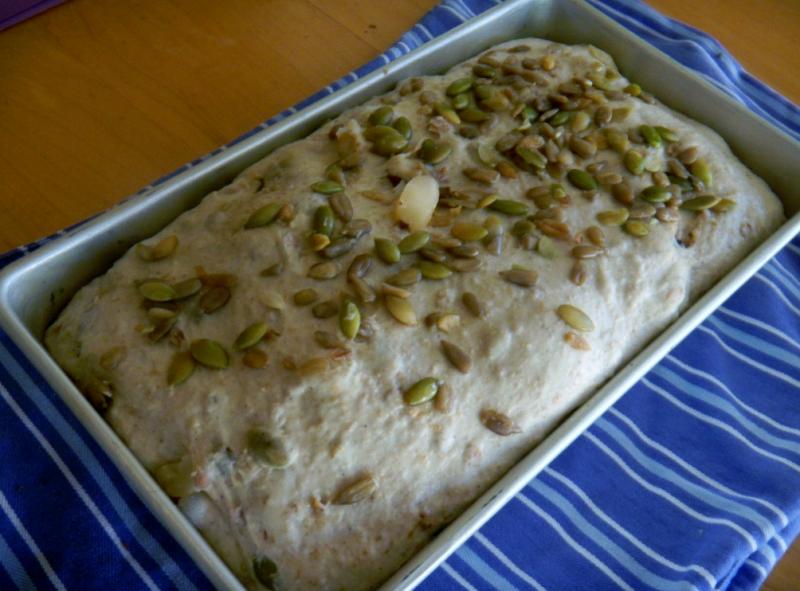 The dough was then left on the counter top for 21 hours to ferment and develop.  We learned from out last bake that 20 hours was better with another 4 hours on the counter after shaping to proof.  But we didn't get up in time so we have what we have – just like always - no worries.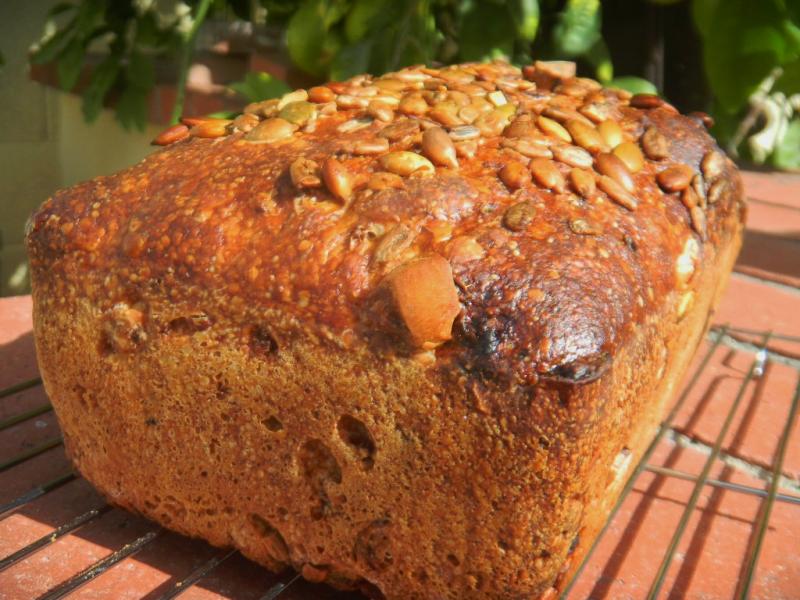 We shaped and panned this bread as a loaf this time with a few seeds on top and let it proof for 4 hours on the counter before going into the 450 F oven with 2 of Sylvia's steaming pans to steam for 12 minutes.  At the 12 minute mark the steam was removed and the oven was turned down to 425 F, convection this time.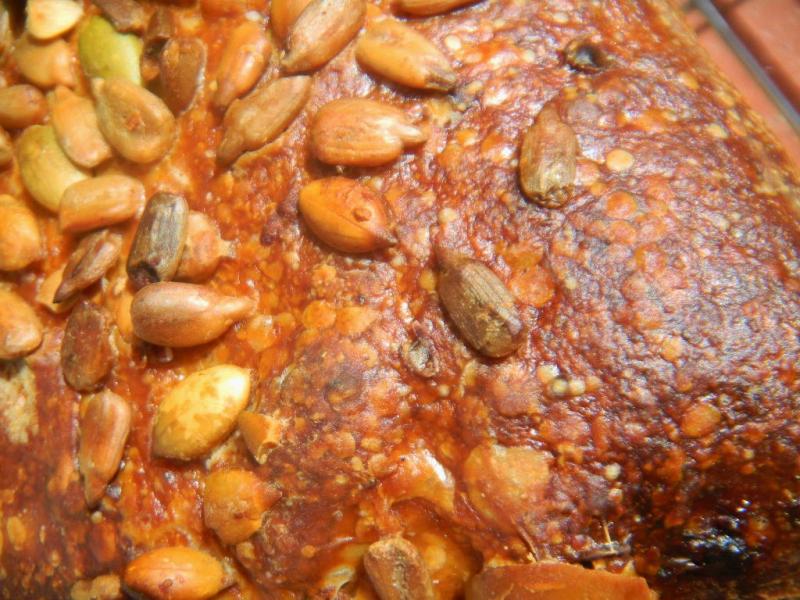 It baked for another 10 minutes after being turned 180 degrees after 5 minutes and removed from the pan.  When it registered 205 F we turned the oven off and let the loaf crisp for 10 minutes before being removed from the oven to the cooling rack. This bread tastes as amazingly sour as the fig and pistachio bread did but it has a deeper flavor thanks to the bulgar scald and the extra whole grains.  The crust was so crunchy and stayed that way even after it cooled - very nice.  The crumb is  not as open as the previous bake but it is just as soft and moist.   We also like the extra seeds with the fruit and nuts too.  Much better bread all the way around.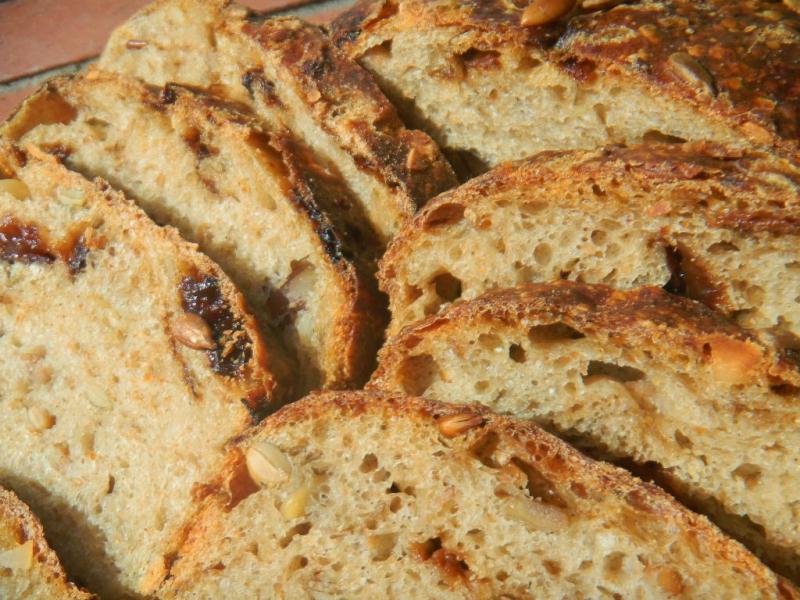 Formula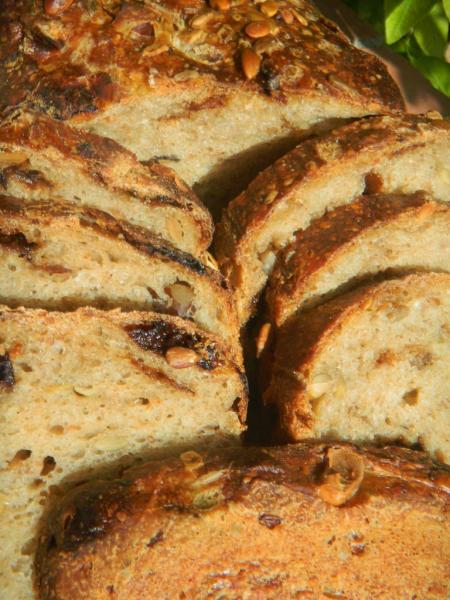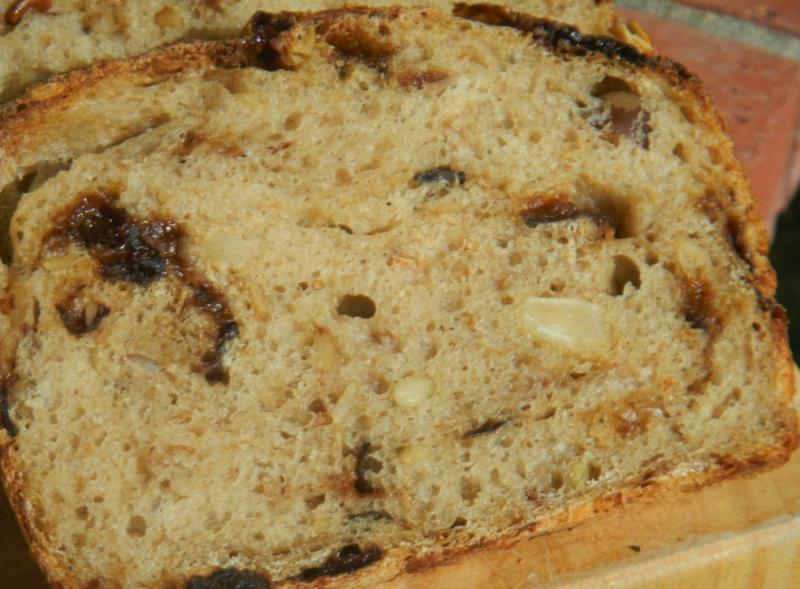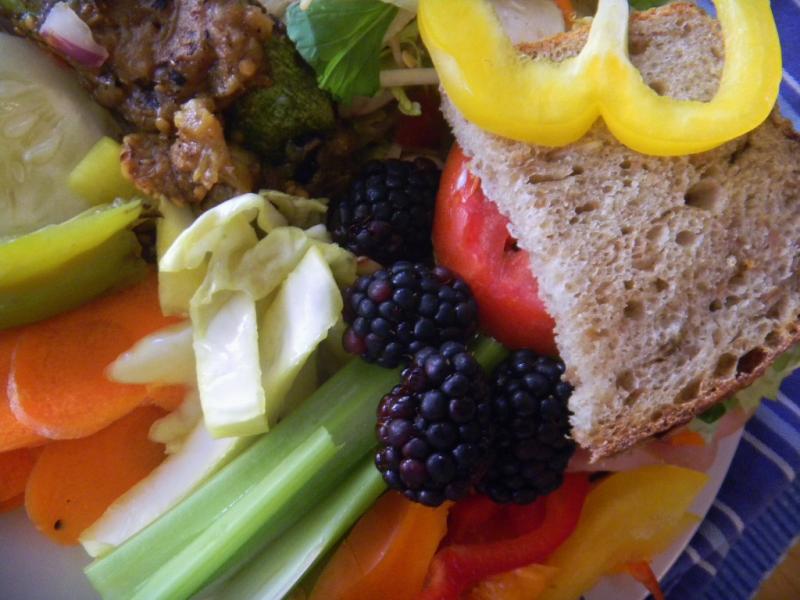 Starter

Build 1

%

SD Desem & Rye Sour

6

1.15%

Total Starter

6

1.15%

 

 

 

Starter Totals

 

 

Hydration

66.67%

 

Levain % of Total

0.55%

 

 

 

 

Dough Flour

 

%

Whole Wheat

20

3.85%

Whole spelt

15

2.88%

Dark Rye

15

2.88%

Whole Wheat

15

2.88%

AP

440

84.62%

Dough Flour

520

100.00%

 

 

 

Salt

9

1.73%

Water

385

74.04%

Dough Hydration

74.04%

 

 

 

 

Total Flour

523.6

 

Total Water

387.4

 

T. Dough Hydration

73.99%

 

Whole Grain %

17.57%

 

 

 

 

Hydration w/ Adds

72.74%

 

Total Weight

1,095

 

 

 

 

Add - Ins

 

%

Red Multi-grain Malt

3

0.58%

VW Gluten

3

0.58%

White Multi-grain Malt

3

0.58%

Total

9

1.73%

 

 

 

Add Ins - Nuts Fruits and Seeds

%

Brazil Nuts

50

9.62%

Sunflower 20, Pumpkin 20

40

7.69%

Prunes

50

9.62%

Total

140

26.92%

 

 

 

Scald

 

 

Whole Bulgar

20

3.85%

Total Scald

20

3.85%

 

 

 

SFSD Total Weight

1,095