November 9, 2012 - 3:47pm
60% Whole Grain SD / YW Bread With Caraway, Rye Chops, Coffee and Cocoa
We decided to take our 1% SD starter experiment to the dark side by using much more whole grains; mainly rye and add some yeast water into the mix to try to open the crumb.  Our previous YW experiments show that YW can open the crumb dramatically more than what SD seed can do on its own when it comes to high percent whole grain breads.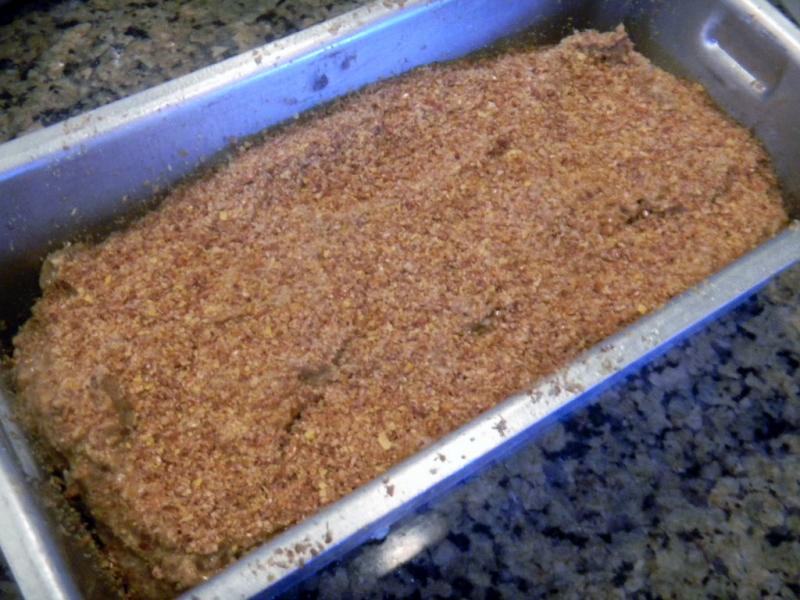 With Thanksgiving less than 2 weeks away we decided to make a small cocktail loaf of rye bread flavored with cocoa, coffee and caraway.  To bolster the flavor and texture of the medium rye bread further we added some scalded rye chops to the 82.5 % hydration mix.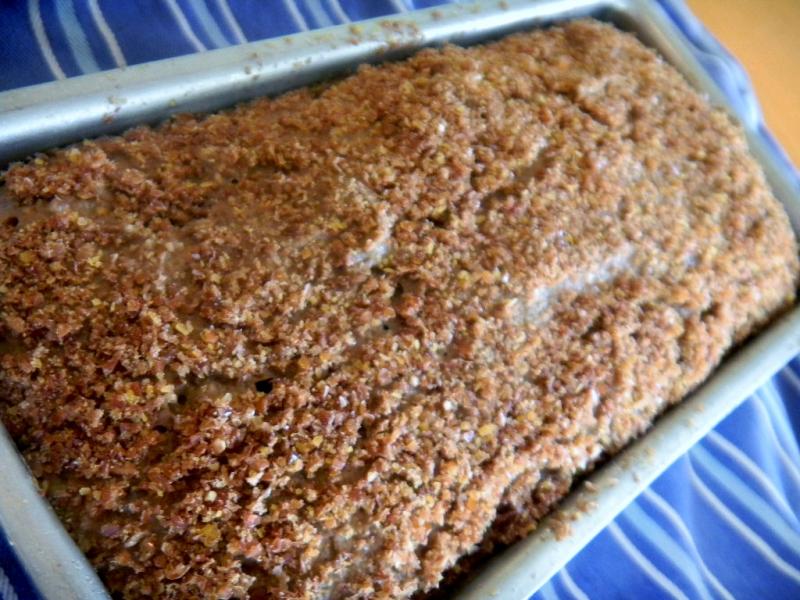 Like Phil says - When it cracks it is ready to go in the oven.  In this case the bran flakes worked perfectly. 
We have no experience to go on using low amounts of SD and YW seeds and long counter top fermentation when using higher amounts of home milled grains.  So we made a wild guess at how long the process should take.  We decided to knock 5 hours off the total 24 hour time and to not add the 5 g YW to the mix until 5 hours after the fermentation started.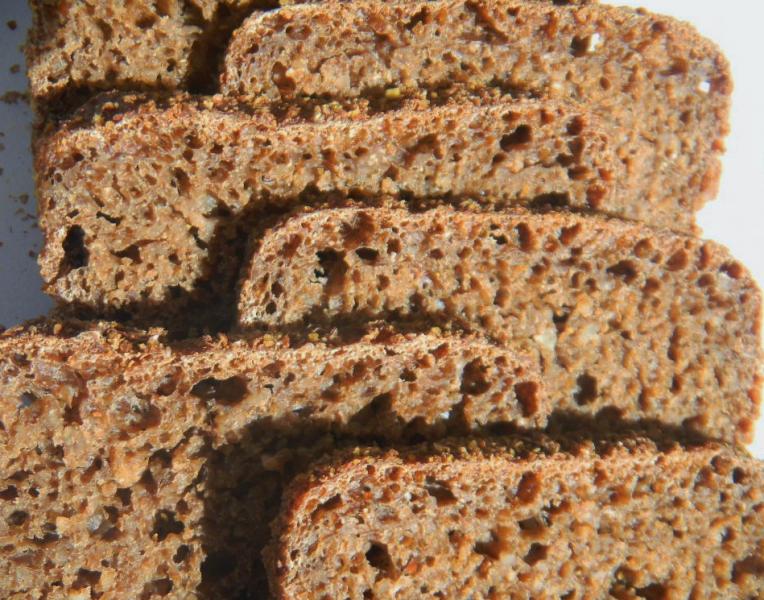 It was ready to pan up in 16 hours and it proofed, nearly doubling and cracking the bran sprinkled on top in 4 hours  We baked it with 2 of Sylvia's steaming cups in the mini oven at 450 F for 15 minute. The steam was removed and the temperature was turned down to 350 F and baked for another 10 minutes before being de-panned and baked for another 5 minutes after turning the bread 180 degrees on the oven rack.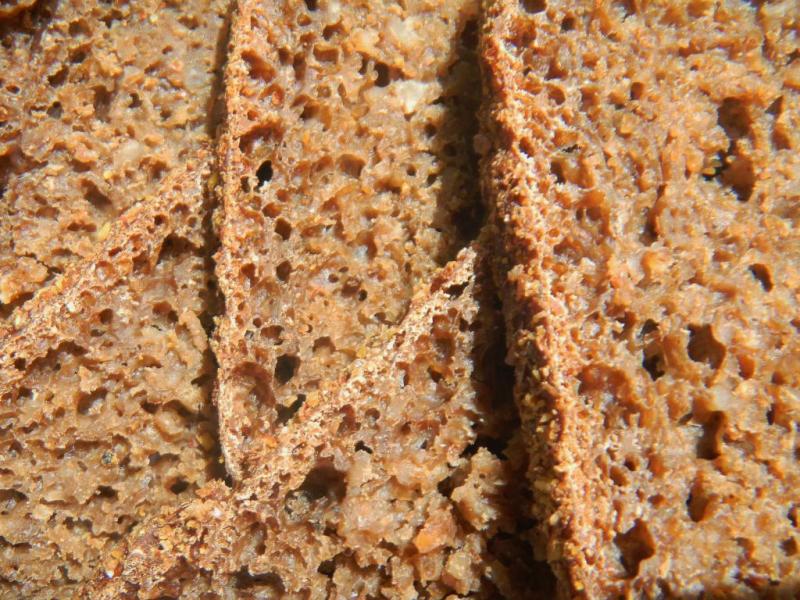 It was left in the off oven, door ajar for 10 minutes to continue to crisp the crust and then removed to he cooling rack.  From the outside the loaf has potential.  It smells beautiful and is quite attractive for a brown lump of a bread covered in bran.  We hope that the crumb is as open as the last rye bake that was 100% whole rye.  We await 24 hours to see if the yeast water worked its magic once again.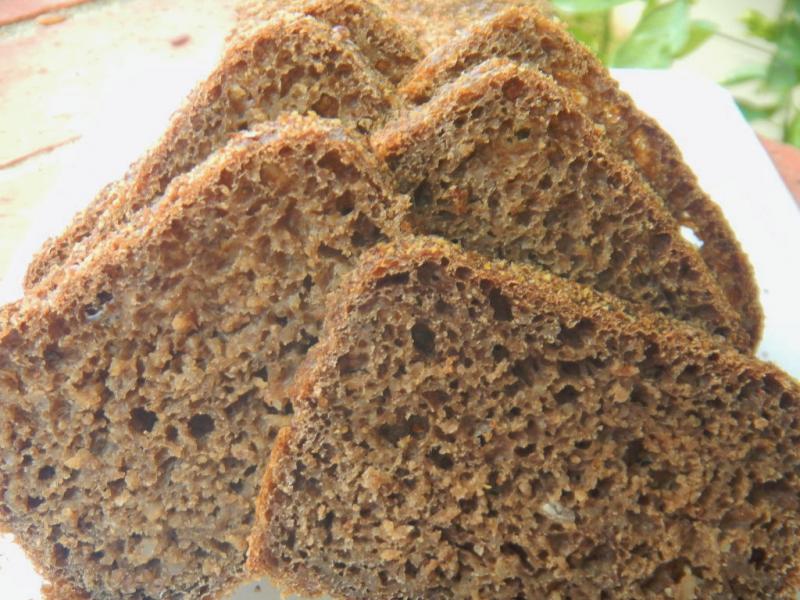 24 hours later and this bread turned out open, moist 1/4"slicing is no problem and best of all just plain delicious.  You don't taste the coffee and cocoa and even the caraway is subtle.  It is lovely plain, toasted, buttered and a nice coctail bread for the Holidays.
Formula 
| | | |
| --- | --- | --- |
| Combo Starter | Build 1 | % |
| SD Desem & Rye Sour | 3 | 1.19% |
| Yeast Water | 5 | 2.00% |
| Total Starter | 8 | 3.20% |
|   |   |   |
| Starter Totals |   |   |
| Hydration | 344.44% |   |
| Levain % of Total | 1.58% |   |
|   |   |   |
| Dough Flour |   | % |
| Whole spelt | 25 | 10.00% |
| Dark Rye | 100 | 40.00% |
| Whole Wheat | 25 | 10.00% |
| AP | 100 | 40.00% |
| Dough Flour | 250 | 100.00% |
|   |   |   |
| Salt | 5 | 2.00% |
| Water | 200 | 80.00% |
| Dough Hydration | 80.00% |   |
|   |   |   |
| Total Flour | 251.8 |   |
| Total Water | 206.2 |   |
| T. Dough Hydration | 81.89% |   |
| Whole Grain % | 61.76% |   |
|   |   |   |
| Hydration w/ Adds | 82.56% |   |
| Total Weight | 505 |   |
|   |   |   |
| Add - Ins |   | % |
| Red Multi-grain Malt | 2 | 0.80% |
| Barley Malt | 10 | 4.00% |
| White Multi-grain Malt | 2 | 0.80% |
| Total | 14 | 5.60% |
|   |   |   |
| Scald |   | % |
| Rye Chops | 20 | 8.00% |
|   |   |   |
| 1 tsp Caraway Seeds |   |   |
| 1 tsp Instant Coffee |   |   |
| 1 tsp of Cocoa |   |   |