October 17, 2012 - 5:06pm
World Bread Day - SD Multigrain with Figs, Anise, Pistachios and Sprouts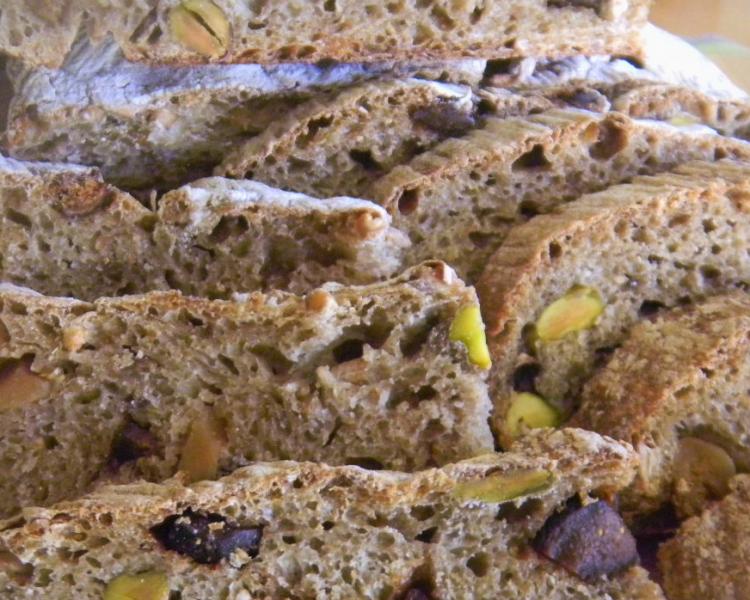 Yesterday when I woke up and saw Phil's post on Word Bread Day I knew we had to get cracking in order to get some kind of bread at least started on this world wide day devoted to bread.  Phil's and Ying's fantastic posts this week using figs seemed like a good place to start - not that my attempt would add up to half of their masterpieces.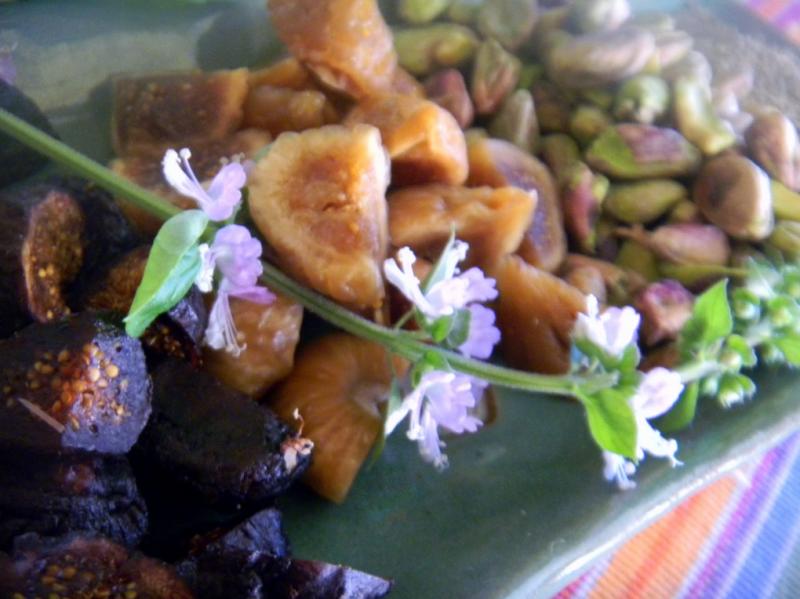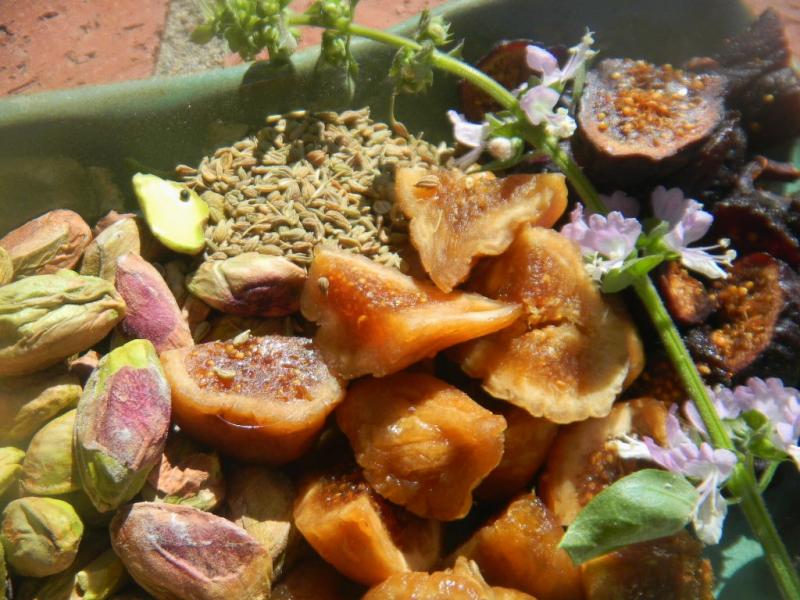 Phil's had anise and Ying's had hazelnuts top go with the figs.  We can't find hazelnuts for sale locally but we did have pistachios - one of the most overlooked nuts to include in breads.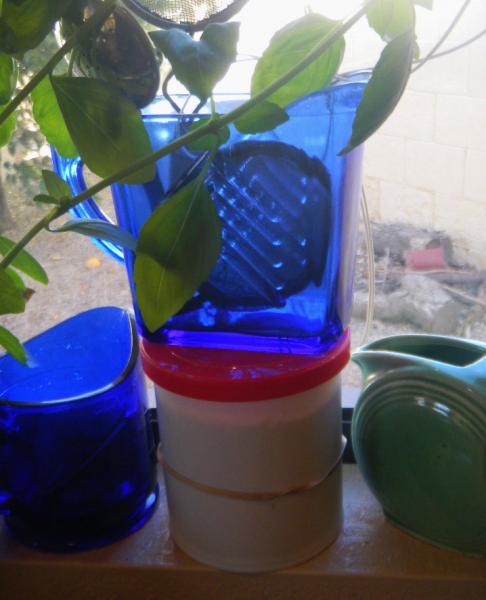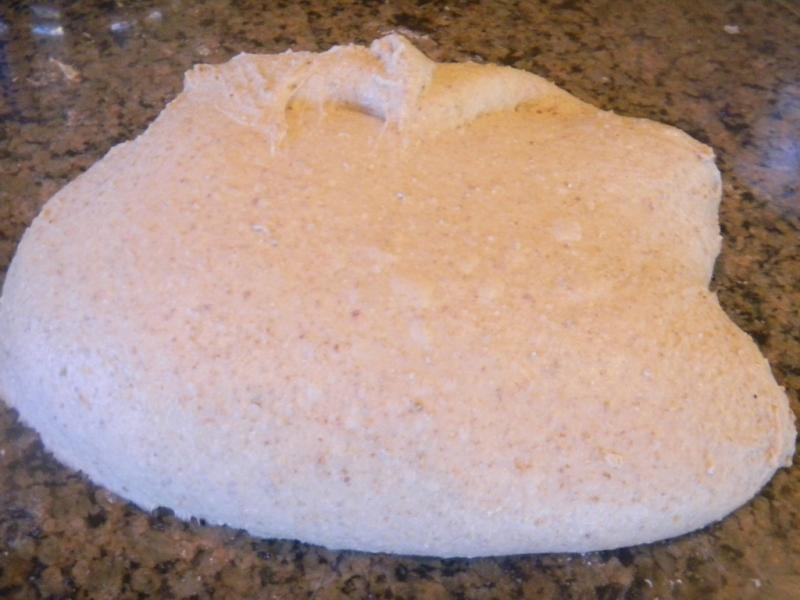 Method
We also like sprouts and got some rye, WW and spelt berries soaking for 3 hours first thing even before we got the SD levain started and then got them sprouting between paper towels covered in plastic wrap.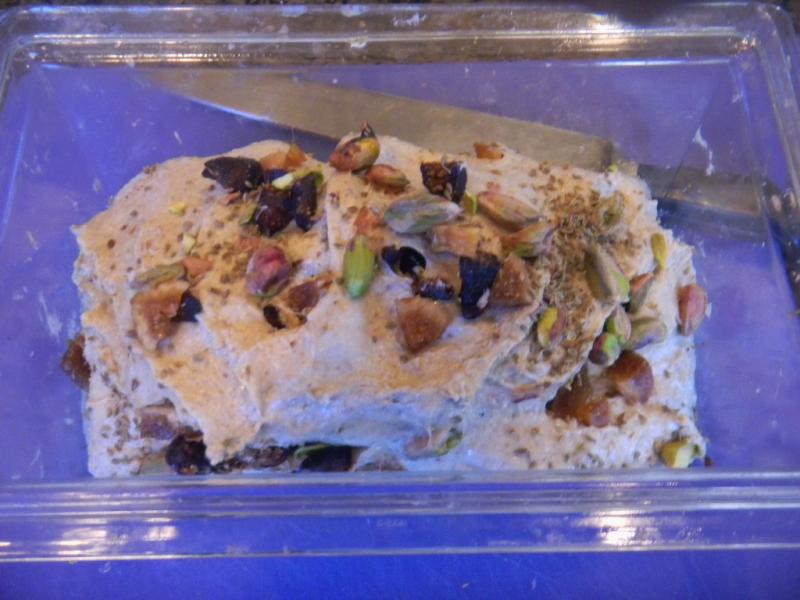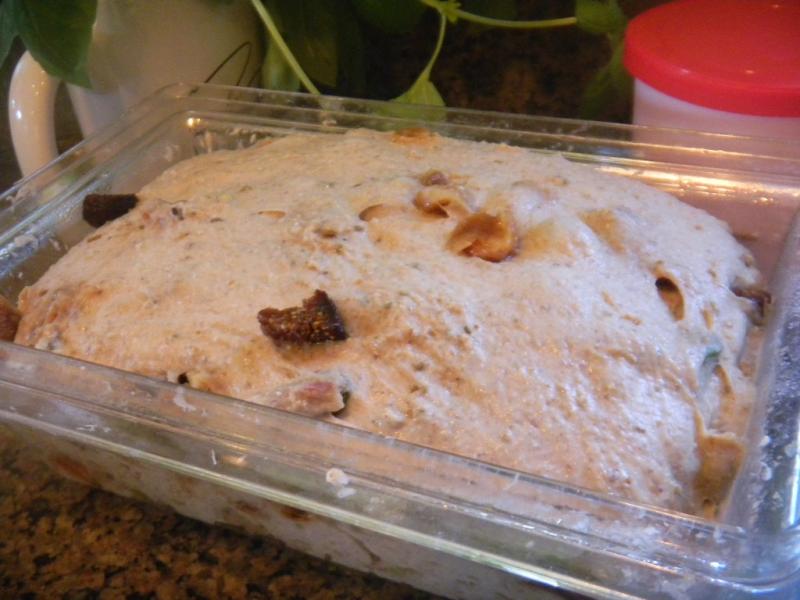 This levain was a Desem and Rye sour SD combo since we combined our seed for both into one 4 days ago.  The levain totaled 220 g and used whole rye, WW and whole spelt for the flours.   The levain was a single stage build of 4 hours when it doubled.  The levain was 18% of the total weight and 40% of the total flour weight – pretty much our recent standard.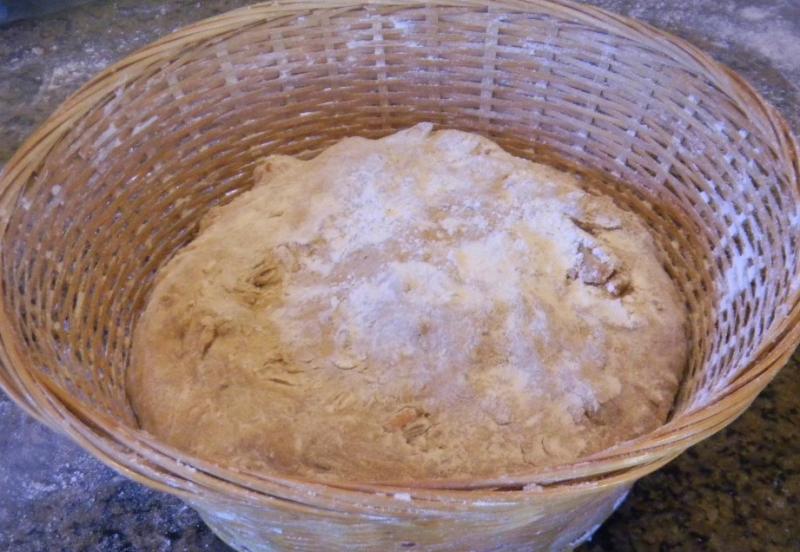 While the levain was building we also did a 4 hour autolyse of the flours (whole rye, spelt, wheat and some AP), salt and the 2 malts with the liquids, in this case water and a little coffee.  The 35 g of coffee was left over from breakfast and we hate throwing anything away food or drink wise.  We can't find any difference in the bread of when the salt goes in the autolyse - before or after - so we have been putting it in at the beginning or at the end if we forget to put it in the beginning.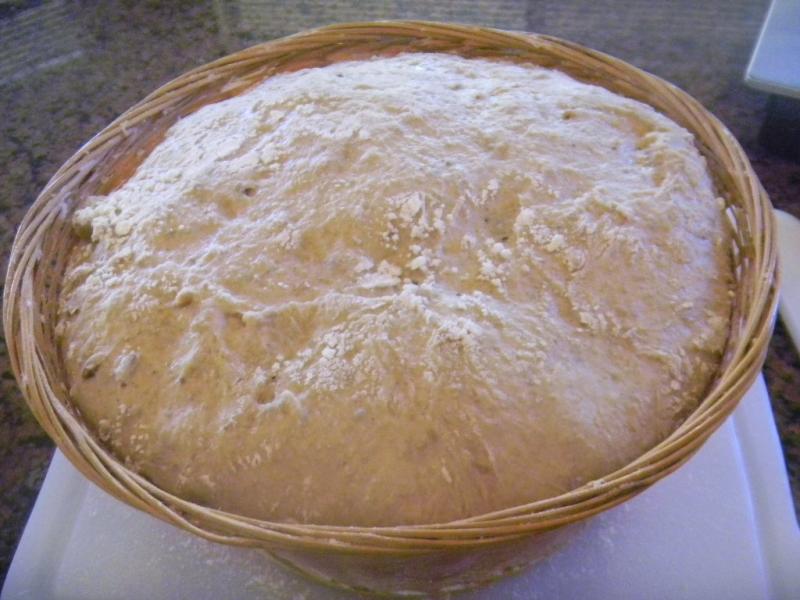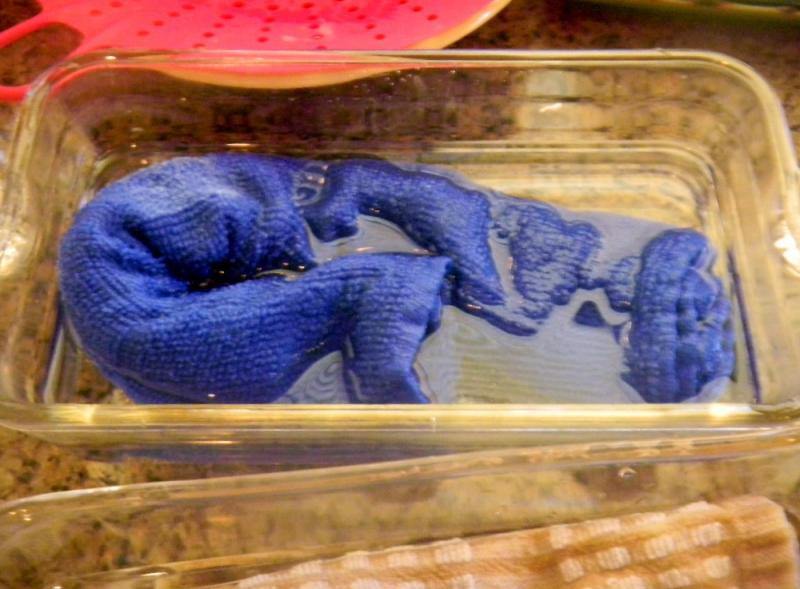 Once the autolyse and the levian came together we did French slap and folds for 10 minutes before resting it for 30 minutes in an oiled Tupperware tub.  We then did (3) S&Fs on 30 minute intervals and incorporated the add ins during the last S&F.  We like combining the two gluten development methods when there is a higher percentage of whole grains, over 42% in this case and higher hydrations 83% here.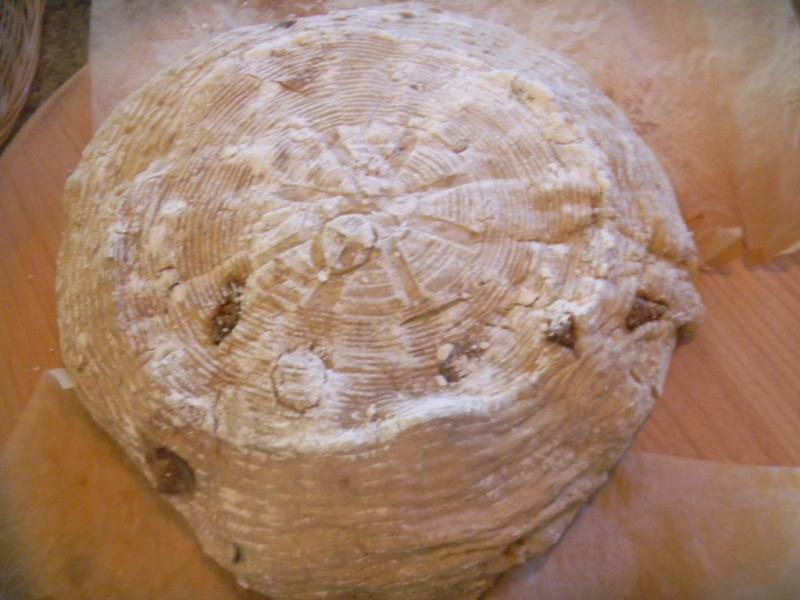 Once the 2 hour fermentation with S&F's was complete we put in the fridge for a nice cool 37 F retard of 14 hours. In the morning we warmed it up for an hour before pre-shaping and final shaping it into a boule and placing it seam side up in a well floured basket.  This is a sticky dough so some flour on the hands really helps in this regard.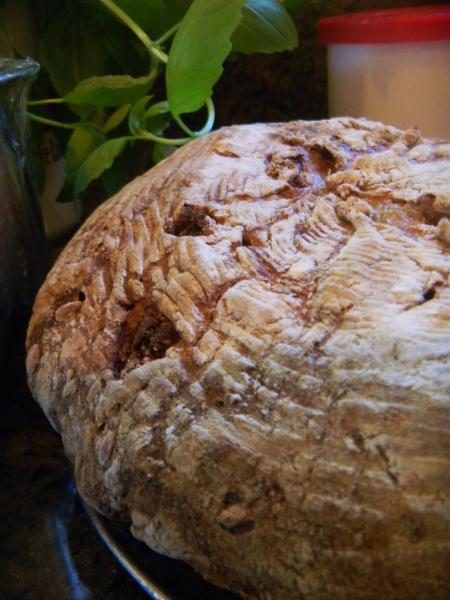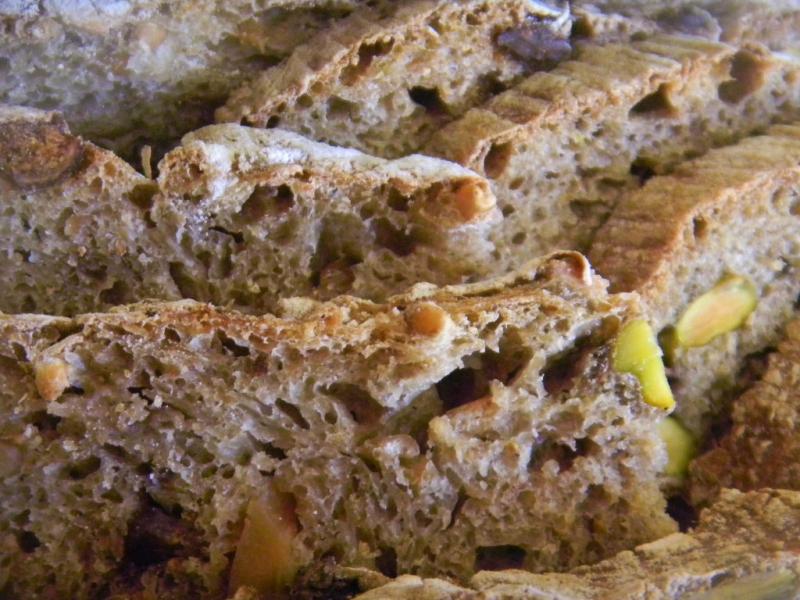 Once shaped and in a basket we bagged it in a trash can liner and let it final proof on the counter for 2 hours before firing up Old Betsy to 500 F for a 45 minute pre-heat with 2 of Sylvia's steaming Pyrex loaf pans with water and towels in place.   Total final proof was 2 and ¾ hours and it had risen above the basket.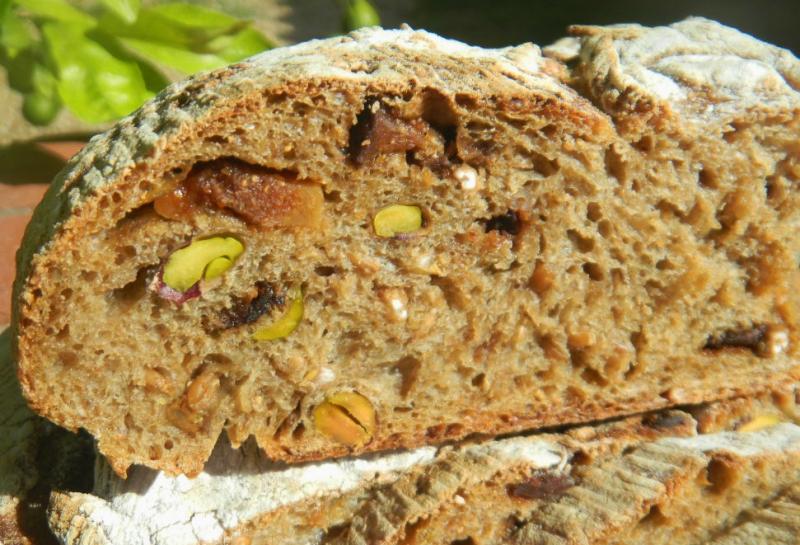 When we went to un-mold the dough on a parchment covered peel the basket slipped and half the dough never made it to the peel.  We tried to lift the part that didn't make the move with a scraper and slide it further on the peel while sliding another piece of parchment under it but the middle stuck to the peel.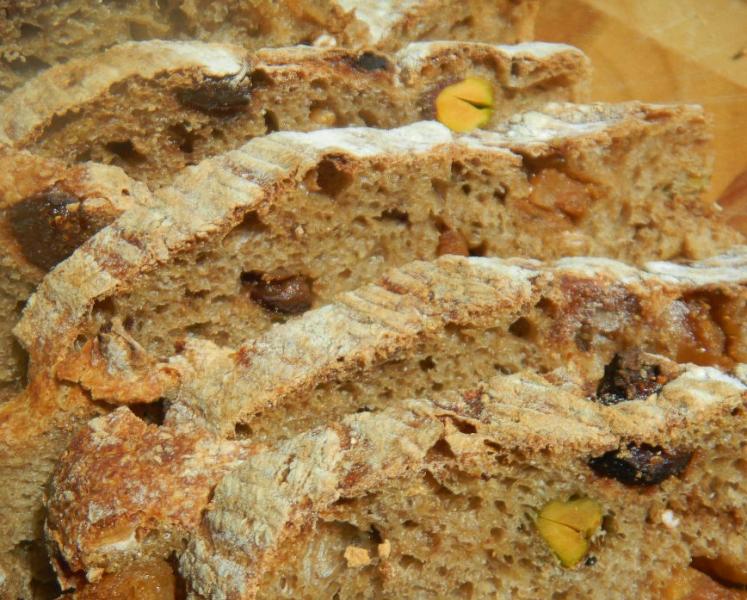 The middle of the loaf deflated and we should have immediately turned it into a Fendu since the middle was the most severely disfigured.  We slashed it instead and tried our best to get it off the peel without doing further damage.  But alas, 2/3rds the height in the basket disappeared as it was pulled apart to spread faster than oil in a hot iron skillet.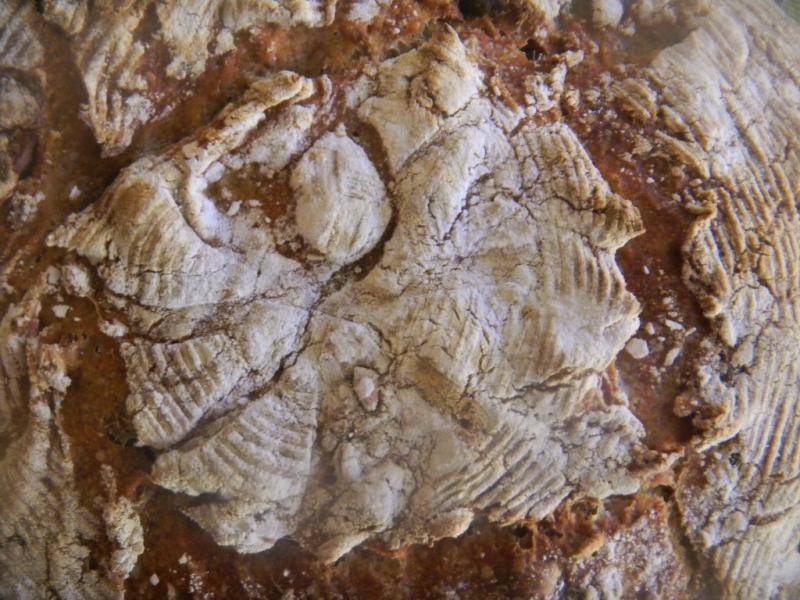 Still, the bread managed to recover to half its basket height in spring while under steam for 15 minutes after turning the oven down to 450 F when the bread went in.  At the 15 minute mark the steam was removed and the oven turned down to 425 F - convection this time.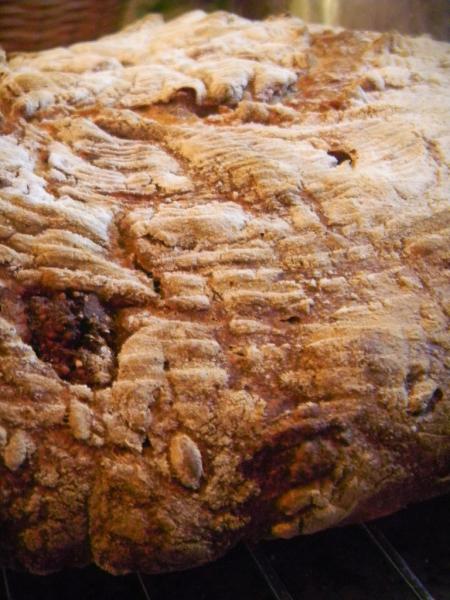 Every 5 minutes the mishap prone boule was turned 120 degrees every 5 minutes there after over the next 15 minutes until it read 208 F in the center when tested.  The boule was allowed to rest on the stone in the now off oven and the door ajar for 10 minutes to crisp the skin.  It was then removed an allowed to cool before being used a Frisbee by my apprentice and her buddies in the back yard, well she wanted to play with it ....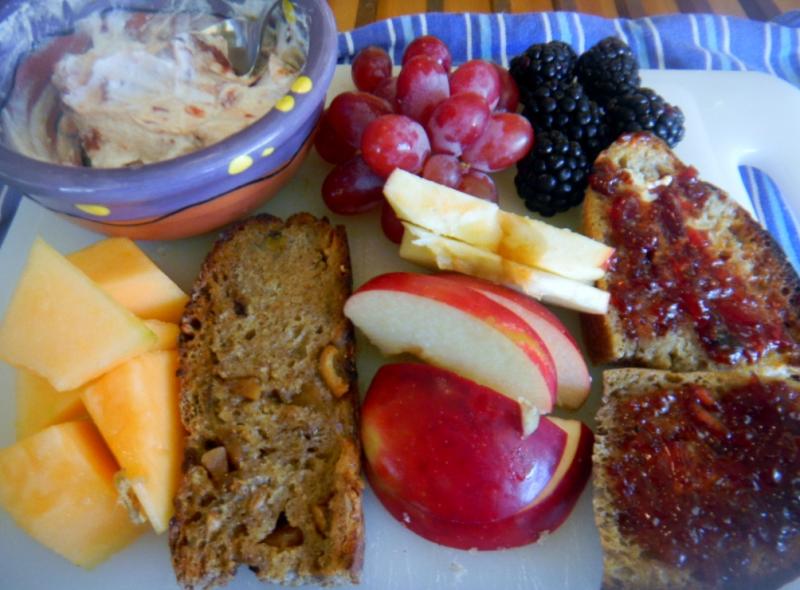 This bread smells great, looks unusual and the crust is unique as a result of the harsh un-molding technique that we will definitely use more often to coax some individuality and character in out breads.  Plus we are already tired of having stuff turn out perfect every time now that peace and perfection have broken out in the world after Bread Day!  This bread plain tastes amazing.  The anise is subtle but comes through.   The sweet figs go so well with pistachios.   The crumb, even though the holes were 1/3rd what they should have been still is light and airyand it  just looks stunning with the contrast between the 2 kinds of figs and the green pistachios.  This is one of those breads we make over and over again.  Thanks to Phil and Empress Ying!  Well done you two!
We originally made this bread for the dentist but am now unsure how much more pain I sould suffer over this bread.   If it cuts well and has at least one hole bigger than a pea, then we will cut off the best part for the Pain Miester and take our chances.  So this bread is called Pain Maître douleur - Pain Master Bread.
 Formula
World Bread Day - SD   Multigrain Bread

 

 

with Figs, Anise,   Pistachios and Sprouts

 

 

 

Desem  & Rye Starter

Build 1

%

SD Desem / Rye Sour

20

3.69%

Rye

34

7.87%

Spelt

33

7.64%

WW

33

7.64%

Water

100

23.15%

Total Starter

220

50.93%

 

 

 

Starter

 

 

Hydration

100.00%

 

Levain % of Total

17.90%

40.59%

 

 

 

Dough Flour

 

%

Whole Rye

50

11.57%

Whole Wheat

32

7.41%

Potato Flakes

10

2.31%

Oats

20

4.63%

Whole Spelt

18

4.17%

AP

302

69.91%

Dough Flour

432

100.00%

 

 

 

Salt

9

2.08%

Water - 300, Coffee -   35

335

77.55%

Dough Hydration

77.55%

 

 

 

 

Total Flour

542

 

Total Water &   Coffee

445

 

T. Dough Hydration

82.10%

 

Whole Grain %

42.62%

 

 

 

 

Hydration w/ Adds

83.06%

 

Total Weight

1,256

 

 

 

 

Add - Ins

 

%

White Rye Malt

1

0.23%

Pistachio Nuts

55

12.73%

Figs - Brown and Black

100

23.15%

Anise Seeds

20

4.63%

Barley Malt

12

2.78%

Total

173

40.05%

 

 

 

Multigrain Sprouts

 

%

WW

20

4.63%

Rye

20

4.63%

Spelt

20

4.63%

Total Sprouts

60

13.89%

 

 

 

27 g of water was soaked up by the sprouts

and included it total   weight only.

 

 

 

 

Note - 50 g each of    Black Mission and Adriadic figs