NYB Type 85 Multi-Seed SD Bread
When I was up in Santa Rosa last February, I passed through Petaluma and paid a visit to Della Fattoria, which some folks consider the best bakery in America. While there, I tasted several of their breads, including their multi-seed wheat loaf. I loved the bread so much that I had to reproduce it, which I did using NYBakers Craft Flour Type 85. The recipe follows: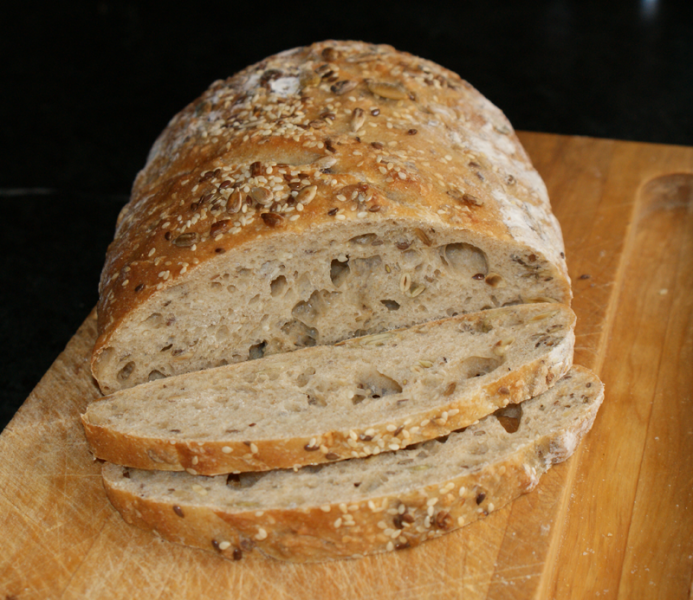 Preferment:
Wheat sour (60% hydration) 150g (18.75%)
Type 85 Flour 300g (37.5%)
Warm water 180g (22.5%)
Hand mix and let the sponge develop for 8-12 hours or overnight. If you like your breads really sour, refrigerate for another 10-12 hours.
Dough:
Sponge from above (630g)
Type 85 Flour 500g (62.5%)
Water 400g (50%)
Sea salt 16g (2%)
Toasted pumpkin seeds, sunflower seeds, sesame seeds, flax seeds, poppy seeds 50-70g each, to taste.
Mix the sponge, flour, water and salt by hand until smooth. Stretch and fold every 20-30 minutes until the dough doubles in bulk and shows bubbles, about 3 hours.
Gently turn the dough onto a well-floured board, flour hands and gently knead the seeds into the dough, spreading them on the top surface, folding, spread, folding, etc., until about 80% of the seeds are incorporated.
Bench the dough and set aside to proof until doubled in bulk, with well-defined bubbles under the surface, about 2 hours.
Preheat your oven to 500F/260C with a steam pan. Just before baking, add 1 cup/225ml of boiling water into the steam pan.
Brush your loaves with water, sprinkle on remaining seeds, slash and load oven. 3 minutes into the bake, add another 1 cup/225ml of boiling water and reduce oven temp to 450F/235C. Bake for another 20-25 minutes, until bread colors and reaches an internal temp of 205F/97C.
The crumb is very tender, the bread combines sour, sweet, nutty with a touch of salty. Love this with cheese, smoked fish and meats, or just buttered.
 Stan Ginsberg
www.nybakers.com