September 21, 2012 - 8:45pm
57% Whole Grain Multi-grain SD with 20% Seeds and Whey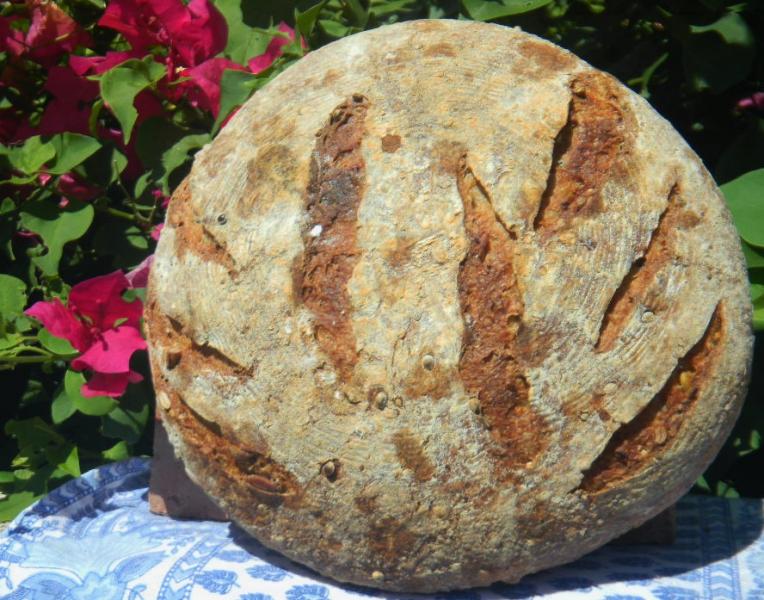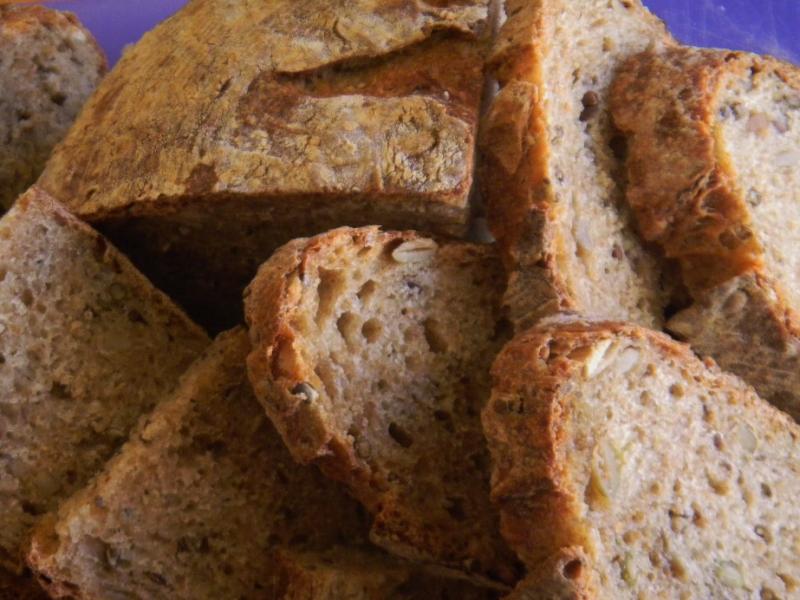 After the last 100% Kamut and 100% spelt bakes, both at 100% hydration, we decided to get bake to more of our normal kind of bread we like so much.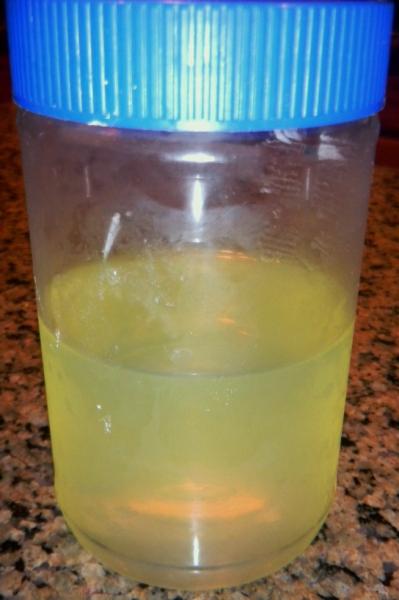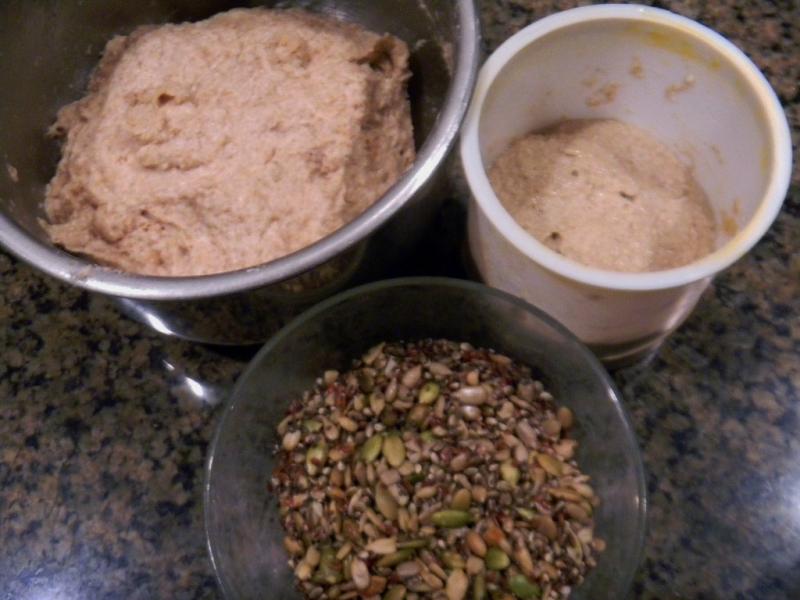 This one is 57% whole grains made up of Kamut, spelt, rye and WW.  The seeds at 20% and include, hemp, chia, pumpkin and sunflower seeds.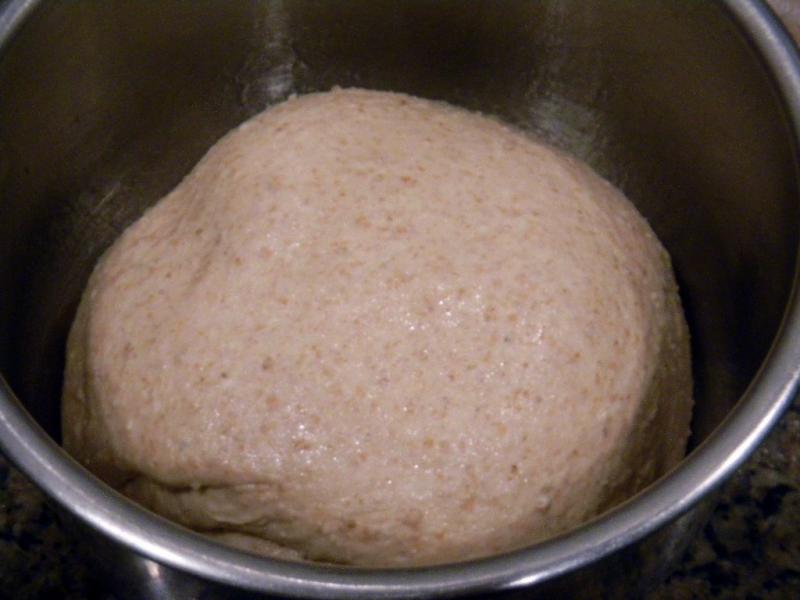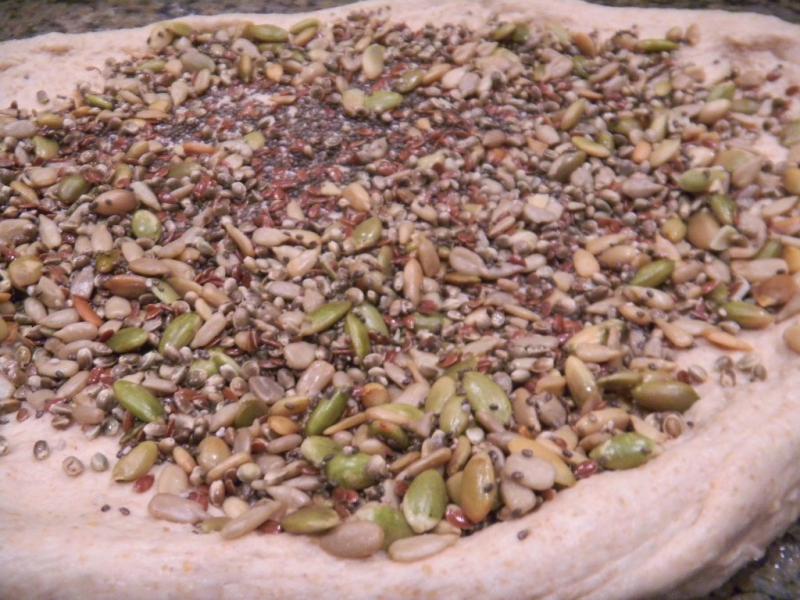 We had made some Greek yogurt earlier in the week and wanted to use some of the whey in this bread to help bring out the sour but not so much the whey took over.  The whey made up 20% of the dough liquid but only 14% of the total liquid in this bread.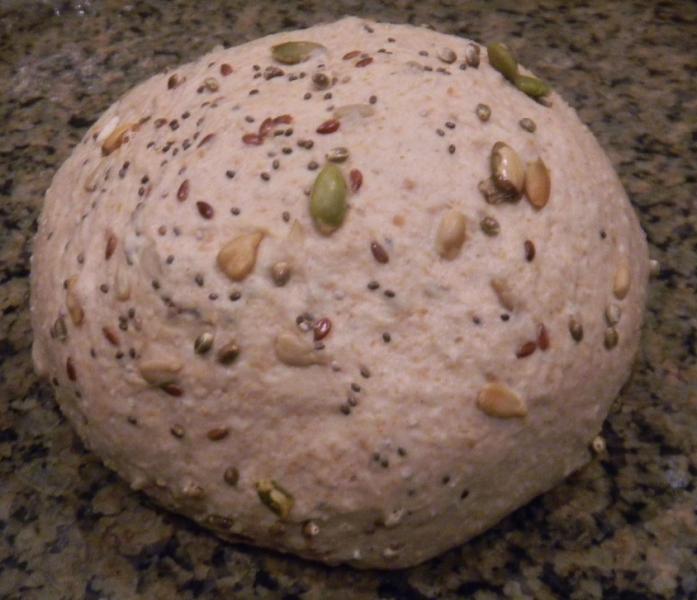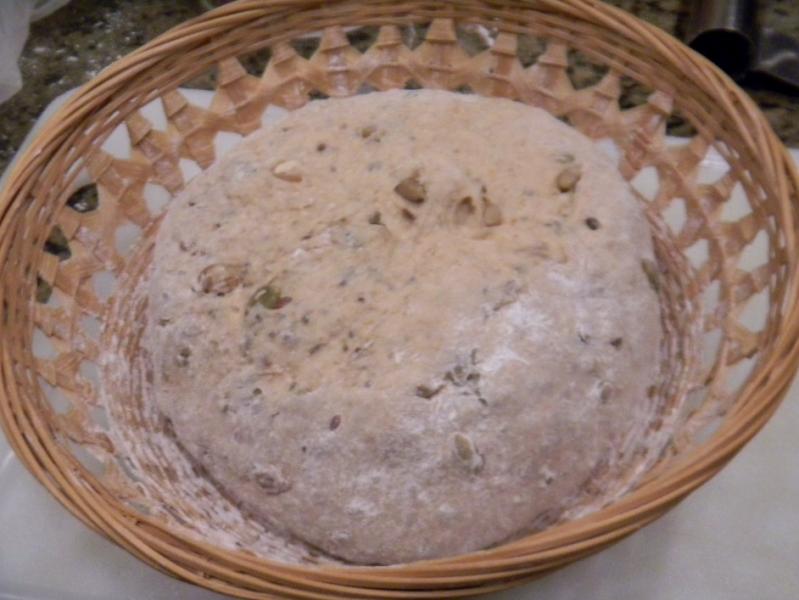 The SD levain was built over (2) 3 hr and (1) 1 hour build and then refrigerated for 48 hours. The flours were autolysed with everything except the levain and seeds for 3 hours.  The levain was allowed to come to room temperature over and hour and then hand kneaded for 5 minutes into the dough now only minus the seeds.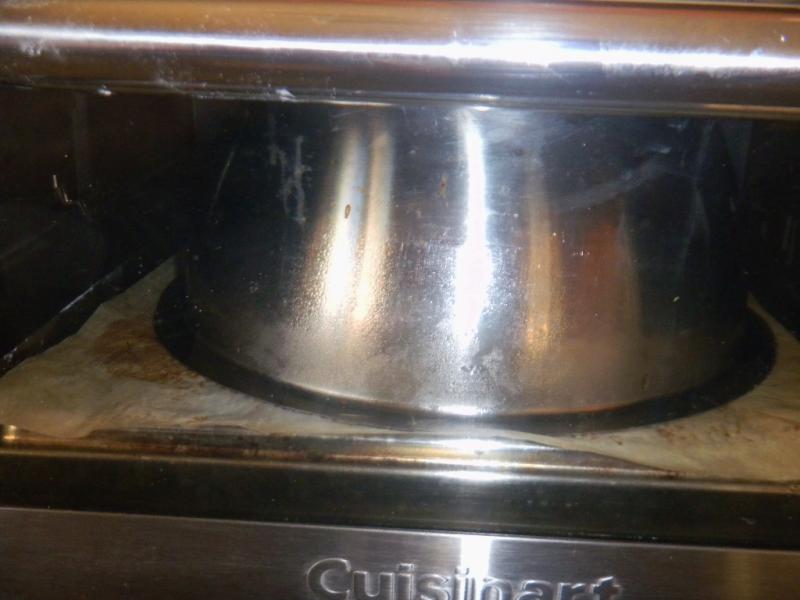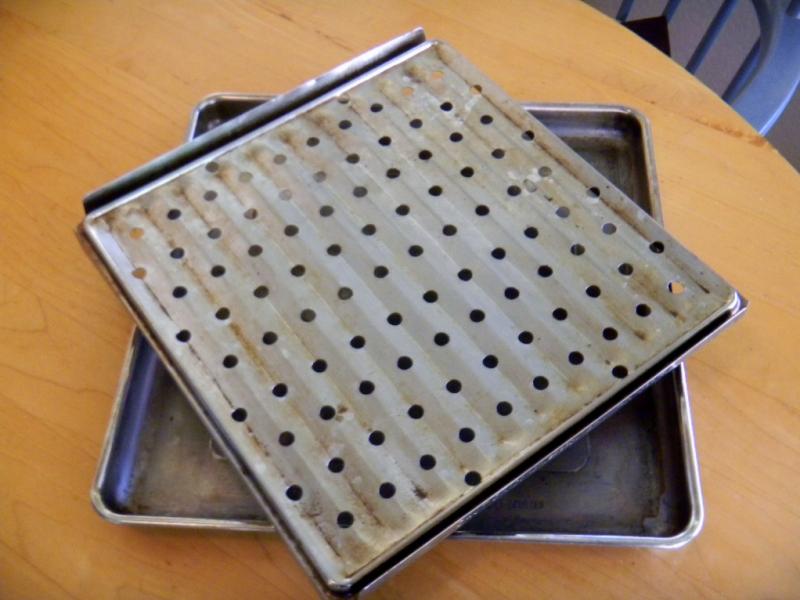 After resting in an oiled and plastic covered bowl for 20 minutes, 4 sets of S&F's were performed with a 15 minute rest between them back in the covered bowl.  The seeds were incorporated in stretch and fold #3 and fully distributed in fold #4.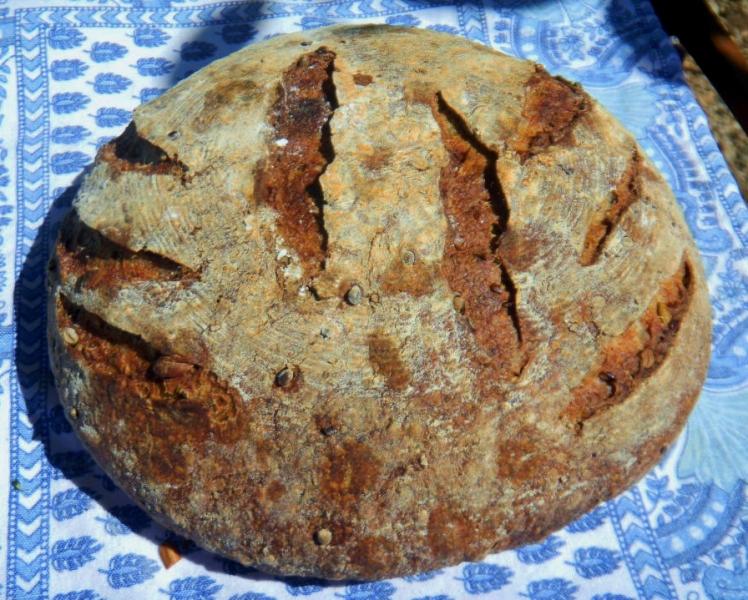 There was only a15 minute ferment after the last S&F and the dough was pre-shaped shaped into a boule and final shape 10 minutes later.  The boule was upended into a rice floured basket seam side up.  The basket was placed in a trash can liner end closed and placed into the fridge for a 12 hour retard.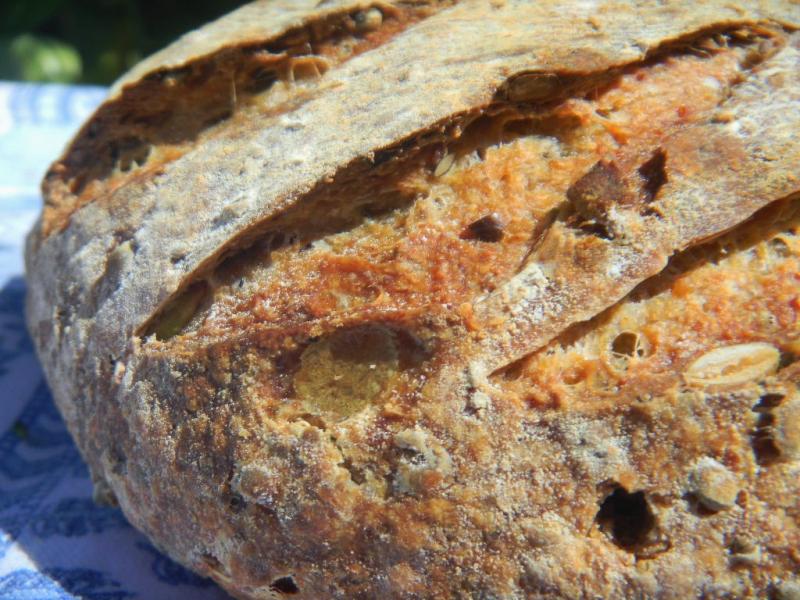 The mini oven was cranked up475 Fto pre-heat with the bottom of the broiler pan inside.  The boule was un-molded onto parchment that was on the vented top of the broiler pan.  For once it was artfully slashed, ½ C of water was thrown into the bottom of the broiler pan, the bread was covered with stainless steel mixing bowl and the broiler top, parchment, boule and bowl were placed into the bottom of the broiler pan to steam.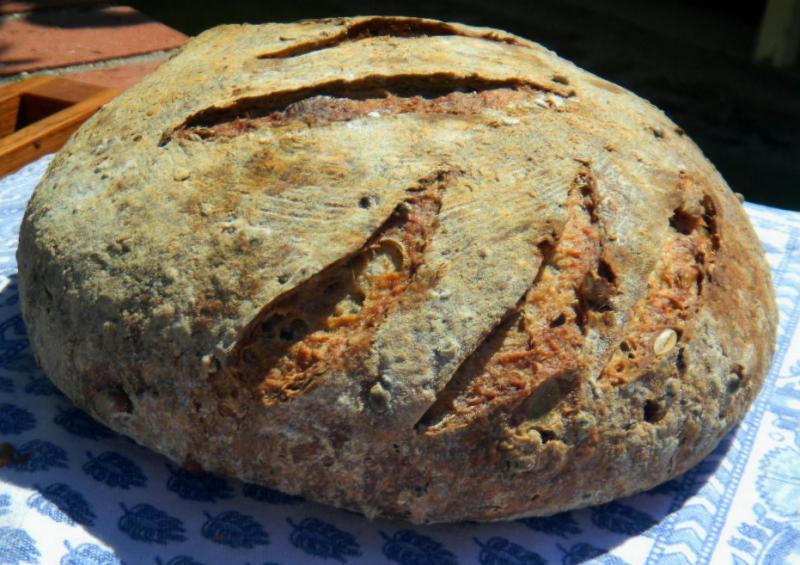 After 5 minutes, the temperature was turned down to450 F.  The bread was allowed to steam under the stainless bowl for an additional 15 more minutes - 20 minutes total.  The covering bowl was then removed and the bread was baked another 16 minutes at425 F, convection this time.  The bread was rotated 90 degrees every 4 minutes.  The bread was deemed done when it registered205 F  internal temperature.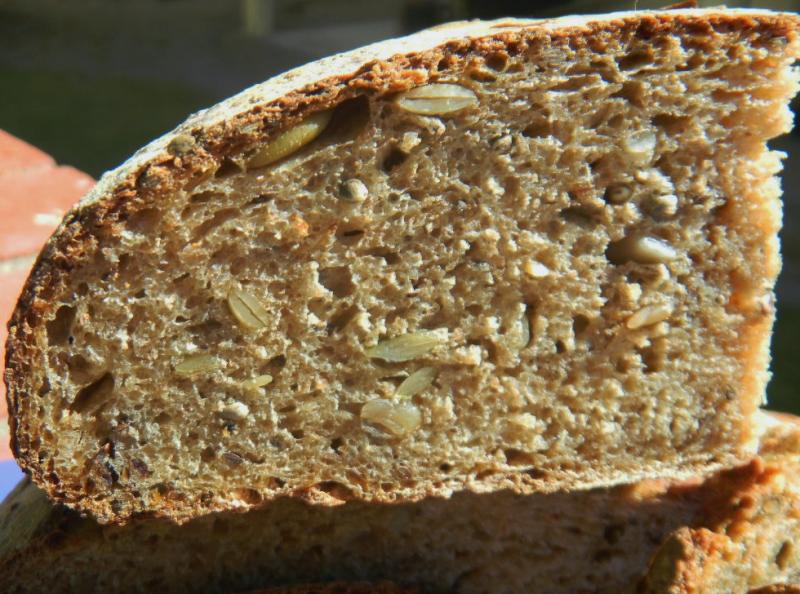 The bread was allowed to crisp in the turned off mini oven, door ajar, for 10 more minutes before being moved to cooling rack.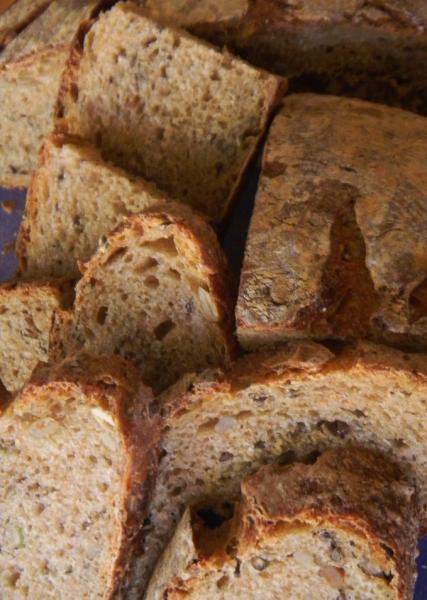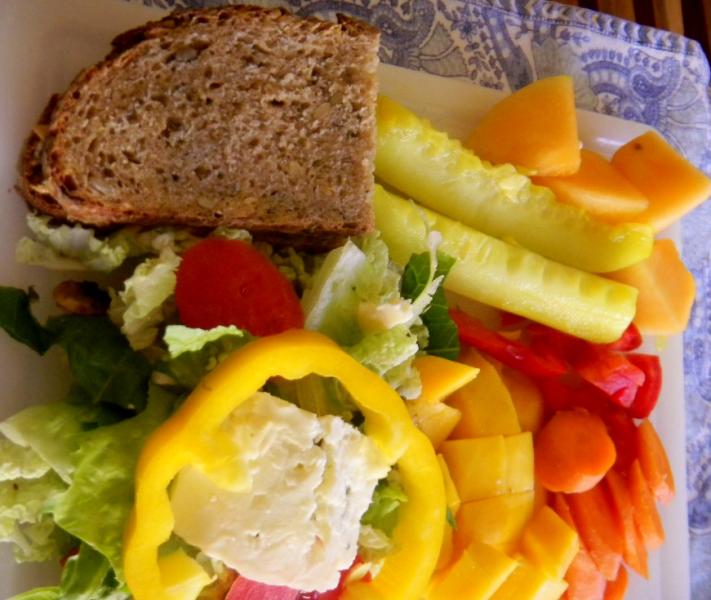 | | | | | | |
| --- | --- | --- | --- | --- | --- |
| Formula |   |   |   |   |   |
|   |   |   |   |   |   |
| Starter Build | Build 1 | Build 2 |  Build 3 | Total | % |
| Kamut, WW, Rye SD Starter | 20 | 0 | 0 | 20 | 4.20% |
| Dark Rye | 10 | 0 | 0 | 10 | 2.10% |
| WW | 10 | 0 | 0 | 10 | 2.10% |
| Kamut | 20 | 40 | 30 | 90 | 18.91% |
| Water | 40 | 40 | 15 | 95 | 19.96% |
| Total | 80 | 40 | 15 | 225 | 28.36% |
|   |   |   |   |   |   |
| SD Starter Totals |   | % |   |   |   |
| Flour | 120 | 25.21% |   |   |   |
| Water | 105 | 22.06% |   |   |   |
| Starter Hydration | 87.50% |   |   |   |   |
| Levain % of Total |   | 24.09% |   |   |   |
|   |   |   |   |   |   |
| Dough Flour |   | % |   |   |   |
| Rye | 25 | 5.25% |   |   |   |
| WW | 50 | 10.50% |   |   |   |
| Spelt | 25 | 5.25% |   |   |   |
| Kamut | 52 | 10.92% |   |   |   |
| Bread Flour | 102 | 21.43% |   |   |   |
| AP | 102 | 21.43% |   |   |   |
| Total Dough Flour | 356 | 74.79% |   |   |   |
| Salt | 9 | 1.89% |   |   |   |
| Water 200, Whey 49 | 249 | 52.31% |   |   |   |
| Dough Hydration | 69.94% |   |   |   |   |
|   |   |   |   |   |   |
| Add - Ins |   | % |   |   |   |
| Pumpkin | 25 | 5.25% |   |   |   |
| Sunflower | 25 | 5.25% |   |   |   |
| Hemp | 25 | 5.25% |   |   |   |
| Chia 10 & Flax 10   Seeds | 20 | 4.20% |   |   |   |
| Total | 95 | 19.96% |   |   |   |
|   |   |   |   |   |   |
| Total Flour w/ Starter | 476 |   |   |   |   |
| Total Water w/ Starter | 354 |   |   |   |   |
| Tot. Hydration  w/ Starter | 74.37% |   |   |   |   |
| Hydration w/ Adds | 74.37% |   |   |   |   |
| Total Weight | 934 |   |   |   |   |
| % Whole Grain | 57.14% |   |   |   |   |