August 29, 2012 - 10:47am
Rewind - YW & SD Semolina, Durum Atta, W. Germ, Malts & Honey - Deja Vue
After the fiasco of the previous bake still haunting, we decided to give this formula another go to see if we could figure out what caused the explosive proofing in fridge during the last bake.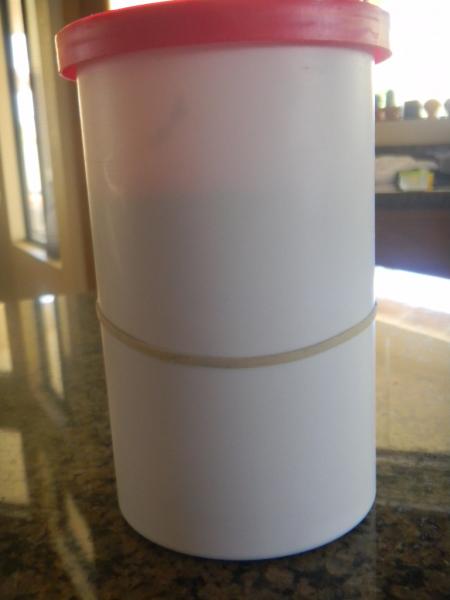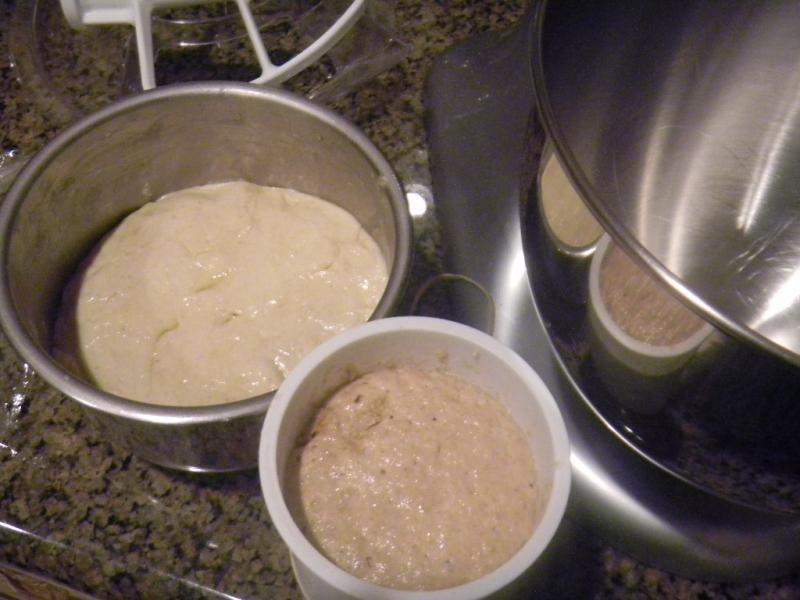 We decided to cut back on the YW from 75 g to 50 g added 10 g multi-grain SD starter.  But the biggest change was to cut back on the yogurt whey to 46 g from 155 g in the previous bake.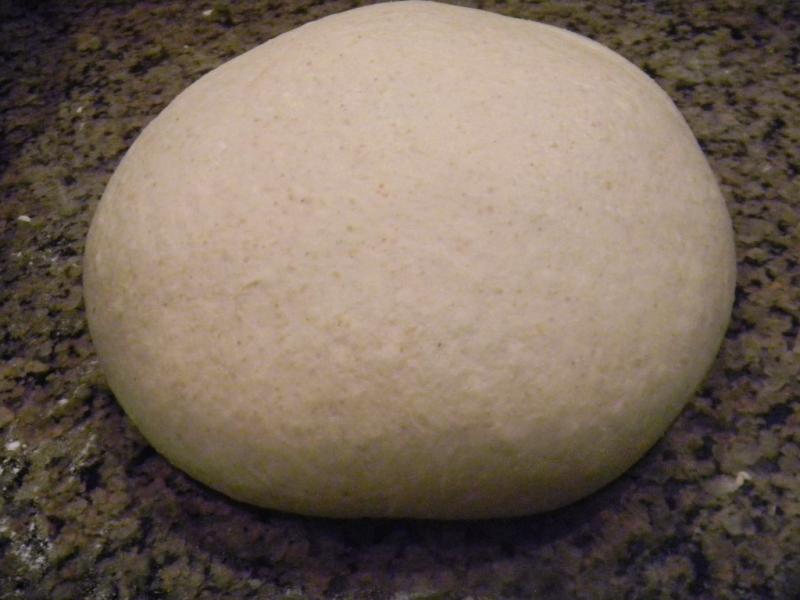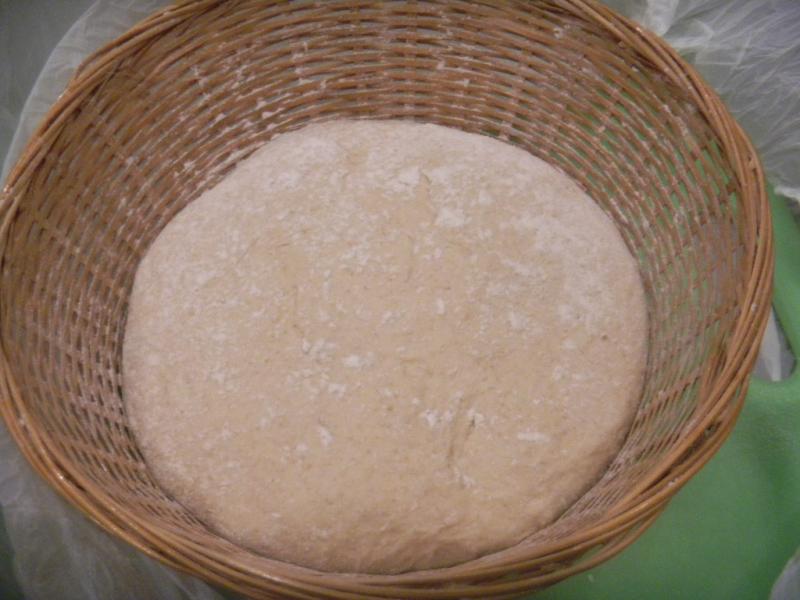 We also omitted the soft white wheat soaker and added some whole grain spelt, rye and WW to the levain flour.  We cut back form 3g to 2g for the malts and reduced the honey from 10 g to 8 g.   The idea was to try to keep this dough in check so that it can get through a 12 hour proofing retard in the refrigerator overnight without expanding out of the proofing basket.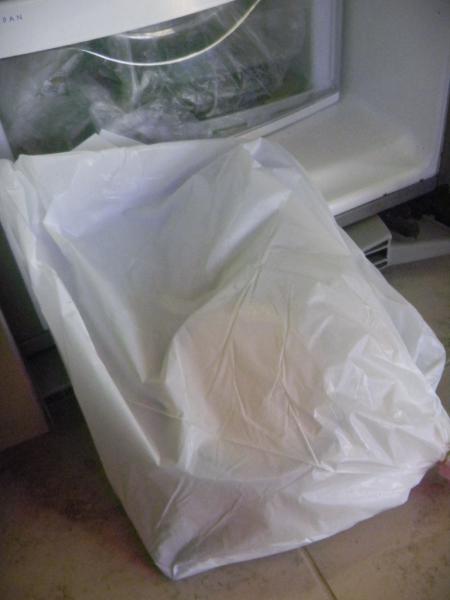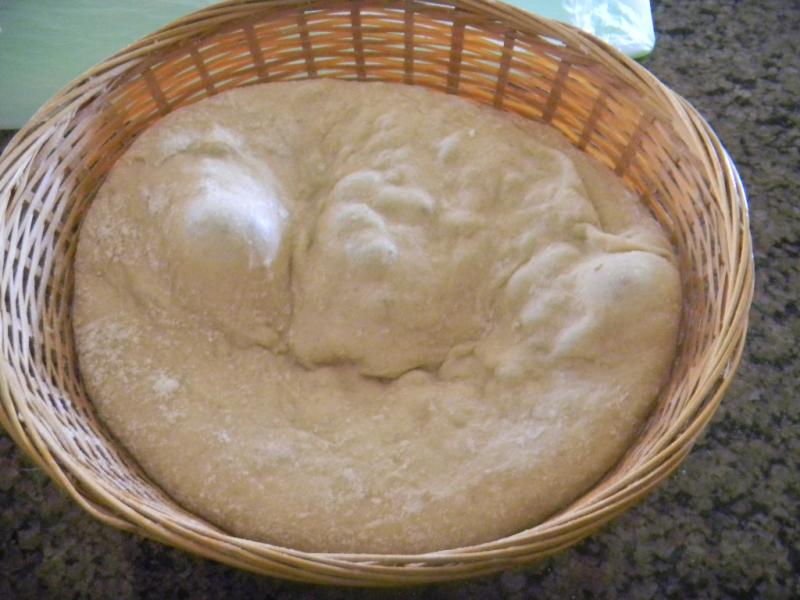 We also switched to a larger basket just in case the dough wasn't muzzled enough with these changes.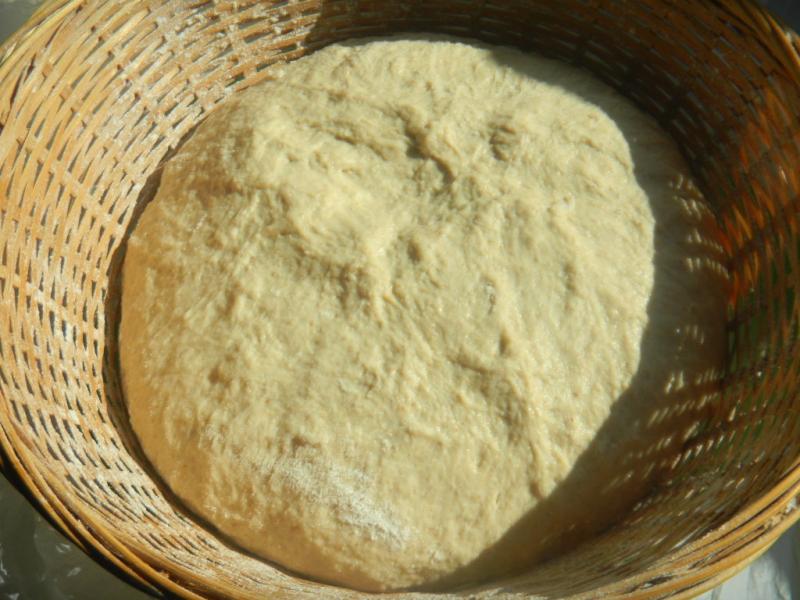 The process and method was same as before and you can find it here:
http://www.thefreshloaf.com/node/29954/35-whole-grain-yw-sd-semolina-durum-atta-white-bread-soaker
With the exception of not having a soaker to add during the S & F's, all appeared to be the same as before including putting the shaped dough into the fridge for retard.  I did turn the temperature of the refrigerator down to 36 F from 38 F.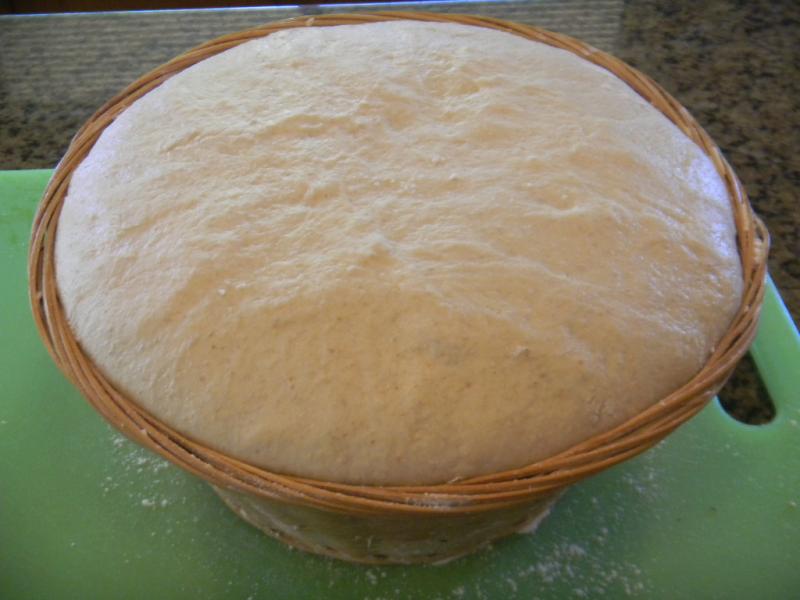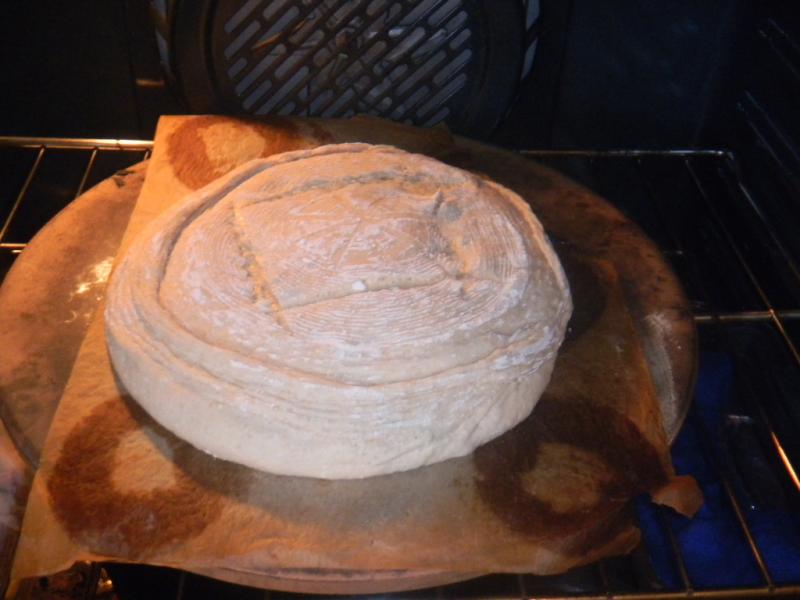 Another over proofing - by a wide margin....................................Another deflating disaster when it stuck to the basket.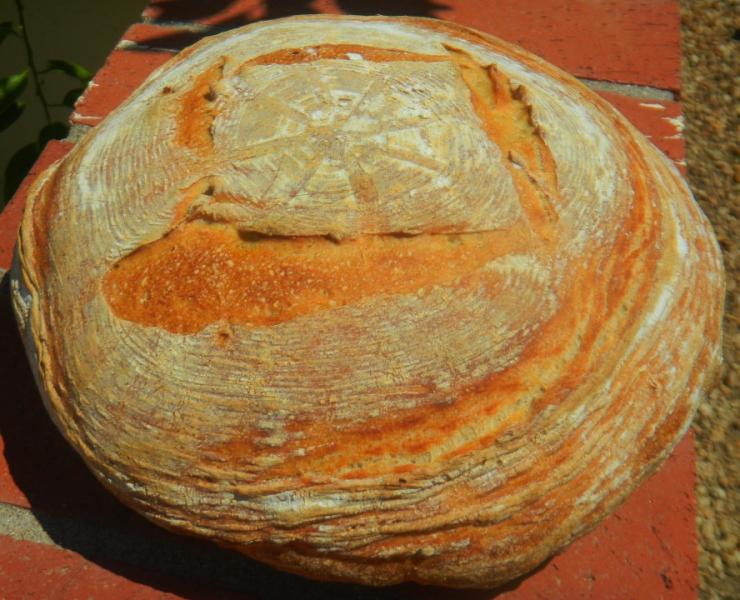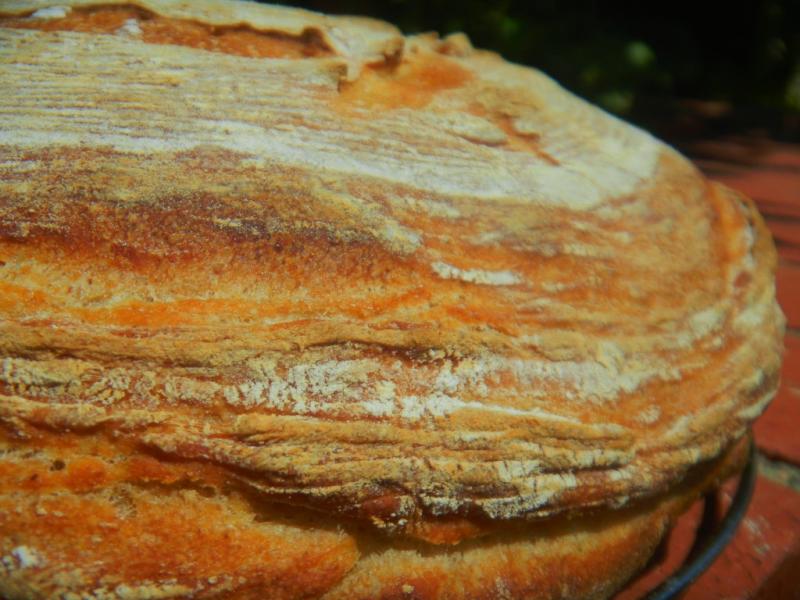 At 6:45 the next morning the dough had doubled nicely and was ready for the oven.  We fired  up the mini oven to500 Fand got Sylvia's Mini Steam ready, (2) Pyrex cups with a dish rag half full of water placed into a microwave until they boil.  We were waiting for the mini to beep that it was ready and was watching Isaac, on the weather channel………..when all the plans of furry baking apprentices everywhere changed in an instant.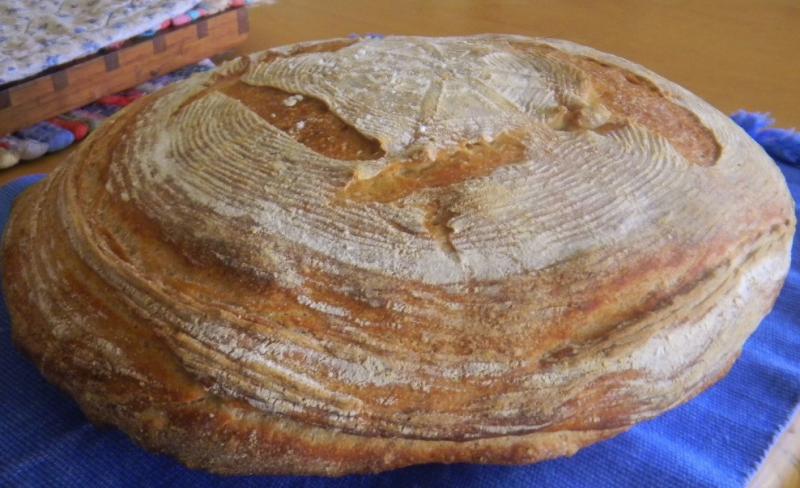 I heard a small crash and my wife began calling; 'come here quick'. So we did - slowly -  to show a bit of hysterical calmness usually associated with manic depression resulting from a freezer.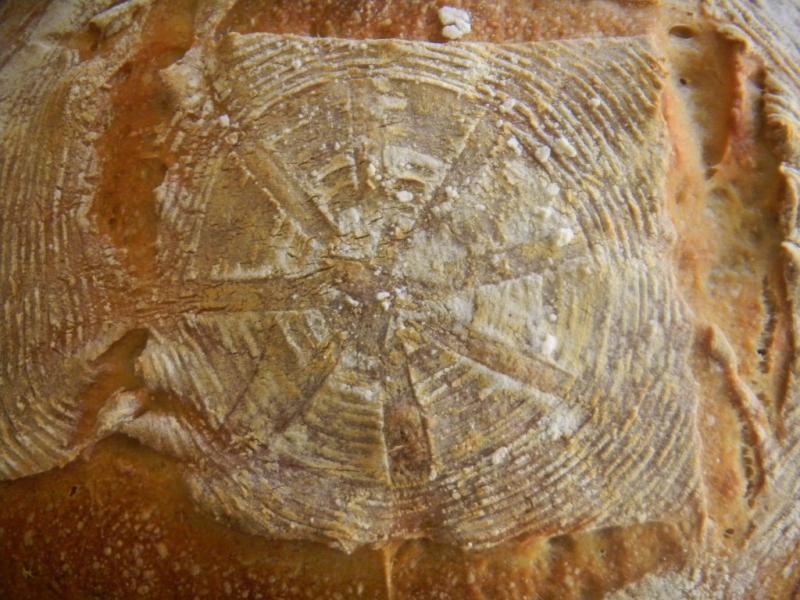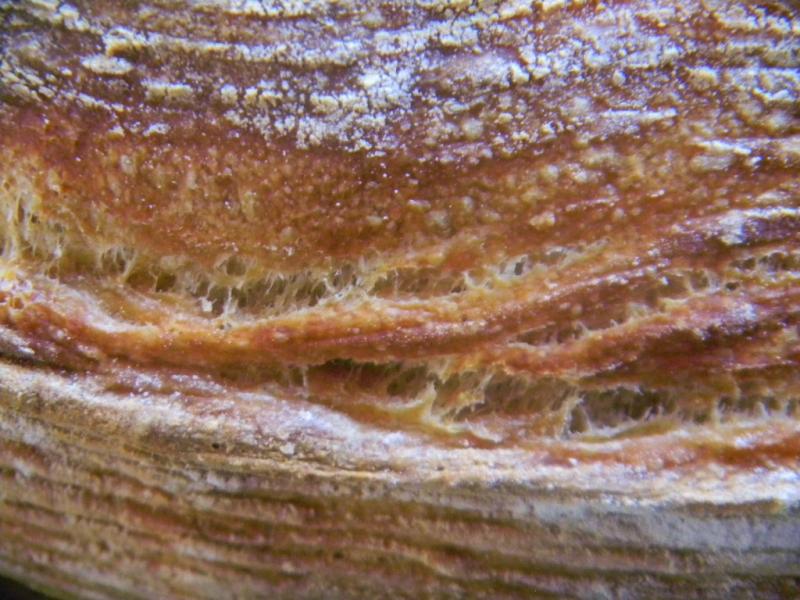 My poor wife, who had to witness this calamity first hand, was trying to get the water bottles out of the fridge for her work cooler, when she said something odd happened.   The basket of beautifully risen dough,  covered in trash can liner, just jumped right off of the top shelf of the fridge, did a flip with a half twist in mid air and landed upside down  and cockeyed on the tile kitchen floor.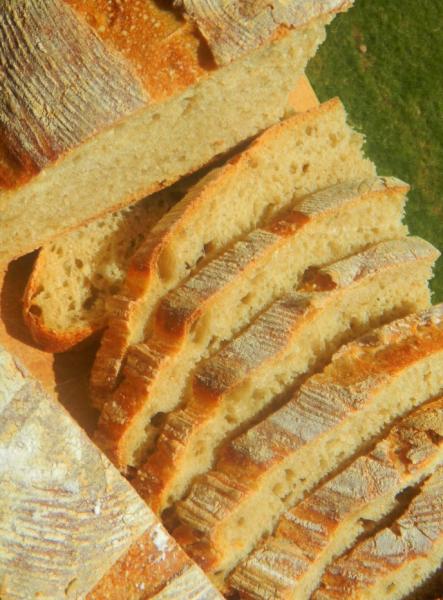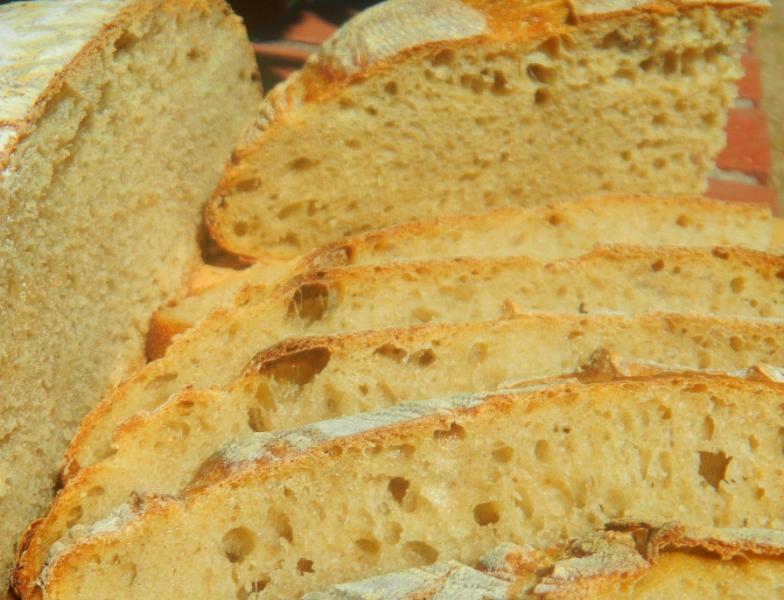 Needless to say, all was lost, the bread was ruined – a classic 'Death by Deflation' if there ever was one that turned into a #2 before you could shake a stick at it.  Thank goodness the plastic wrapper stayed intact saving my apprentice another difficult clean up licking the floor.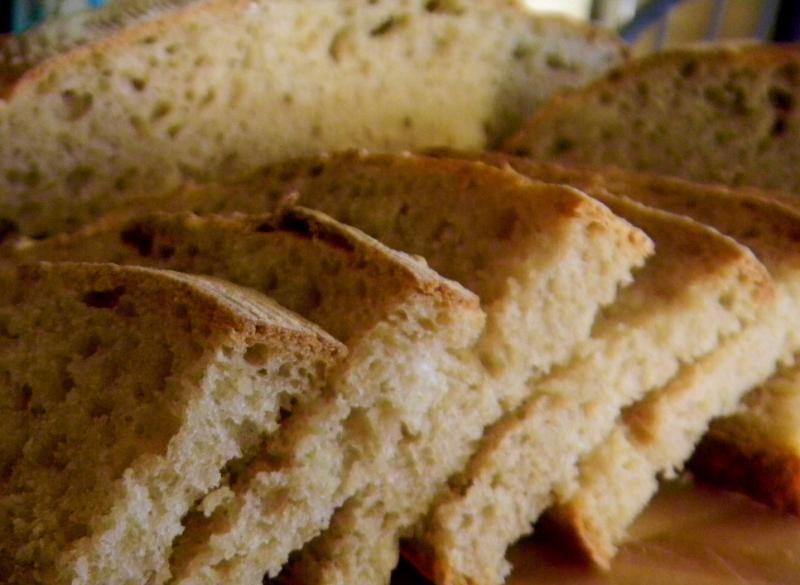 Not wanting to give up after the last bake's fiasco that this new fiasco was supposed to fix and  realizing that I am under no obligation to supply her with room and board, my apprentice a sprang into action to try and save the day and this ugly mass of doggone, dead dough.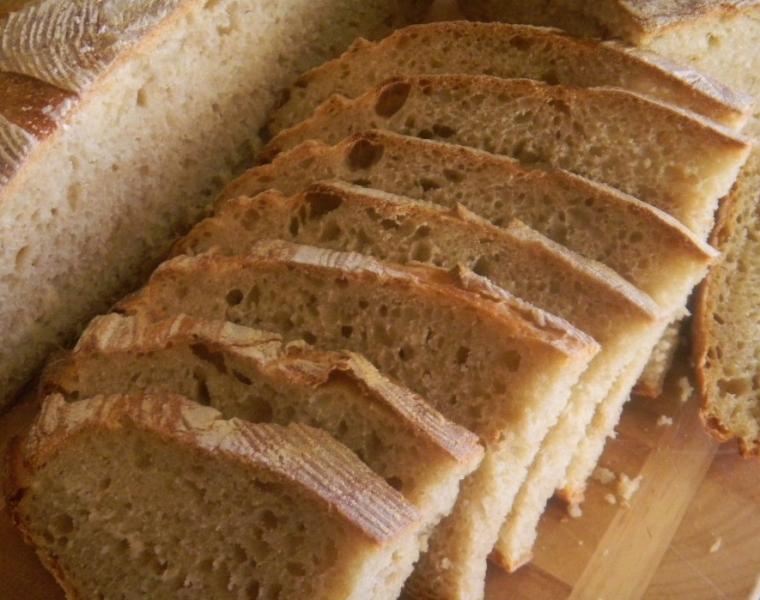 She mixed 50 g each of durum atta and bread flour and added 100 g of AP flour and 5 g of VWG to it.  She dumped 150 g of water and mixed it up furiously by paw to make a paste while totally forgetting to add additional salt - I mean, she's only an apprentice for heaven's sake.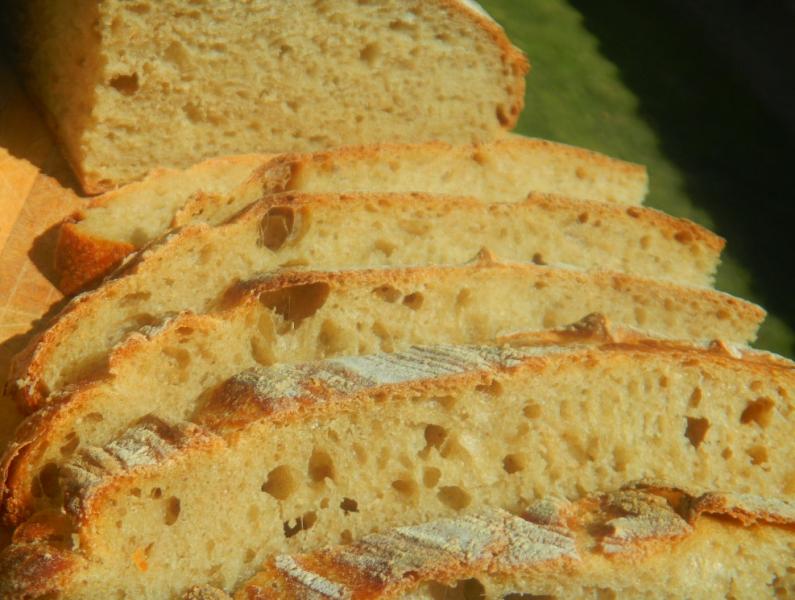 She then spread out the original deflated dough into a rough12"square about an inch thick and spread this new flour and water mix over it.  She then used stretch and folds to enclose the new mix and started kneading until everything was well incorporated and the dough began to feel like it was back to its well developed gluten self.  The two paws poked into the dough sprang back quickly to confirm her properly kneaded thoughts.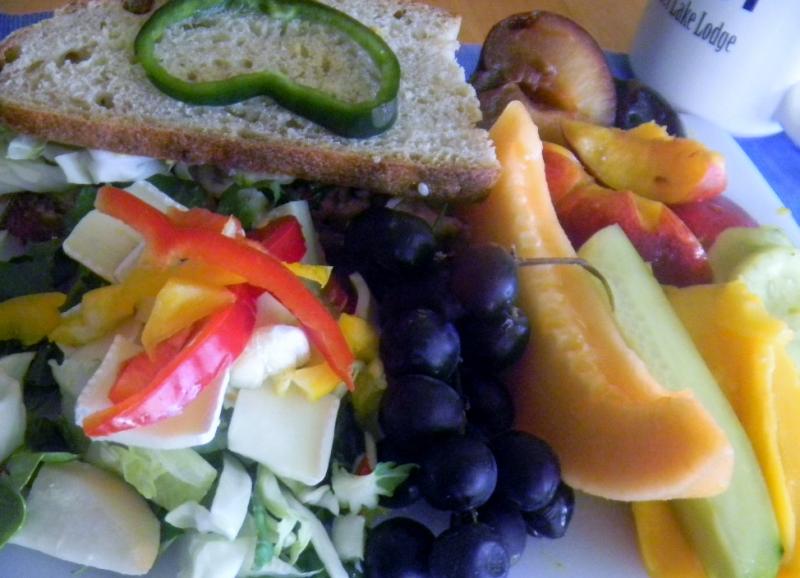 A nice chicken and Colby jack cheese sandwich, lettuce and tomato - poblano on top, with a salad that has brie and red and yellow peppers crowning, black grapes, canteloupe slice, 3 kinds of pickles, 2 kinds of plumbs and my favorite mango,.
It was then placed into the basket seam side up again, encapsulated in the saving plastic trash can liner and allowed to proof for another 90 minutes on the counter.  Then back into the fridge it went where it could take another high dive onto the floor to commit Hare Kari again if it wished.
Will this deceptive dough dispel and disregard the dreaded and despicable' Death by Deflation' discipline and decide, in total delirium, to become bread this time?  'Don't dare declare!!!' she spat, pointing a paw at me, as my apprentice growled menacingly and stomped off for her morning nap.   Now we await the devil dough coming out of the fridge again and pray this curse doesn't come in threes.  Until later.........
Well, well, well, the devil dough decided to over proof again by tripling in the fridge and then stick itself to the basket and deflate inappropriately as we tried to coax it out of its sticky home.  Just a couple of more and more disasters in a long line of disasters for this and the last bake.  Just gave up, slashed it wickedly and tossed it in the belly of Big Betsy.
It baked up pretty and golden, sprang back some if still ma lot flatter than it would have been had it not stuck to the basket.  It also smells tremendous.  We will have to wait for the crumb which suffered the most.  Fingers crossed.
The crumb came out much like the last one that was also stricken by mooshing (a bakery term that means mashed horribly).  More open then we thought it would be, beautifully yellow, airy and moist with no big holes like it should have had.  Since it has no seeds or soak my wife will love this for her sandwich bread.  It is more deeply flavored due to the whole spelt, rye and wheat berries we ground up for the dough flour.  A nice bread no matter how hard we tried to mess it up. 
30% Whole Grain YW & SD Semolina, Durum Atta with Germ, Malts & Honey
 
 
 
 
 
 
 
 
 
Mixed Starter
Build 1
Build 2
Total
        %
Multi-grain SD Starter **
30
0
30
      3.70%
Whole Spelt
0
10
10
1.70%
Whole Soft White Wheat
0
50
50
7.96%
Whole Rye
0
10
10
1.59%
Wheat Germ
0
8
8
1.27%
Whole Wheat
0
10
10
1.59%
WWW
30
0
30
4.78%
Durum Atta
50
0
50
7.96%
Water
32
66
98
15.61%
Total Starter
142
154
296
47.13%
** 10 g each Rye Sour, Desem & Multi-Grain
 
 
 
 
 
 
 
Starter
 
 
 
 
Hydration
89.07%
 
 
 
Levain % of Total
24.37%
 
 
 
 
 
 
 
 
Dough Flour
 
       %
 
 
Non - Diastatic Red  Malt
2
       0.32%
 
 
Semolina
124
      19.75%
 
 
AP
300
      47.77%
 
 
Diastatic White Malt
2
       0.32%
 
 
Bread Flour
150
      23.89%
 
 
Dough Flour
628
     100.00%
 
 
 
 
 
 
 
Salt
8
       1.27%
 
 
Yogurt Whey - 46, Water - 219
425
      67.68%
 
 
Dough Hydration
67.68%
 
 
 
 
 
 
 
 
Total Flour
811
 
 
 
Water
588
 
 
 
T. Dough Hydration
72.50%
 
 
 
Whole Grain %
29.22%
 
 
 
 
 
 
 
 
Hydration w/ Adds
72.55%
 
 
 
Total Weight
1,420
 
 
 
 
 
 
 
 
Add ins
 
         %
 
 
Honey
8
         1.27%
 
 
VW Gluten
5
0.80%
 
 
Total
13
2.07%