August 21, 2012 - 12:30am
Multigrain Struan from (WGB)
This is my second attempt at the multigrain Struan from Peter Reinhart's wonderful book: Whole grain Breads. This is no easy dough to deal with, and I remember now why i have chosen to put it off for a second trial. The high proportion of soaked grains (I used some seeds too), held loosely by 100% whole wheat flour, some butter, and honey; makes for a very sticky dough.
I have used a sourdough preferment instead of a yeasted preferment, to give my dough a boost of strength, and flavor. The final dough was leavened with commercial yeast @ 2.5tsp. I also chose not to add any more flour, so the dough was stickier but soft. Ultimately, the dough should come together coherently and form a ball.
Notes to self:
1 – Use a mixer. Your hands will get messy with this one.
2 - Add some more whole wheat flour to the final dough.
2 – Bake it in pans, NOT free form.
3 – Apply egg wash prior to Poppy seed garnish. Water will not do the job properly.
4 – Bake *4 the recipe quantity, as this bread disappears almost immediately.
Sourdough Preferment (Wholewheat) - Freshly prepared: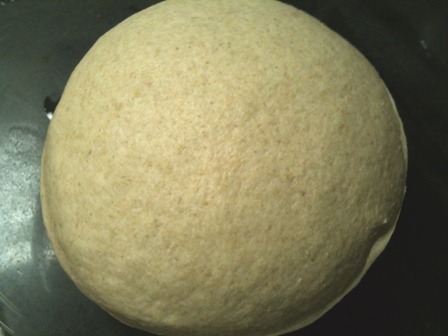 Soaker: (Millet, Cracked Oats, Buckwheat, flaxseeds, Sunflower seeds, toasted sesame) in Hot water.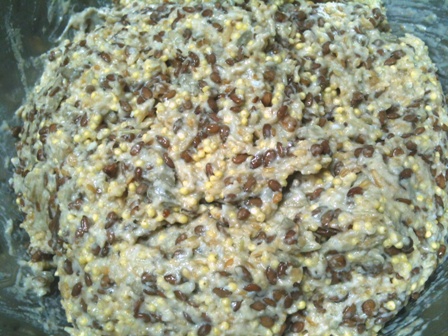 Formed Batards: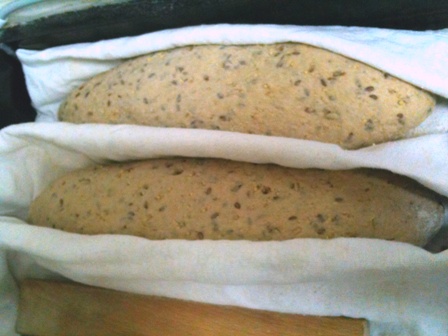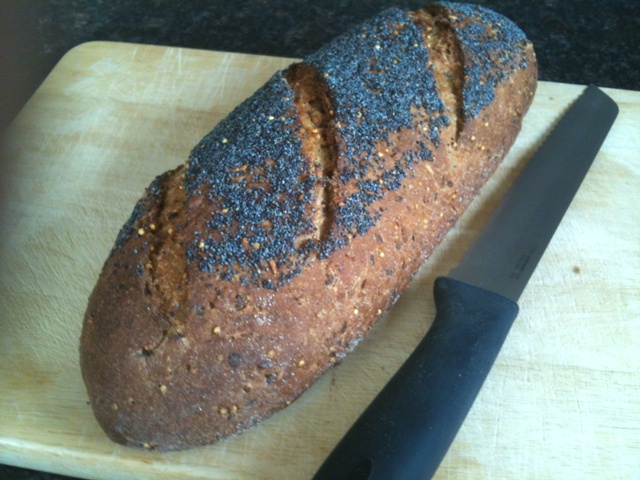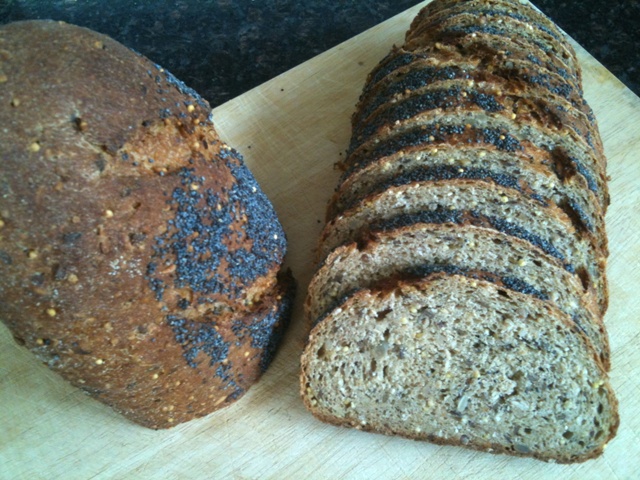 The flavors, texture, aroma are all out of this world. The crust is sof, yet crunchy from all the popp seeds. The crumb is soft, crunchy, isn't chewy at all, and very aromatic. Overall, the bread isn't dense  it is just closed textured.
The bread was praised by all members of my household. The extra crunchiness brought by the addition of millet was just the right addition to compement the rest of the textures. This is one absolutely magnificent recipe from a magnificent bread book.
Khalid