My first go at Tartine's basic country loaf
I am posting here in hopes that I can get some feedback on my first attempt at this bread. So first I will give a little background on my experience with bread making and then go into detail about my first attempt at this loaf.
Well my experience with bread making is… pretty much null. I have attempted in the past to make a basic white bread but always had problems with getting it to rise enough. Recently I started making pizza dough and have been having really good luck with it and it kind of reignited my interest in making breads.
My wife bought me the Tartine bread book for Christmas but at the time we were getting ready for our first child and I was in tax season so I didn't have any spare time to try this out. So for the last couple of moths I have been messing around with trying to develop a starter that actually worked. About a week ago one of my new starters that I had been working on changed into this bubble sweet smelling mass and at that point I could tell that this was what I was trying to achieve.
This last Saturday I decided it was time to have a go at it (actually I had been dreaming about it all week). Now, I have stated to acquire the necessary tools but I have yet to get a scale (one is on order as I write this) so I did what any anxious person would do, I went to the internet to try to equate the weight to cups. Obviously you can see I have some much founded doubt as to weather I am anywhere near to the recipe.
I stated my leaven the night before when my starter was very mature (I usually feed it before I go to bed). When I got up it had risen a fare amount, it probably doubled but it had definitely gone past where the book recommends and would definitely make the bread sourer. I know I could have cut the leaven and added more flour and tried to bring it back to a sweet smell but I once again was too excited to finish the bread so I went ahead with the knowledge that it would be a sourer loaf. From here I followed the direction as the book stated up until I was to put the dough in the cast iron cooker. I must not have put enough flour on the cloth (I also didn't have any rice flour) because it stuck to it. The first loaf wasn't that stuck so I was able to leave it as it was and bake it that way but the second I had to reshape before I put it into the cooker.
Overall the color I achieved was what I had in mind along with the rise while baking. the crumb (I hope this is the right word, this is all new to me) was almost translucent and I assumed this was due to the high water content but when I looked at some of the pictures in to book none looked this way (I still wonder if it was the high water content because I didn't have a scale and I doubt it is anywhere near the right percentages).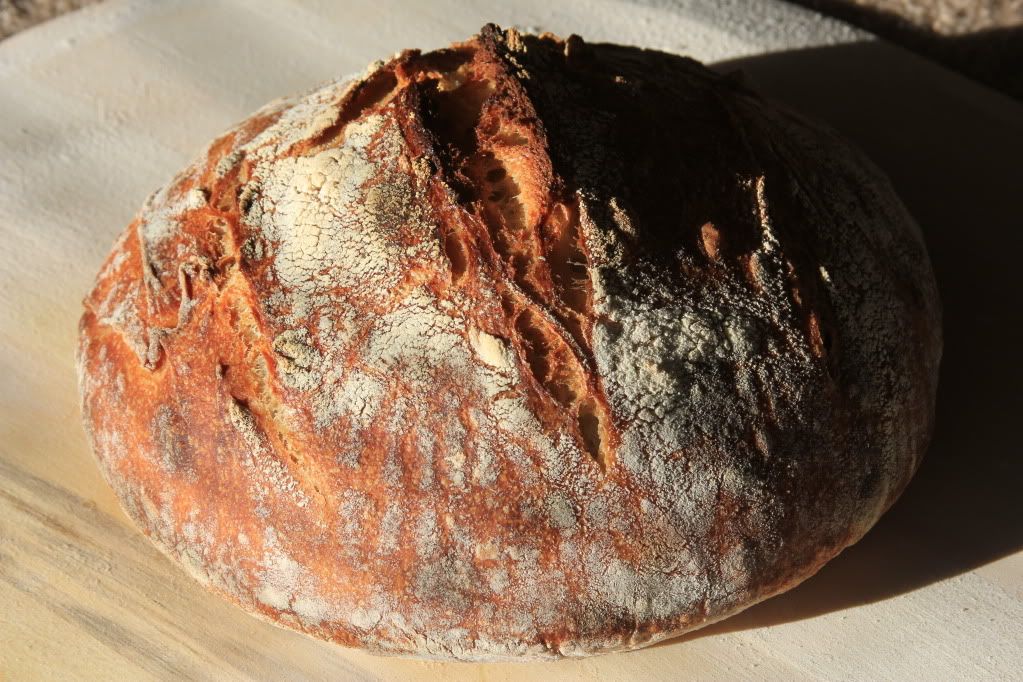 Any help or critique that anyone could give me would be greatly appreciated.