50% Rye SD Knotted Rolls With Wheat Germ, Barley Scald, Caraway and Sunflower Seeds
These nice looking and good tasting rolls are some thing we normally don't do since rolls are usually reserved for holidays and bread is served for dinner otherwise.  We wanted a 50% rye SD knotted roll that also used the WW Joe Ortiz cumin starter we like so much.   So we mixed together our standard rye starter and the WW Joe Ortiz one.  It sat in the fridge after the 8 hour build for 4 days while we decided what to do with it.  We probably should have refreshed it again but no time was available.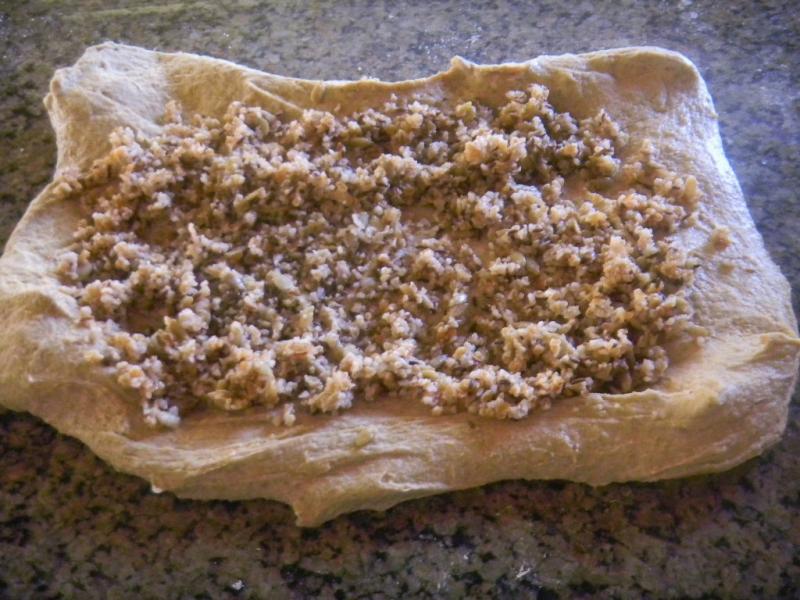 We also wanted to boost the browning, a little sweetness and yeast activity by adding molasses, barley malt syrup and home made diastatic malt powder.   We love berry scalds and seeds in bread, especially rye ones, so a cracked barley scald was prepared and once done, some caraway seeds and sunflower seeds incorporated into it.
It is just plain fun to make knots so we do so when ever we can.  We added different individual seed toppers to the rolls to make each a little different than the others.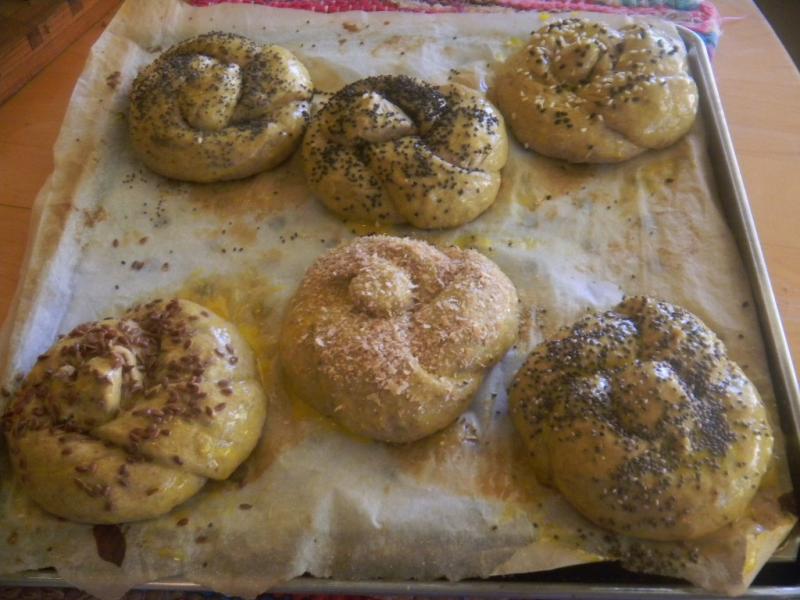 The sour taste is slightly muted since we didn't retard them.  The crust is nice and brown and softened as it came out of the oven.  The crust was not as open as we would have liked even for such a high percent whole grain bread but not brickish either.  But it was, soft and moist.  It probably could have baked a few more minutes too.  They should be baked to 205 F but ever since I fried the temperature probe in a 500 F oven, trying to stupidly test how hot it really was,  we have to play the 'is it done' guessing game again.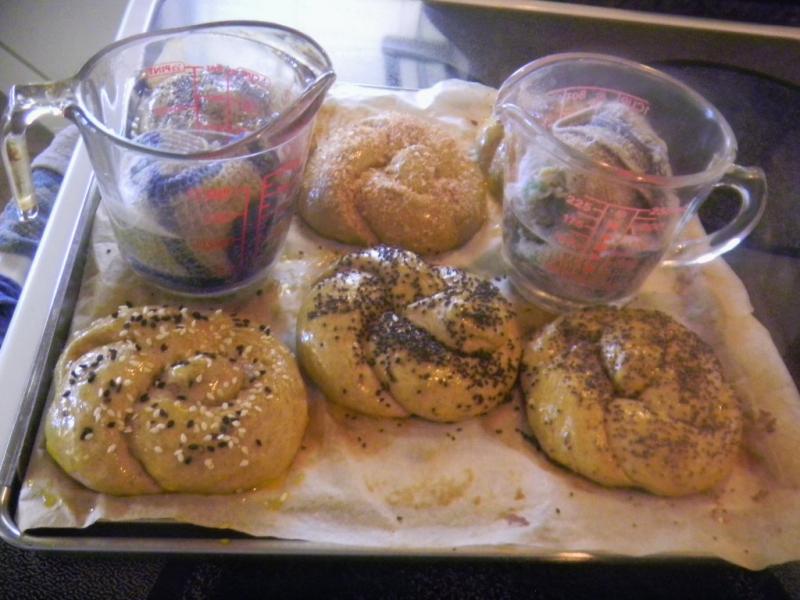 These were baked in the mini oven using (2) 0f Sylvia's steaming method developed for the little beast.  The spring was good as a result.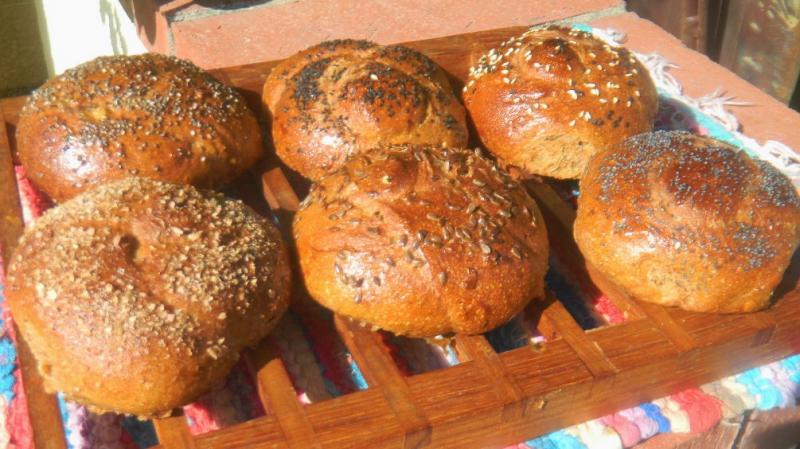 Method
This WWW and Rye SD levain was made over (2 ) 3 hour builds and (1) 2 hour build and ended up at a  78% hydration and 160 g. for each roll.   The seed was a combination of a sour rye and the Joe Ortiz Cumin Desem starter.  It was very active and doubled after the last build in 2 hours.  Any sourdough starter will do though.  The starter was refrigerated for 4 days but it doesn't need to be refrigerated at all.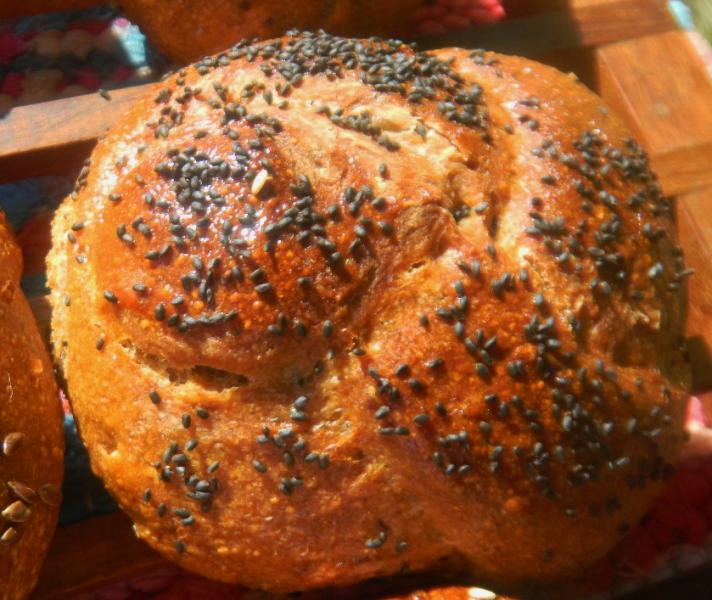 The barley is cracked in a spice mill and then brought to a boil and allowed to sit at room temperature until cooled. The caraway seeds and sunflower seeds are then added to the barley scald and reserved, covered in plastic wrap until needed.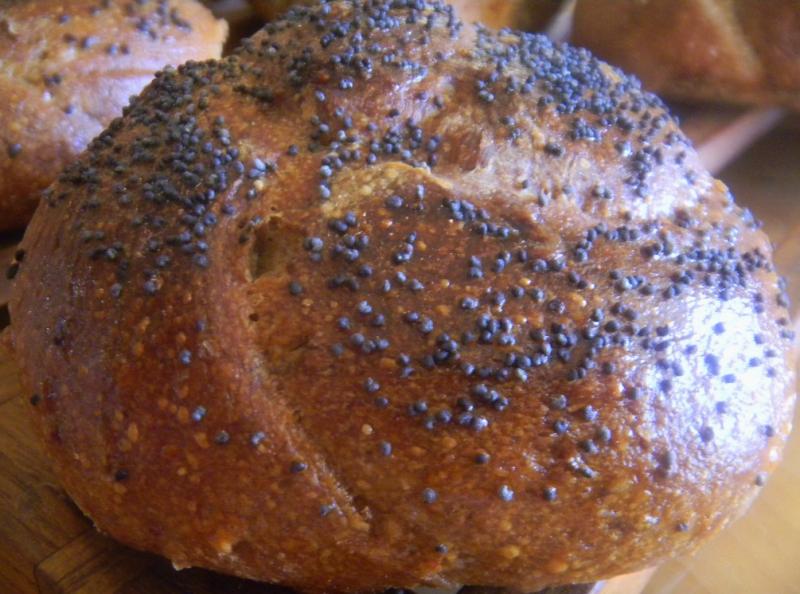 The dough was a 50-50 combination of rye and bread flour.  The levain was mixed with the dough water, molasses and barely malt syrup to break it up.  The dough flours, wheat germ, salt and home made diastatic malt were then added and mixed by hand in a bowl with a spoon for 1 minute and allowed to rest covered with plastic for 20 minutes.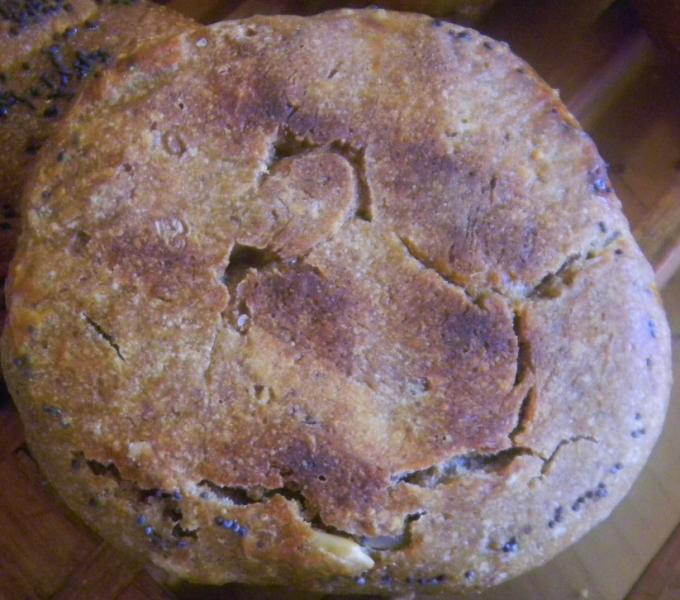 (4) sets of  S&F's were done on 15 minute intervals on an oiled surface with the dough being returned to a plastic covered oiled bowl between sets.  During the last set of S & F's the barley scald,  caraway and sunflower seed mix is worked into the dough on a floured work surface as this is very sticky dough because of the rye.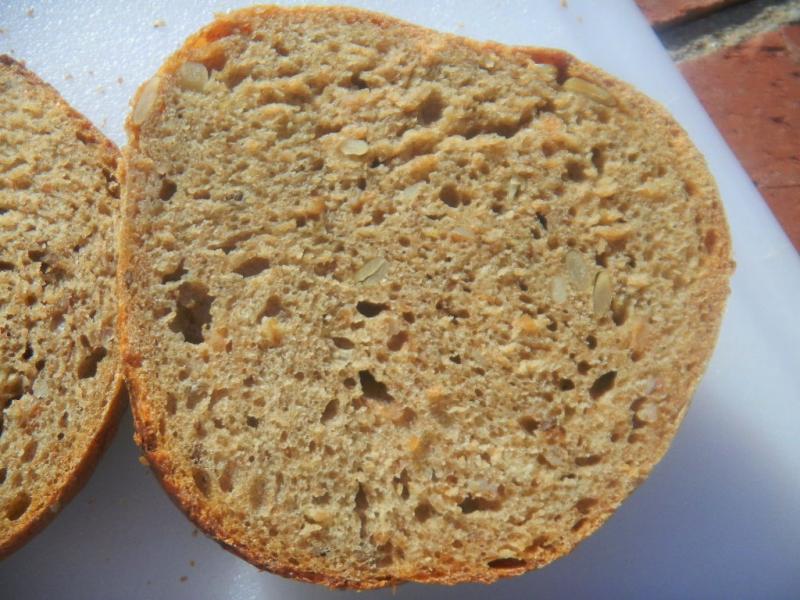 The dough is then allowed to develop and ferment for 90 minutes.  You want it to alt least gain 80% in volume before dividing up the dough into (6) 140 g balls to form into knotted rolls.  Form the balls into 14" ropes, make a knot in the middle and then tuck in the two ends into the middle, one from the top and one from the bottom.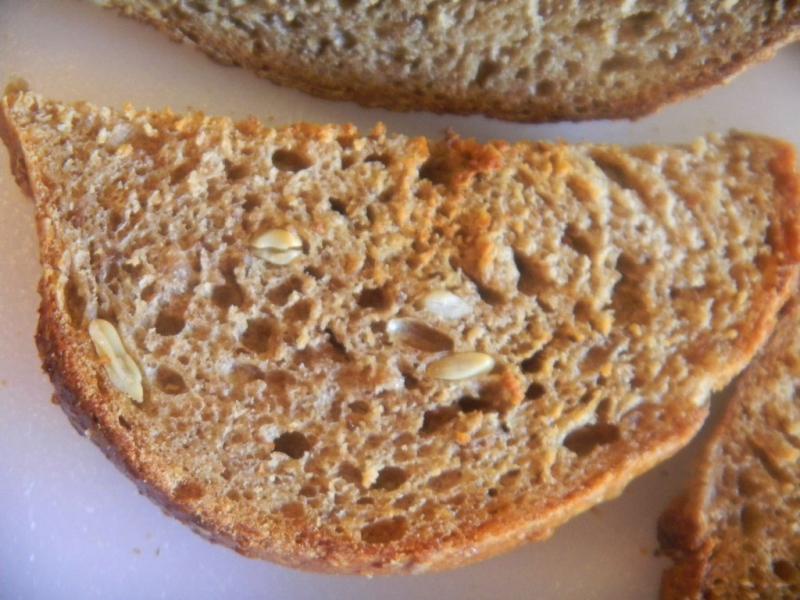 Toasted
Allow to nearly double in size on semolina or corn meal sprinkled parchment paper, wrapped in a kitchen trash bag.  We baked ours after 2 hours and they were under proofed by 30 minutes or so - couldn't wait though as dinner needed attention too.  Should have retarded them in the fridge overnight instead of balking them.  We brushed the tops with egg yolk and sprinkled each witha different seed or topping.  We used bran and seeds; chia, flax, basil, white and black sesame and poppy before baking in a 450 F preheated mini oven with (2) of sylvia's steamers for 10 minutes.  After 2 minutes, turn the temperature down to 425  F.  At the 10 minute mark, remove the steam and turn the temperature down to 375 F baking with convection this time.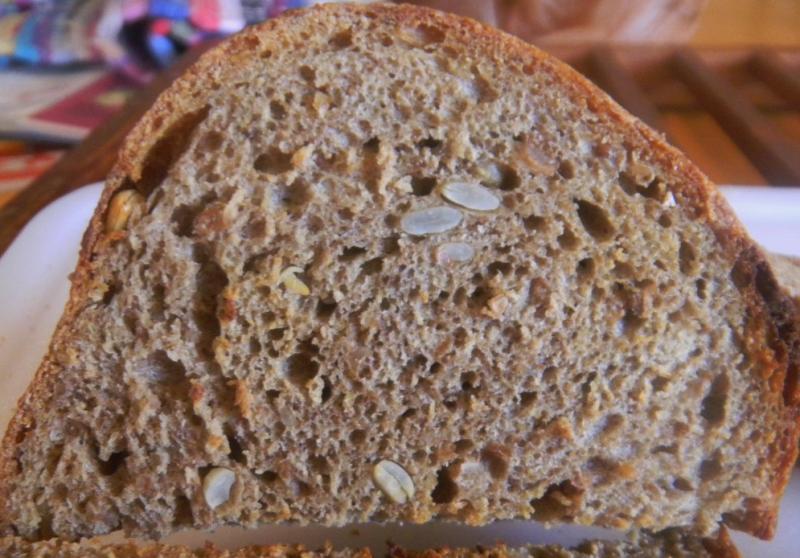 Toasted
In another 10 minutes or so, the rolls should be done and be 205 F on the inside.  Let them cool in the oven with the door ajar for 10 minutes then move to a cooling rack.
| | | | | | |
| --- | --- | --- | --- | --- | --- |
| 50% Rye SD Rolls With Wheat Germ, Caraway and Sunflower Seeds |   |   |   |   |   |
|   |   |   |   |   |   |
| Mixed Starter | Build 1 | Build 2 |  Build 3 | Total | % |
| SD Starter | 20 | 0 | 0 | 20 | 5.39% |
| Rye | 10 | 20 | 10 | 40 | 14.23% |
| WW | 10 | 20 | 10 | 40 | 14.23% |
| Water | 20 | 40 | 0 | 60 | 21.35% |
| Total Starter | 60 | 80 | 20 | 160 | 56.94% |
|   |   |   |   |   |   |
| Starter |   |   |   |   |   |
| Hydration | 77.78% |   |   |   |   |
| Levain % of Total | 22.28% |   |   |   |   |
|   |   |   |   |   |   |
| Dough Flour |   | % |   |   |   |
| Diastatic Malt | 1 | 0.00356 |   |   |   |
| Bread Flour | 140 | 49.82% |   |   |   |
| Rye | 140 | 49.82% |   |   |   |
| Dough Flour | 281 | 100.00% |   |   |   |
|   |   |   |   |   |   |
| Salt | 6 | 2.14% |   |   |   |
| Water | 200 | 71.17% |   |   |   |
| Dough Hydration | 71.17% |   |   |   |   |
|   |   |   |   |   |   |
| Total Flour | 371 |   |   |   |   |
| Water | 270 |   |   |   |   |
| T. Dough Hydration | 72.78% |   |   |   |   |
| Whole Grain % | 64.15% |   |   |   |   |
|   |   |   |   |   |   |
| Hydration w/ Adds | 73.35% |   |   |   |   |
| Total Weight | 718 |   |   |   |   |
|   |   |   |   |   |   |
| Add - Ins |   | % |   |   |   |
| Barley Malt | 8 | 2.85% |   |   |   |
| Wheat Germ | 8 | 2.85% |   |   |   |
| Molasses | 8 | 2.85% |   |   |   |
| Caraway (2) & Sunflower Seeds | 22 | 7.83% |   |   |   |
| Total | 46 | 16.37% |   |   |   |
|   |   |   |   |   |   |
| Scald |   |   |   |   |   |
| Cracked Barley | 25 | 8.90% |   |   |   |