Seeded Multi Grain Sourdough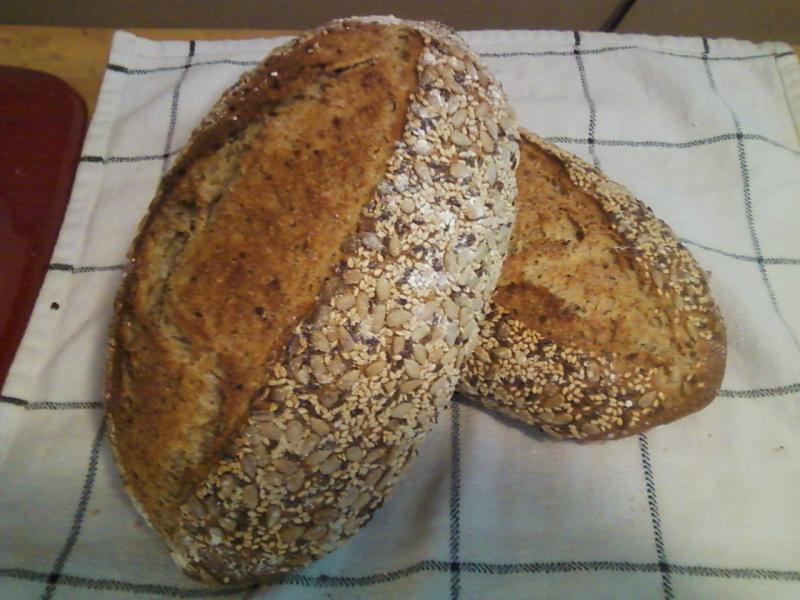 So Proud I had to share!
This is my comeback from an over-proofed disappointment (aka bread crumbs) on Monday.   This is my interpretation of a mixed grain seeded sourdough.
My formula;
16 oz Bread Flour 80%
2 oz Spelt 10%
1 oz WW 5%
1 oz Rye 5%
13-14 oz Water somewhere between 65-70%
Additions;
1 oz (pre hot soak) Flax seed Meal 5%
1 oz (before boiling until soft) Bulger Wheat 5%
.4 oz Salt 2%
Mix dough (just flours and some water) and autolyse 1 hr, Add the rest machine/ hand kneed until windowpane or as much as the Bulger will allow, retard in the fridge 25 hours.
Sit dough out for 30-60 minutes to warm up, shape, turn dough onto a wet towel then onto a sheet pan of seeds. I used a mix of sesame flax and sunflower, proof 90 to 120 minutes.
Score and bake in a preheated 475 degree oven with steam on a stone and drop the temp to 450. bake 30- 40 minutes.
Hope you all enjoy!
J