What To Eat With That Rustic French Country Sourdough Bread -Smoked Etouffee!
When I was in architectural school so long ago, way before 4 legged apprentices were allowed in the kitchen, one of my best friends, a fine designer, was of Creole decent from New Orleans - the heart of Creole Country.  Cajuns weren't well thought of in New Orleans and scarcely seen then.  His wife was and still is a Cajun from the bayou country around Lafayette - the heart of Cajun Country where Creoles were shunned and hard to find.  It's not that they hated each other, after all they were both French based to the core, but it was a bit like thick oil and thin vinegar trying to make an emulsion without any duck fat.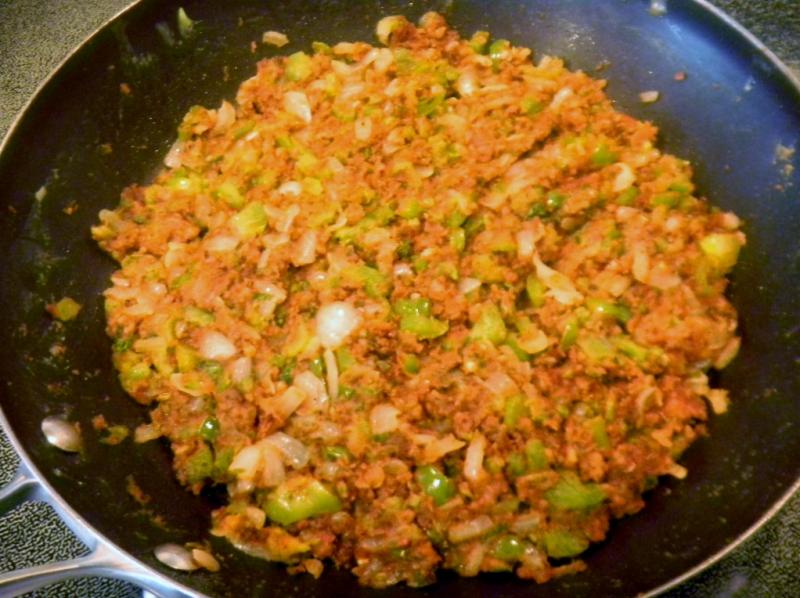 Uncooked veggies and chorizo just added to the not very much roux.
Creoles were the upper crust of the French in Louisiana, the New Orleans Upper Crust merchants and the plantation owners who tried to emulate the aristocracy of France.  You can think of them as the perfectly scored 'Paris Baguette French' even though their blood was steeped in native American and to a greater extent the Blacks from Africa.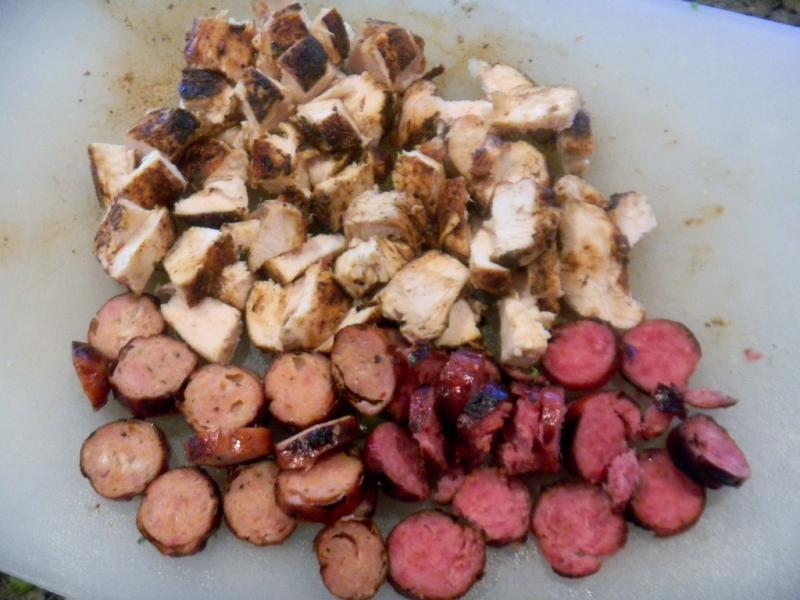 Smoked chicken and 2 smoked sausages - one pork, one chicken.
Cajuns on the other hand were also of French decent and mingled with native Americans more and Africans less but they also immigrated from Nova Scotia to LA instead of from France like the Creoles.  They were more rustic and country than their Creole cousins and weren't into imitating any kind of French aristocracy.  You can think of them as 'Rustic Country French Sourdough Boules'.  The two things they could agree on was that they hated the English; with the Creoles and the Cajuns coming together to defeat the British in NO ending the war of 1812 after it had already ended on paper several week before and they liked the same kind of foods.  Even if they argued mightily over their slightly different preparation and ingredients of the same dishes it was still all gumbo in the end.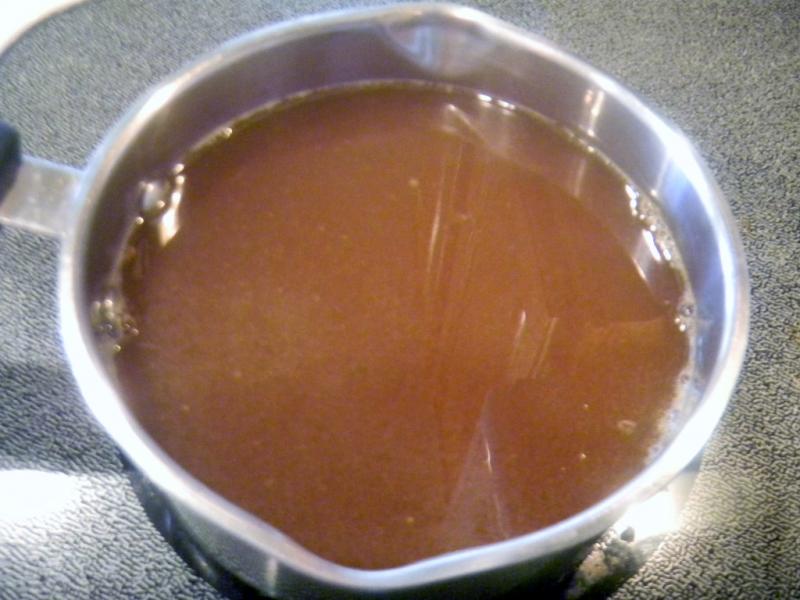 The dark roasted chicken stock.
The Africans brought the spice, peppers and tomato to the Creoles and the Native Americans brought the crayfish to the Cajuns.  Both had that French sauce; roux, in their veins.   They say that the closer you get to NO the less tomato you will see.  This is totally incorrect.  Cajuns shun tomatoes and they weren't from anywhere around NO – the Creole heart where tomatoes are fine in just about anything.  You can always tell a Creole from a Cajun by noticing if they put tomatoes in the same dishes or not – because they make pretty much the same dishes otherwise - except for the little difference in the addition of file.  File as a spice is also Creole.  With Cajuns, file is totally optional and not required.  Cajuns also tend to put less onion, celery and green peppers in their dishes too.  Cajuns like 1 part onion, 1/2 part green pepper and 1/4 part celery.  Creoles want up to a full part of each.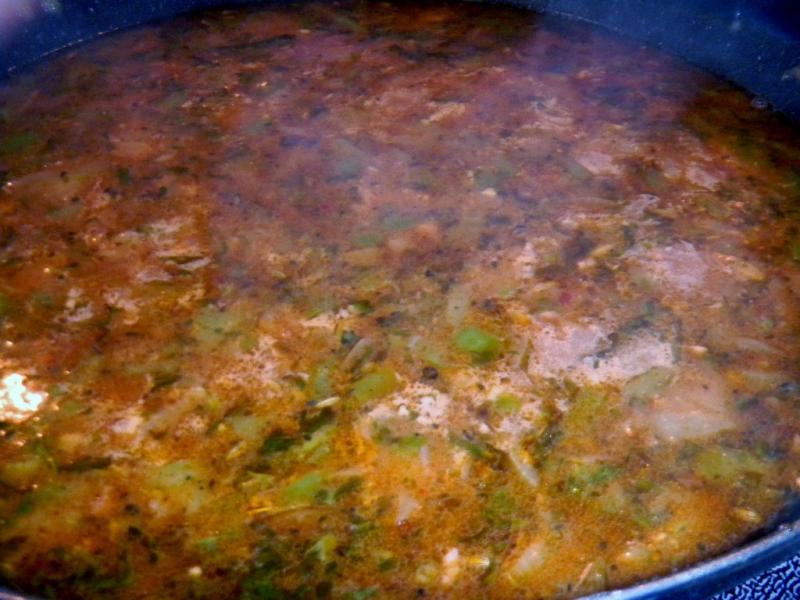 Stock and beer hit the veggies and the roux.  
Needless to say, my married friends from LA were like night and day when it came to cooking authentic Creole and Cajun food from NO or the Bayous.  They both made every kind of sausage, gumbo, jambalaya, etouffee, French breads and other food treats linked directly to the French in LA be they Creole or Cajun.  Both sides claim to have invented and perfected these fine dishes but, in reality, they worked together to make these dishes world famous and world class.   All of these foods have many variations depending on who makes it and who they learned from and with mixed Creole and Cajun marriages…… anything is possible!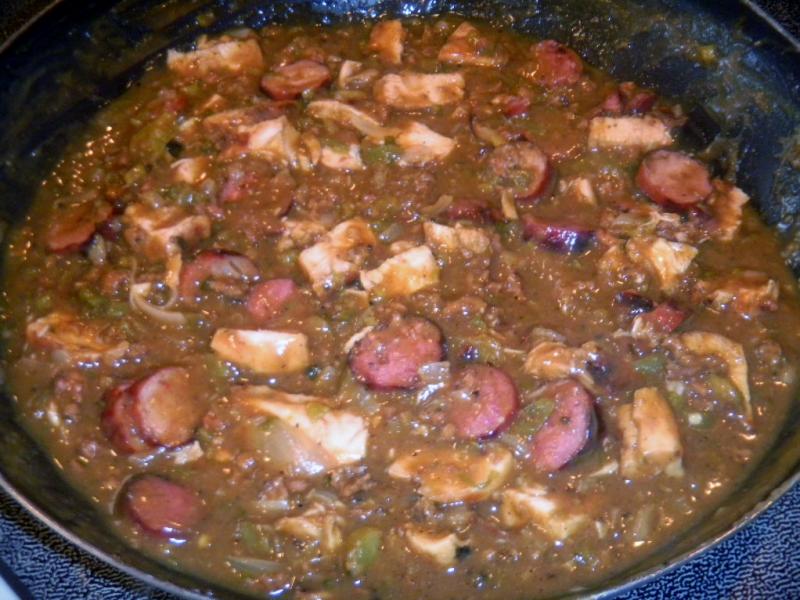 Meat hits the pan- it's nearly time to eat.
It was so much fun cooking with my LA friends because they would always argue over how much of what to put in or not to put in every delicious meal - what ever it was.  Both were equally fine cooks – just different.  What ever we cooked always had a 6 pack of beer consumed as we waited for the low and slow roux commonality to get that deep brick red.  Another 6 pack went down with the meal.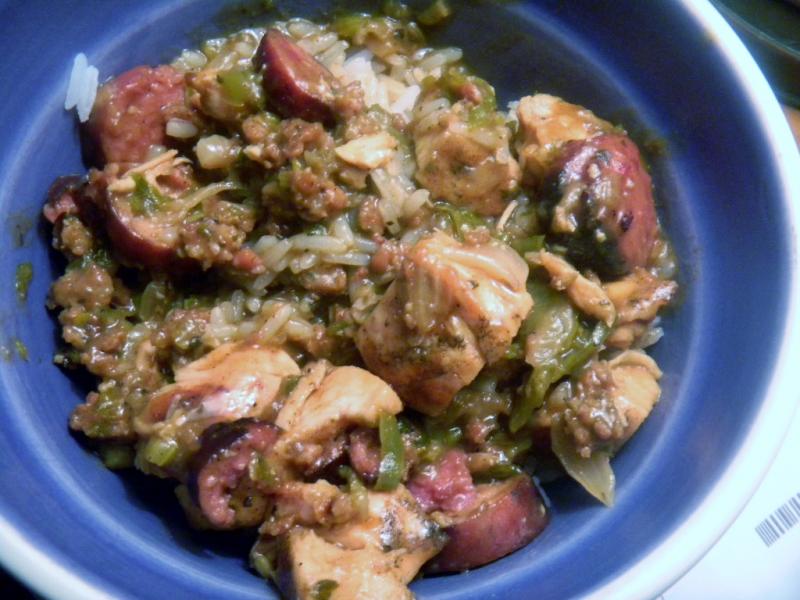 Served over white rice.
Etouffee is usually crayfish or shrimp, when mud bugs aren't available.  The bugs give Cajun's their main claim to authenticity especially when made with a nice mud bug or shrimp stock - depending.  This etouffee version is smoked chicken, smoked; chicken and pork sausage.   It's  based on a great smoked shrimp and sausage gumbo I had in KC a couple of weeks ago at one of the many BBQ joints KC is known for.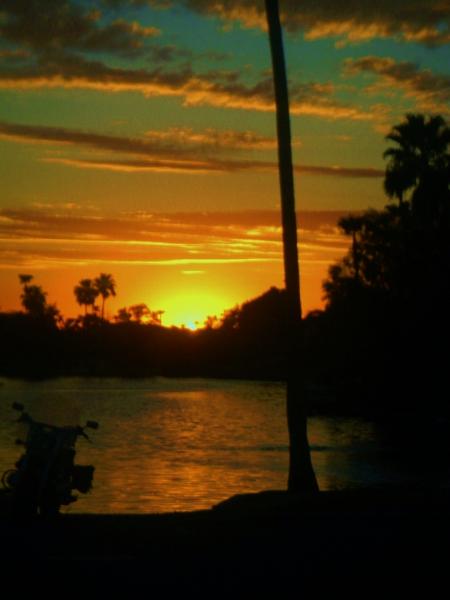 After dinner bike ride rudely interrupted by a pesky sunset.
The Brownman portion of this recipe is the Mexican; amber beer and spicy chorizo added with the veggies.   The recipe might at first seem to lean toward Cajun since no tomato is ever allowed – too sour.  Too much tomato will spoil any sofrito too.   But the file, spices, peppers and ratio of veggies is pure Creole through and through.   The Mexican influence is unmistakable too.  Us 3, the old friends and cooks, are all represented in this fine etouffee that I'm sure each of us would be proud to call our own.   But I'm certain, both of them would want to change it to better suit their Cajun or Creole tastes.  So, it is not theirs – it's all mine.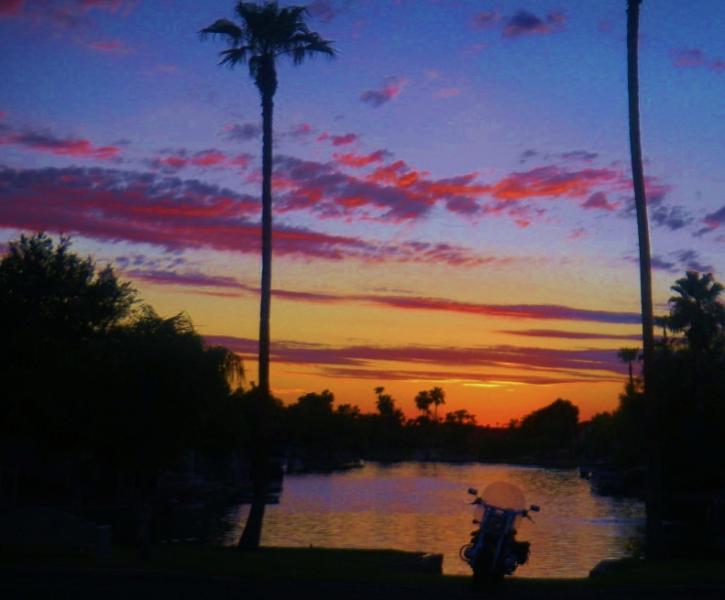 The sunset got better a few minutes later.
I prefer it served over large French Rustic Country SD croutons just to make it more Cajun and even the Creole tilting playing field.  But this time it was served over the traditional rice.     Call it bad planning or possibly fear of too much French :-)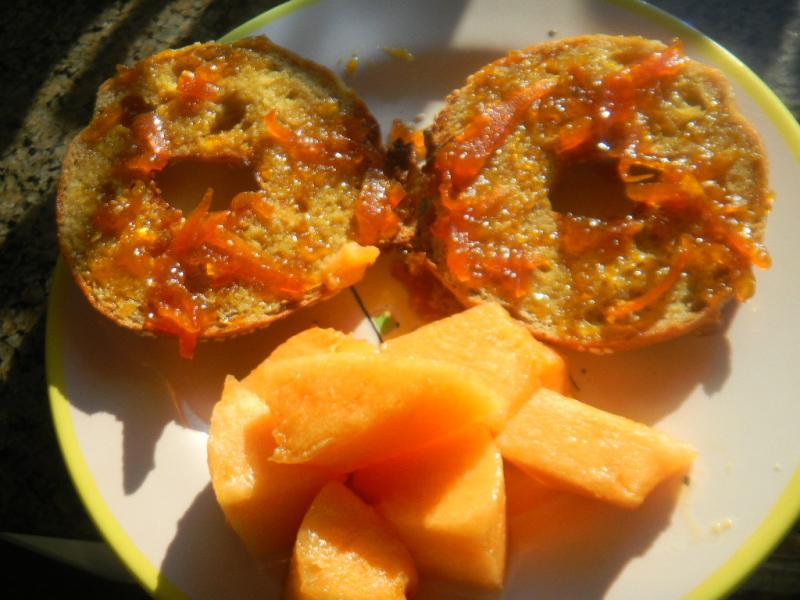 In tribute to the previous nights orange sunset, an orange breakfast of Stan Ginsberg's Bagels, Minneola Medium Caramelized  Marmalade and Cantaloupe.  A magnificent 24 hours of nostalgia, etouffee,  orange; sunsets and breakfasts the Cajun, Creole and Brownman way.  Wish you guys were here to enjoy it with me as I enjoyed our cooking together so long ago. 
I'm such a doofus for forgetting to post the recipe.  Where is that apprentice when you need her?
Smoked Chicken Sausage Etouffee
Ingredients
 1 pound smoked boneless chicken – your choice - we use thighs
½ pound each of smoked pork and chicken sausage
¼ pound chorizo
1 C water
2 C dark roasted chicken stock
1/8 cup grape seed oil + 1/8 C Butter for the Roux Or all oil if you want
2/3 cup flour
1 small onion - diced
2 stalks celery – diced
1 small green bell pepper – diced
1 amber beer - or less if you taste test to make sure it isn't spoiled –Bohemia preferred
2 bay leaves
2 T Worcestershire sauce
2 T Creole seasoning – equal parts; salt, pepper, onion powder, garlic powder, dried oregano, dried thyme, smoked paprika, paprika, cayenne pepper - 1 T each for the roux and veggies.
2 T Creole seasoning for the chicken and sausages before smoking
½ tsp of Gumbo file - some say it is optional but it isn't around here.
Tabasco sauce for individual serving heat if the Creole seasoning isn't hot enough for you or others.
Salt and pepper to taste.
Serve over white rice with some buttered French SD bread to sop up anything left in your bowl.  We sometimes just make huge French SD croutons and serve the etouffee over them instead of rice – great for folks who don't like rice but love SD..
Make the chicken stock ahead of time.  Etouffee deserves the very best stock.
Smoke the chicken, sausage and chicken sausage with the Creole seasoning . 
Heat oil and butter in large skillet until it is hot but not quite smoking.  Add the flou and 1 T of the Creole seasoning, turn down the heat to low and cook the roux while constantly stirring until a dark peanut butter color is achieved.  This is called a blond roux even though it will be a brick red and may take 20 minutes or more.  Add the vegetables, the chorizo and 1 T Creole seasoning and cook while constantly stirring for about 6-8 minutes until the vegetables soften and the roux gets darker.  Make sure not to burn anything.
Turn heat up to medium.  Add the beer and chicken stock, Worcestershire sauce and bay leaves. Cook while stirring until the mixture boils and thickens to correct consistency10-15 minutes.  Etouffee is a thicker sauce than Gumbo.   Add in the smoked meats and cook for about 2-3 minutes until the meat is just heated through.  The chicken should be chopped into ½" cubes and the sausages cut into ¼" thick coins. Have Tabasco ready for those who want more heat.   Serve over plain white rice or some kind of rustic French SD croutons Which is my preference.  For a more smoked flavor you can smoke the finished etouffee in the smoker too.
 If 3 Cajuns or Creoles are making etouffee you need about 12 additional beers while making it in order for them to have a good time and learn to get along while working hard on that roux that takes patience and low heat.