Joe Ortiz Pain de Champagne with Rye and WW Sprouts
For this bread you make your own starter using some WW flour, ground cumin, a tsp of milk and some water that is built up over 3-4 days.  sweetbird did a similar boule that shows how to make it here: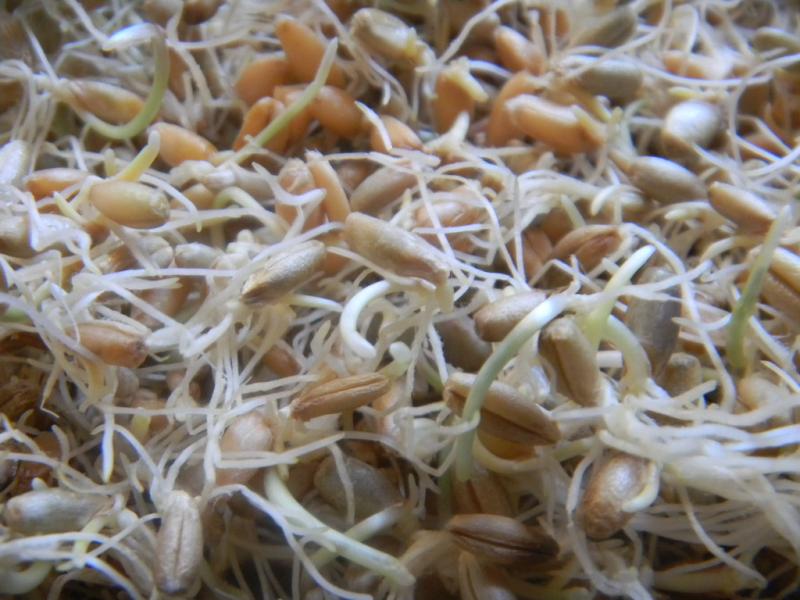 http://www.thefreshloaf.com/node/27528/joe-ortiz-pain-de-campagne-wonderful
 After building the levain we only used 140 g for this loaf and stored the rest in the fridge after reducing the hydration.  We were making some diastatic and nondiastatic malt from sprouted WW and rye grain so we used some of the sprouts in this loaf too.
 We added the flour to the levain with the water and salt and mixed in the KA on speed 2 for 6 minutes. It was then rested in the bowl for 15 minutes.  (5) S & F's were done every 15 minutes with the sprouts being incorporated during the last 2.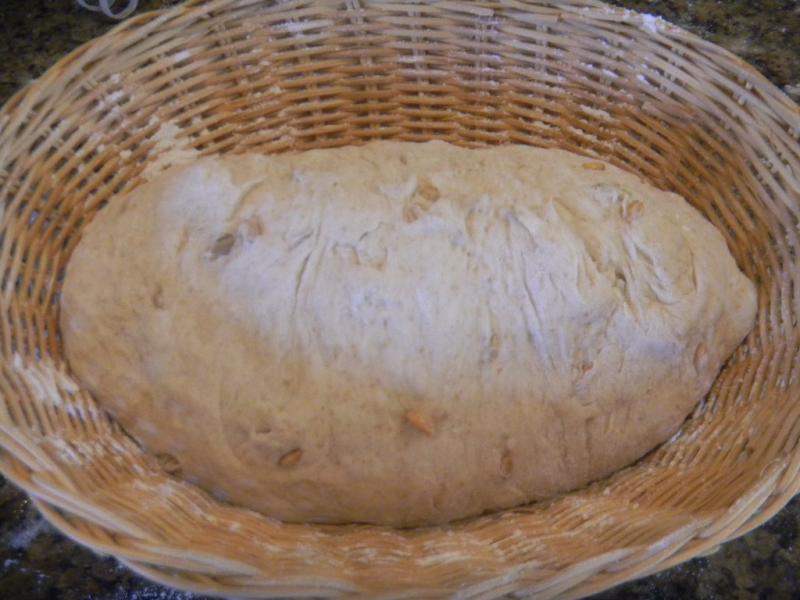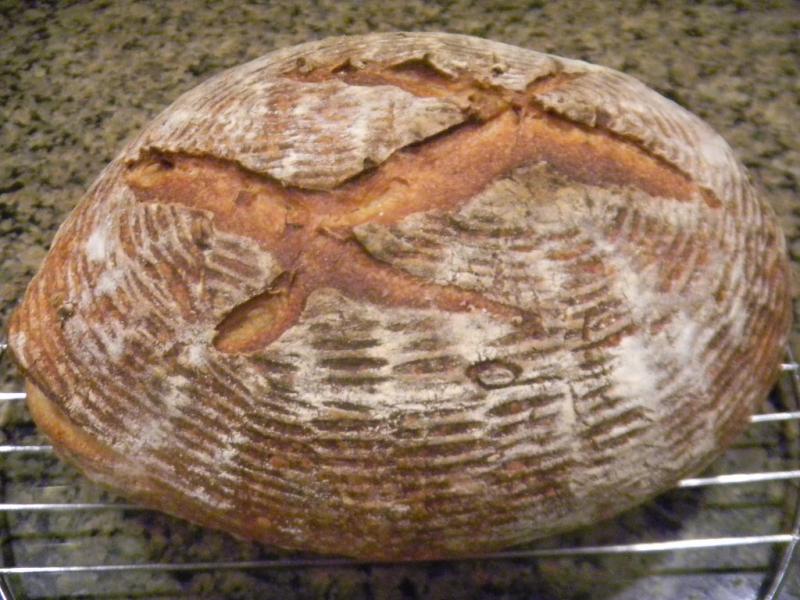 After the stretch and folds were completed the dough was developed and rested for 1 ½ hours before shaping into a boule and placed in a rice floured basket.  The basket was placed in a plastic trash bag and allowed to proof until it had risen 80%.  At that point it was retarded in the fridge for 4 hours.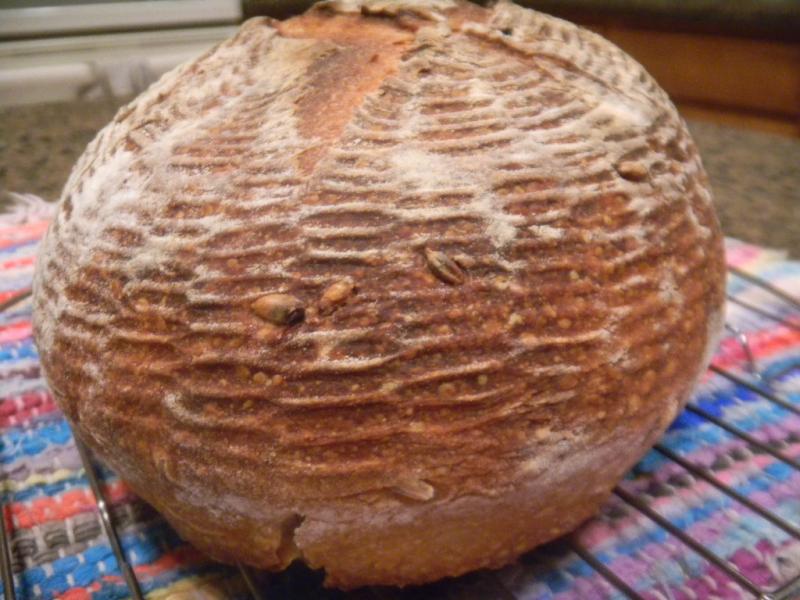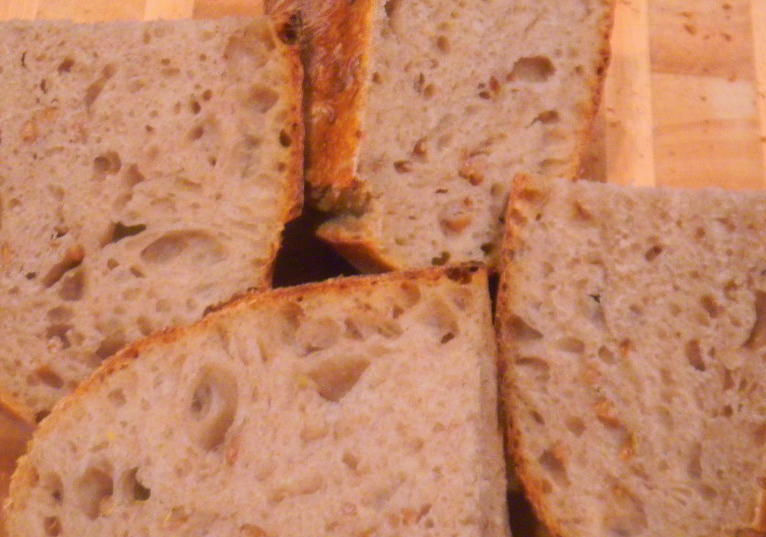 When removed from the fridge the boule was un-molded on some parchment on the top of the mini ovens broiler pan cover.  The mini oven was fired up to 500 F as Sylvia's Steam was prepared in the microwave.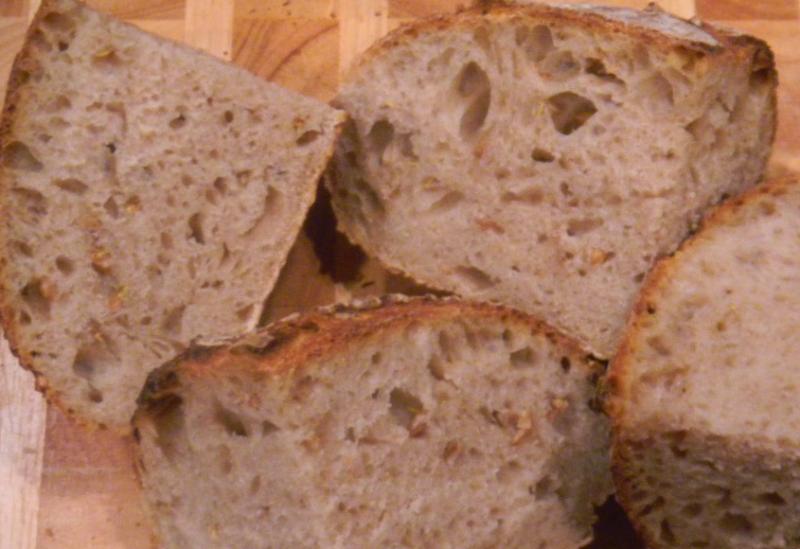 When the oven was hot, the steam and now slashed boule went in the oven for 15 minutes of steam as the oven was turned down to 450 F after 4 minutes.  At the 15 minute mark the steam was remove the boule rotated 180 degrees and the oven was turned down to 425 F convection this time.  The bread was rotated every 5 minutes for 20 minutes until done – 35 minutes total.  The last 10 minutes the boule was turned upside down.  The oven was turned off and the door left ajar with the bread inside to crisp the skin for another 12 minutes.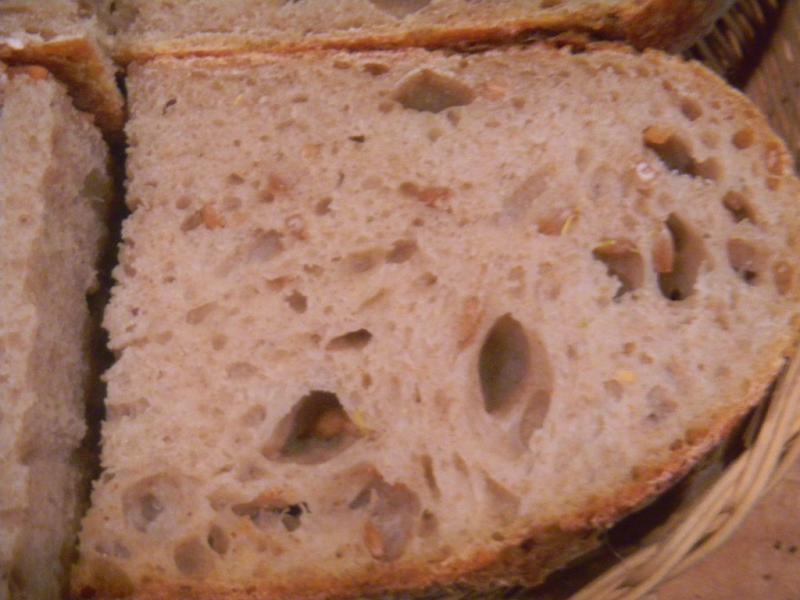 It baked up very well, nice and brown with a crispy crust.  The crumb was nice and open, moist and soft.  It is so cool to make a starter from scratch and bread in 4 days from start to finish.  Won't kow how it tastes until we get back home from our family trip.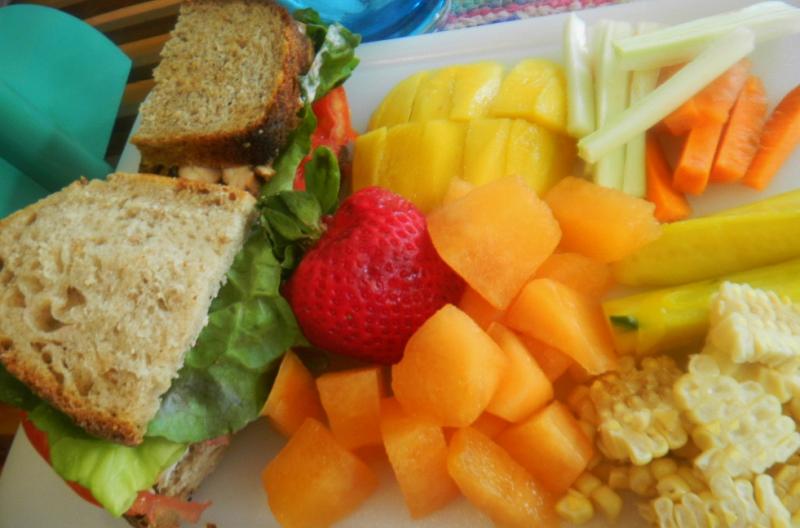 Joe Ortiz sandwich is in the foreground.  Delicious bread with a slight tang from a 3-4 day old starter.  Amazing!
The formula follows
| | | | | | |
| --- | --- | --- | --- | --- | --- |
| Joe Ortiz Pain de Champaign with Sprouts |   |   |   |   |   |
|   |   |   |   |   |   |
| Starter | Build 1 | Build 2 |  Build 3 | Total | % |
| WW | 75 | 0 | 0 | 75 | 18.75% |
| Water  | 65 | 0 | 0 | 65 | 16.25% |
| Total Starter | 140 | 0 | 0 | 140 | 35.00% |
|   |   |   |   |   |   |
| Starter |   |   |   |   |   |
| Hydration | 86.67% |   |   |   |   |
| Levain % of Total | 16.81% |   |   |   |   |
|   |   |   |   |   |   |
| Dough Flour |   | % |   |   |   |
| Bread flour | 200 | 50.00% |   |   |   |
| AP | 200 | 50.00% |   |   |   |
| Dough Flour | 400 | 100.00% |   |   |   |
|   |   |   |   |   |   |
| Salt | 8 | 2.00% |   |   |   |
| Water | 265 | 66.25% |   |   |   |
| Dough Hydration | 66.25% |   |   |   |   |
|   |   |   |   |   |   |
| Total Flour | 475 |   |   |   |   |
| Water | 330 |   |   |   |   |
| T. Dough Hydration | 69.47% |   |   |   |   |
| Whole Grain % | 18.75% |   |   |   |   |
|   |   |   |   |   |   |
| Hydration w/ Adds | 69.47% |   |   |   |   |
| Total Weight | 833 |   |   |   |   |
|   |   |   |   |   |   |
| Multigrain Sprouts |   | % |   |   |   |
| WW | 10 | 2.50% |   |   |   |
| Rye | 10 | 2.50% |   |   |   |
| Total Sprouts | 20 | 5.00% |   |   |   |