Since I started my explorations of German style mixed flour ( rye/wheat ) breads I was using caraway seeds.
I kept with using a small amount of commercial yeast,   mainly because the scheduling is very simple that way.
And I stuck to using wholegrain rye flour for the rye part - because I like the taste and texture.
Recently I started experimenting with using sourdough only, and using light rye as well as wholegrain rye.
The result is My Ultimate Rye - good volume, elastic, translucent crumb (as far as possible in a 40% rye), hearty taste, ... I could go on. Excellent with smoked salmon or strong cheese.
Here some photos:
This loaf weighs 800g:
Cut open, it filled the kitchen with the most amazing aroma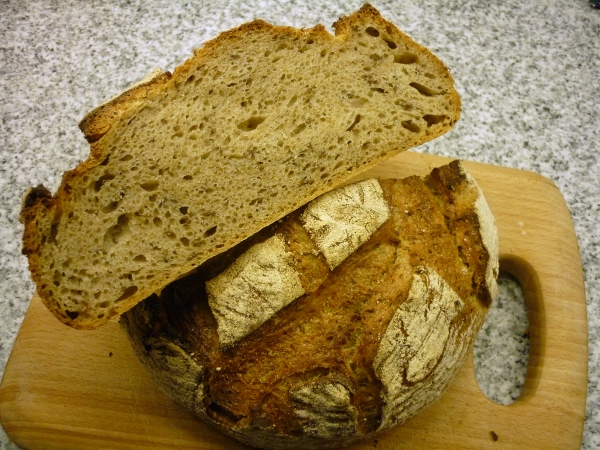 Here the crumb in greater detail: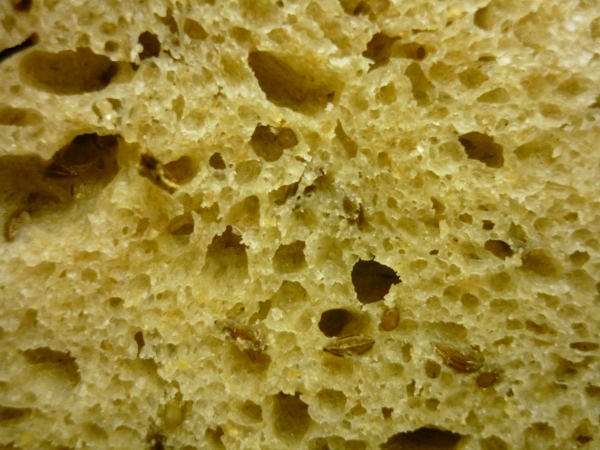 And a detail of the crust: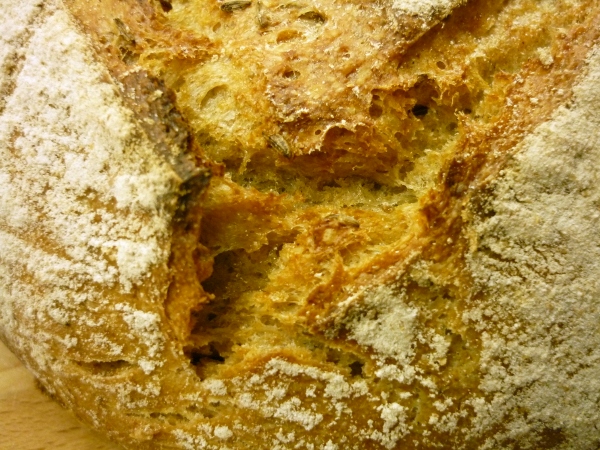 The process follows roughly the "Detmolder" process outlined in the post I mentioned above.
You will find all details in the baking sheet below. I added a column for the "surplus preferment" to account for loss due to fermentation, evaporation and stickiness)
Outline of the process:
Rye sour: Ferment for 15 hours at 26C
Wheat sour: ferment 15 hours at room temperature (was 21C to 24C in my case)
I found that the small percentage of rye makes the wheat sour so much easier to maintain.
Bulk fermentation: 2 hours at 26C
Dough is very loose and sticky - shape either with wet hands or lots of flour
Final proof: 1 hour
Bake: for 800g start at 240C and turn to 200C  after 10 minutes; total baking time 30 min
Happy Baking,
Juergen
Google docs lets you download the spreadsheet with formulas.
https://docs.google.com/spreadsheet/ccc?key=0AkcYHhPxccKtdE9FcE5uU1dDeC00WUQ2dXVtV2ZNVEE
40% Rye Caraway
Expected Dough Weight
2300
Surplus Preferment(%)
10.0
 
Percent
Preferment(%)
Weight
Straight Formula




Wholegrain Rye Flour
20.5
 
266.4
Medium Rye Flour
19.5
 
253.4
Strong White Flour (AP)
60
 
779.7
Water
72
 
935.6
Salt
2
 
26.0
Caraway seeds
3
 
39.0
Yield
177
 
2,300.0
 
 
 
 
Rye Sour (Prefermented flour 20%)
Wholegrain Rye Flour
20
100
285.9
Water
20
100
285.9
Mature Rye Sour
2
10
28.6
Yield
41
205
600.3
 
 
 
 
Wheat Sour (Prefermented flour 10%)
Strong White Flour (AP)
9.5
95
135.8
Wholegrain Rye Flour
0.5
5
7.1
Water
10
100
142.9
Mature Wheat Sour
4
40
57.2
Yield
24
240
343.1
 
 
 
 
Final Dough (Total prefermented flour: 30%)
Medium Rye Flour
19.5
 
253.4
Strong White Flour (AP)
50.5
 
656.2
Water
42
 
545.8
Salt
2
 
26.0
Caraway seeds
3
 
39.0
Rye Sour
40
 
519.8
Wheat Sour
20
 
259.9
Yield
177
 
2,300.0