Philosophy of bread with no gluten
I have been recently been baking breads with no gluten.  I have not been super impressed with most of the recipes which call for lots of starch and xantham or guar gum which can lead to odd consistency and flavor (the oddnesss is caused by the gums, the starches seem OK).  I did find some good recipes eventually and can make pretty good bread now, but I am trying to understand on a deeper level the philosophy of bread without gluten, which is quite different than bread with gluten.  Here are some of my current rough opinions.
There is no need for gums to be added, a combination of chia seeds and flax seeds ground up works just as well to get a good rise.  I don't know the best subsitution for gum, I have been doing 4-1 or thereabouts seeds to gum, in other words a recipe calling for 10g of gum turns into 40g ground seeds.  These seeds have gelatinous stuff on the hulls and serve a similar effect as the gums.
In terms of rise time, something like 3 hours (x 2) seems to be the best for me so far.  Too long and there is not much rise, too short and the water isn't fully absorbed.
It may seem odd to add so much starch as many recipes call for, but white flour is nearly all starch and if you are using whole grain flour plus starch at 50-50 you are still at less % starch than with pure white flour.
That said, it is still possible to get a good rise with very little starch; currently I am using 5-1 grains and seeds to starches.
A combo of mainly rice and sorghum flours works well; I am now using that plus smaller amounts of other grains.  I need to experiment more to see what the best combination is.  Too much rice and the loaf is rather bland tasting, I have been slowly reducing the amount of rice.
The flour should be ground as fine as possible; with more coarse flour it seems like the rise is less and the taste can be more gritty.
Most recipes call for oil, vinegar, and sugar of some form.   I have no firm opinion on how important adding oil and vinegar is.  I have found I can leave out the sugar and still get  great loaf.  I have not tested leaving out the oil and vinegar yet.  I definitely prefer without all the sugar, I don't like sweetness in my everyday bread.
Most recipes call for eggs.  I am currently using egg whites only, not whole eggs, and beating them and folding them in (like a quiche).  I don't know if this helps much, I need to do a side by side test.
The hydration should be high compared to bread with gluten.  I'm not sure how high but I am using 110% or so now (including the egg whites as hydration).  The dough is "looser" with more hydration and so will more easily rise than a stiff loaf.  With gluten you can get away with a lot less water.
Baking times need to be a lot longer given the high hydration.  I am now baking around 60 minutes, to an internal temperature of 210F.
Here is a current recipe I have been using which includes the above ideas.  It evolved from various recipes I found online, including some here.
brown rice 70g
sorghum 60g
buckwheat 25g
amaranth 25g
teff 30g
quinoa 10g
tapioca flour 25g
cornstarch 25g
flax seed 30g
chia seed 30g 
active dry yeast 1/2 tsp
salt 6g
2 egg whites, beaten to stiff peaks
water 310g
olive oil 23g
apple cider vinegar 8g
All of the grains are ground as fine as possible.  If you don't have a mill the Bobs Red Mill brand flours seem to be finest grind.  I have a hand coffee grinder I can grind the chia seeds in, they are hard to do in a mill.  The seeds also need to be ground, but don't have to be as fine a grind.   Ground flax seed is available locally for me but chia seed I can only find whole.
The recipe is simple, mix the dry, mix in the wet minus egg whites, then fold in egg whites until all mixed.  Let rise three or so hours til doubled.  Gently mix again and put in a loaf pan (I line mine with parchment to avoid sticking) and proof for another 2-3 hours.  Bake 60 minutes or when internal temp is 210F in a 425F oven.
 Here are some pictures of today's bread: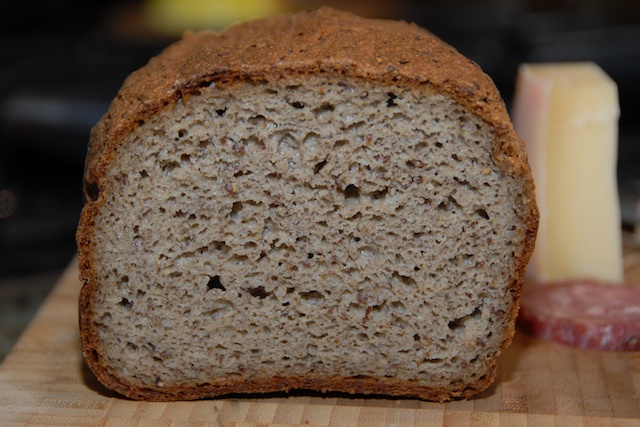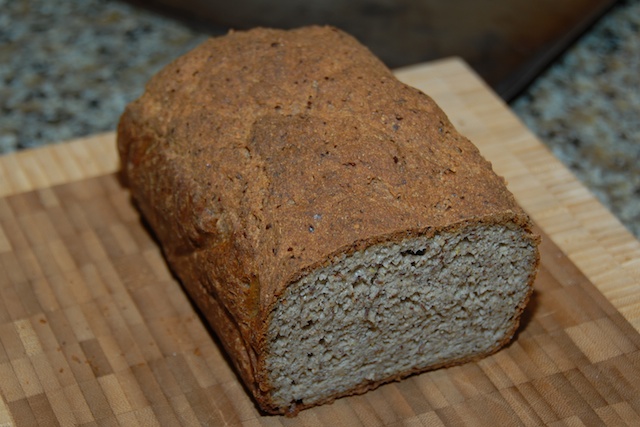 This bread tastes less whole-grainy than you might think given all the whole grains and seeds, but by adding more starches it can be made more white-like.  This rise is perfectly fine to me, its not a baguette but its not a brick, either.
I'm hoping some others have thought about the philosophy behind gluten-free bread and have worked on their own recipes and can offer their own opinions on the above points and others.  Gluten-free bread is quite different than glutenous bread and I had to abandon some of my long-held bread making beliefs to get things to work.
Scott