Rye-wheat scalded (mashed) sourdough bread with dried fruit powders
I found the recipe of this bread in Livejournal (it's written in Russian). The author uses apple powder, very rich in natural apple pectin.
Scientific ground for using fruit powders and quantities were taken from article http://www.ncbi.nlm.nih.gov/pmc/articles/PMC3032915/ .This recipe has two main and very interesting points:
A. Using fruit powder as a source of digestive fibers(that have great health benefits), fruit acids and fruit saccarides and rich phenolic antioxidants content.
B. Pretreatment of rye flour using a process named "scalding" or "mash" (as it is called in brewing) - saccharification of starch with malt amylase. This process is widely used in bakery in Germany, the Baltic countries and Russia.
I really liked the resulting bread - it has a subtle, but not the dominant flavor of fruit, slightly sour taste, thick but not sticky crumb, dark brown color with a little funny purple shade. For the experiment were taken freeze-dried powders of raspberries, black currants and blueberries in equal amounts and the total weight of about 8-9% by weight of flour.
It seems that this recipe has a lot of health benefits in addition to its interesting taste.
There is, for example the category of people, that can't eat food with bran – it causes undesirable effects of gastrointestinal tract and pains. For such people, bread, enriched with fruit powder, is an excellent source of dietary fibers in menu.
Recipe (for a loaf around 550 g):
Mash:
Rye flour- 45g
Rye malt (Roggenmalz in German) - 5 g
Boiling water- 113.5 g
Refreshed sourdough 60% hydratation:
Sourdough – 26 g100%
Rye flour – 37 g
Water- 17 g
Sponged mash:
All quantity of mash
Bread wheat flour- 175 g
Active yeasts (I use fresh yeasts) - 2g
Final dough:
All sponged mash
All sourdough
Grape seeds oil- 10-15 ml
Salt - 1 tsp.
1/8 tsp/ of cardamon powder and 1/8 tsp. of coriander powder
45 g (15 g of each) raspberry, black currant and bilberry powder
Demerara sugar – 1 tbsp. (this component I put according to my own taste - I like my bred a little sweety)
Water- 190-230 g
Refreshing of starter: in the morning I mixed all the components of sourdough and left it to rise (23-24 C) – for approx. 8 h.
Mash: I added boiling water to rye flour, mixed and added malt powder, mixed again. Incubation - 2 h*60-65C.
At this point I changed the original recipe - I added fruit powder to my mash before the incubation.
The reason for that - the enzymatic activity of amylase is maximal between 5.4 and 5.7 pH and the addition of little quantities of fruit acids (these fruits are rich in such acids) may decrease the pH level. This is exactly what happened - before adding the powder pH was 6+ and after – it decreased to 5.5.
Sponged mash: After the incubation I mixed mash with wheat flour and yeast and left at room temperature until it increased twice it's volume ( approx. 4 h).
Final dough: I added to the kneading bowl all my sponged mash, refreshed sourdough, flour and water- and began the kneading cycle. I also added salt, spices and oil.
I kneaded my dough for approx. 10-15 min with little breaks, so the dough became very sticky and my kneading machine wasn't powerful enough, so I stopped it from time to time.
Next step – I greased the bowl with oil, put my dough in and wrapped it with a plastic wrapping. Then I put it in the fridge until the morning (it spent in the fridge approx. 8 h).
In the morning I saw that my dough had risen very well.
I put It to warm in "steam chamber" (turned off baking oven with a bowl of boiling water inside) for 1 hour.
After that I took it out, and turned on the oven with the baking stone to heat (230C).
I kneaded the dough well and formed a loaf with greased hands.
Put it in a banneton for rising (dough grew twice its volume): It has a funny pink/violet shade.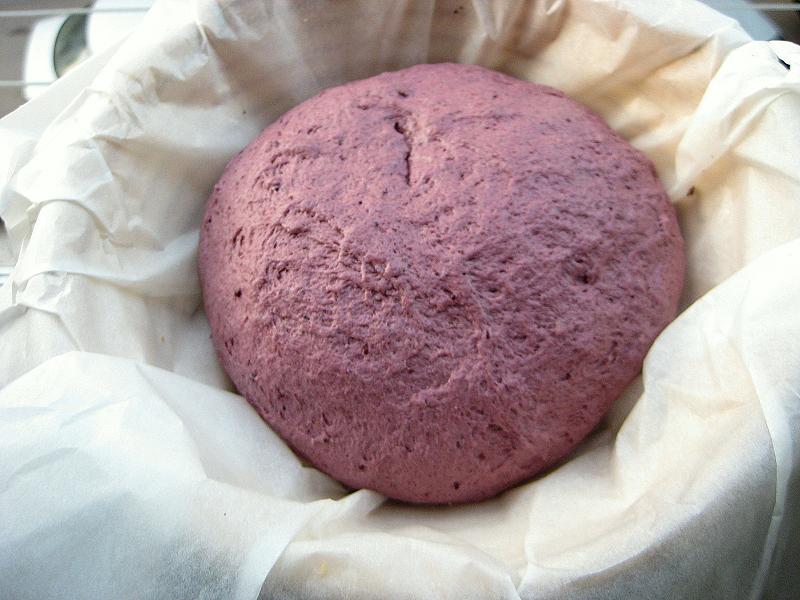 Made cuts on loaf and simultaneously heated in the oven a big iron cast pan.
I put the loaf on the stone and covered it with the preheated pan (for preventing of excessive burning and drying of crust).
Baking: 20 min*230C, 20 min*200C, 30 min*180 C – I was afraid that my loaf will be not enough baked.
After taking it out, I sprayed the crust of the loaf with water, wrapped with linen towel and put to rest until tomorrow.