Italian Corner - Cellos with Squash Lasagna and David Snyder's Pulgliese Capriosso
The first time I made limoncello I used the skins of 7 lemons per liter of grain alcohol and let the the grain sit on the skins for 20 days to extract the oil from skins and then let it age another 20 days to mello after straining filtering and cutting with sugar syrup 5o-50.  I used 454 g of sugar per liter of water and liter of lemon oil alcohol extraction.  It was a real Amalfi Coast recipe from Villa di Marie but I didn't like it that much even though it tasted just like the too many samples I had in Italy and couldn't get enough of.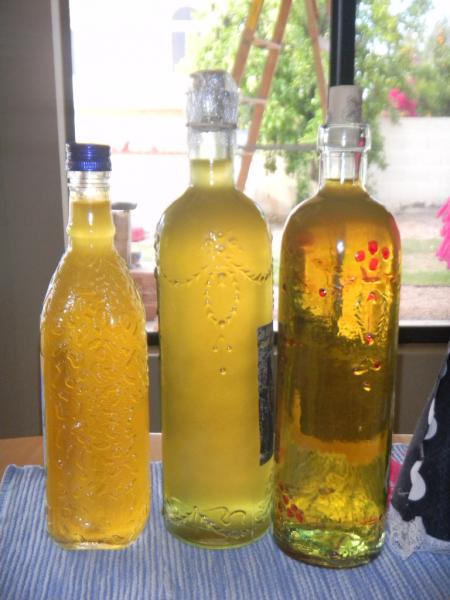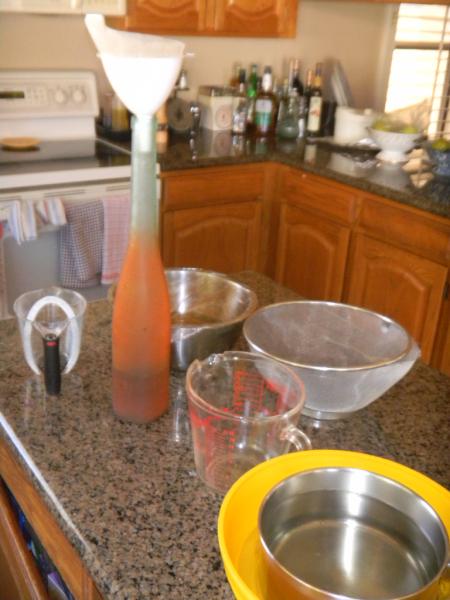 Mandarin left, lemon middle and orange right.  The orange was first to bottle.  When you mix the sugar syrup with the filtered alchohol the 50-50 mix goes cloudy but will clear later as the orange has already done. 
Now, many years later after much trial and error (like baking), I triple the skins to 21 lemons (to get a much stronger lemon flavor), cut the grain alcohol 50 -50 with vodka (to cut the heat of the grain) and let the alcohol sit on the skins for 60 to 90 days before straining filtering and and blending with sugar syrup that now is 340 g of sugar per liter of water (the original was too sweet) and it mellows for another 60-90 days.  I use the same recipe for minneolas, oranges and this year for the first time mandarins .  Folks tell me it is the best cellos they have ever had and I agree.
Finally got all of the varieties in the final bottles this past week.
It goes great with some Grilled Italian squash lasagna and some of David Snyder's Pulgliese Capriosso.