Dabrownman Butchers Sweetbird's Lovely Buckwheat, Apple and Apple Cider, Buckwheat Groat Bread with Insane Thoughts and Deeds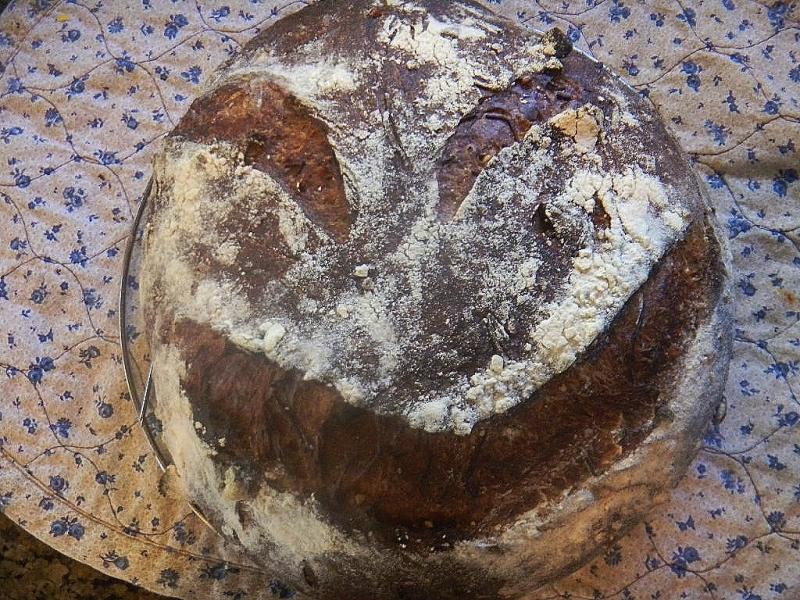 Had to make a couple of changes to Sweetbird's hugely fantastic, far better than magnificent, Buckwheat Bread recipe that can be found here:
 http://www.thefreshloaf.com/node/27784/buckwheatpear-sourdough-pear-hard-cider#comments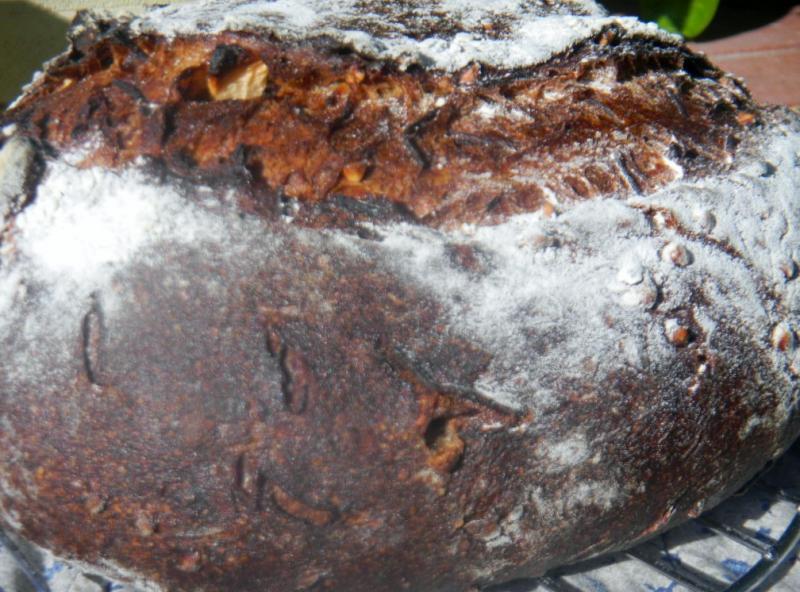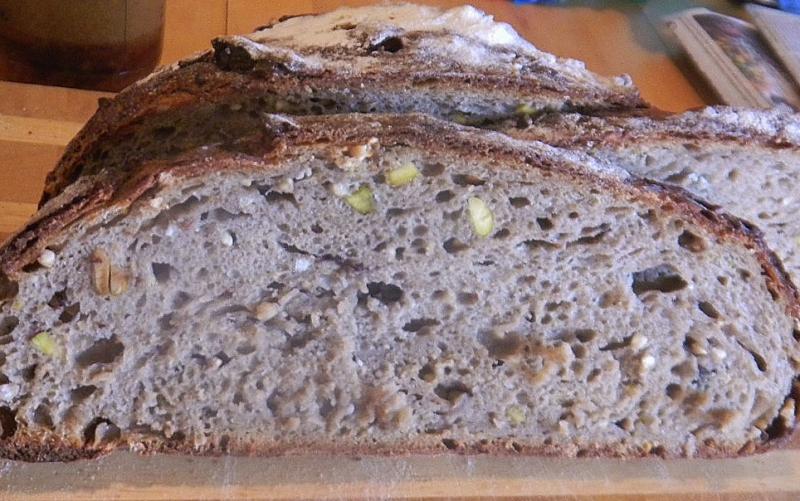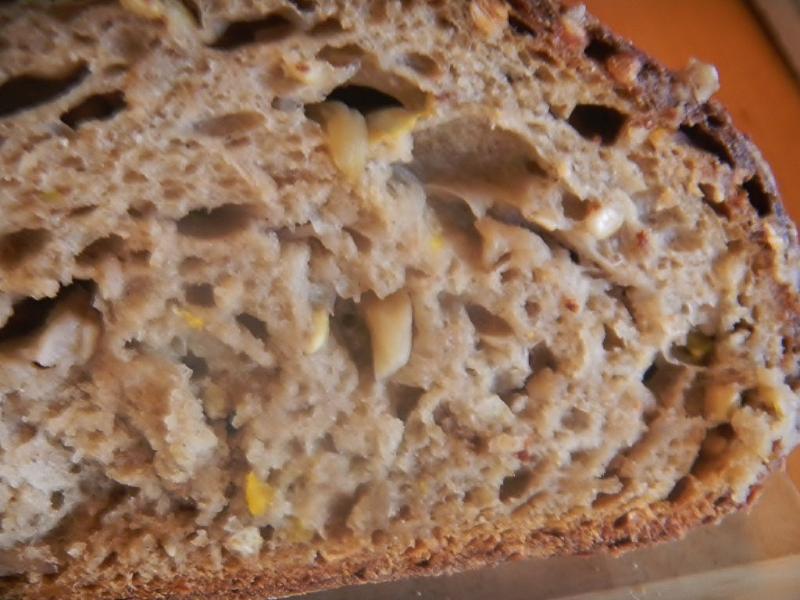 First off we, my apprentice and I, used aWashingtonstate hard apple cider called Spire.  It was their mountain apple draft variety and used 245 g in the dough instead of 230.  We also; did not use any cider in the SD levain and used the excess apple water squeezed from the re-hydrated dried apples and frozen fermented apples from the YW plus some water.  Also used Whole Rye and WW with the Buckwheat in the first SD levain build since our starter had them and we think these grains make better bread when used in levains.   I wanted to taste the cider so I drank 90 g just to make sure it wasn't spoiled or otherwise not up to the task at hand.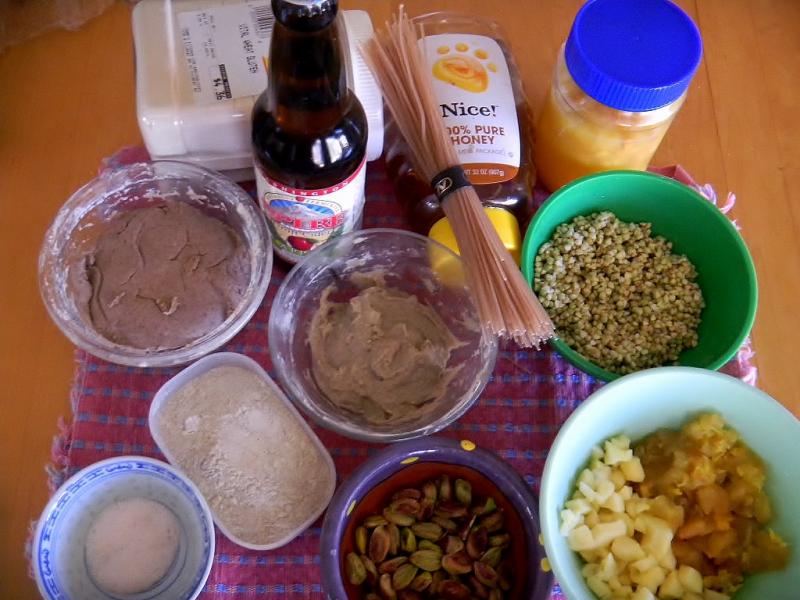 My apprentice, bless her heart, substituted an Apple / Orange Yeast Water levain instead of SAF instant yeast since we don't stock any commercial yeasts in the pantry, autolysed 1 hour instead of 30 minutes, sprouted the buckwheat groats instead of scalding them (after making red and 2 white malts she's into sprouting it seems) and then put them all inside since she reasoned enough stuff would be hanging out in the end anyway.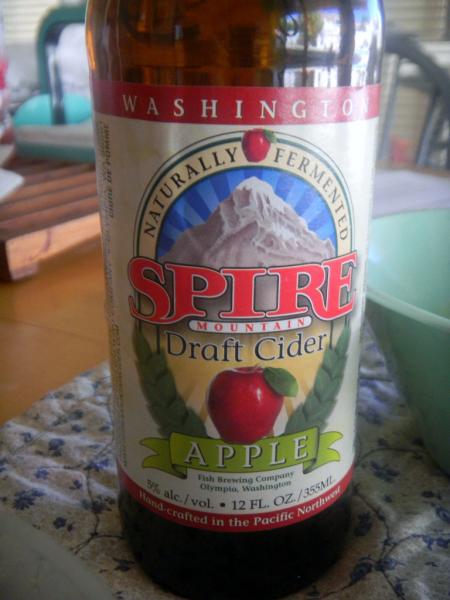 Because the mix – ins were so wet (compared to sweetbird's), I added 30 g of BW and 30 g of BF to them and let it autolyse while the dough was doing the same thing, added chopped pistachio nuts and chopped cooked buckwheat soba noodles, added fermented apple pieces saved when refreshing the YW that were previously frozen, re-hydrated the dried apples in apple juice.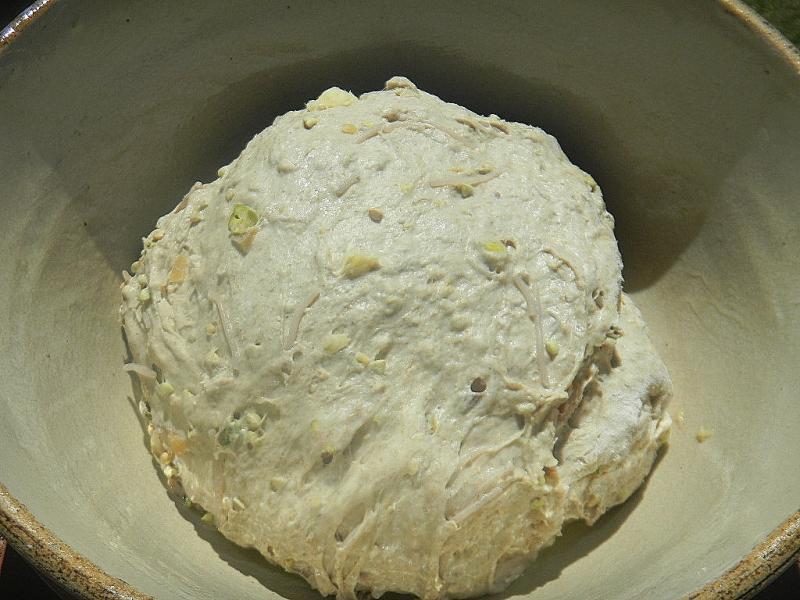 My apprentice also cut the salt to 10 g from 11 since the pistachios seemed salty to her when tasted for poison and she was a little bloaty this morning, added 15 g home made white diastatic malt to the vital wheat gluten, and finally, subbed bread flour for the AP which birdsong recommended doing after her bake.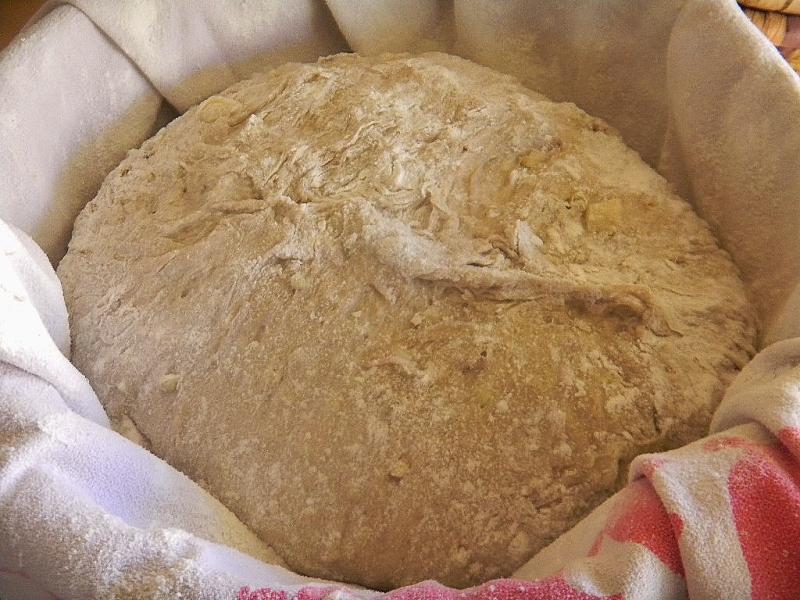 So, not much at all really major changed in the scheme of things we call bread.  We agree with sweetbrird that the dough needs 2 S & F sessions at 40 and 80 minutes and another to pre-shape at 2 hours.  Do a quick S & F to form into a ball.  Drag the skin tight and put into your large floured benetton.  Place into a plastic bag and let it final proof for at least an hour or so.  You can get your oven ready at 500 F with your steaming method in place while it proofs.  My final proof was 1 ½ hours about twice as long as sweetbird's and it was not over proofed.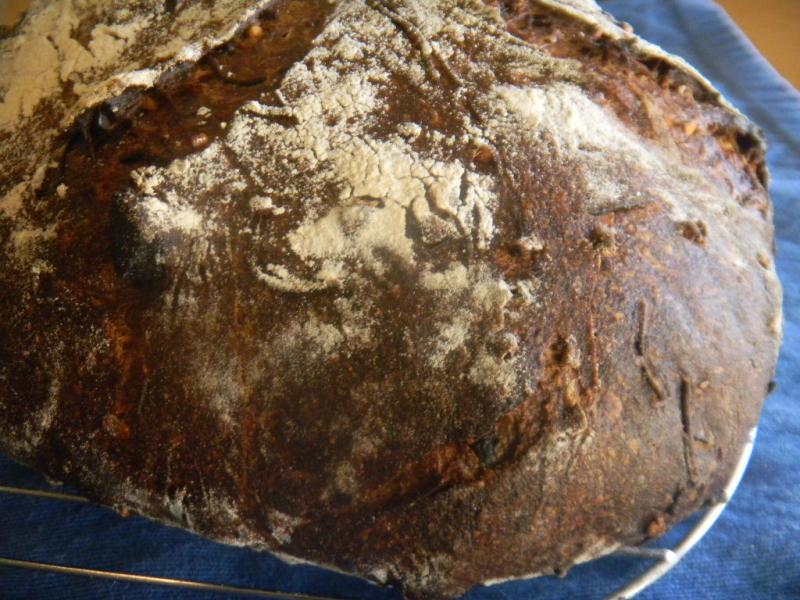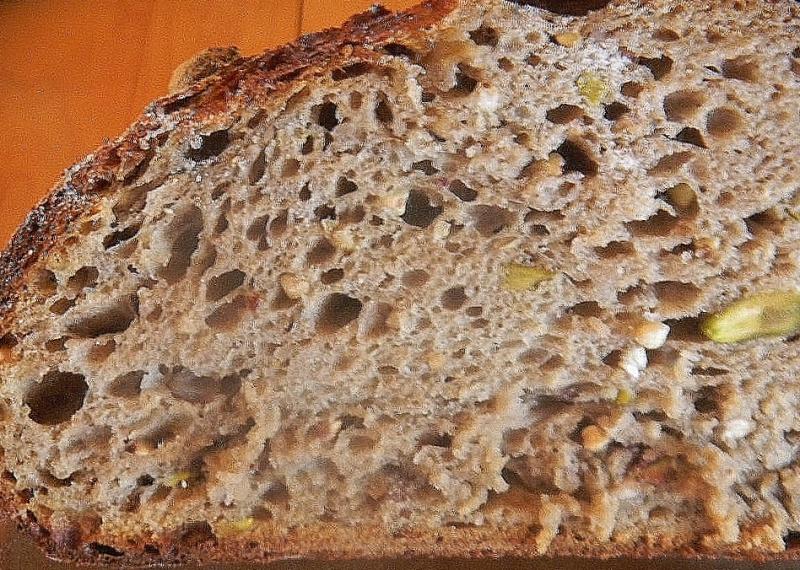 The bread was turned out onto parchment on a peel and slashed with my patented 'angry face with really nasty eyes design,' steamed for 20 minutes at 430 F, then the steam was removed.  The bread then baked on the stone for about another 45 minutes until it reached 203 F and then left in oven for 12 minutes with the door ajar and oven off.
Will post the recipe later if somone wants it.  This boule finished weight was 1,305 g.