Greetings, Reykjavik calling
Hello good folks
What a wonder web site!
I'm new to sourdough baking, stirred together my first starter less than a month ago and it's coming along nicely in the ration of 1:1:1 with rye only. The first loafs were a bastard breed of sourdough and baker's yeast but the results were great. I've used baker's yeast for years with good results. However, expanding into sourdough and it's techniques open up new dimensions for my breads. My plan it to give my starter some more time to mature before using it as the only leavening agent and in the meantime to practice stretch-and-fold and get some understanding on the effects of scourging my loafs before baking.
A delicious Nordic rye bread with sourdough only turned out to be wonderful. The sourdough gave good rise for this kind of bread which is dense by nature. The recipe is from a Camilla Plum (to give credit!) from the Danish television
Recipe:
3 dl sourdough (360 grams of my sourdough)
7-8 dl water at room temperature
1 tbl barley malt extract (or syrup of choice)
5 dl multi grain mixture (grains and seeds)
1, 5 dl sunflower seeds
5 dl rye flour
5 dl white flour
1 tbl coarse table salt
2 tbl cold butter for use right after baking!
Method:
Stir well together sourdough, water and malt (or syrup). Mix all dry ingredients in a seperate bowl and then mix in all the liquid.
Line two baking tins of 1,5 liter volume with baking paper. Divide that dough into these and pat a smooth surface with wet fingers. Place a damp cloth on top of the tins and a dry dish cloth over that. Leave at room temperature for 12 hours. Prickle the dough from surface down to the bottom of the pan with a cake pin at least 20 times. This is to prevent the crust from seperating from the loaf while baking. Bake at 200°C for 75 minutes in a dry oven. Immediately after removing the bread from the oven, spread the cold butter generously over the hot loafs and let it melt into the crust. After cooling for two hours, the loafs can be removed from the tins. For a softer crust, the loafs can then be put in plastic bags to cool completely. The bread can be cut 4 hours after baking. It can be frozen, then it is best to cut in into three or four smaller portions. Thaw at room temperature in the plastic bag.
This is my loaf. Note that the bread is rather light in color when it comes from the oven but caramelizes quickly after the butter is added to the crust. The tins are probably half full when the dough is added and rises about one third in the 12 hours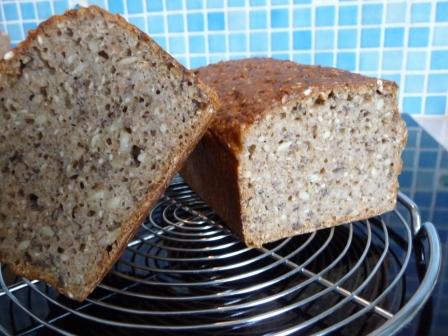 This is the dough just before baking: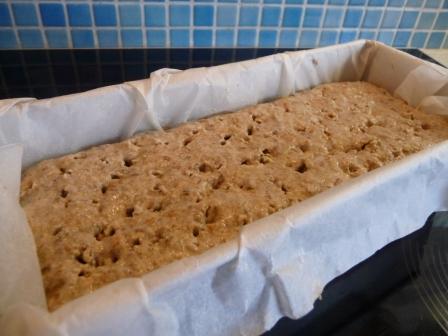 Whole loaf: