San Francisco-style Sourdough Bread two ways 3/25/2012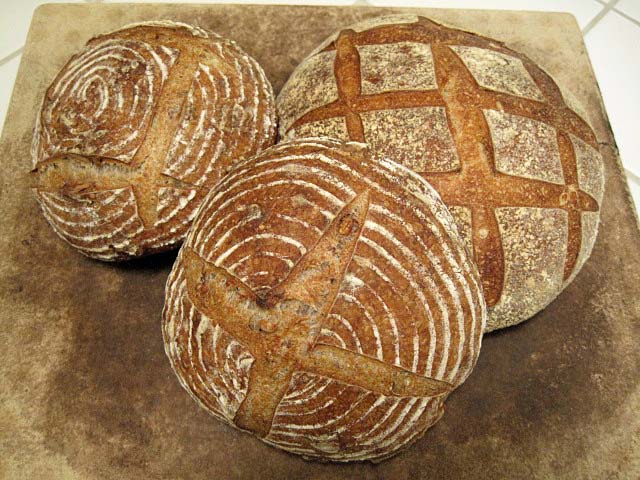 San Francisco-style Sourdough Bread with and without Walnuts
This weekend, I continued trying variations of my San Francisco-style Sourdough Bread. Those who have followed this little adventure will note changes in my starter fermentation, the length of the autolyse and the use of this dough for a Sourdough Walnut Bread.
I started with my stock refrigerated 50% starter that had been fed last weekend. This feeding consisted of 50 g active starter, 100 g water and 200 g starter feeding mix. My starter feeding mix is 70% AP, 20% WW and 10% whole rye flour.
I activated the starter with a feeding of 40 g stock starter, 100 g water and 100 g starter feeding mix. This was fermented at room temperature for 8 hours. The starter was very active. It had tripled in volume and was bubbling. I then mixed the stiff levain.
Stiff levain

Bakers' %

Wt (g)

for 1 kg

Wt (g)

for 2 kg

Bread flour

95

78

157

Medium rye flour

5

4

8

Water

50

41

82

Stiff starter

80

66

132

Total

230

189

379
Dissolve the starter in the water. Add the flour and mix thoroughly until the flour has been completely incorporated and moistened.

Ferment at room temperature for 12 hours, then refrigerated overnight.
Final dough

Bakers' %

Wt (g)

for 1 kg

Wt (g)

for 2 kg

AP flour

90

416

832

WW Flour

10

46

92

Water

73

337

675

Salt

2.4

11

22

Stiff levain

41

189

379

Total

216.4

953

2000
Note: For today's bake, I actually mixed two 1 kg batches of dough. For one, I added about 20% (baker's percentage), or 110 g of lightly toasted walnut pieces. This was mixed at slow speed for a couple minutes after Step 3., below.
Method
In a stand mixer, mix the flour and water at low speed until it forms a shaggy mass.

Cover and autolyse for 20 minutes

Add the salt and levain and mix at low speed for 1-2 minutes, then increase the speed to medium (Speed 2 in a KitchenAid) and mix for 5 minutes. Add flour and water as needed. The dough should be rather slack. It should clean the sides of the bowl but not the bottom.

Transfer to a lightly floured board and do a stretch and fold and form a ball.

Place the dough in a lightly oiled bowl and cover tightly.

Ferment at 76º F for 31/2 to 4 hours with a stretch and fold at 50 and 100 minutes.

Divide the walnut bread dough into two equal pieces. Leave the other dough in one piece.

Pre-shape as rounds and rest, covered, for 10 minutes.

Shape as boules or bâtards and place in bannetons. Place bannetons in plastic bags.

Proof at room temperature (68-70º F) for 1-2 hours.

Cold retard the loaves overnight.

The next morning, proof the loaves at 85º F for 3-4 hours. (If you can't create a moist, 85 degree F environment, at least try to create one warmer than "room temperature." For this bake, I took two loaves out of the fridge and started proofing them. I took the third loaf out about an hour later and stacked it balanced on top of the other two. I did one bake with the two loaves of walnut bread and a second bake with the third loaf.)

45-60 minutes before baking, pre-heat the oven to 500º F with a baking stone and steaming apparatus in place.

Transfer the loaves to a peel. Score the loaves as desired, turn down the oven to 460º F for the smaller loaves or 450ºF for the larger one, steam the oven, and transfer the loaves to the baking stone.

After 15 minutes, remove the steaming apparatus, and turn down the oven to 430º F/Convection. (If you don't have a convection oven, leave the temperature at 460º F.)

Bake for another 15 minutes for the smaller loaves or 25 minutes for the larger loaf.

Turn off the oven, and leave the loaves on the stone, with the oven door ajar, for another 15 minutes.

Transfer the loaves to a cooling rack, and cool thoroughly before slicing.
 One of my personal objectives in making this bread for so many weeks running has been, first of all, to develop a formula and procedures that produce a particular style of bread, and secondly to see if I could make small changes that accommodate to my other needs without changing the end product too much.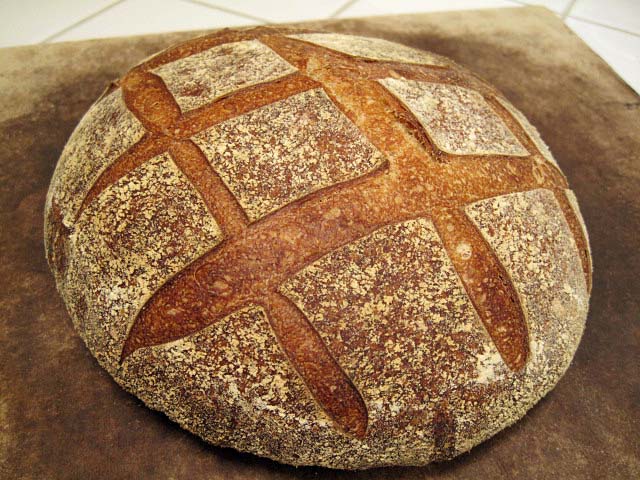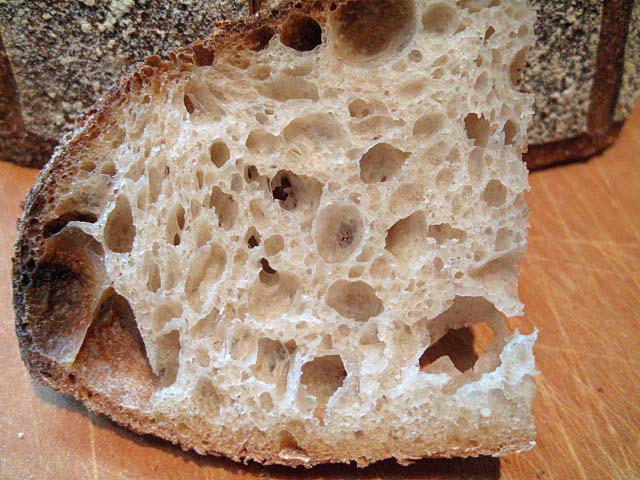 The bread without walnuts was very similar to the last San Francisco-style Sourdough Bread I had baked. The crust was crunchy and nutty-flavored. The crumb was chewy-tender with a moderate sourdough tang and excellent, balanced flavor.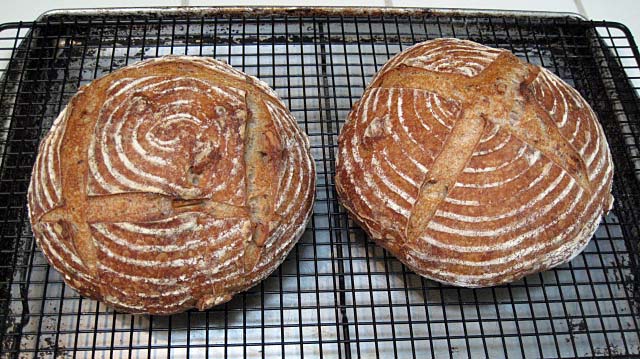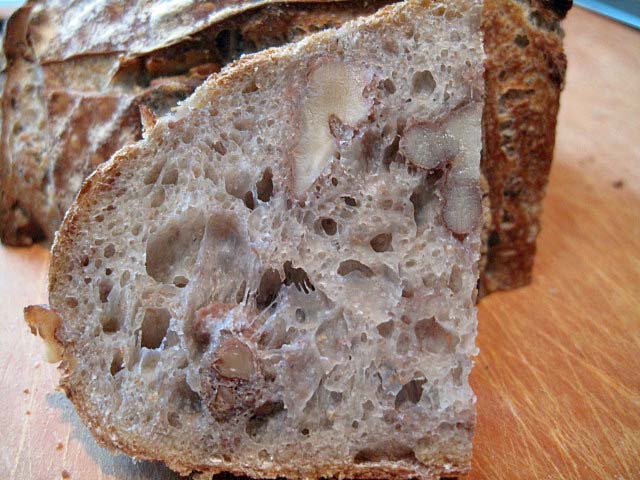 The bread with walnuts was just delicious. I love the flavor of toasted walnuts in sourdough bread. I don't know why I had waited so long to make it again.
Tonight we'll have an appetizer of sourdough walnut bread with an interesting Spanish goat cheese followed by roasted herbed chicken/gruyere panini and a green salad.
David