February 26, 2012 - 10:48am
Need help diagnosing condition of crust
I am a serious home baker in need of some help from all of you out there in bread land.  I am in the middle of doing some experimenting with levain and baking method and would appreciate help diagnosing the  difference in my bread.
While reading on levain I was surprised to find that after feeding my levain might be reading to bake within a as little as 2 hours( I have lways given the starter build 6 hours before mixing my dough.
While I was at it, I also thought I would make my stiff levain more liguidy( to see if the flavor really did change with more liquidy statrter) and compare the end products.  And I also wanted to compare using a cast iron pot with cover  ( lots of people swear by this method)  to steaming my oven(my usual way of baking-I use 2 baking stones and a pan of heated stones on the bottom of my oven , which I add 1 1/2 cups of water to after the loafs are in oven).
So this  is what I did..
at 8am I built 2 levains..I like chewy bread so I use alot of starter in my levain
1)  my normal levain, which  has 80% hydration( 125 grms of water to 155 grms of flour)and 161% starter(250 grams)
2)  I converted my normal levain to a more liquidy one by changing hydration in starter build to 150%( 232 grams), 155 grams of flour( 100%) and 200% (starter 310 grams)
by 10 am the more liquidy starter was ready( based on drop some starter into water test), but the stiffer one was not
by 11am both starters were ready
at noon I mixed both doughs...I used the same recipe, (the one with liquidy statrter was obviously much looser because of the increased hydration in the starter).  I mix by hand( very quick mixing of ingredients, no knead) and then autolyse for 15 minutes before adding salt, I then stretch and fold a minumu of 4 times over the next 90 minutes, at which point I bulk ferment for 1 hour, stretch and fold once more  and then complete bulk fermentation for 2 hours.  I made 2 loaves of bread from each starter so that I could compare the cast iron pot to the steamed oven , as well as the flavor difference.
at 4:30PM I shaped the loaves( I never bench rest this bread) and put them into bannetons, covered with wrap and plastic bags, and then set them in my garage for overnight fermenting( my garage is heated at 45 degrees- in northern minnesota that means from Oct thru April I have a very large retarder). 
Beginning at 7:30am the next day I removed loaves as I baked them from my garage.  A note here...typically I mix my dough later in the day so that I can shape it at 10PM and then bake right away in the morning..a 9 hour retarding, where these breads were retarded for 15 hours( I had a date with my husband that occupied my evening)
Each dough was baked in 2 ways( either in cast iron pot or steamed oven).
The bread with the more liquidy levain was a bit challeging to work with because it was so loose, but I wanted to stick to the same procedure so scored it just like I might usually score the bread( if I hadn't been experimenting I don't think I would have scored it at all). When using  both my paddle for the steamed oven and putting it into the cast iron pot, it became alittle mishaped, but nothing too serious or unusual , expecially with this loose of a dough.
Here's what the 2 loaves looked like: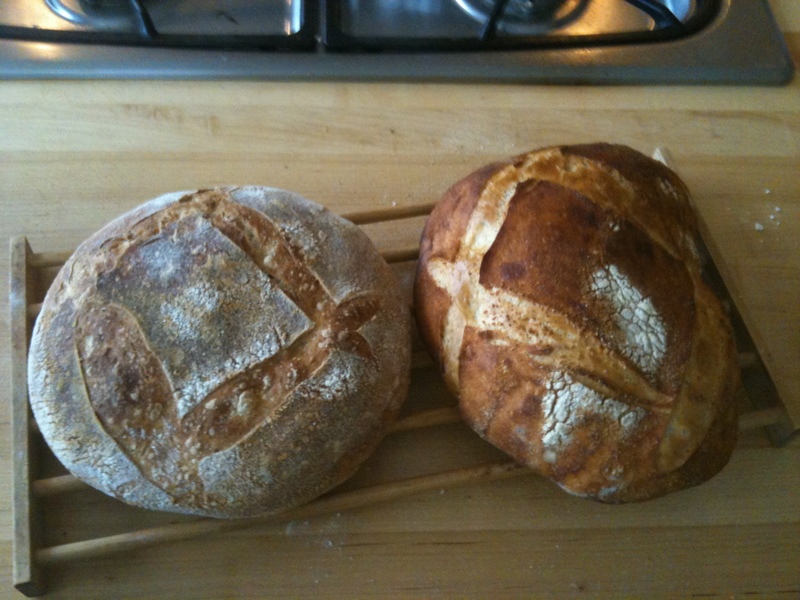 I often have beautiful reddish color to my loaves, but this seemed almost too red...it just happens to be the loaf that is from a more liguidy levain and also baked in my stemed oven not the cast iron pot).
Any suggestions on what may have caused that over the top red color?  I rember reading something about this before, but forgot what I read..I know its an indicator of something..  could it be that the fermentation period was too long?  But if thats true, why is it that the bread with the stiffer levain doesn't have that same super reddish color, its  a beautiful brownish reddish...could it be that the stiffer levain slowed down  the fermentation process so that even though the stiffer levain loaves were baked after the looser levain loaves, they were not over retarded, while the looser levain, which was more active from the beginning was over retarded when I baked it...and if thats true then why did the looser levain loaf baked in the cast iron pot not show signs of the extreme reddish, while the one that was steamed in my oven did?
Here's what the loaves from my stiffer starter looked like..they have that nice golden color I am accustomed to, 
but not the over the top red of the top loaves....
Lots of questions, would appreciate any help I could get ...
Thanks...I love this forum..
Kathleen