December 18, 2011 - 9:17am
I have been baking bread for many decades now, but have switch my methods over to a modified slap and fold technique.  I have also incorporated many ideas and suggestions picked up from browsing this forum, notably to increase the oven temperature to at least 425 degrees for the initial five minutes of baking time.  This gave the loaves a significant spring.  The result have been marvellous for several months now. 
But now I have a new problem.  I pan my loaves two to a pan for a total of six loaves.  For months the bread has turned out excellent --- no problems.
Then, several weeks ago one or two pans (never all three) have collapsed in the middle where the two loaves meet.  The only different thing I have been doing is to use a sheet of aluminum foil to cover the tops to prevent excessive browning.  Previously I had used dampened brown paper.
Here are a couple of sad pix: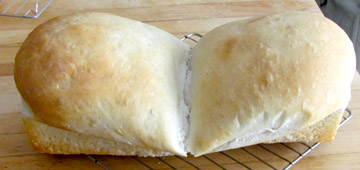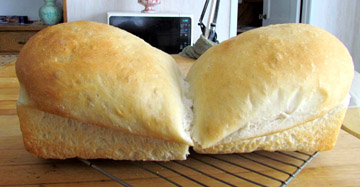 As you can see, it is a miserable result.  I have been very careful in following both my recipe and my methods.
I need the forum's help.
Thanks in advance.
ao