December 14, 2011 - 3:59pm
ITJB Honey Cake - Take II
This is Take II because I actually baked this formula twice this week.  The first time I used dark rye instead of white rye flour by mistake.   The second time I got the flour right, but I may have done something else wrong.  Both bakes are very tasty.  Almost addictive to a giant sweet tooth like myself.  Even though I baked it for what seemed like forever though, it still came out not quite done.  Or, it came out something else I don't recognize.  Here is the picture that explains it.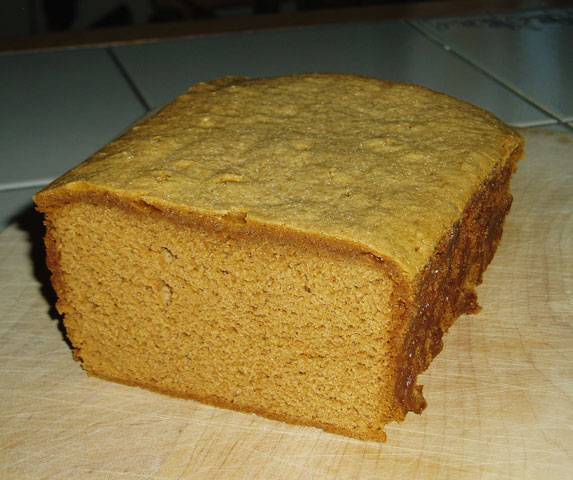 There is that dark and heavy, almost gummy edge that runs all the way around the loaf, thicker on top, and hardly present on the bottom.  I baked two of these together on the same shelf, about 8 inches apart, and both came out the same.  They were baked at 225F for 2 hours 45 minutes.  A skewer in the middle came out a bit wet and with gummy crumbs on it at 2 hours 20 minutes, so I gave them more time.  At the next check the skewer came out clean.  The book does not specify how to tell if these are done, so I followed my limited knowledge of "the basics"...  I asked my wife.
There was one other difference between the book instructions and my kitchen that I also do not know the impact of.  That is:  No KitchenAide mixer or any other "paddle attachment" mixer.  I made these in the old Hamilton Beach Mixmaster.  It is one of those double-beater mixers.  I used slow and not-quite-so-slow speeds to mix, and used the prescribed times as a guide, roughly.  When the batter achieved that "loose, stringy and very, very sticky" point I quit.  It seemed like the batter might be more highly aerated than a paddle mixer might have made it, but I've never worked with a paddle so I don't know.  If that were the case though, and the batter was a little "foamy" as a result, could that account for this appearance?  Or is it just under baked as I surmise?  Or, is it just fine, and I'm being too picky again?
I ask if I'm being too picky because back in November of 2008 nbicomputers (Norman Berg) posted his own bake of this formula, and in that post he says it was baked for 2 hours at 225F.  His photo shows slight evidence of  the same, so I don't think my results are too far off.  I imagine he used a Kitchenaide, or something like it, so I'm curious about the impact that might have.
Aside from that, this is a wonderful cake.  The aroma while it bakes is intoxicating, and the taste is addictive.  I have to stop baking it, and give some away, or I fear my "stock" will be going up undesirably.  I will probably bake this again at some point, and I think I will probably go back to the dark rye flour when I do.  The crumb and texture with the dark rye flour were more coarse than with the white rye, and the sweetness seemed a bit less sharp to us than with the white rye, but we like it very much.  We both thought that was a very good tasting mistake, and worth repeating.
Thanks for stopping by.
OldWoodenSpoon