December 5, 2011 - 10:44am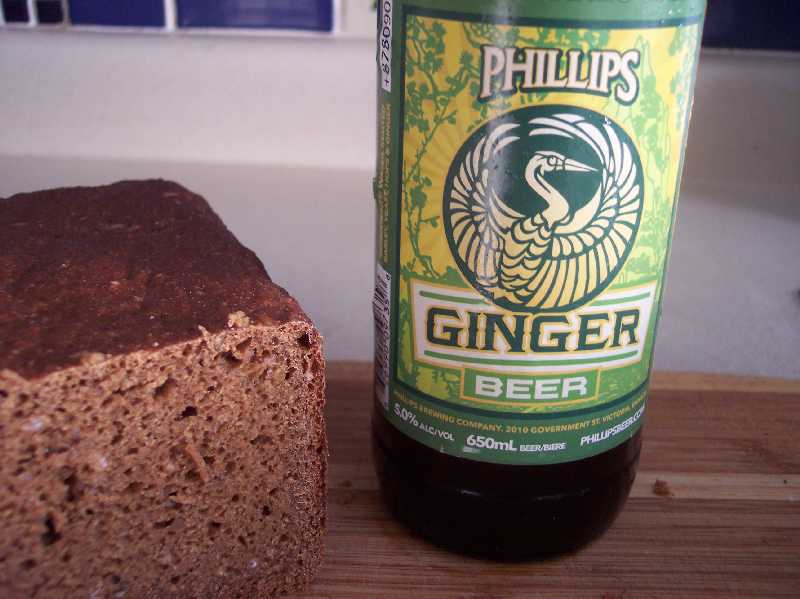 This is an 83% rye bread with a whole and chopped rye soaker and leavened with a ginger beer barm. As part of the total hydration it includes water that has been infused with fresh ginger to lend an accent of fresh ginger throughout the bread.

Ginger/water infusion
Ginger is something I use quite often in my cooking but until now have never used it in bread. The idea of adding some ginger, fresh or otherwise, to a high percentage rye bread I'm sure has been done before but darned if I could find anything in my searches that really matched what I was looking for. What I wanted was a formula for a dark, high ratio rye with a balance of sweet and sour and an accent of fresh ginger, not a gingerbread made with rye flour, which was mainly what I found in my searches. I decided I'd have to wing it and see if I could come up with something on my own. The idea for using a barm occurred to me when I discovered that one of the microbreweries here on Vancouver Island makes a true ginger beer. It seemed like such a natural fit for this bread that I wanted to include it and I'm glad that I did. This is the first time I've used a barm and I'm happy with not only it's leavening ability, but the malty undertone it contributes to the flavour of the bread. Whatever ginger flavour this particular barm adds is difficult to say as the ginger infusion is the primary source of that flavour, but I feel the bread would not have been as good had I used a typical levain. I'd like to mention at this point that Shiao Ping's post on making 'Dan Lepard's Barm Bread' was the guide I used for making the barm, and many thanks to her for making that information available to use as a reference. http://www.thefreshloaf.com/node/12978/dan-lepard039s-barm-bread-100-sourdough
Once the barm had become active and bubbly (approximately 15 hours) it was mixed with the other ingredients and the dough bulk fermented for 50 minutes at 82F inside the Brod & Taylor Proofer. It was then shaped and panned in a 9x4 Pullman tin, and placed back in the proofer for a final rise of almost 2 1/2 hours. There was a point where I wondered if the dough would rise enough to even bother baking off, but was confident the barm had been strong and lively when it was added to the mix, so I waited...and waited. My assumption was the ginger infusion was retarding the yeast activity as spices often do, but felt the yeast cells would eventually work through it, which they did. The pan went into a 485F oven with the lid in place and baked for 10 minutes before the temperature was lowered to 450F for the remaining bake time of 45 minutes, with an additional 30- 40 minutes in a cooling oven. When I removed the lid of the pan a caramel and ginger scented waft of steam rose up from it that told me in part that I'd had some measure of success. The loaf had slightly pulled away from the sides of the pan making it very easy to remove the bread, literally dropping out of the unlined pan into my hand. It looked good, with a uniform shape and rich brown, slightly soft crust. When tapped it sounded well baked with no soft spots or cavities that I could detect and it smelled wonderful! The bread was wrapped in linen and left for over 24 hours before slicing to allow what would hopefully be an even celled crumb to set up. Happily the crumb did not disappoint as it's the most open, even celled, high ratio rye bread I think I've achieved in a long while...if ever. The flavour has a good balance between the sweet and sour, with the ginger adding a slightly spicy background note to the overall flavour, rather than predominating, which is what I was after from the start.
The dough was intentionally scaled on the small side for the size of pan used since I didn't want a full size loaf of this bread for two reasons. The idea from the beginning was this bread would be used as a base for canapes or small portions of meat, fish, or cheese. More of a cocktail bread than one meant for typical sandwiches was my intention for it. The other reason is that one of the flours included in the mix is a lovely Central Milling Organic Pumpernickel that breadsong http://www.thefreshloaf.com/user/breadsong brought back from a recent trip to California and thoughtfully shared a portion of it with me. The stock is limited and I'm doing my best to make it last for some other breads I have in mind.
Photos, formula and procedure posted below.
Cheers,
Franko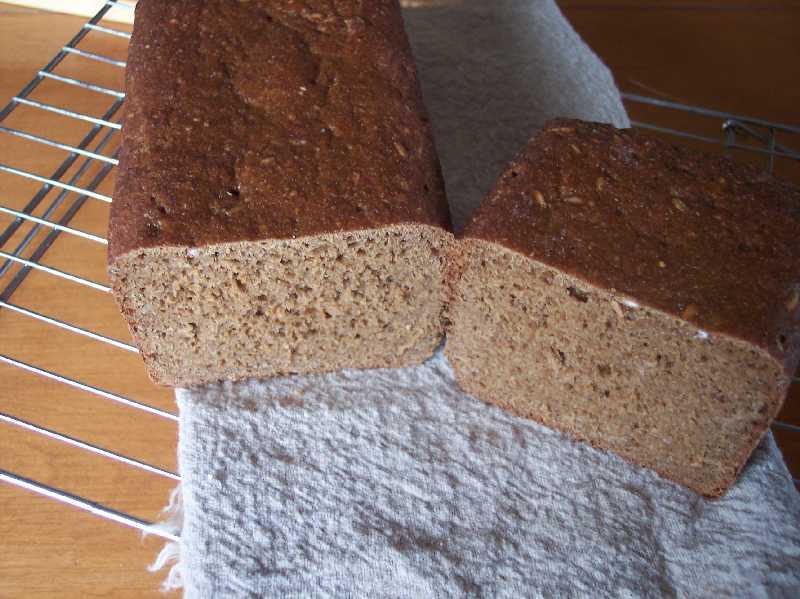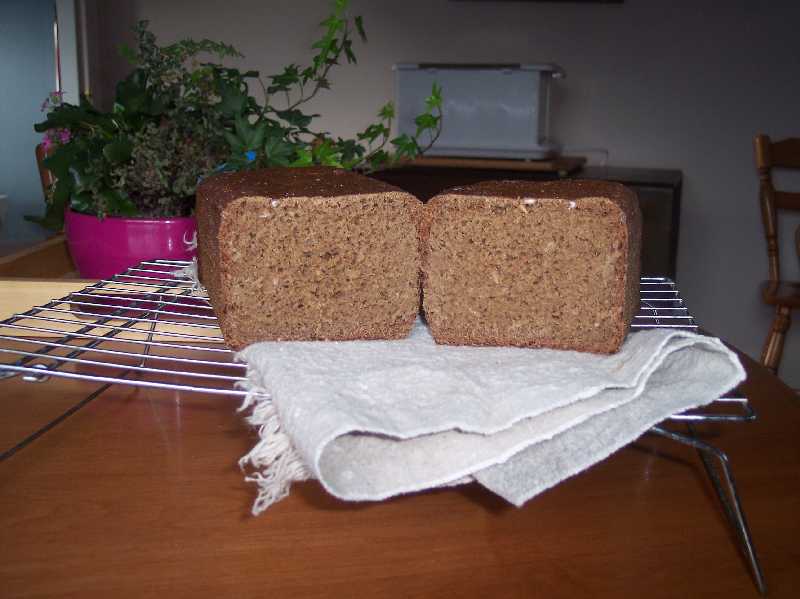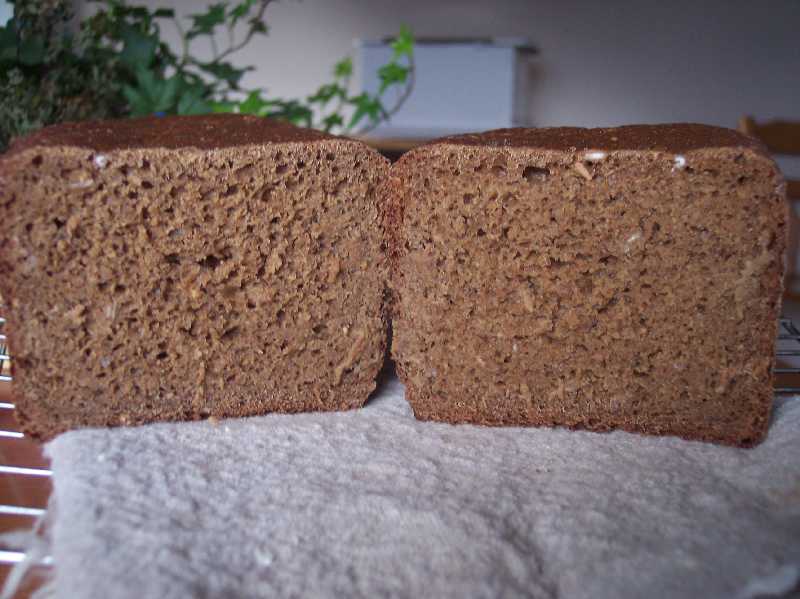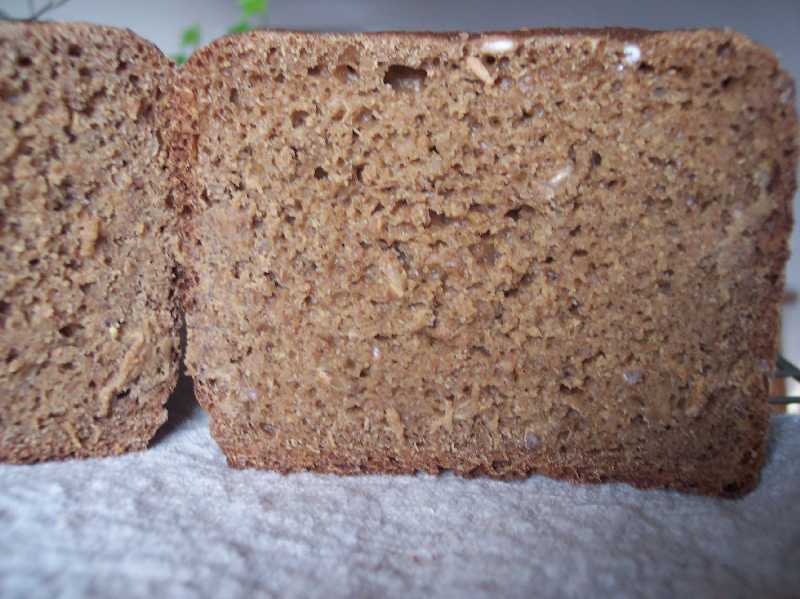 A few slices with smoked tuna rillettes made earlier in the week.
Notes:
If a true ginger beer is not available, substitute any strong to medium flavoured beer or ale of preference.
The ginger infusion/water was made with 120 grams of fresh ginger cut in large pieces, skin on and combined with 270 grams of water in a heavy stainless steel pot. Bring slowly to a simmer and cover with a lid for 60-90 minutes. Remove from heat and allow to steep overnight before using. The ratio of ginger to water was an estimation based on the level of flavour I wanted for this bread. Adjust accordingly to personal preference.
Final rise times are approximate. The ginger water infusion seems to retard the yeast activity during this time and patience is needed for an optimum final rise.
The dough requires a sealed pan of some kind for baking to keep the baked loaf moist. A standard loaf tin covered with a sheet pan should work in place of a Pullman tin.
Procedure
Barm-
Heat the ginger beer to 158F/70C and add 50% of the rye flour blending thoroughly. Cool to 68-70F/20-21C before adding the mature starter. Keep the barm at 70F/20-21F for 15-18 hours, adding the remaining rye flour at around the midway point. The barm should be quite active and bubbles breaking the surface before incorporating into the final mix.
Soaker-
Make the soaker during the same time as the barm and leave at room temp until final mixing.
Final Mix and Shaping-
Add all ingredients to the mixer (or bowl if hand mixing) and mix on 1st speed for 4-5 minutes (7-8 minutes by hand) until a uniform and smooth paste is achieved. Bulk ferment for 45-50 minutes at 82-84F/27-28C. Using wet hands and a scraper shape the paste into a rough log shape 9 " long and place in a 9x4 Pullman tin. Firmly press the paste into the four corners of the pan and along the sides, making sure it's as square to the corners as possible and the top is flat or very slightly peaked.
Final Rise-
Final rise/proof temperature is 82-84F/27-28C for 1-2 hours.
Baking-
Bake at 485F/251C for 10 minutes in the Pullman pan with cover on for 10 minutes then reduce the heat to 450F/232C and continue baking for 40-50 minutes. Slide the lid back and check to see if the bread has pulled away slightly from the sides of the pan. Turn the heat off and leave the bread in the oven for an additional 30-40 minutes. Remove from oven and carefully de-pan the loaf to a cooling rack and wrap in linen. Cool for a minimum of 24 hours before slicing to allow the crumb to set.
| | | |
| --- | --- | --- |
| 83% Sour Rye with Ginger Beer Barm | % | Kilos/Grams |
| Input desired loaf weight in yellow cell.Input desired %'s in green cells.Do not alter white cells. | | |
| Ingredients | | |
| | | |
| Barm | | |
| Dark Rye Flour | 100.00% | 114 |
| Mature Rye Starter-100% | 14.00% | 16 |
| Ginger Beer | 125.00% | 142 |
| Total weight | 239.00% | 271 |
| ripen for 14-18hrs at 70F/21.1C | | |
| | | |
| Rye Meal Soaker | | |
| Rye Meal | 50.00% | 31 |
| Rye Berries | 50.00% | 31 |
| Water-boiling | 130.00% | 82 |
| Total weight | 230.00% | 145 |
| Keep at room temp until final mix | | |
| | | |
| Final Dough | | 1150 |
| Bread Flour-strong | 25.0% | 90 |
| Central Milling Organic Pumpernickel Rye | 35.0% | 127 |
| Dark Rye Flour | 60.0% | 217 |
| Leaven | 75.0% | 271 |
| Ginger water | 50.0% | 181 |
| Water | 17.0% | 61 |
| Rye Meal Soaker | 40.0% | 145 |
| Honey | 5.0% | 18 |
| Blackstrap Molasses | 8.0% | 29 |
| Sea Salt | 2.9% | 10 |
| Total weight | 317.9% | 1150 |
| | | |
| Overall Formula | | Kilos/Grams |
| Total Flour | 100.00% | 548 |
| Bread Flour | 16.51% | 90 |
| Central Milling Organic Pumpernickel Rye | 23.12% | 127 |
| Dark Rye Flour | 60.36% | 331 |
| Rye Meal/Rye Berries | 11.49% | 63 |
| Mature Rye Starter-100% | 2.90% | 16 |
| Honey | 3.30% | 18 |
| Blackstrap Molasses | 5.28% | 29 |
| Sea Salt | 1.92% | 10 |
| Ginger water | 33.03% | 181 |
| Water/Ginger Beer | 52.08% | 285 |
| Total weight | 210.00% | 1150 |
| Total Hydration | 71.62% | 392 |
| Total Pre-fermented Flour | 22.18% | 121.47 |
| DDT 82F-84F | | |
Link to working version of spread sheet-https://docs.google.com/spreadsheet/ccc?key=0AjicIp92YPCTdFVBdURscXc1TTlENFpCTGZ5dTBSblE