November 28, 2011 - 4:41pm
First Struan and some questions (ABE recipe)
I have been baking for the last few weeks, lately mostly from Artisan Bread Everyday. Recently, I made Struan. It tasted very good, but I still have some issues. But first, here is a picture of the loaf: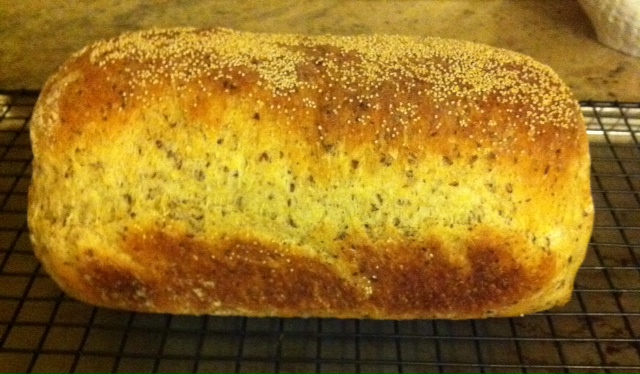 Here is the crumb: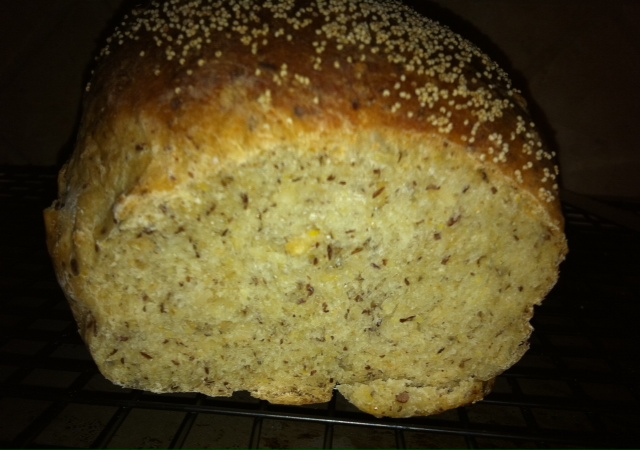 By the way, the little specs are Quinoa .. we usually make brown rice mixed with Quinoa, and I used that for the bread as well.
The bread tastes pretty good, but now to the issues:
- It tasted a bit too salty. Could it be the saltiness of the buttermilk? The amount of salt in the recipe (around 19gms for about 1.5Kg of final dough) seems a little high, but I am not sure if it is. Did anyone else have issues with saltiness? Without any suggestions, I will have to do several trial and error loaves before I can figure out the right amount..
- The crumb is a little too dense towards the bottom.  I  was using a convection setting, maybe I will use a mix of convection for the first part and convetional oven towards the end. Not to worried about this, I think I can solve this one.
- Although Peter says to divide into two if you will bake two loaves, it seems like the recipe is really short for two loaves of even 8.5x4.5 pans. How much total dough should I aim for if I want to make two large loaves (9x5 inch pans)?  I was thinking about 1000gms per loaf, which would mean multiplying the recipe roughly by 1.5. Does that sound about right?
Thanks in advance!