October 23, 2011 - 9:27am
Partial Success - Long rise adds flavor of disputed tastiness
I have been baking bread for a couple of months now, and I feel like I might be getting the hang of it.  The lessons and advice here in the forum are all fantastic, I'm very happy to have found this website. My wife likes her bread on the sweeter side, and she also dislikes whole wheat.  However, we have about 3lb of whole wheat flour that I have to use!  Last night, I made a poolish with: 1 cup whole wheat, 1 cup AP flour, 1/2 teaspoon active dry yeast, 2 1/4 cups water, 2 Tbs white sugar.
 I let it sit at room temperature for about 2.5 hours, then combined 4 cups AP  flour and 2 tsp salt to the mix and it came together on the dry side, so I added an egg and a bit more water.  Now comes the story.  We had a halloween party to go to tonight, and I had about 3 hours to prepare the bread.  With so little yeast, I doubted I could get a good, tasty rise out of it, so I decided instead to strech-and-fold knead it, let it rise during the party, and bake it when we got home.  However, by the time we got home from the party, it was too late, so I punched it down, covered it again, and let it rise over night, punching it down once more around ~3 am (I was dreaming of bread!).  
The bread, in my opinion, is delicious.  However, I have been known to have a biased opinion in such things.  It has a stlighty tangy or sour quality to it (must be due to the long rise time, right?), which I am afraid will turn my wife away from the bread entirely, in spite of its fluffy, pillowy-like consistency, which I also attribute to my long rise time.  
Here's a picture: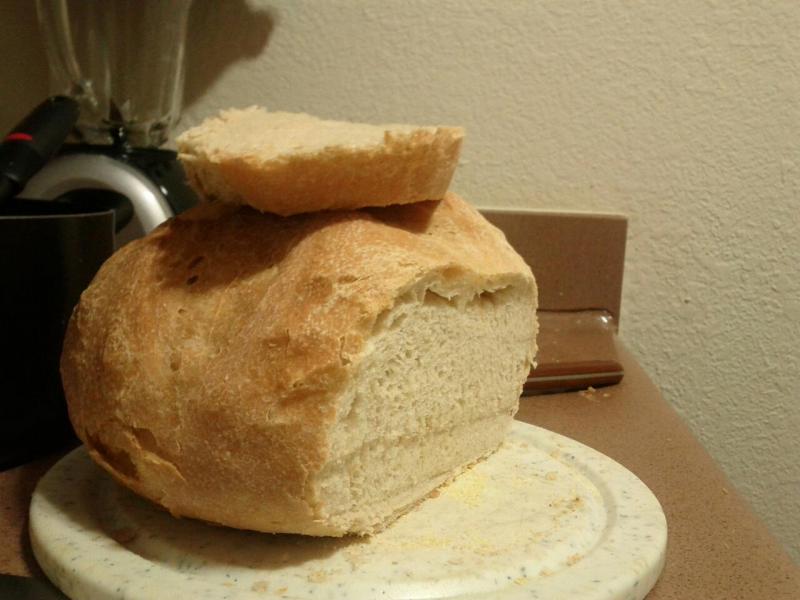 And my question: How do I get fluffier bread without the longer rises?