First Go at Obwarzanek Krakowski (Krakow bagels)
Hi,
This is my first attempt at bagel-style bread - Obwarzanek Krakowski :-)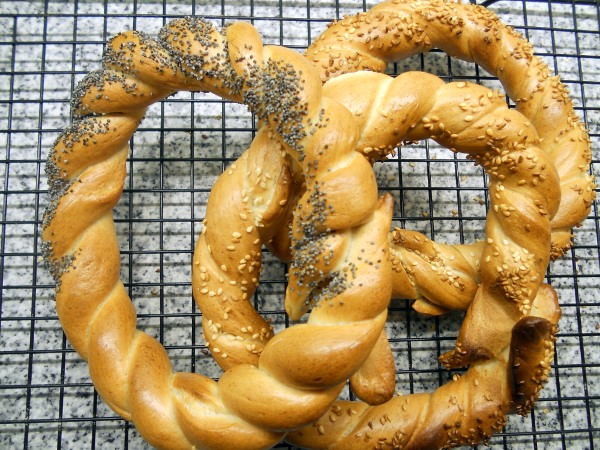 I used the bulk formula given in the wall street article. Thank you, GSnyde for the inspiration.
My version of thar formula reads:
Wheat flour (T55) 90%
Light Rye 10%
Water 48%
Sugar 3%
Salt 1.5%
Instant Yeast 0.5%
Butter 2.5%
Scaled at 100g per obwarzanek.
Bulk rise 45min at 26C, saped, rested for 10 minutes
boiled with 1 tsp honey in 4 l water
baked at maximum heat without steam fot 14 minutes
I am very pleased with the looks. They taste deliciuous, very slightly sweet. Quite authentic, as far as I can remember from my two visits to Krakow. They could be a bit chewier.
Have to work on joining the ends.
Cheers,
Juergen