Hello fellow forum addicts,
well after two weeks of  reading and contemplating what to make, i decided to go with a very basic formula and try my first loaf. not gonna lie, i just watched the Good Eats episode about break making, and used that. figured that after this first try, i could then work my way through the book i bought (baker's artisan thingy) and go from there.
well the results were good...not great, but good. the bread was beautiful, but there was something a tidy bit off about it...it would not smells exactly like fresh bread...just a little bit off somehow.  i felt there was a bit of a lack of salt (the only measurement i didn't follow exactly), so that might have been it. the whole thing was a bit chewy as well, for lack of a better word. the crust had a crunch to it, but also some elasticity. maybe i didnt let it rest long enough ? (like 25m)
more info : bought a clay pot plate from hardware store, preheat the over at 400 for a while, had a water pan where i put boiling water as the bread went in. i followed the receipe on GE exactly, which included a preferment, then the next day a first mix, autolyse, then let rise, form, rise, bake to internal temps of 205-210 (mine was 207 after 50m).  might be forgetting a step, but i really did exactly as it was mentioned in the show for this first experiment. next up : cooking from the book.
all and all, a good first experience. it did make some terrific sandwich and breakfast toasts, so i'm happy. it was good enough that i will certainly make some again very soon (like right now).
pictures : 
before the oven, with way over done knife cuts (went with crazy sharp japanese knife and overestimated the dough resistance haha)
then right off the oven :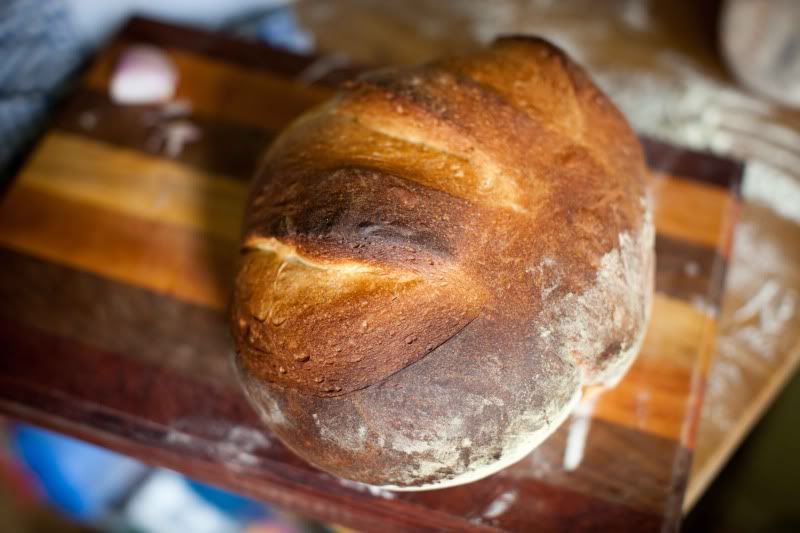 and finally, picture of the crumbs (i think its what you call it right?!)
thanks for watching. any input/criticism appreciated.
Simon Bakes