Rising potential of long time frozen dough
Rummaging through my basement refrigerator, I rediscovered a ziplock bag of whole grain pita dough pieces (my variation of P.R.'s recipe in WGB). I had frozen those 9 months ago (after bulk fermenting and shaping them into balls), wrapped separately in plastic. They were covered with some snow, and their surface looked darker.
Before throwing them away, I wanted to give them a chance - and find out whether there was any life left after all that time. I placed them in a warm spot in the kitchen, and, while baking my usual breads for sale, checked now and then on them. After 3 hours nothing had changed. Again I was tempted to end their misery, but decided to wait a little longer.
Fife hours passed - it appeared as if the dough balls had grown a tiny bit. Six hours, seven, eight - very slowly more growth. After ten hours the rolls had about the size they normally have 60 minutes after taking them out of their overnight stay in the fridge. I rolled them out, they were now as elastic as fresh ones, but their surface was darker, and somewhat mottled.
In the oven the defrosted pitas did not swell with a few large bubbles that merge before poofing like a ballon. Instead they showed many smaller bubbles that didn't quite join into one large gas pocket.They didn't look as nice as fresh ones, but otherwise performed well enough.
All in all, it seems that if you don't give up, and are patient enough to wait, the surviving frost resistant yeast cells are still able to do their job, though veeeeeerrrry slowly.
Karin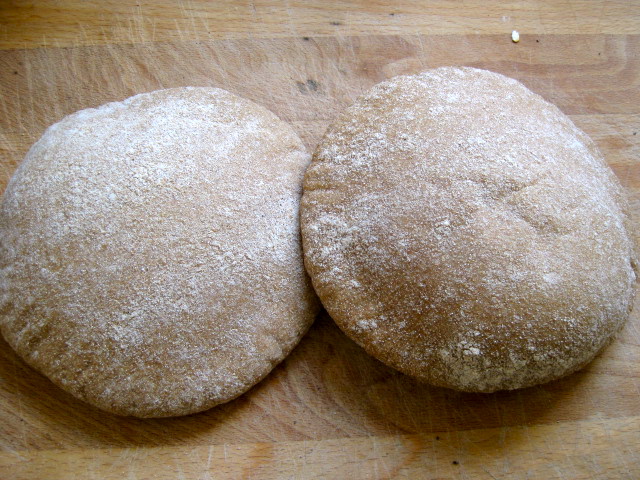 Whole wheat pitas made from fresh dough - with a rather smooth surface and uniform looks.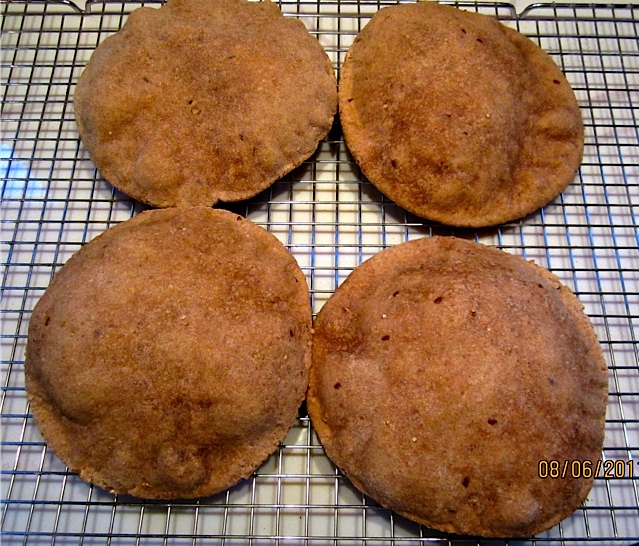 Multigrain Pitas from long time frozen dough - uneven surface and coloring, but the surviving (instant) yeast cells had still enough leavening power to rise sufficiently.