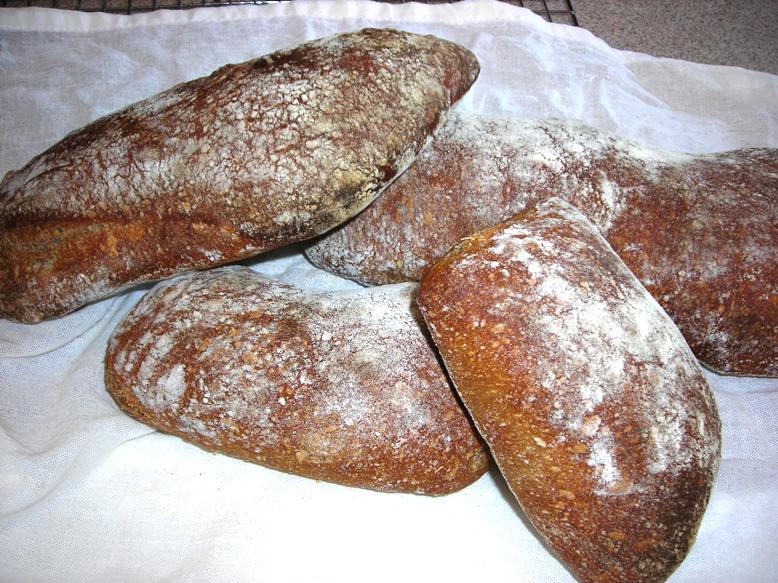 Loosely based on the formula for Le pavé d'autrefois
(Old fashioned slab) in the book,  Le Pain, l'envers du décor (Bread, behind the scenes) by Frédéric Lalos.
His version used commercial yeast and a poolish.
Ingredients:
Levain:
100% hydration fed with KA Bread flour – 300g
Soaker:
Water – 564g
KA Whole Wheat flour – 107g
Bay State Medium Rye – 71g
Bob's Red Mill Buckwheat flour – 71g
KA Bread flour – 315g
Final Dough:
KA AP flour – 286g
Sea Salt – 20g
Process:
Fed active starter 8 hours prior to mix and fermented at 70°F
Flour soaker established 3 hours to
mix and held at 70°F
Mixed Levain, Soaker and Final 286g of
AP flour by hand and rest for 30 minutes.
Add salt.
Stretch and Fold at 00:15, 00:30,
00:45, 01:15, 02:15 for a total bulk ferment of 4 hours.
Turn out dough onto heavily floured
surface and fold over on itself. Rest 1 hour covered.
Spread out dough by dimpling with fingertips.
Rest 1 hour covered.
Cut into slabs of desired size and
bake on stone in preheated oven at 460°F for 35-45 minutes, depending on size.
This was a fragrant and tasty bread , somewhat like a rustic lower hydration ciabatta.