Hello,
This is my 2nd attempt at a high concentration rye.   I adjusted my first attempt...
I lowered the chunky-rye soaker from 50% of total "flour" to 25%, and milled the chunky rye stuff at a slightly more fine level (but it was still pretty chunky).   Also, I used whole-wheat flour instead of white flour, and increased hydrations for the soaker and the overall bread.    I did not use any baker's yeast, all naturally leavened.   I also made a larger loaf, 1000 grams vs. 775 grams previously.
This dough had more gluten development than my last attempt, but it was still not enough to form a shape-able dough ball and an actual free-standing loaf.  I had to use a pan again.   Which isn't bad, it just is.
Here's the formula I used:
 
 
 
 
grams
Total Dough Weight
 
 
1000.00
Total Dough Hydration
 
75%
Total Dough Flour+Soaker Weight
571.00
Total Dough Water Weight
 
429.00
 
 
 
 
 
Leaven:
 
 
 
 
Rye Flour Leaven Percentage
 
40%
Leaven Hydration
 
 
125%
Starter Percentage
 
 
10%
Flour Weight
 
 
228.00
Water Weight
 
 
285.00
Starter Weight (125% starter)
 
23.00
 
 
 
 
 
Soaker:
 
 
 
 
Chunky Rye Soaker Percentage
25%
Soaker Hydration
 
 
100%
Salt Percentage
 
 
2.0%
Soaker Weight
 
 
143.00
Water Weight
 
 
143.00
Salt Weight
 
 
3.00
 
 
 
 
 
Final Mix
 
 
 
 
Salt Percentage
 
 
2.0%
Preferment Weight 
 
 
536.00
Soaker Weight
 
 
289.00
Whole Wheat Flour
 
 
200.00
Salt
 
 
 
8.00
Here is my chunky rye soaker, before soaking.    (I did not do a hot-soaker).   Milled it at a coarse level in the miller, but not as coarse as last time.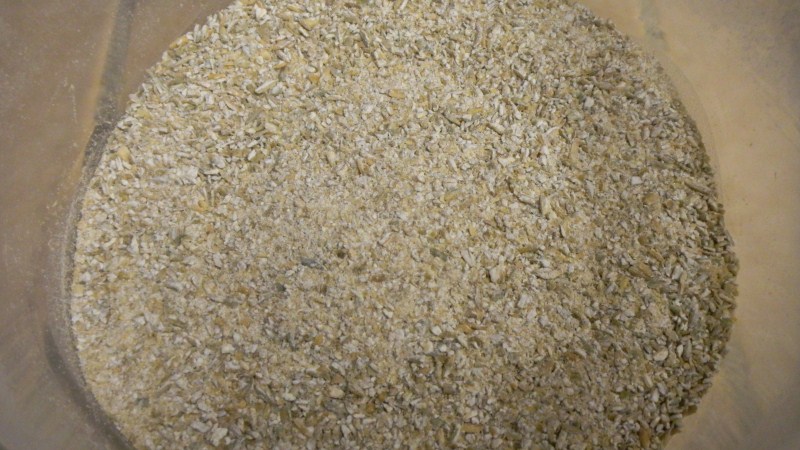 Here's what the final "dough" looked like after scooping into a pan, and using wet-fingers to flatten it out..   (before dusting with rye flour on the top):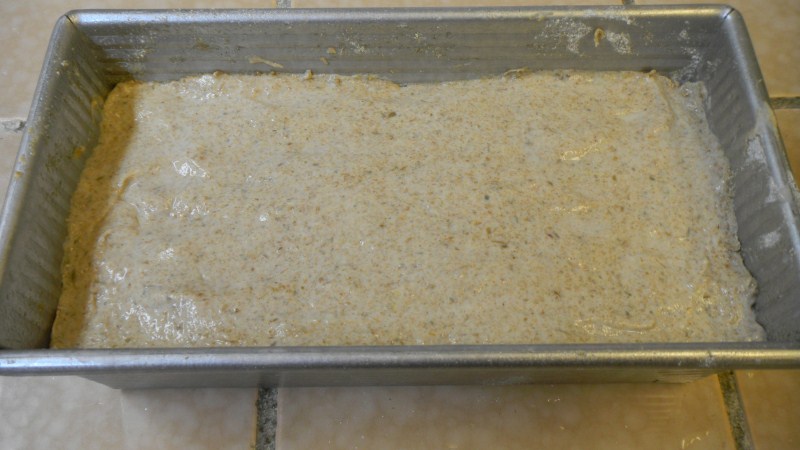 I did a bulk+final ferment of 90 mins.  It might have been too long.   Not sure.    It did rip itself apart again, this time on the sides mainly, and a little on top.    So I guess that means it is defective, but I honestly don't think there was enough gluten development for it to rise in the oven without tearing.   Maybe I am wrong.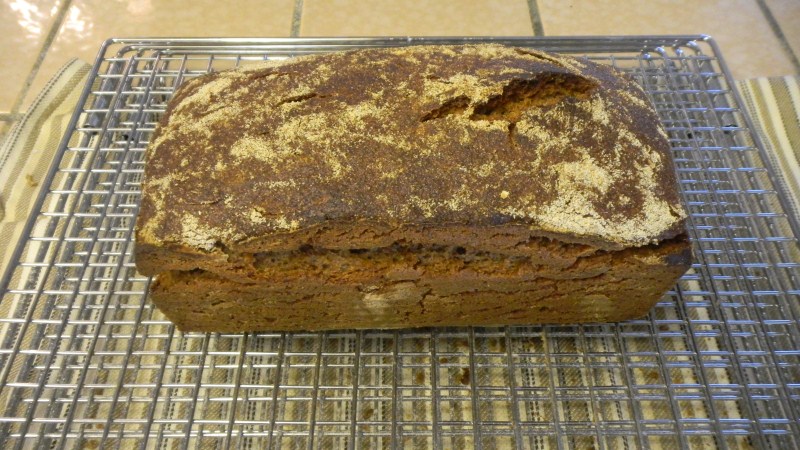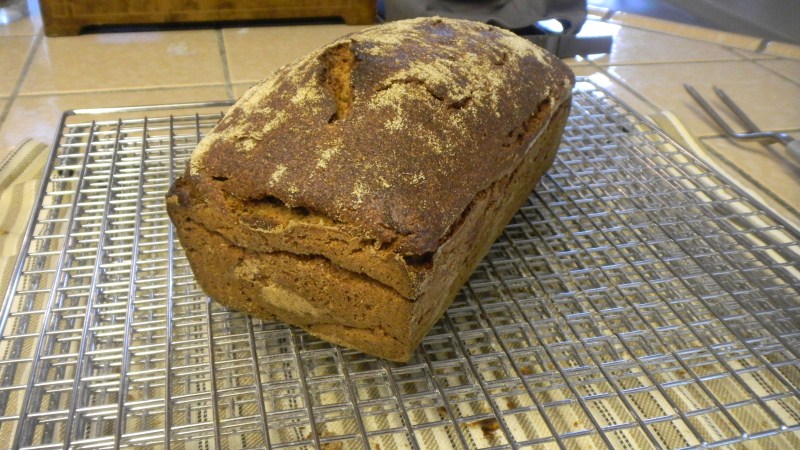 I wrapped it in baker's linen (couche). 
This time, I waited a full 28 hours before cutting into it, as recommended.
The crumb: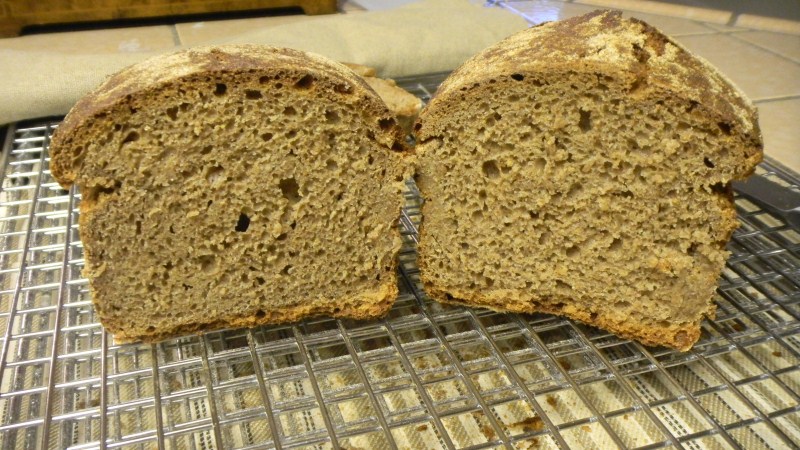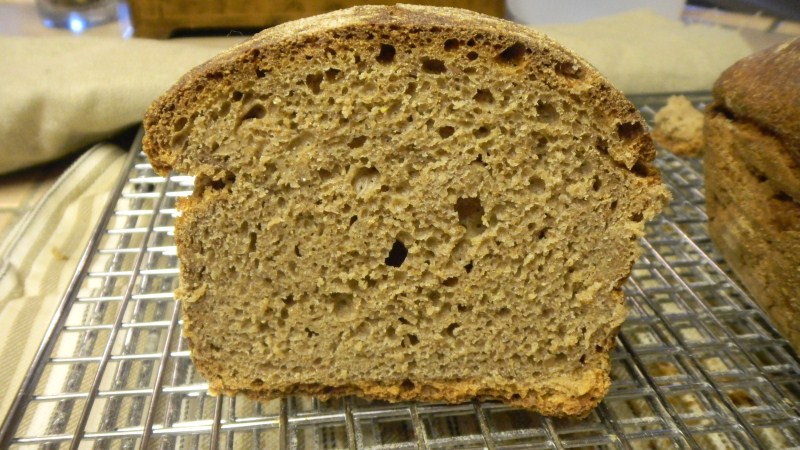 Taste:  
(For my 1st heavy Rye I did not have any whole wheat, but a little bit of white.   It was a new experience to me, I've never tasted a high concentration rye before.   I cut into that loaf only after 4 hrs, and it was good.  The next day, it smacked me over the head with Rye flavor.   Almost too much for me.   It wasn't bad, I just wasn't used to it.   Or maybe didn't pair it with a good meat or cheese at the time.)
This one -- the mix of rye + whole wheat, I like better.   When you first taste it, it is a strong combination of rye and whole-wheat -- I like the balance the whole-wheat component brings to it.   It is very elemental.   I like it.  There is also a pretty sharp sour as a finishing taste, but it also balances well with the initial strong kick of the grains.
Overall, I'm happy.   I need to get some pastrami and swiss, or something, to go with this...
My eventual goal is to find a combination of:  rye flour, whole-wheat flour, and "chunky soaker" (of both rye+whole-wheat), that maximizes the chunky soaker and rye flour, but still allowing to form an actual shape-able free standing loaf, without any white flour.   So I'll just keep experimenting.   :-).   Next up will try splitting up everything 50/50, as time permits. 
Cheers, and happy baking!