Baguette Scoring Help Request
Hi everyone,
I have been reading posts on the forum for many months now and trying to gain wisdom on the topic of baguette scoring.  I have read almost every post on the subject but can't seem to get it right.  Out of about a dozen attempts at baguettes, I have successfully generated a nice ear/grigne one time.  Strangely enough, it was on the 3rd attempt.  Here is a picture:
I have been using Hamelman's Poolish Baguette and Hamelman's Straightdough Baguette for all attempts.  I have been using King Arthur flour and I usually do a 30-60 min autolyze and an extra fold to get sufficient gluten development.  I check the proofing with a "poke test" as most people do.  When the dimple very slowly returns after a poke, I consider it ready to bake.  I slash with a curved lame with a depth of ~ 1/4 in (or what I perceive to be a 1/4 in. It's difficult to say exactly).  I hold the blade at an angle (I think ~30-45 deg) to try to cut a flap of dough.  I cook the baguettes in a 460 degree oven (preheated for 45 min) on 1/2 in unglazed tiles.  For steam, I follow Hamelman's instructions: throw a few ice cubes into a cast iron skillet on the bottom shelf while slashing, slide the baguettes onto the stone, and then pour 1 cup of boiling water into the skillet.  I have followed this method for all attempts.
I think my shaping has improved in the past 4 months and I've tried to vary my slashing technique slightly to see what I'm doing wrong.  Now, I would like to request some advice.  I appreciate any guidance that anyone will offer.  Here are the pictures of my "ear-free" baguettes.  Individual photos can be seen at http://photobucket.com/atlbreadpics.  Thanks in advance.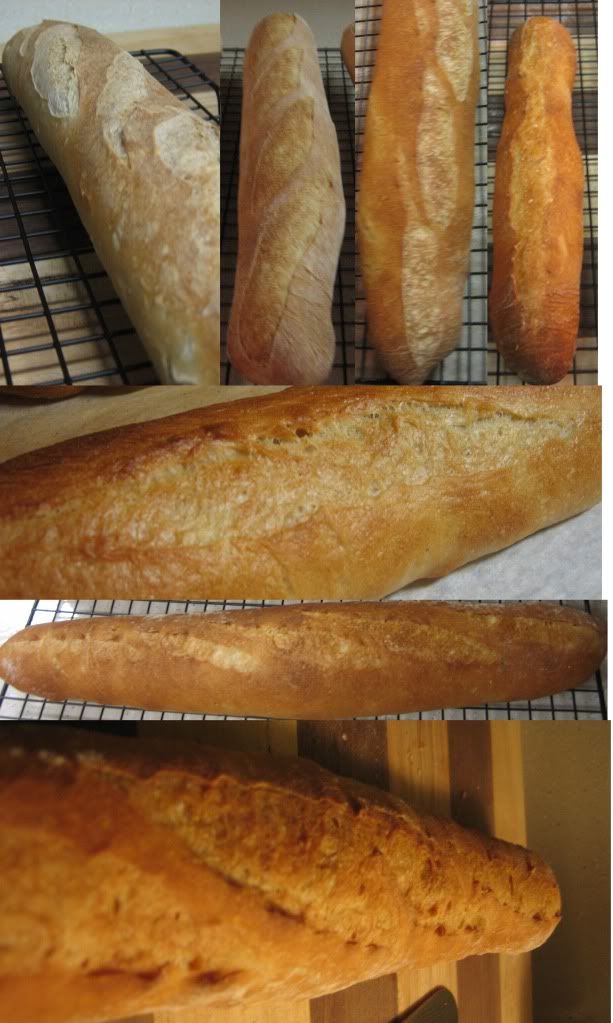 On a positive note, I have eaten many many delicious sandwiches from all of this.  Thanks for your help!
Kyle