My first sourdough recipe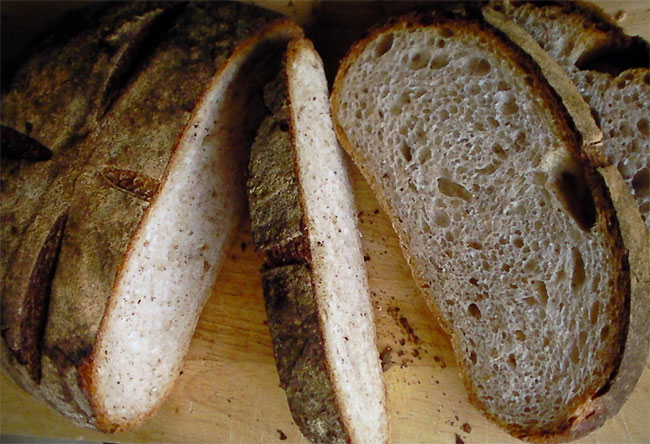 This recipe is from The Bread Book by Linda Collister and Anthony Blake and it was the second serious bread book I bought about 17 years ago.  It was quite forward thinking for its time as all the recipes include weight measurements (metric and imperial).  It is still one of my favourite bread books and it is definitely worth a buy.  It has really good photographs. 
Starter
230g whole wheat
230g water
Ferment in a bowl at room temp for 3 days.  Keep bowl covered with a damp tea towel.  After 3 days, it should be smelly, grey and slightly bubbly.
Sponge
140g water
230g unbleached bread flour
Beat (using hand) together with starter until well incorporated.  Once again cover with damp tea towel and allow to ferment at room temp for 24 - 36 hours. (In practice, for me at any rate, this step only takes about 5 or 6 hours).  I let it sponge until it peaks, then I make the final dough.  Don't let the sponge collapse.  The bread will be dense if you do.
Dough
55g water
20g salt*
230g unbleached bread flour,
* I find this amount of salt to be too much.  It works out to be about 2.5%.  I prefer using 2% so I use 13 or 14g.
Mix water with sponge,  Add salt.  Beat well.  Add enough of remaining flour to make a soft dough.  Bulk ferment until almost doubled in size.  *Cut off 170 - 230g piece of dough to make the next starter.  Pre-shape.  Rest 15 mins.  Shape.  Place in cloth lined banetton.  Allow to final proof.    Preheat oven to 220C (425F).  Score.  Bake (with steam) for 20 mins.  Lower oven temp. to 190C (375F) and bake for another 35 - 55 mins longer.  I have always found 35 mins to be sufficient. 
*  Because this dough was removed after the salt was added, you now have salt in your starter.  It has its advantages.  It keeps for a long time in the fridge and slows down enzyme activity. 
Notes
This was the only way I made sourdough until the arrival of the internet and my discovery that  there were other ways of making it!
Remember the second time round your starter will have salt in it, so you need to subtract that from the total amount or just add 2% of flour added.
This makes a really good sourdough with a very mild (unless you retard) tang, but an excellent flavour.
Syd