The weekend bake ... more sourdough
As my wife was away in Washington, DC for a conference, there wasn't much time for baking, since I was alone with a three-year-old, an all-consuming (though rewarding) task if there ever was one. Nevertheless, I soldiered on, especially since I had a craving for Desem bread.

Alas, though I finally went for 85% hydration, I had no time to fold the dough properly. What's more, since I was pressed for time (I was needed to help put out a fire in the bathroom, taste chocolate treats made of wood and eat blueberry muffins with a baby polar bear, as all proper polar bears do) I never really kneaded it thoroughly in the first place. The result was as could be expected -- desem flatbread. Though tasty! Unfortunately, the Desem, knowing it had not risen to the occassion, was too camera shy for a photo.

Pizza, however, is another ball of wax entirely. This was pretty simple. I based my recipe on the sourdough pizza crust from Peter Reinhart's American Pie.




I used Arthur the whole wheat starter at 100% hydration, which made the dough about 30% whole wheat, and shot for 66-68% hydration. I also had to do a half-and-half mix of KA Bread Flour and KA All-Purpose, since I ran out of bread flour, and added 2 Tbs of olive oil. Also, instead of making four 10-oz dough balls, I made two 12 ounce dough balls -- I like a slighly bigger pizza than Reinhart, I guess.

Saturday evening, I kneaded it up lightly, folded it twice during the initial four hour fermentation and then divided it into two. One dough ball went into the freezer while the other went into the fridge. The next day, at 4pm, I took the dough ball from the fridge to warm up, grated the cheese (2 ounces low-moisture mozzarella, 1 oz feta, 1 oz parmesan), cut up the olives, sliced the turkey sausage, defrosted the sauce (I had some leftover a couple of weeks ago, so I just threw it in the freezer -- thawed out well! I highly recommend Reinhart's recipe for basic tomato sauce.), and roasted half a yellow pepper I found in the fridge, still fresh, over our gas burner. I set the oven to 550 F at 5pm, and then headed for the airport. When we got home with Aurora around 6ish, it took just 10 minutes to make the pizza and slide it into the oven. Bella! My first (successful) sourdough pizza!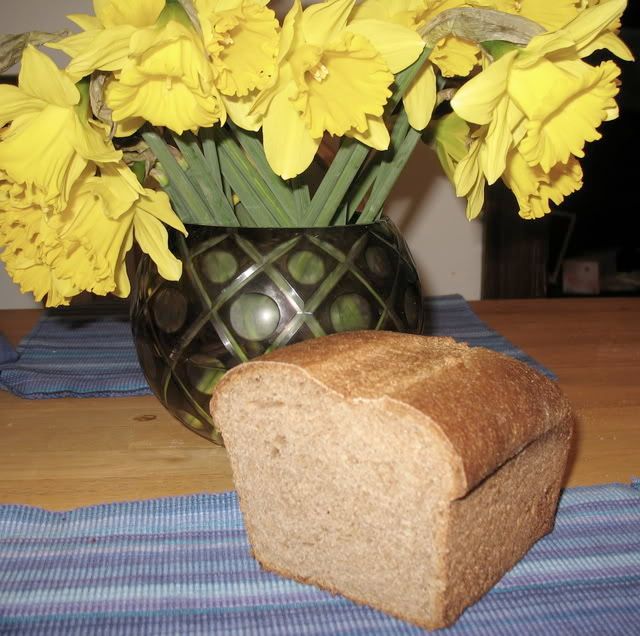 Later that evening, I finished up the weekly whole wheat sourdough sandwich bread that is a lunch staple for our family. It rose well. Tasty stuff.

This weekend, we're having our annual church dinner at my homey Unitarian church -- I always enjoy it because it gives me an excuse to bake something I'd never bake at home because:

My wife and I are each trying to drop 15 lbs.
I'm kind of a nut about ensuring my family eats nutritious food, which means whole-grains.
Dammit, I bought a grinder and 200 lbs of wheat berries! I've got to use it!
Any suggestions for what might be tasty? I was thinking a big old brioche, or maybe that Artos bread from the BBA. Anyone made that before?