Need Help With Sourdough Whole Wheat Bread Problem(s)
This is going to be kind of a long story.  I am making 100% whole wheat sourdough bread in  a hearth loaf pan.  I am working towards the goal of a bread that can be used for sandwiches.  It needn't be light and fluffy, but breaking in two when squeezed around the filling is not desirable.  I am making progress but need a little help sorting out what is causing what.
The first loaves that I made, that were any good, were made by a recipe adapted from Jonathan Kandell's  Whole Wheat Desem Bread.  My adaptation of that recipe was as follows.
18 ounces whole wheat starter, made by feeding the mother starter with 8 ounces of water and 10 ounces of flour the night before
21 ounces whole wheat flour, soaked for 30 minutes in 8 ounces kefir whey plus 8 ounces water
2.5 tsp salt
1 tbls sugar
4 ounces flax seeds
1 ounce sesame seeds
Mix and then knead for 5 minutes with dough hook.  Rest 5 minutes.  Knead for another 5 minutes.
Let rise for 4 hours, stretching and folding once every hour for a total of three s&f.
Form into loaf in pan greased with coconut oil.  Here is the formed loaf.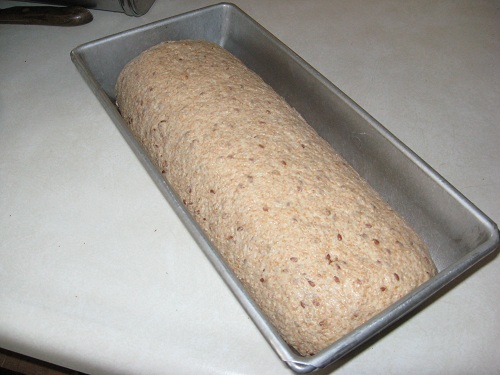 Let rise for 90 minutes plus the time it takes to pre-heat the oven to 450 degrees F.  Here is the proofed loaf.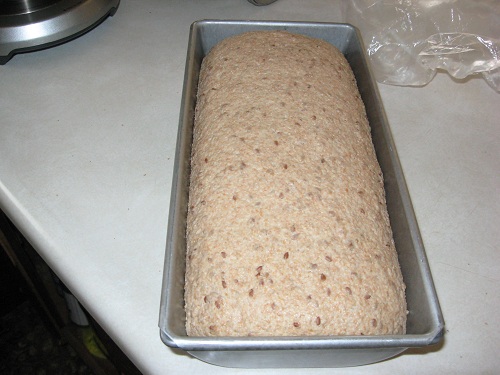 Just before putting the loaf in the oven, pour 1/4 cup kefir whey over the surface.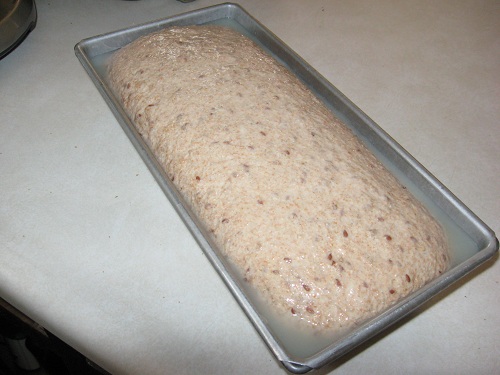 Cover and bake for 25 minutes at 450 degrees F.  Remove covering and continue baking at 350 degrees F for 40 minutes.  Interior temperature of loaf is 200 degrees F.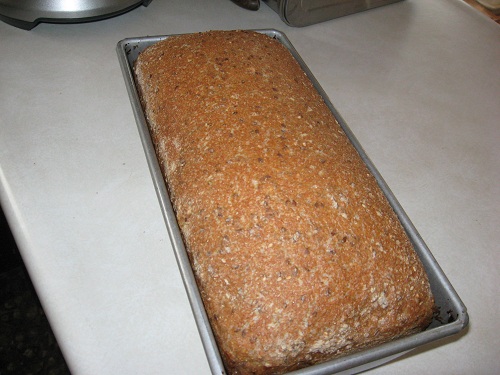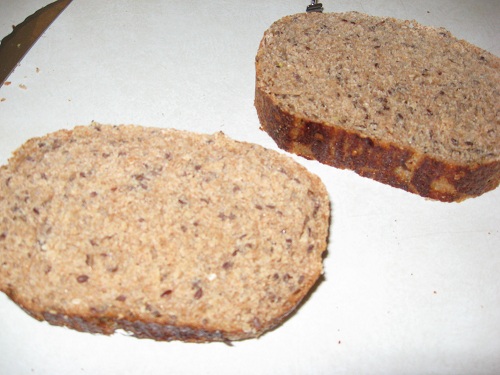 Comparision between this fresh loaf and last week's mostly consumed loaf of same recipe.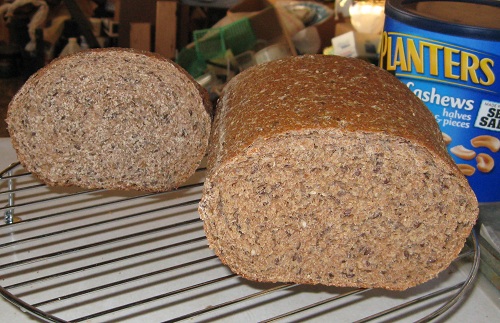 We liked this bread except for the fact that the slices broke when we used it for sandwiches.  You could spread it with cheese or butter and eat it okay.  It was just bending it that caused it to break.
At this point I got an electric grain mill.  Up until this time I was grinding my flour by hand.  I also got the book "Tartine Bread".  I was intrigued by the author's suggestion that the flour could be soaked overnight instead of just for 30 minutes.  I thought that might remedy the scratchy feeling I got in my throat when I ate my bread, so I decided to try an adaptation of Tartine Bread.
The first time I did this I adhered as directly as I could to his recipe, including uses grams instead of ounces.
200g starter made by feeding the mother starter with 100g each flour and water the night before
1000g flour soaked overnight in 400g water plus 400g kefir whey, in the refrigerator because my whey may be biologically active
combined soaked flour and active starter with 20g salt in the morning
followed previous kneading, rising, s&f, forming, and baking as before, except that it took 50 minutes for the interior temperature to reach 200 degrees F.
The dough did not rise very well, but there was oven spring.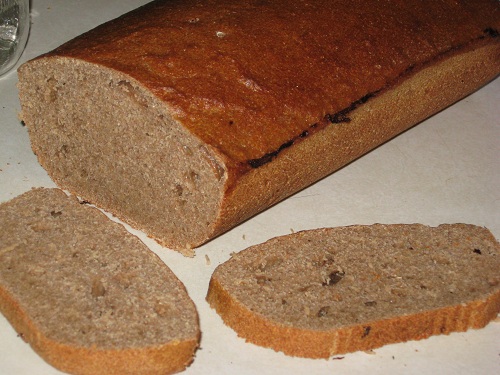 We liked this bread really well for sandwiches.  It had the flexibility that we wanted.  We could fill the bread with meat and cheese, squeeze it in our hands, and it didn't break and crumble.  The bread did not irritate my throat.  There were a few holes, and there was a small tear along the side that isn't shown here.  The next week I tried again, adding some flax seeds to the soaking dough.  I also raised the temperature of the second part of the baking to 375 degrees F, to try and make the bread cook a little faster since Tartine Bread is supposed to cook at a higher temperature the whole time.
First of all, the rising and proofing was even worse than before.  The dough tested as overproofed when I put in in the oven.  The depression from my finger was even still in the baked loaf, but it had oven spring.  This time the rip was large.  It doesn't look like a floating crust to me, unless one defines the crust as the entire upper two-thirds of the bread.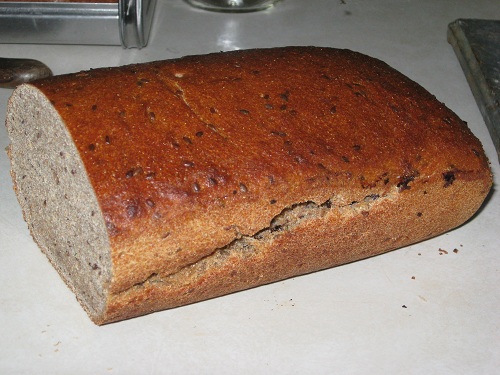 Here you can kind of see a flaw line running across the sliced end of the loaf, which becomes the crack in the side.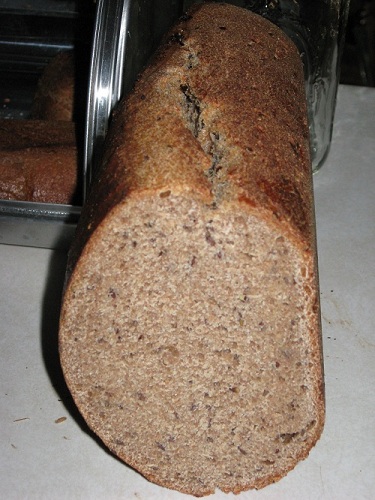 Here is the crust and the crumb.  The bread is once again flexible, chewy, and tender.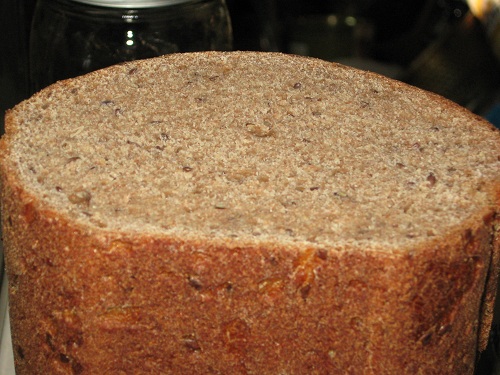 I don't know what this dark spot is.  That isn't the mark from my finger.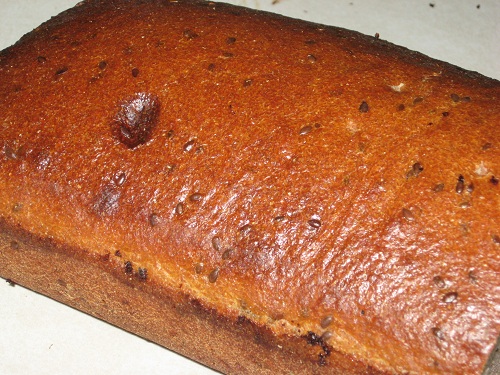 I started digging through the forum and read that it is okay to autolyse overnight in the refrigerator, although it might not be much more use than doing so for 30 minutes.  I also read that putting acid in the autolyse defeats the purpose of it because it prevents development of the gluten.  I also read that too much autolyse can overdigest the dough and remove all the gluten.  That is supposed to result in grey dough.  It was hard to recall what color the dough was before I added the starter, because it was kind of dark in the kitchen, but afterwards it was a normal tan color.  It was very stretchable, but not stringy like the time I kneaded some dough for 20 minutes with the dough hook.  When it was ready to be put into the oven, the dough shook like jelly, resembling descriptions I have read for proofed ciabatta dough.  The amount of liquid that I used was exactly that recommended in Tartine Bread for whole wheat flour, which is 100g more than for refined flour.
What I am hoping to find out here from you very knowledgable folks is:
1.  Is there too much water in my dough for good rising?
2.  Is the kefir whey preventing the development of gluten during autolyse?
3.  Am I kneading and/or s&f too much?
4.  Why is the loaf cracking so badly?  The other recipe did not crack when it had no slashing.
5.  What caused that dark spot?
6.  Can I fix any of the above without losing the chewy tenderness that allows us to bend the slices without them breaking?
My grain is hard red winter wheat.  My water is non-chlorinated, hard and alkaline.  I use olive oil on the rising bowl and coconut oil on the loaf pan.  I keep vessels covered with a plastic hair cap when rising and proofing the dough.  I cook the bread in a convection oven which appears to be working properly.  My house is not temperature controlled on the high side, but was between 70 - 85 degrees F during the most recent baking day.  It was probably only 70 degrees F when the earlier loaves were baked.  Both the hand-powered mill and the electric mill use stone burrs.  I did grind fairly fine flour with the hand-powered mill, but the electric mill probably puts out more uniformly fine flour because I don't get tired out and let the spacing slip like I sometimes did with the manual mill.
Edit: I moved the photos to my own server since I have so many.  *wide-eyed look*