I am so happy updated now showing a crumb shot
Finally after months of practice and several attempts at a two different recipes for a basic sourdough I am finally pretty happy with the results of this bake. I am still confused about hydration % among other things when it comes to baking with sourdough and keeping a starter but I will continue my qwest to understand and keep on keepin on. I decided to try a recipe I found on the Northwest Sourdough site. I adjusted my starter to 166% hydration as I was keeping at 100% and went for it. My baking stone broke awhile back and I do believe it has caused some issues with my bread baking. Anyways I still don't have one and used a cookie sheet lined with parchment and heated the bottom of my dutch oven. So far this is my best ever looking loaf and I can't wait to eat it!
Edit: added second photo of a batard was testing my oven it runs hot recipe calls for 450 bake then turn down to 425 first loaf heated to 450 put bread and turned down temp to 425 baked for 20 mins took dutch oven off and turned temp down to 400. Batard second loaf baked  I baked it at temp recipe called for it's a bit dark for me I think..
Here is the link to the recipe I used:
http://www.northwestsourdough.com/techniques/baking/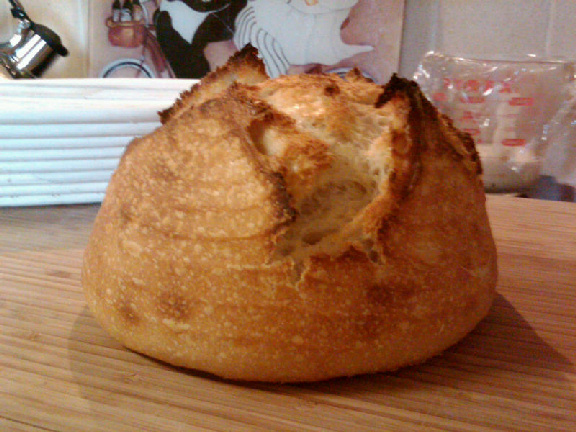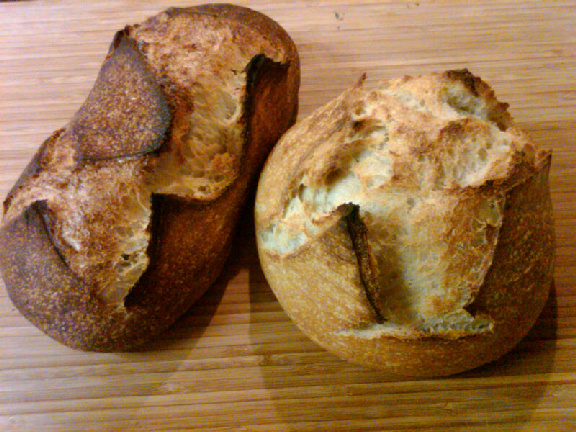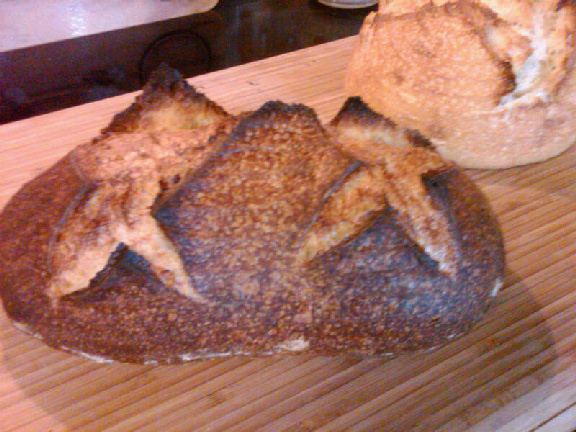 As soon as it's cooled I will slice it up and hopefully show a beautiful crumb shot.
TaDa.....If ya'll could have seen my face when I sliced into it and wow creamy texture very nice sour flavor I am so proud  :)