Apricot Yeast Water Pullman Loaf
Apricot Yeast Water Pullman Loaf
Previously, I posted a short Pullman loaf leavened with Potato Yeast Water (PYW). Link:
http://www.thefreshloaf.com/node/23793/potato-yeast-water-pullman-loaf-shorty
In that post, I concluded that "Although, I found PYW worked well, and made a good loaf, I decided that the making of the levain, and creating another YW seems unjustified just to introduce potato flakes and sugar into a loaf." In this post, I simplified the process by introducing the sugar and potato flakes in the Final Dough, and used a strong Apricot Yeast Water (AYW) culture as very nearly the total water used in the loaf. The only other water was the approximate 3.8g contained in the unsalted butter used.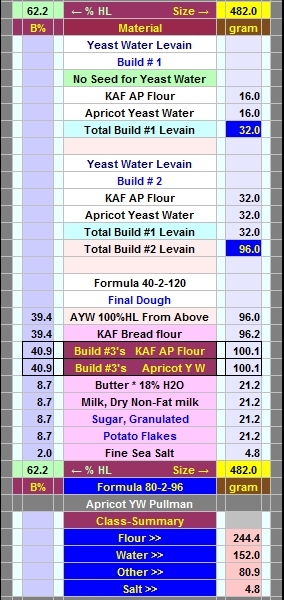 The formula above provides the Baker's Percentages of the ingredients, as well as the weight of ingredients actually used for the reduced sized Pullman pan, which only required 482g of dough. The percent hydration level was about 62.2%HL.
A fuller account of the formula, Apricot YW (AYW) 2-stage levain builds, method, and observations can also be found in a PDF of my baking log at this link:
D-b_110529_Apricot YW Pullman 482g_[Photos]_110602-1635 .pdf - https://docs.google.com/viewer?a=v&pid=explorer&chrome=true&srcid=0B_MScoZfDZkwMWFjMWNiMzktYjNjMy00MzU1LTkxNjQtOTAyZjM5ODQzMThm&hl=en_US
Actually, a 3-Build Levain had been planned, but in a hectic kitchen moment, I started the Final Dough with only the first two levain builds. Fortunately, I caught my error in time to simply add the remaining 100g of AYW and 100g of AP flour into the Final Dough mix and all worked well.
The short Pullman loaf measured (5-5/8" x 4" x 4")/(14.3 cm x 10.2 cm) and the 482g batch size managed to fill the pan with a 9 hour rise at 82ºF ( 27.8º C) . For additional details, see the notes in the above mentioned PDF.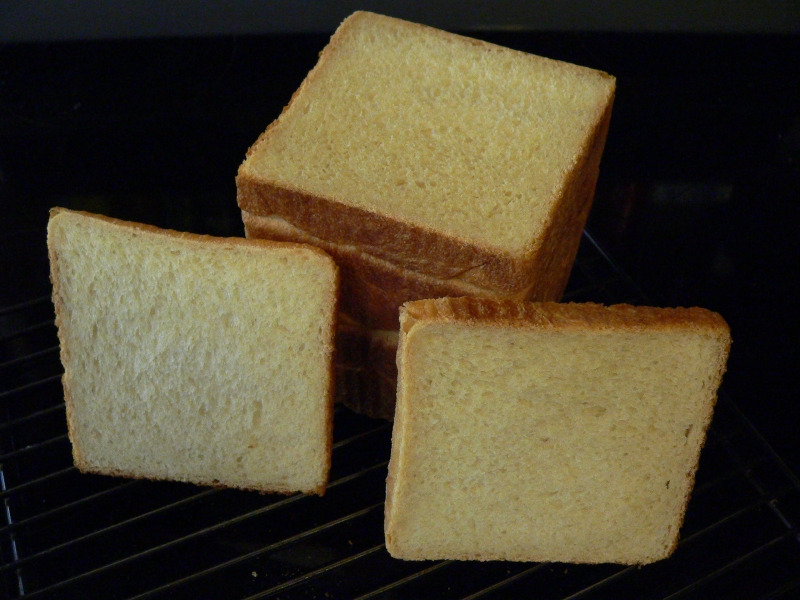 The crumb texture was soft, but firm, moist and quite flavorful, with a very pleasant fragrance, however, there was no discernible taste of apricot that I could detect.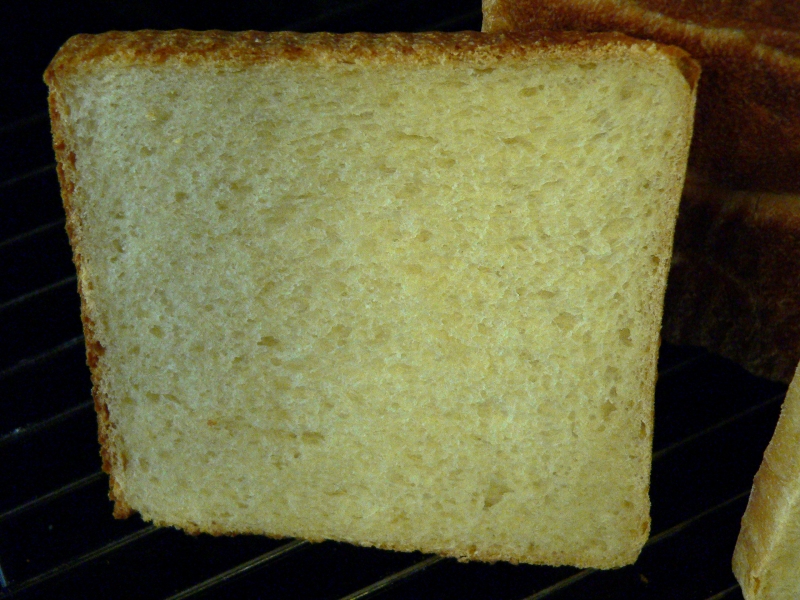 It worked very well as both a sandwich bread and for excellent toast.
It has survived three and one half days, as of this writing (I had a loaf in front of it to eat, too). I just had another sandwich made from it and it seems as moist and fresh as it did when first cut. The flavor enhancement resulting from the Apricot YW, rather than just the Potato YW used in some previous loaves, is a fine improvement of the formula. I do think, however, that I will do the Build-#3 as a levain build on the next loaf, rather than mixing the 100g of AYW and AP flour in the final dough. On the other hand, this accident demonstrated that a great loaf can be made this way, as well.
Ron