The Fruit-fed Yeast Adventure/Madness
Over the last couple of weeks I've been experimenting with the properties of fruit based yeast waters. Starting with a strawberry water, I've so far transformed Txfarmer's 36+ hr baguette  from a standard sourdough to one fed strawberry yeast water.  The result was as to be expected, crunchy crust, moist crumb, not a hint of sour, and interestingly, a surprisingly dark color despite the exclusive use of AP flour in the dough.
Strawberry Yeast Water Baguette, and one with Peach Yeast Water - Same recipe, same flour.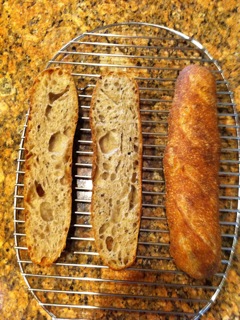 I have also created a number of boules using Ron Ray's Darling Clementine recipe.  I've used that same boule recipe to create a strawberry, cherry and blueberry boule.  From these loaves I have come to some conclusions.
Once out of the oven, these boules are virtually indistinguishable in terms of color, crust, and crumb. The only distinguishing feature was the strawberry loaf aroma while it was still baking. So, my conclusions are that it matters little exactly what kind of fruit one uses to cultivate yeast (except of course for those containing actinidain or actinidin), only that the yeast exist. Fruit based yeast from these types of waters will alter the color and consistency of the bread but will not impart any fruit essence upon baking.  The reddish/purplish fruits that I tested will significantly alter the color of the crust and crumb, and the relative amount of sugar present in the water will also affect the taste (the blueberry water, made from a quantity of dried blueberries was quite sweet to begin with).
 Strawberry, Cherry, Blueberry Boules: Beauty Shots, Profiles, and Crumbs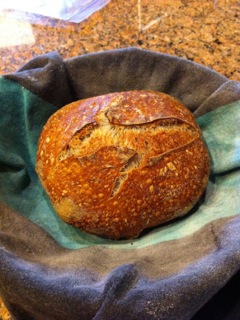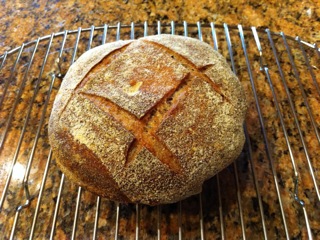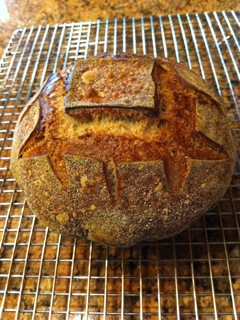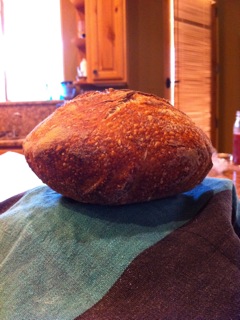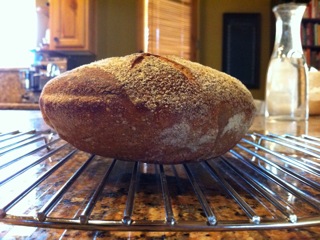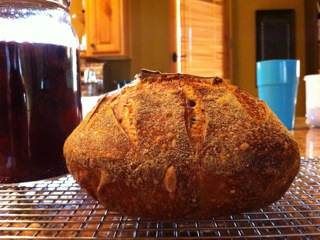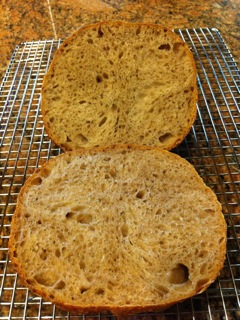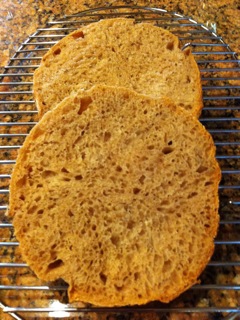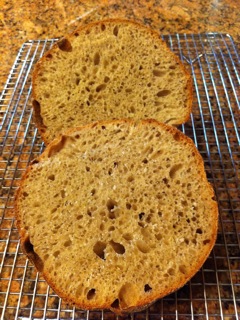 I think after this experiment, I'll retire all but the strawberry water, as it is the most pleasing in terms of aroma, at least when it comes out of the oven.  So, in conclusion, choose your favorite fruited yeast water and keep only one type. Also, don't forget to feed your sourdough starter too because what is life without a little tang?
Happy Baking!
-Pamela