Strawberry pocky of my version with mixed fruit yeast water
I have enjoyed Ron's sourdough crackers so much, ( http://www.thefreshloaf.com/node/22562/sourdough-crackers ) then, I started to think if I can make my favorite sweet snack that I used to eat in Japan. I tried once using Ron's formula, It turned out that it needed much sugar of course, and flour to get the pocky flavor and texture.
You can see many sort of pockies here:http://www.alde.com/anime/pocky1.html
More details are here: http://en.wikipedia.org/wiki/Pocky
I'd like to make it neat like the real one. But it was little trouble for me to do. I like to make it easily to serve my family. So I take a easy way to keep it simple to make often. I used mixed strawberry and alcoholic raisins that was in my raisin yeast water and a little bit of freshly squeezed lime juice and a spoonful of honey to make strawberry pockies.
After mixing: ( I smashed 5-8 alcoholic raisins, some strawberries and freshly squeezed lime juice by FP and added some water to ferment for overnight.) * I closed the lid not too tight/ not too loose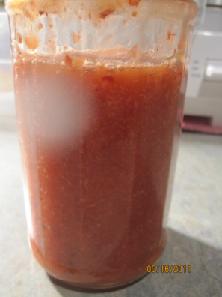 After fully fermented: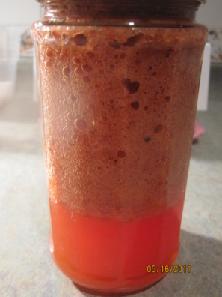 Ingredients:
200g levain ( 100g KA AP / 100g mixed strawberry yeast water -- fermented for overnight at 70-72F)
120g KA AP
18g sugar
55g butter ( soften)
4g salt
For topping:
Shredded coconut
White chocolate
Method:
Mix all the ingredients except the salt and butter. ( the dough is difficult to combine, that is okay.)
1. When it is combine, add the salt and butter and knead until pass a window pane.
2. Bulk fermentation 3-4 hours until 2-2.5 time in bulk at 72-73 F.
3. Roll the dough and cut to make strings by a pizza cutter or knife.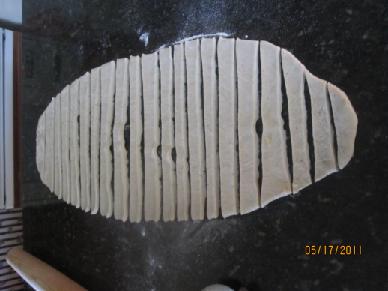 I don't care about the length nor width.
4. Make a string shape each.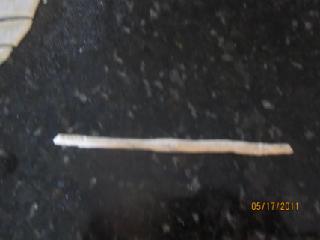 5. Dip the string in some shredded coconut.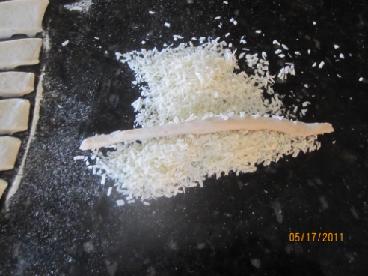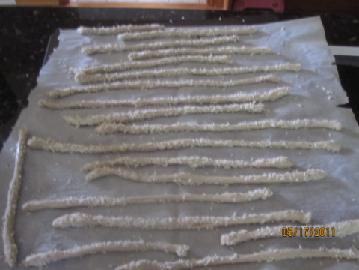 6.Bake: ( NO need to proof them )Preheated 400F 15-16 minutes until golden brown. It is light color, it won't be crispy.  The baking time will be vary depends on your oven.
7.Place them on the rack to cool. When it is completely cool, put melted white chocolate in a ziplock and cut an edge like a triangle shape then drizzle it over the pockies.* And flip them over after the chocolate is cooled and hard, drizzle the other side too.* The chocolate will be hard to squeeze at this time, so put the ziplock in a microwave for 10 second that will be soft enough to squeeze again.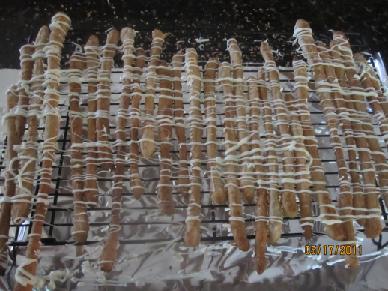 8. Separate them using a knife.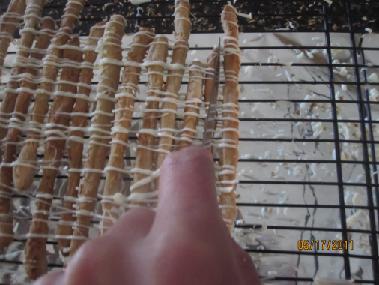 9. Ready to serve.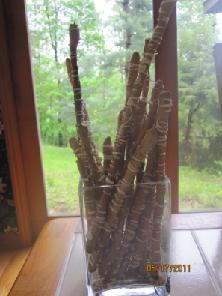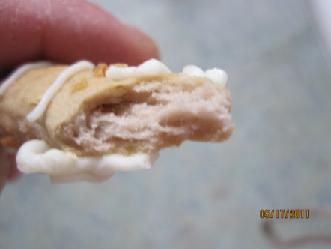 To make coated chocolate pocky, it needs more melted chocolate, to make pink color chocolate, that gives me more work.. So I may try them when I feel like it. But I am very pleased with this result for now. My family enjoyed it.
I make chocolate pocky with raisin yeast water too.
I appreciate for your wonderful recipe, Ron. I couldn't figure it out without you! Thank you so much, Ron!!
Happy baking,
Akiko