Bialy (from Wikipedia): Bialy, a Yiddish word short for bialystoker kuchen, from Bialystok, a city in Poland, is a small roll that is a traditional dish in Polish Ashkenazi cuisine. A traditional bialy has a diameter of up to 15 cm (6 inches) and is a chewy yeast roll similar to a bagel. Unlike a bagel, which is boiled before baking, a bialy is simply baked, and instead of a hole in the middle it has a depression. Before baking, this depression is filled with diced onions and other ingredients, including (depending on the recipe) garlic, poppy seeds, or bread crumbs.
 I first made Bialys a couple of years ago and it seemed I was due to make them again, so I thought that I would do a little experimenting.   I pulled the recipe that I had used last and analyzed others that were on the net.  Comparing the differences I found that some used fresh minced onions or rehydrated onions or caramelized onions.  Some used Malt Syrup and some did not.  Some used delayed fermentation and some did not.  The percent hydration varied from 55% to 69% as the chart below shows.  The hydration categories came from "The Bread Baker's Apprentice".
What I came up with
 I like the flavor that Malt Syrup adds to Bagels so I went with the malt (I doubled what a number of recipes called for).  I did a trial batch to try out fresh or caramelized onions and I did not notice a big difference so I went with the quicker/easier method (fresh).   Maybe some other time I will experiment with delayed fermentation but it was easier for me this time to just go with a straight dough.
 Here I will be experimenting with just the hydration percent.  I have read that Bialys are close cousins of Bagels so the first recipe below is probably closer to traditional Bialys.  I did want to compare them with a higher hydration version.  So, I made two batches, as shown below, but used the same filling for both batches. 
 

Batch 1

 

Baker's %

Ounces

Grams

Bread Flour

100.0%

35.3

1,001

Water

58.1%

20.5

581

Salt

2.0%

0.7

20

Yeast

0.7%

0.25

7

Malt Syrup

2.8%

1

28

Total Weight

 

57.75

1,637

Count

 

18

18

Unit Weight

 

3.2

91.0
 

Batch 2

 

Baker's %

Ounces

Grams

Bread Flour

100.0%

35.3

1,001

Water

67.1%

23.7

672

Salt

2.0%

0.7

20

Yeast

0.7%

0.25

7

Malt Syrup

2.8%

1

28

Total Weight

 

60.95

1,728

Count

 

18

18

Unit Weight

 

3.4

96.0
This is the filling I used per batch.
 

Filling

 

Ounces

Grams

Onion

3.5

99

Poppy Seeds

0.3

9

Olive Oil

0.5

14
 Instructions
1. Mix all the ingredients, for a batch, for 3 minutes in a mixer on low speed.
2. Let the dough rest for 5 minutes.
3. Mix for an additional 5 minutes with a mixer or knead by hand (I did it by hand).
4. Allow to rise in a covered bowl for 1 hour.
5. Punch down and degas the dough.
6. Allow to rise for another hour.
7. Scale into 18 units (see weights above).
8. Pre-shape into balls and then tighten the surface tension by pinching to seal the bottom of the dough.
9. Final rise period of 1.5 hours.
10. Shape the Bialys into circles with a thin center membrane and place on parchment paper. (Note: I first roll them in a small bowl of flour and then form a depression in the center. You keep working on the depression by stretching it until it kind of looks like a pizza and is 5 to 6 inches in diameter. You are not trying to degas the Bialys as they will be put into the oven right away.) There are some very good videos on YouTube that show you how to shape a Bialy better than I can describe it in words.
11. Add about a teaspoon of filling to the center of each.
 Baking
1. 45 minutes before you want to bake preheat your oven (with baking stone) to 450°.
2. When ready to bake, slide the Bialys on the parchment paper, then onto the baking stone for 4 minutes.
3. Remove the parchment paper and bake the Bialys on the baking stone for an additional 6 minutes or until they are a dappled golden brown.
4. Remove from the oven and place on a cooling rack.
 Notes:
I followed the times pretty closely.  The kitchen temperature was 66°. If I did the math right each of these Bialys are about 220 calories and cost less than 10 cents to make.  Thanks to RonRay for his tool for calculating the Calories.  Note: Took these into work so I had some tasters help evaluate my experiment.  The tasters seemed divided pretty equally over which batch they preferred.
Bialys ready to go into the oven.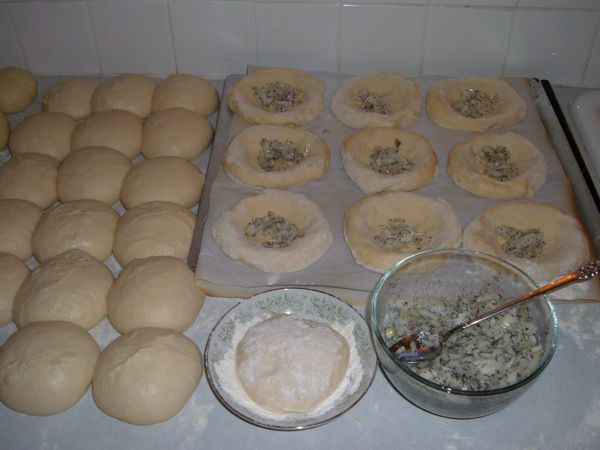 Just prior to removing the parchment paper.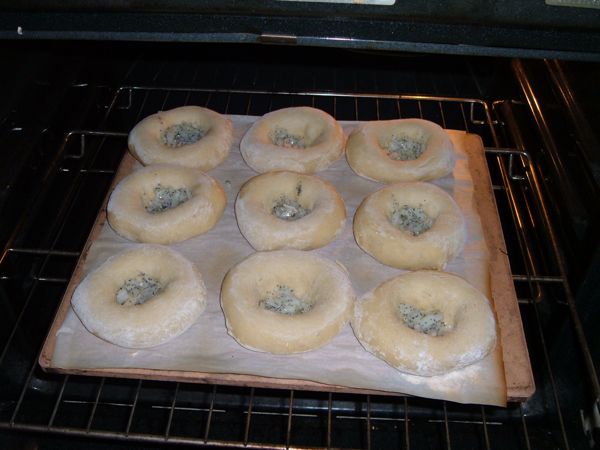 Batch 1 is on the left and Batch 2 is on the right.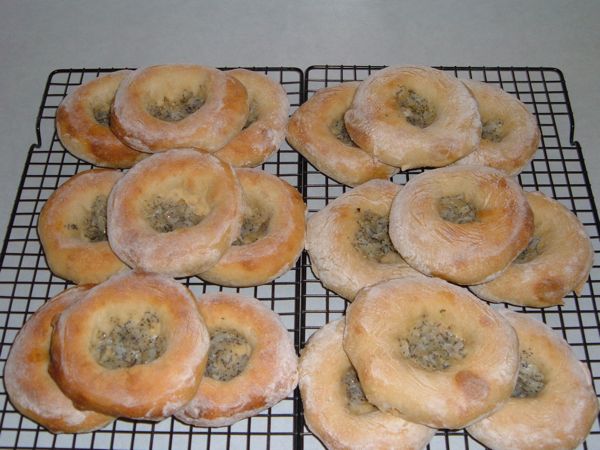 A close-up of the previous.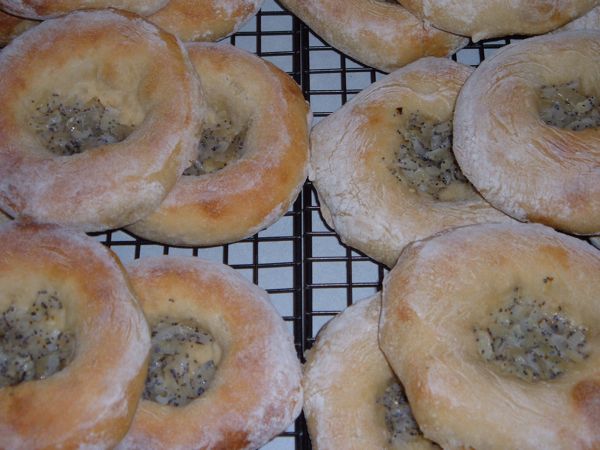 All ready to go to work.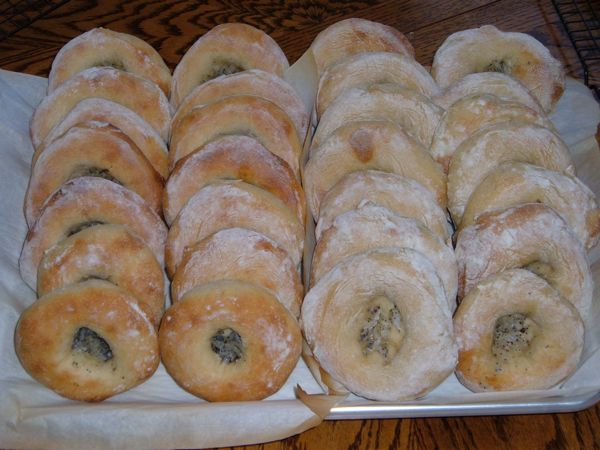 I was very pleased the way that these came out.
Dwayne