Mr. Hamelman's Semolina (Durum) Bread with a Whole-Grain Soaker
Hello,
I tried making the Semolina version of Tartine Country Bread a few months ago.
I'm pretty sure I messed up on scaling (overhydrating) and then overproofing the loaves.
When I turned over my banettons, the dough flowed like lava...running over the edge of my peel and almost right over the edge the countertop.
Moving quickly! I grabbed a couple of pans, scooped up the runaway dough and dropped it into the pans, and then baked.  
Warm from the oven, the resulting bread was heavy and dense, but intensely aromatic and flavorful with the combination of toasted sesame and fennel - despite the baking disaster, it was some of the most delicious bread I've ever tasted.
Working up the courage to bake with durum again, this is Mr. Hamelman's Semolina (Durum) Bread with a Whole-Grain Soaker (coarse cornmeal, millet seeds and sesame seeds for the soaker - with the durum flour, so much pretty yellow color!).  
I substituted a combination of toasted sesame and fennel seeds (based on Tartine's Semolina formula) for the untoasted sesame seeds called for in Mr. Hamelman's whole-grain soaker.
Inspired by the beautiful, single-scored batards baked by hansjoakim, Mebake, prijicrw, Franko, GSnyde...(just to name a few!) I wanted to try this shape and method of scoring. My loaves didn't open up as nicely as theirs; I may have not scored deep enough, or may have overproofed again?; this dough was really moving along: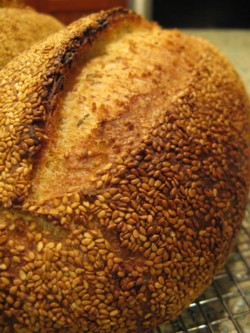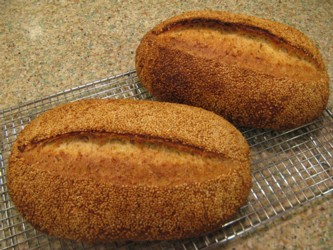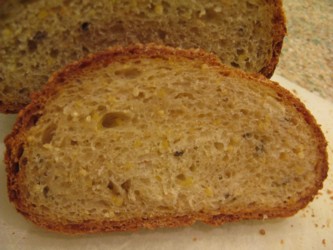 The crust is wonderfully crunchy, and the flavor of the bread just what I was hoping for.
Happy baking everyone,
from breadsong